Blizzard Entertainment's Overwatch is a shooter game. It is also a flagship game, following World of Warcraft. Overwatch divides players into two teams of six, with each player selecting a character known as a "hero" with distinctive powers from a wide roster, the hero characters are divided into three class types: Damage heroes, Tank heroes, and Support heroes. Teams work together to fulfill map-specific tasks in a set amount of time. Overwatch is one of the most popular video games in the world, with millions of fans. However, it, like other games, has major connectivity issues. Players of Overwatch note that the game occasionally crashes on the title screen and shows a red error message stating that "connection to the game server was lost." This is quite frustrating. If you're having this problem and want to get back in the fight as quickly as possible. LagoFast can rapidly fix the game server connection failed Overwatch issue while also improving your gaming experience.
Part 1: Why does Overwatch Game Server Connection Fail?
Part 2: How to Fix Connection Error?
Why does Overwatch Game Server Connection Fail?
There are numerous factors that can cause Overwatch to fail to connect to the server. While the server is currently the most likely source, we should also rule out client-side rules. We've gathered a list of some of the most common causes of game server connection failed errors.
Unstable network connections: When we utilize a wireless network, the WiFi signal is easily interfered with and unstable, preventing us from maintaining a solid connection with the server. And, if there are many obstructions between our PC and the router, the computer's network signal will become quite weak.
Anti-virus software/firewall blocking: To secure our computers, I'm sure everyone has anti-virus software installed. Our systems are regularly scanned for viruses and other potential threats by firewall/anti-virus software. If they wrongly feel Overwatch is a threat, they will monitor all of its network operations or even block it from all network activities. As a result, we receive a "connection to the game server has been lost" message.
Damaged network driver: If we have network issues, the network driver could be to blame. Network drivers are in charge of ensuring that all network-related functions on the computer run smoothly. As a result, if it is absent, incorrect, or corrupted, it will display that the game server connection failed in Overwatch.
Outdated versions of Overwatch: If your game version is too old and you don't update it in time, you won't be able to connect with the server. And also you will not be able to play the game together because of the mismatch with other players' versions.
Offline Servers: If the officials need to repair the server or upgrade it regularly, they will shut it down. At that time, you won't be able to connect with the server properly, and at such time you need to look for the official notification and wait for the repair to be finished before playing.

How to Fix Connection Error?
Use LagoFast
If a large number of people suddenly complain that the game server connection failed in Overwatch, we can be certain that there is a problem with the game server. We have no choice but to wait. In all other cases, we attempt to solve the problem on our own. However, when the situation does not improve, the players become irritated. To avoid wasting time and doing nothing, we recommend LagoFast, a game problem solver that will help you solve the problem quickly while also providing you with the best gaming experience.
LagoFast is a game booster developed by a team with over 8 years of professional experience. Let me tell you more about its distinguishing features. To begin with, LagoFast has excellent network compatibility and can handle a wide range of complex network conditions. As a result, connection errors caused by network issues are resolved. Second, LagoFast provides real-time network diagnostics and matches you with the best network nodes based on ping values. It provides Overwatch with all-around protection. Finally, it is the only game booster with a time charge package, which helps you save money. Don't waste your time with products that are riddled with bugs! Come and try LagoFast for free!
Let's see the features of LagoFast:
Free trial
Pay per minute, more friendly to your wallet!
Boost FPS while reducing ping value
Routs around the world, wherever you are
Connect to server rapidly without any error
Here is how to use LagoFast:
Step 1: Download LagoFast.
Step 2: Type " Overwatch" in the Search box and click on it among the results.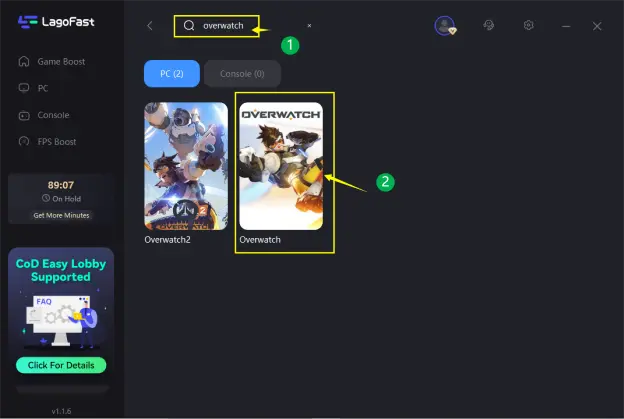 Step 3: Choose the server.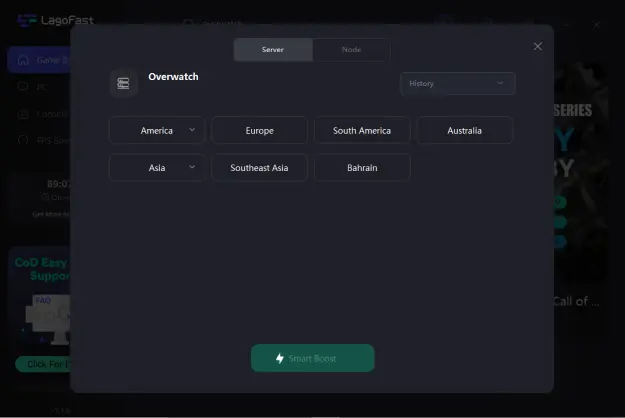 Step 4: Only you should do is click the Boost button to start boosting.
This page displays your real-time ping rate and packet loss rate about Overwatch.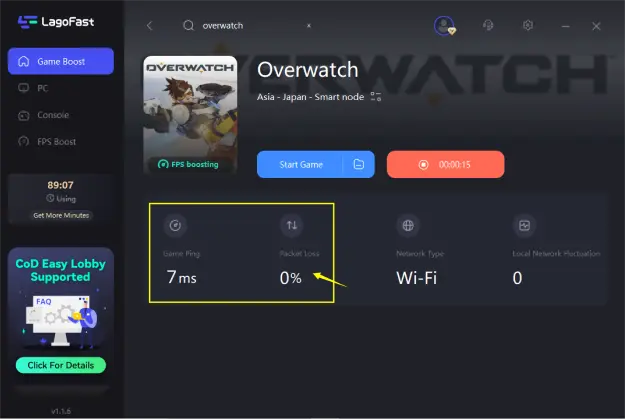 What's more, you can customize the FPS options according to your own needs to get a game that suits you better. To accomplish this:
Step 1: Select the FPS Boost tab on the left of the desktop.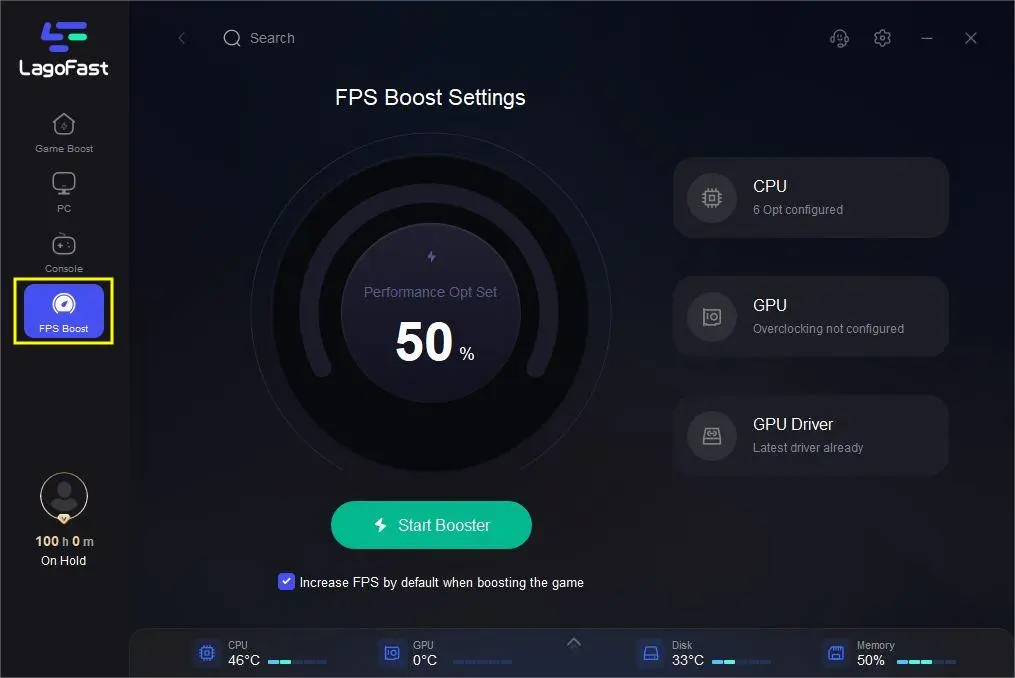 Step 2: Click on the settings according to your need.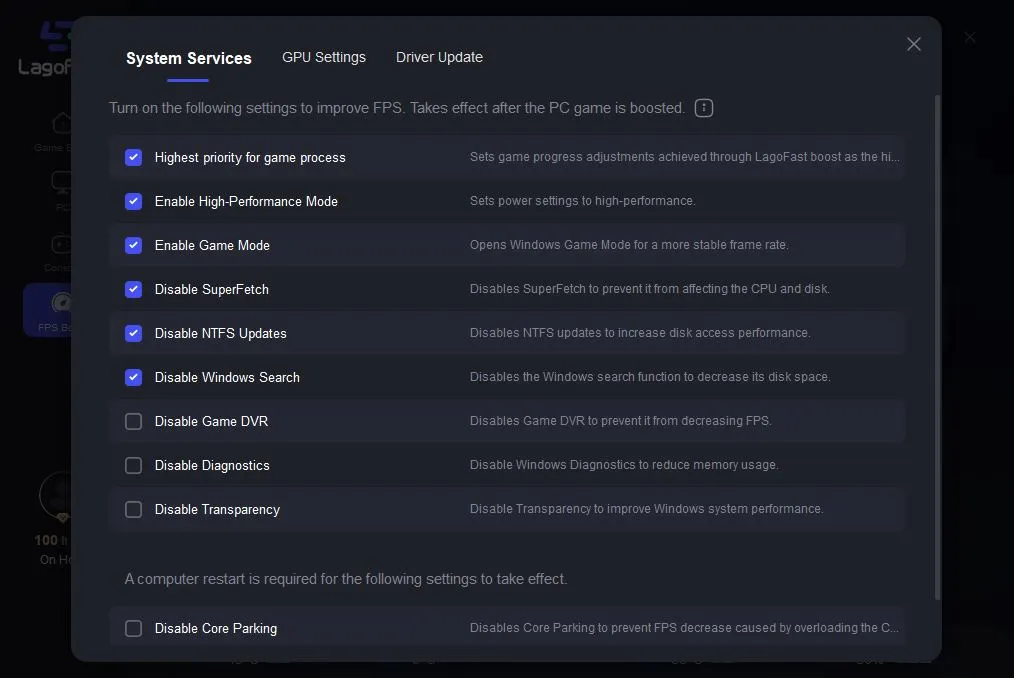 Other solutions
There are undoubtedly some solutions to this problem. I hope one of them can help you fix the game server connection filed issues.
Update network drivers: As previously stated, if the network driver is out of date or missing, the Overwatch game server will disconnect. The following methods can be used to update the network driver.
1. Enter device manager in the taskbar's search box, then select Device Manager.
2. Choose a category to see device names, then right-click (or press and hold) the one you want to update.
3. Select Search automatically for updated driver software.
4. Select Update Driver.
5. Restart the game and see if it helps.
Run Blizzard's Battle.net Looking-Glass: The Battle.net Looking-Glass from Blizzard is a system diagnostic tool that you can use to test your server connection. Follow these steps to run the program and test your connection:
1. Navigate to the Blizzard Battle.net Looking-Glass.
2. Choose your region and service. Check all of the testing items and press the Run Test button.
If you post your test results on the Overwatch official forum, someone might be able to help you analyze them and solve your problem.
Using Ethernet: Interference with the infinite connection may cause the Overwatch connection error. However, with an Ethernet connection, you will have a more stable network connection and you will not have to grab network data with other devices, resulting in a faster network speed.
Clear cache: A cache is a hardware or software component that stores data in order to serve future requests for that data more quickly. Since gaming is a constantly evolving field of technology, cache files are saved and eventually expire. We'll clear the cache to see if that helps us solve the problem. To clear the cache of Blizzard.net, do the following:
1. Make sure that blizzard is not running by opening the task manager.
2. press Windows & R to open the Run dialog box.
3. Type %programdata% in the test box.
4. A folder will be opened. Locate the Blizzard Entertainment folder.
5. Delete this folder.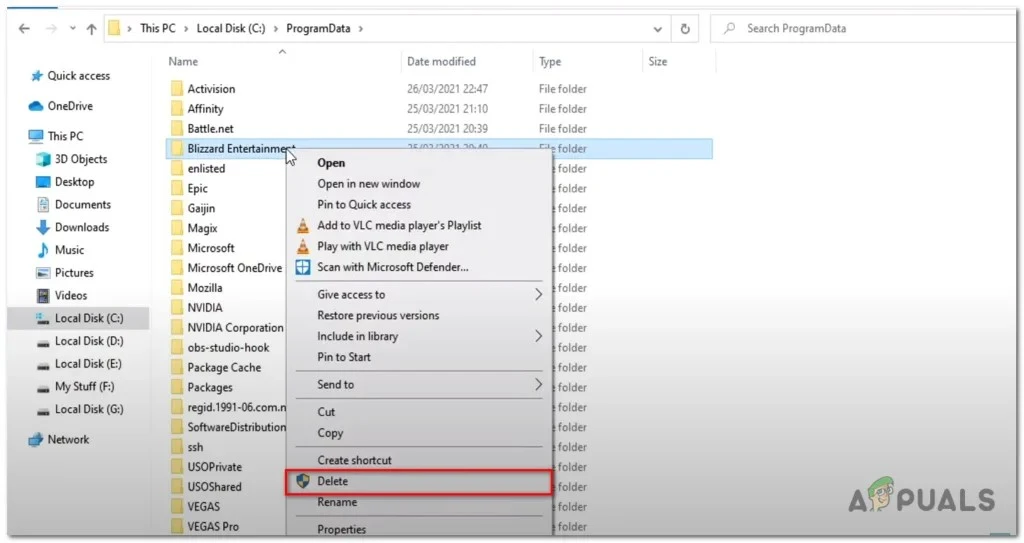 Overwatch FAQs
Are there global servers in Overwatch?
Currently, servers are available for North America, South America, Europe, Asia, Australia, and the Middle East. You will be matched into the closest, fullest server to your geographical location during matchmaking.
How do I get access to the Overwatch 2 Beta?
The new opt-in web form is now live at PlayOverwatch.com/beta and will remain open until June 28 unless they reach their projected maximum server capacity sooner. When the beta goes live on June 28 at 11:00 AM PDT, they will select a small group of players and gradually add more players as we ramp up capacity, with the first waves of larger access grants scheduled to begin on July 5.