Roblox players are all over the world. And this game is well known for the concept of "Metaverse". Roblox is an online game platform and game creation system developed by Roblox Corporation that allows users to program games and play games created by other users. During the period COvid-19 pandemic, Roblox's daily active users have increased to 54 million, including more than half of all American children under 16.
However, high ping issues are very common in Roblox. How to lower ping in Roblox becomes the most concerning question for these game players. In this article, you can find the answers.
Part 3: How To Lower Ping In The Fastest Way
Part 4: Other Solutions To Lower Ping In Roblox
What Is Ping
A ping (Packet Internet or Inter-Network Groper) is a simple Internet program that allows a user to test and confirm whether a specific destination IP address exists and can accept requests in computer network administration. The acronym was devised to correspond with the term used by submariners to describe the sound of a returned sonar pulse.
In brief, ping is the amount of time spent on data transmission between your computer and the game server. Ping is also measured in milliseconds, which typically range between 50 and 150. Pings of less than 50 ms, which will provide you with an excellent gaming experience, are difficult to achieve. However, if the ping stays under 100 ms, it could be excellent for gaming. You will notice game lag when your ping reaches 100, or even 150, which is considered high. Ping spikes happen when your ping suddenly rises to more than 200, or more than 200. Some commands will not be processed quickly, and some actions will pause and move very quickly for a brief period. Ping spikes are extremely inconvenient.
How To Test Ping
As we know, ping is very important to get the situation of Roblox running. But how can we get Roblox ping? Here are some ways:
1. You just press "Ctrl + shift + F3" simultaneously and see the ping information in the top left corner.
2. Use Windows task manager to check game ping.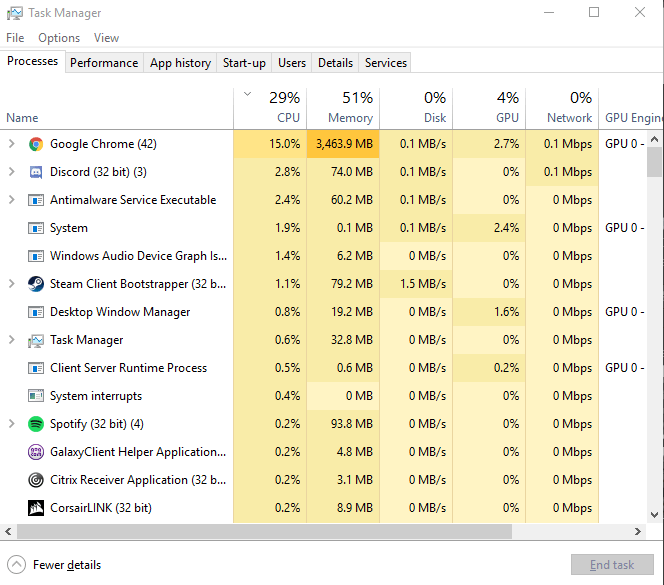 3. Alternatively, you can use a game ping test service in a ping reducer, such as LagoFast.
How To Lower Ping In The Fastest Way
I believe that using a game booster like LagoFast is the simplest and most effective way to reduce Roblox high ping. LagoFast uses global nodes and exclusive routes to solve network connections, reducing transmission distance and improving network connectivity. To reduce transfer time, it can also use its own data transmission protocol. You can choose one node based on your location and the node's status. And the following are the features of this tool:
Easy to use Exclusive gaming function

Check the real-time and accurate ping

Reduce ping

Fix lag problems

And boost FPS all at the same time

Support 190 countries, over 60,000 unique GPN proxy server configurations

Support pay-per-minute plans

Booster for 1000+ popular online games Attempt it for free
If you want to try using LagoFast, here are the steps you can follow:
Step 1: Click the Free Trial button to download the LagoFast client and experience the game boost service. Or directly go to LagoFast site.
Step 2: Before running Roblox, you just need to find the in LagoFast and click the Boost button.
Step 3: And then you can click the FPS boost button to change settings to improve your game FPS based on your specific requirements.
Step 4: After this easy click, the LagoFast game booster will improve your game internet connection, decrease Roblox's high ping and reduce lag issues in the background. While you are playing the game, you can see the accurate ping test result. And in addition, LagoFast could also provide you with many other tests, like packet loss and local network fluctuation.
Other Solutions To Lower Ping In Roblox
1. Choose the server closest to your geographical location.
Ping in games, as you may know, refers to the distance between your location and the Roblox game server. As a result, choosing a game server close to your location will reduce distance and ping.
2. Check to see if your computer meets the minimum system requirements.
The following are the Roblox system requirements:
A PC or Mac computer running at least Windows 7 or macOS 10.10 (Roblox Studio cannot run on Linux, Chromebooks, or mobile devices such as smartphones).
At least 1 GB of system memory.
Internet access. This keeps the software up-to-date and lets you save projects to your Roblox account.
3. Check the status of the game server
You can come to this page to check the status of Roblox servers: Click here.
4. Make a wired connection
Wireless connections generate more interference than wired connections. Other wireless connections may be unable to see the Ethernet wired connection. Furthermore, data transmission over the cable connection would be faster and more reliable if there were no concrete walls or other impediments. Switching to an Ethernet wired connection may be beneficial if you want to improve network connection stability and speed, as well as reduce ping spikes and bad ping in video games.