Part 1: Why Does FPS Drop in Fortnite?
Part 2: How to Fix Fortnite FPS Drop on PC?
Part 3: How to Show FPS on Fortnite? [Bonus]
Why Does FPS Drop in Fortnite?
There are several Fortnite gamers complaining on Reddit and Discord that the FPS drops suddenly, especially in the Battle Royale mode. Generally, FPS status is tightly related to hardware conditions, including the graphics card, CPU temperature and etc. Also, it will be influenced by the game files or settings more or less. According to these concerns, you can find out the solutions to fix Fortnite FPS drop in the following part.
How to Fix Fortnite FPS Drop on PC
To solve the FPS dropping issue in Fortnite, you can start from the basic settings to some deeper modifications of your game-related hardware.
Method 1. Verify Your Fortnite Game Files
Follow the steps and verify game files for Fortnite in Epic.
Step 1. Open Epic Games Launcher;
Step 2. Navigate to Fortnite in your Epic Library;
Step 3. Right-click on the game icon;
Step 4. Click Manage in the list;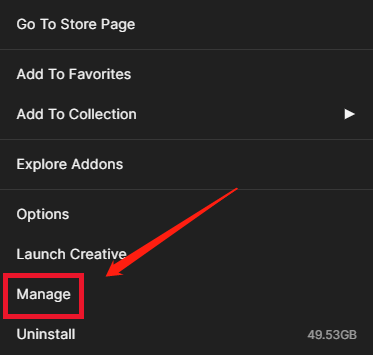 Step 5. Verify Files in the list.

The files will be verified soon. After the verification, You can restart Epic and launch Fortnite again.
Method 2. Set Lower Graphical Fidelity
For some gamers who own a relatively low-end PC, there is a mode allowing them to run Fortnite better with the present hardware and get a smoother frame rate. With just 3 steps, you can enable lower graphical fidelity in Fortnite.
Step 1. Click the menu icon in the top left part;
Step 2. Under the Display options, change your Rendering Mode to Performance - Lower Graphical Fidelity and Apply;
Step 3. Restart Fortnite and enjoy better FPS!
Method 3. Update the Graphics Driver
An outdated graphics driver will always influence your frame rate in gaming, especially for shooting games. As a result, the Fortnite FPS dropping may be caused by the old graphics driver. You can go to the Device Manager and manually update the graphics driver under the Display Adapter, or use a third-party program for automatic updates.
Method 4. Disable High Resolution Textures
High occupation of your hard space will also cause FPS drop or low frame rate in gaming. In this case, disabling high resolution textures in Fortnite will help fix FPS drop and get smoother shooting in Battle Royale.
Step 1. Open Epic Games Launcher and locate at Library;
Step 2. Right-click on the game icon;
Step 3. Click Options in the list;
Step 4. Uncheck "Use High Resolution Textures" option.

Method 5. Use LagoFast - Best Fortnite FPS Booster
If the above methods or settings don't fix Fortnite FPS dropping on your Windows PC, you may ask help from an FPS booster and get overall hardware optimization. LagoFast is the best FPS booster for online games like Fortnite, CSGO and Warzone 2 etc. LagoFast FPS boost helps to update the outdated graphics driver, overclock your graphics card and deeply optimize your CPU occupation. It is an all-in-one FPS booster for PC. Follow the guide below and enjoy ultimate FPS boost in Fortnite.
Step 1. Download LagoFast and launch it;
Step 2. Click FPS Boost and check the details of each part;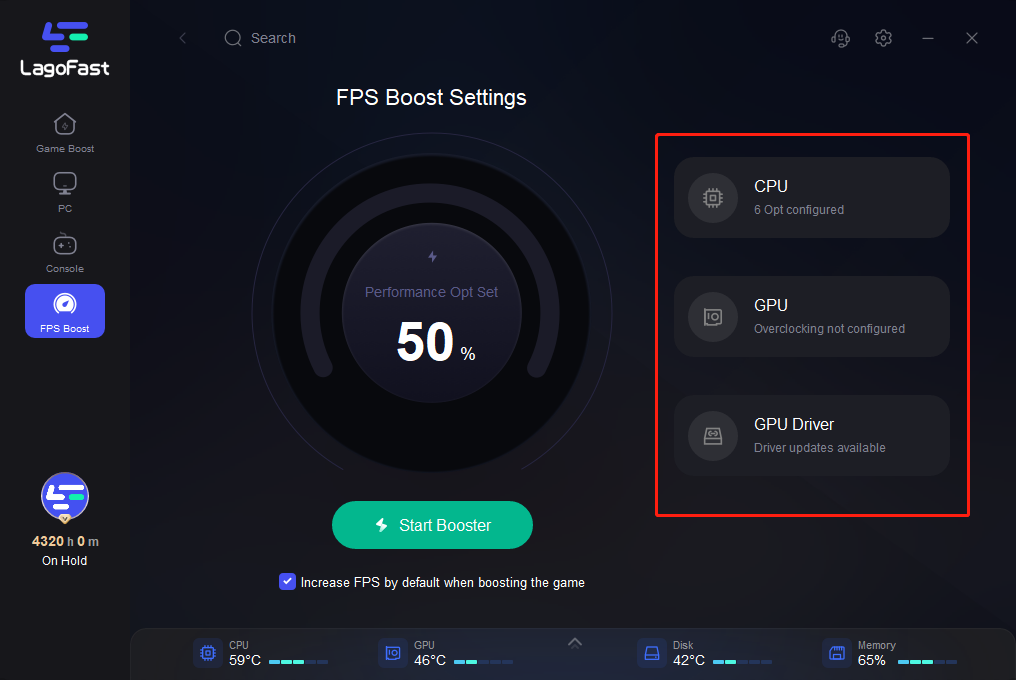 Step 3. Tick the "Increase FPS by default when boosting the game" option;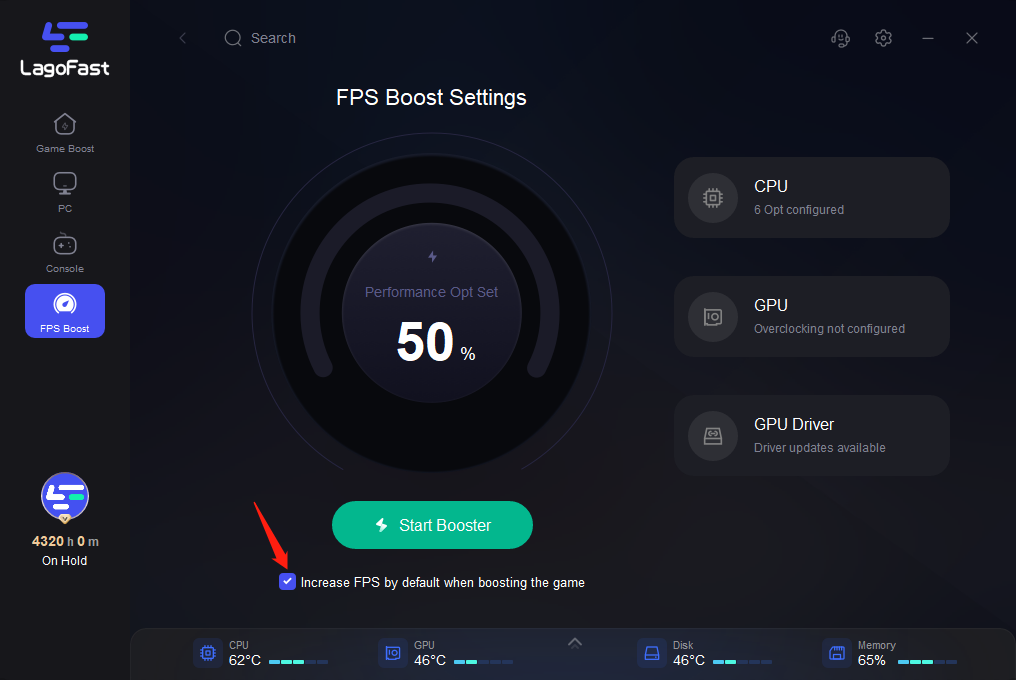 Then you can start Booster and launch your Fortnite! As LagoFast is both an FPS booster and a game booster, you can boost your gaming speed by selecting the best server and node in LagoFast too, allowing you to play Fortnite with a lag-free experience. The full features of LagoFast are as follows:
Boost FPS & fix FPS dropping issues
Reduce lag and ping in real time
Support Fortnite bot lobbies, also for Apex Legends and CoD series
Pay-per-minute plan, more friendly to use
Support boosting some console games too
How to Show FPS on Fortnite? [Bonus]
Knowing how to fix FPS dropping issues, some gamers may wonder about the way to show FPS in Fortnite. It is available for users to show FPS in Fortnite PC with some settings.
1. Go to the settings section of Fortnite from within the game. To do this, click the cog icon, which is next to the menu button in the top right corner of the screen.
2. Make sure the "Video" tab is selected at the top of the screen; it should be the first screen to be displayed.
3. "Show FPS" will be one of the options down near the bottom of the menu. Make sure that this choice is active.
4. You can check your FPS in the lobby and in-game when you return to Fortnite. It can be seen while playing a little to the left of the mini-map.
All settings done, you can launch Fortnite and check if the FPS is showing. Hope you have a great time in battling. You can also check the video and enable FPS showing in Fortnite.
Conclusion
The above solutions to fix Fortnite FPS drop are gathered from different occasions according to various gamers. You can try your preferred method. Actually, LagoFast is strongly recommended for better gaming performance in online games. Just download and get a free trial now with 30,000,000+ gamers!