Terraria was first released for Windows on May 16, 2011, and it has since been ported to a number of other platforms. Players can engage in exploration, crafting, building, painting, and combat with a variety of creatures in a procedurally generated 2D world. Terraria received mostly positive feedback, with sandbox elements receiving special praise. With over 44 million copies sold by 2022, the game is one of the best-selling games of all time. It is a two-dimensional sandbox game with single-player and multiplayer modes that focuses on exploration, building, crafting, combat, survival, and mining. However, many Terraria players encountered many problems, like Terraria lost connection, lag, FPS drop, crashing, and other game issues. How to fix these problems? Follow this article, you can find the answers!
Part 1: How To Fix Terraria Lost Connection Issue?
Part 2: How To Fix Terraria Lag?
Part 3: What Can I Do If Terraria FPS Drop?
Part 4: How To Fix Terraria Crashing?
Part 5: Why We Need The Game Booster LagoFast?
How To Fix Terraria Lost Connection Issue?
If you encounter Terraria lost connection issue, don't be annoying. It's common, and here are some steps you can follow to fix this connection loss issue in Terraria.
1. Update your network adapter's driver to fix Terraria lost connection issue.
2. Enable port forwarding. If you have a Classic Map or try to join someone's Classic Mode game, you should have a Classic Character. Similarly, if you have a Journey Map and want to play a Journey Mode game, you'll need a Journey Character.
3. Uninstall and reinstall the game to fix Terraria lost connection issue.
4. Examine the most recent game version.
5. Check to see if you're employing a variety of styles.
6. Disable the Windows Firewall to fix Terraria lost connection, especially when you lost the connection of Terraria on the platform Steam.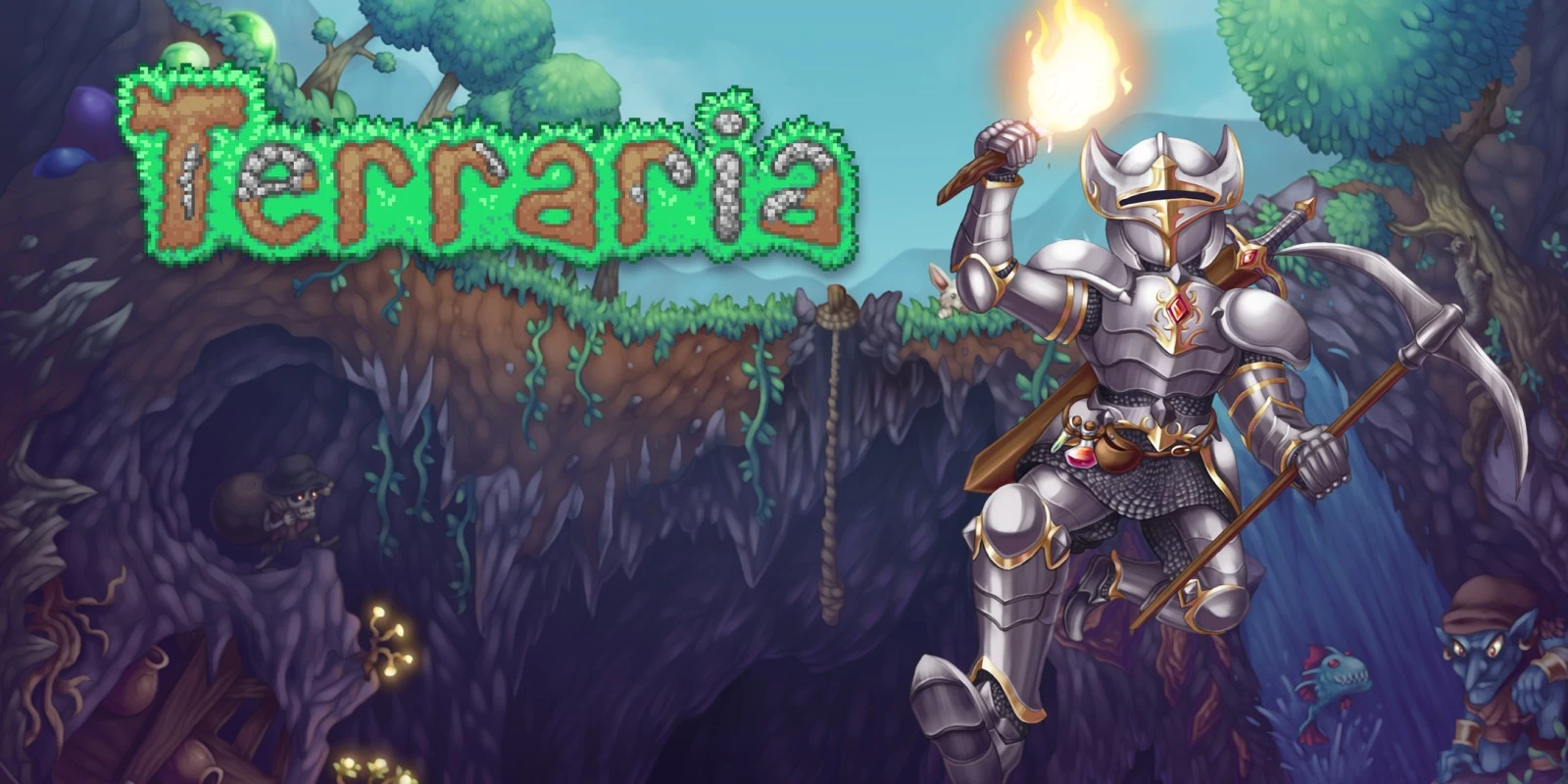 How To Fix Terraria Lag?
1. Improve the configuration of your hardware. Hardware configuration is analogous to a car's engine. It is critical to ensure that your configuration meets the minimum system requirements listed above.
2. Improve your network connection. Terraria lag may be noticeable if there is a problem with bandwidth, network congestion, bad routing, or an unstable connection. Try using a wired connection, increasing your bandwidth, or switching to a better ISP to improve your network connection. You should also look to see if there are too many applications running in the background, such as chrome tabs, as these can seriously impair the performance of your computer configuration.
What Can I Do If Terraria FPS Drop?
If you want to boost Terraria FPS, try these suggestions as follows:
1. Your Terraria FPS will undoubtedly suffer if your computer does not meet the minimum system requirements. Terraria's minimum system requirements are as follows:
OS: Windows Xp, Vista, 7, 8/8.1, 10
Processor: 2.0 Ghz
Memory: 2.5GB
Hard Disk Space: 200MB
Video Card: 128mb Video Memory, capable of Shader Model 2.0+
DirectX®: 9.0c or Greater
2. Use the full-screen mode. The game requires more computer processing power to run in full-screen mode.
3. Both the graphics settings and the in-game resolution are far too high.
4. There are far too many background programs. If you have a lot of Chrome tabs open, for example, they will consume a lot of energy, leaving only a few to run Terraria. As a result, FPS drops in Terraria are common.
5. Terraria's game files are corrupted. This game could be reinstalled.
6. Insufficient network connectivity. For example, if your network or bandwidth is congested, data transmission speed and the number of frames displayed on the monitor will both decrease.
How To Fix Terraria Crashing?
1. Disable your antivirus software temporarily.
2. You can play your role as an administrator.
3. Your graphics driver should be updated.
4. Restart your computer.
5. Examine your game's file integrity.
6. Play your game in compatibility mode.
7. Reinstall your game and/or Steam.
Why do We Need The Game Booster LagoFast?
Compared to these measures mentioned above, there exists one way to fix these Terraria issues easily. That is using LagoFast!
To fix the Terraria lost connection issue, LagoFast has worldwide nodes to improve the network connection. And the unique data transmission protocol of LagoFast could also help you to avoid fluctuation in the network connection.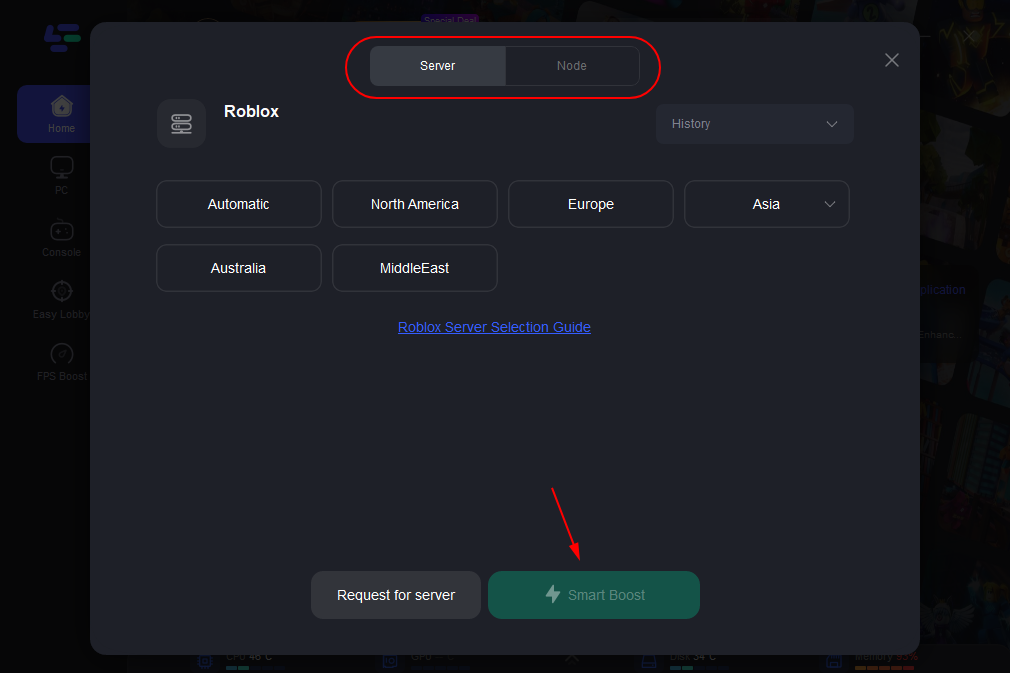 To fix the Terraria lag problem, LagoFast could accurately test real-time ping while you are running the game. It can speed up the transfer process by using its special data transmission protocol. And it can also use its worldwide nodes to reduce the distance of data transmission, and then reduce game ping in Terraria.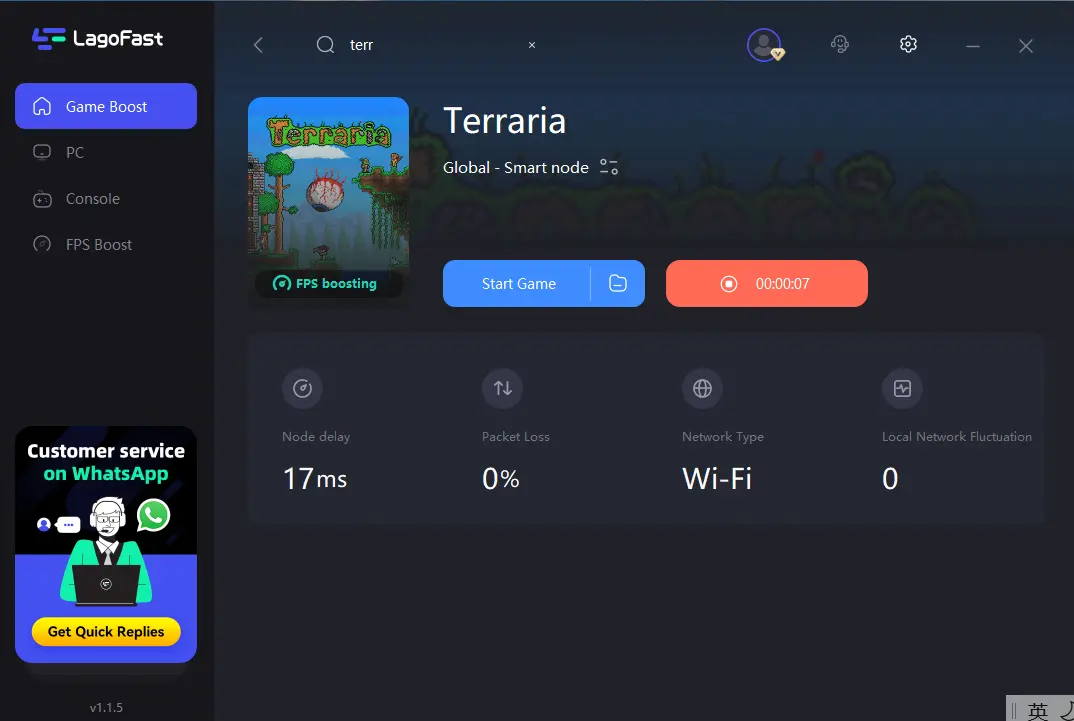 To fix Terraria game FPS drop issue, you can find an FPS Boost panel. This panel allows you to prioritize the game process, enable High-Performance Mode, disable Game DVR, and disable Core Parking... Furthermore, the LagoFast game FPS booster could close unnecessary background applications to free up more space for Terraria.
And to fix Terraria crashing issues, LagoFast could improve the network connection and help you to find the network reasons to reduce Terraria crashing problem.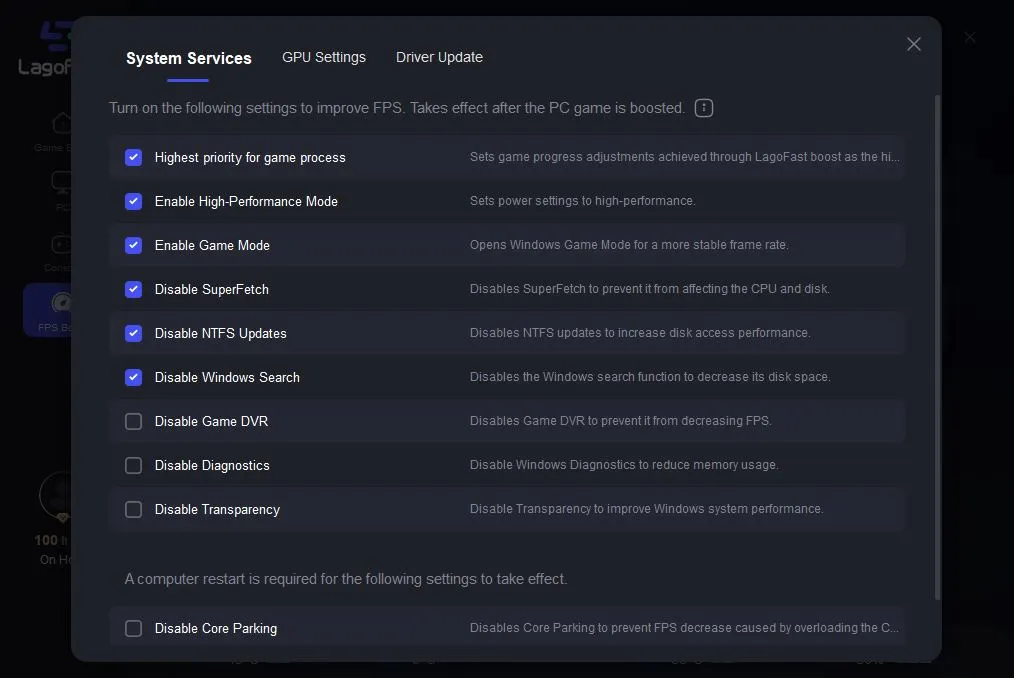 In addition, LagoFast has a unique plan per second, you can stop LagoFast's service whenever you want, and pay just for the time you play the game. Therefore, if you don't play the game every day, LagoFast could be your most economic choice!
If you want to try using LagoFast, follow these steps!
Step 1: Click the Free Trial button to download the LagoFast client and experience the game booster service.
Step 2: Before running Terraria, you just need to find the game you want to play in LagoFast and click the "Boost" button.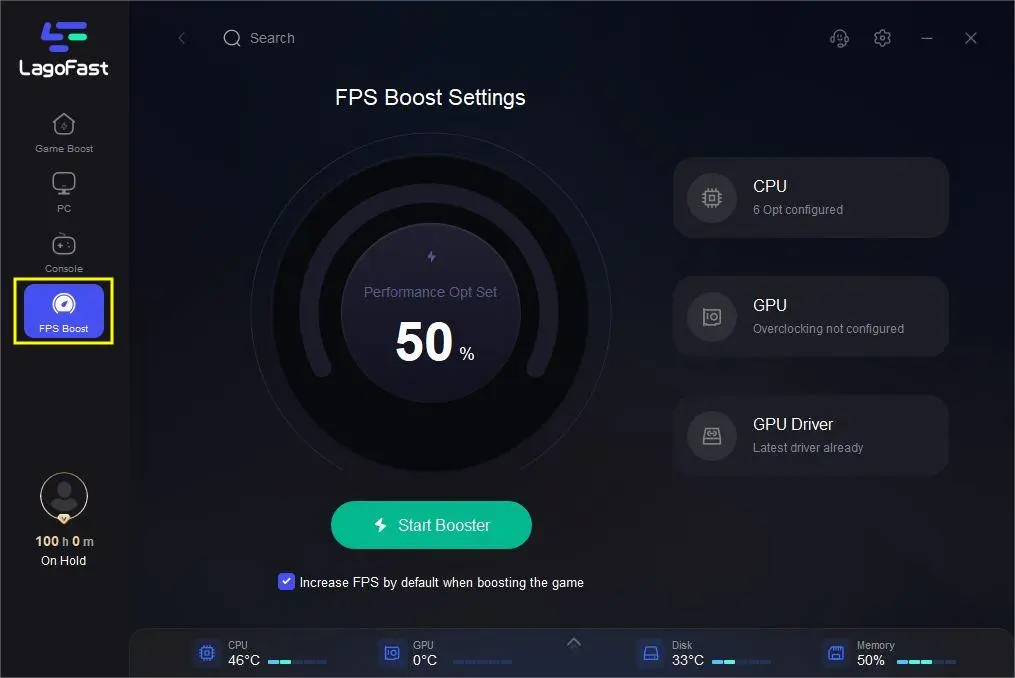 Step 3: And then you can click the FPS boost button to change settings to improve your Terraria FPS based on your specific requirements.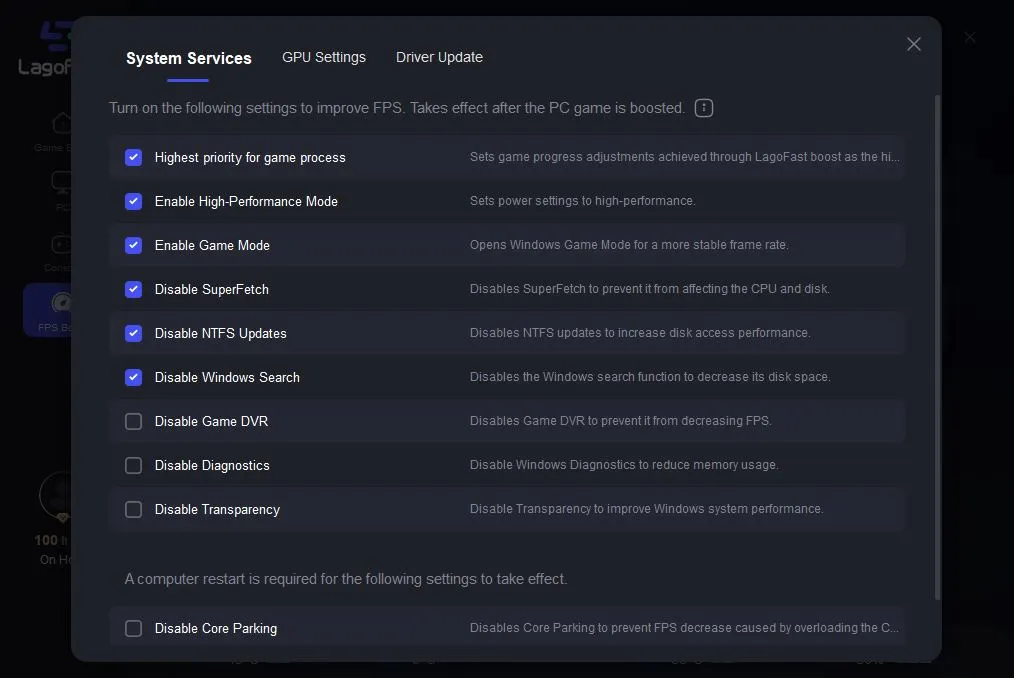 Step 4: While you are playing the game, you could check your network condition in this panel, and then make suitable decisions to fix Terraria lag issues and lost connection.