According to Mike Wang, game director at Visual Concepts, NBA 2K23 took the community's needs seriously, and many of the changes the community requested most were reflected in the game's improvements. NBA 2K23 focuses on how players attack the basket and more realistic ball-handling defense, as well as more realistic dunk animations for players such as Ja Morant. Their goal is to create a life-like gaming experience. However, it is quite common for an online game to experience network connection issues, such as NBA 2K23 connection errors. Most likely, you don't have a good internet environment, and for that, I recommend LagoFast, an experienced NBA 2K23 game booster that can keep your internet connection running smoothly.
Part 1: Easy Steps to Fix NBA 2k23 Connection Errors
Part 2: Common Causes for NBA 2K23 Connection Error
Part 3: Other Solutions to NBA 2K23 Connection Errors
Easy Steps To Fix NBA 2K23 Connection Errors
If the NBA 2K23 connection error is due to a server issue, we can only wait for the patch's official release or the finished server's maintenance. However, we must also avoid the problem from occurring on our side. A steady internet connection will make the online game more stable. But how do you make your network run more smoothly? Use LagoFast! LagoFast has over 8 years of data transmission experience, allowing it to manage a wide range of challenging network situations. Furthermore, using accurate network diagnostics, LagoFast can match you with the optimal network nodes. In comparison to VPNs, LagoFast features a global acceleration route that provides you with acceleration no matter where you are. I can promise you that LagoFast is the most cost-effective because it is the only one of all game VPN and game boosters that have a timing package, and you pay per minute. Use LagoFast and say goodbye to your NBA 2k23 lag!
Here are the features of LagoFast:
Free trial, try before you make a decision
Pay per-minute, wallet-friendly!
Boost FPS while reducing Ping
Have over 8 years of experience in dealing with tricky network environments
Worldwide exclusive routes
Here's how to use LagoFast:
Step 1: Download LagoFast.
Step 2: Type " NBA 2K23 " in the Search box and click on it.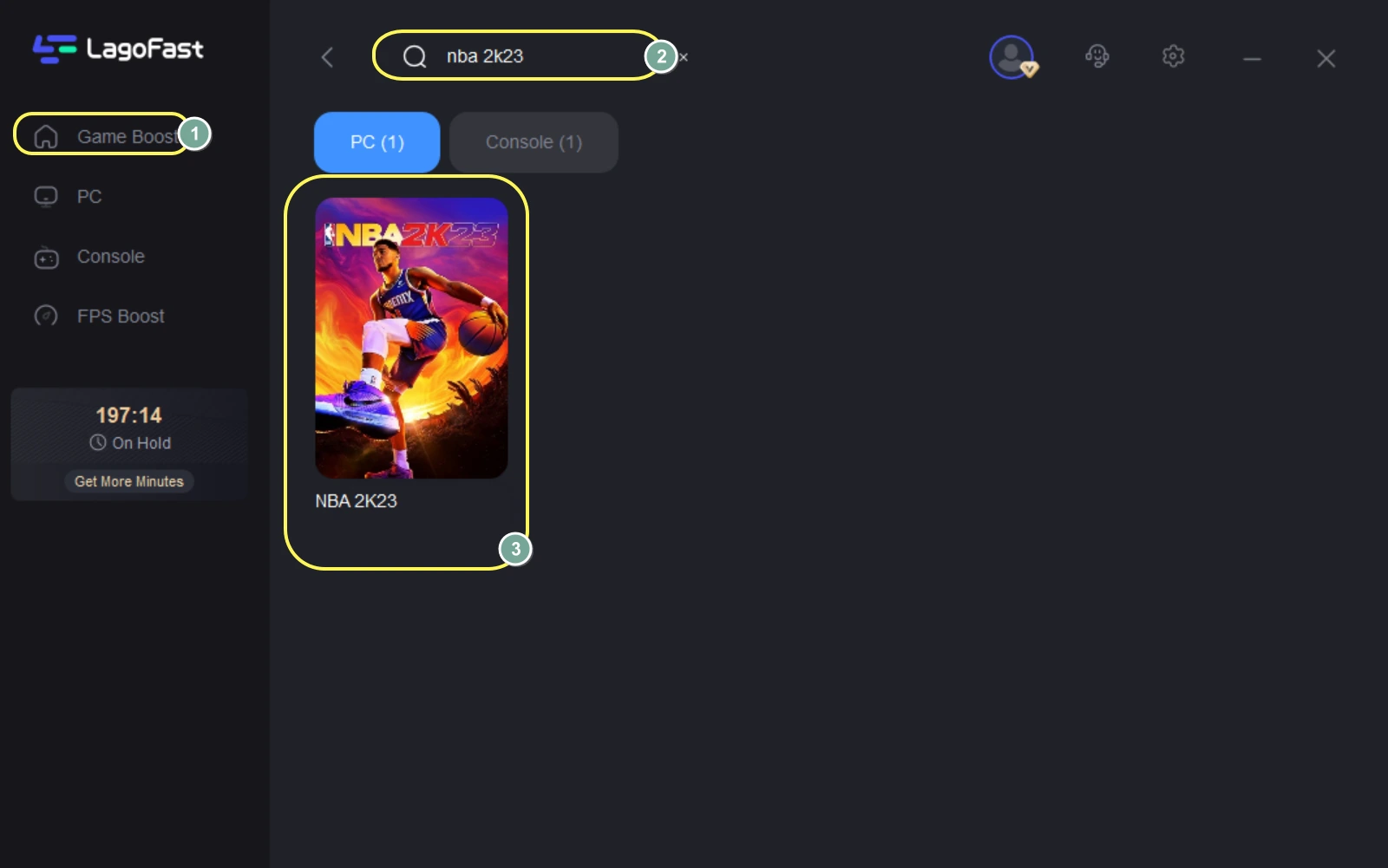 Step 3: Choose your needed server.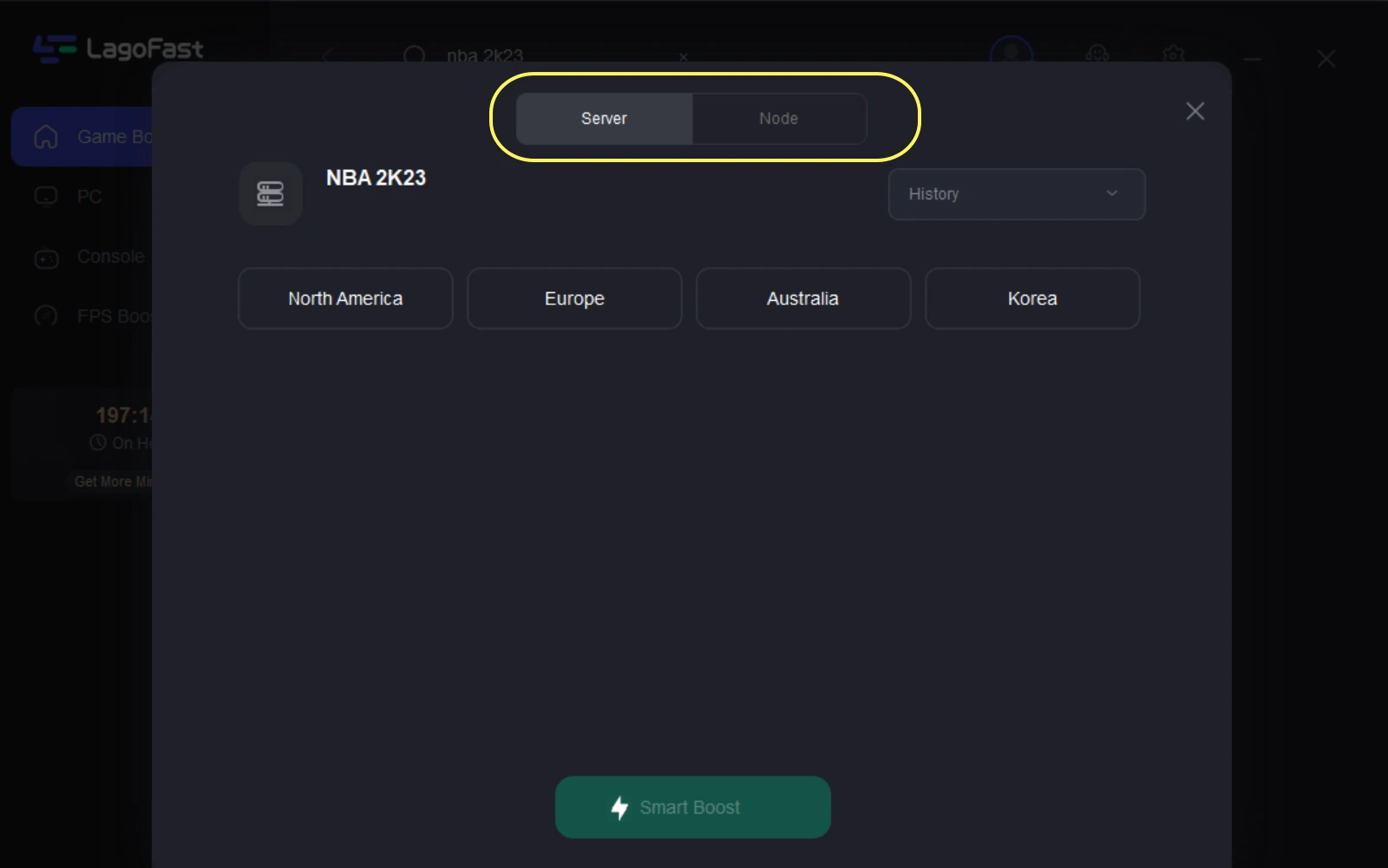 Step 4: Click on the Boost button to boost your game.
You can see your real-time ping rate and packet loss rate in NBA 2K23 on this page.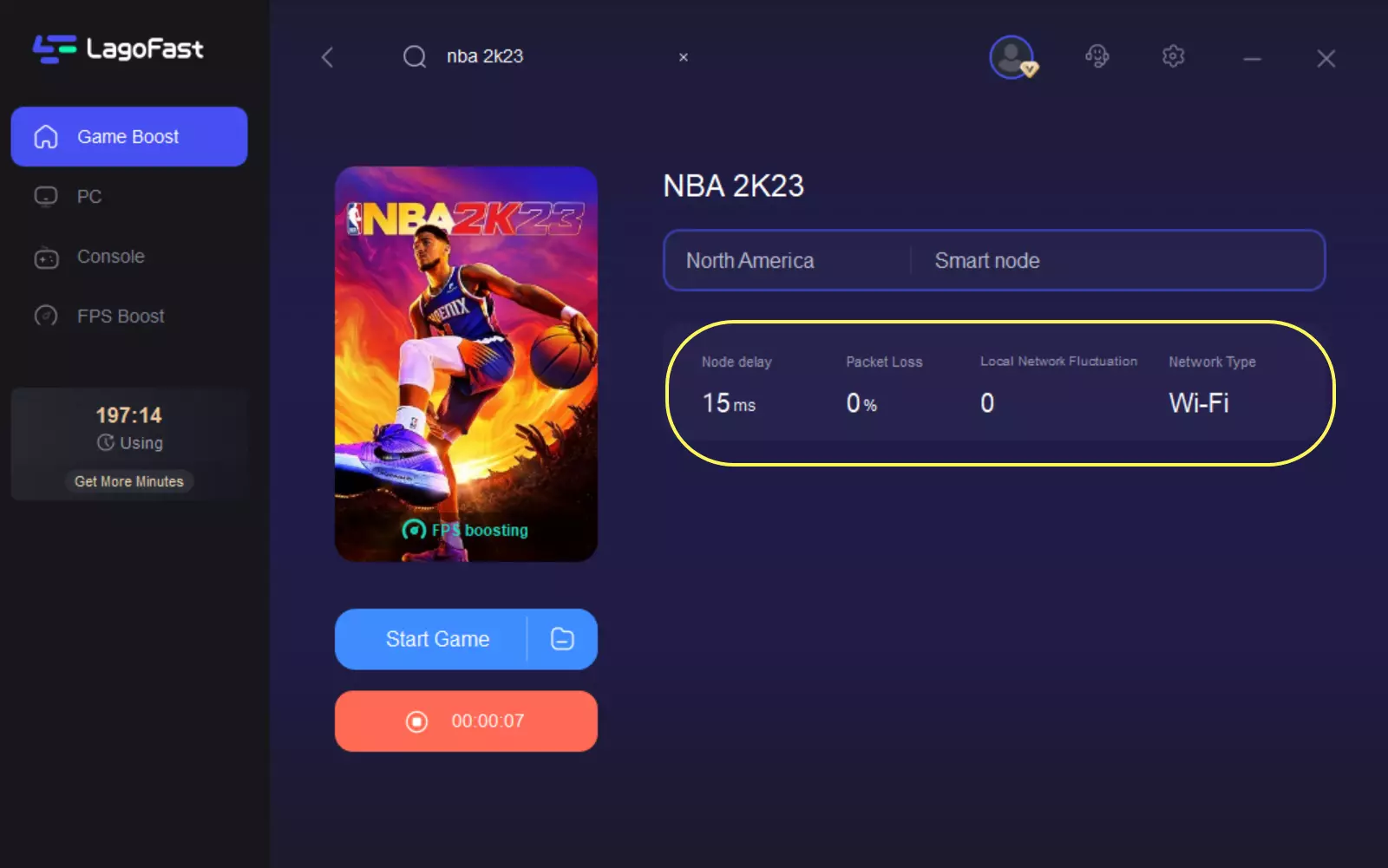 If you want to optimize your in-game FPS performance or minimize FPS drops, you may also click LagoFast to change your settings. To accomplish this:
Step 1: Click on "FPS Boost" on the left side.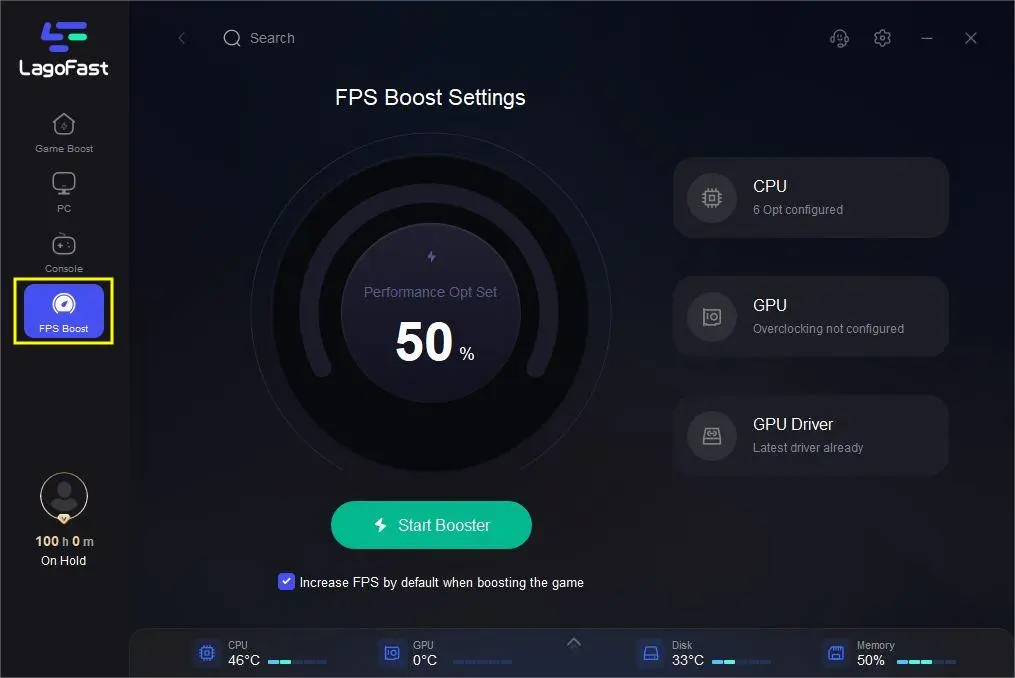 Step 2: Click "CPU Optimization" on the FPS Boost page and choose the settings that you want to open.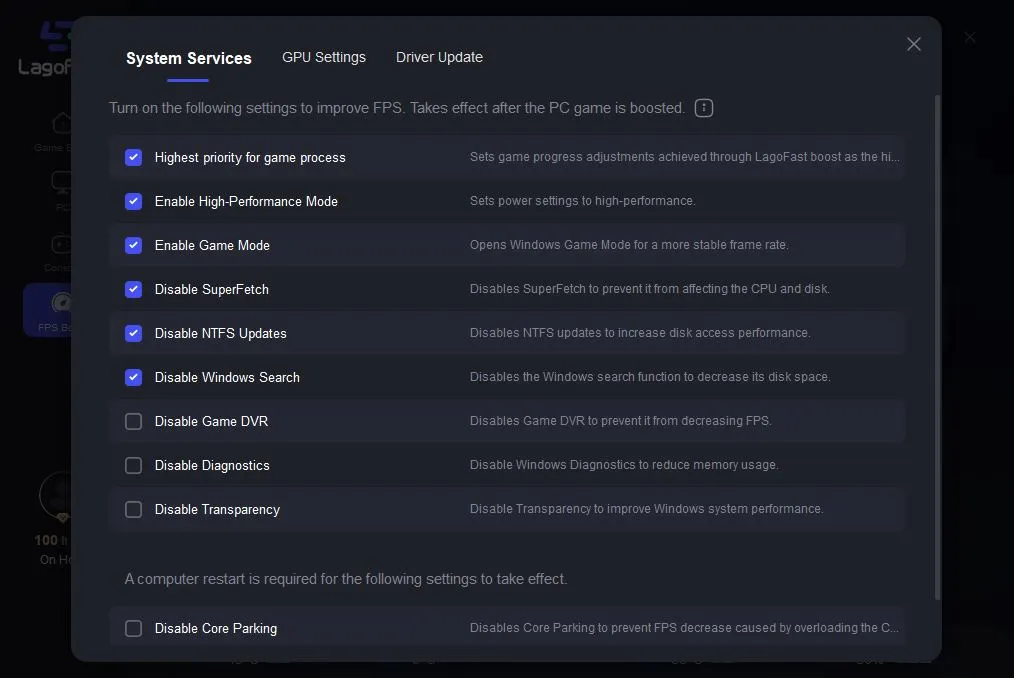 Step 3: Click "GPU Settings" on the FPS Boost page.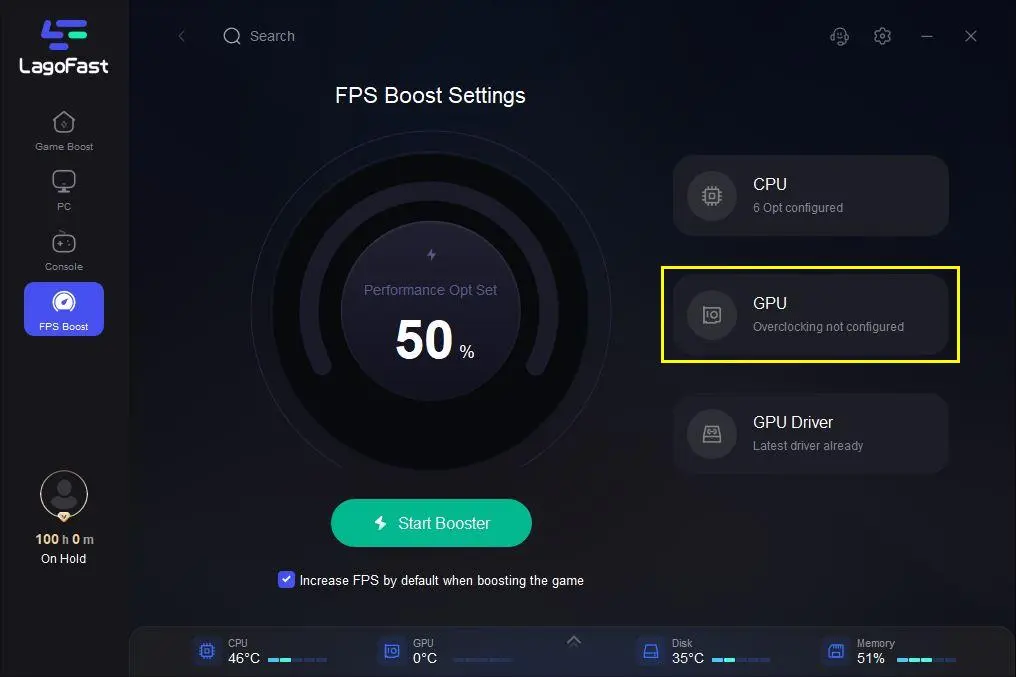 Step 4: Slide to choose your overclocking level in the first bar and tick "Enable GPU Boost" in the second bar.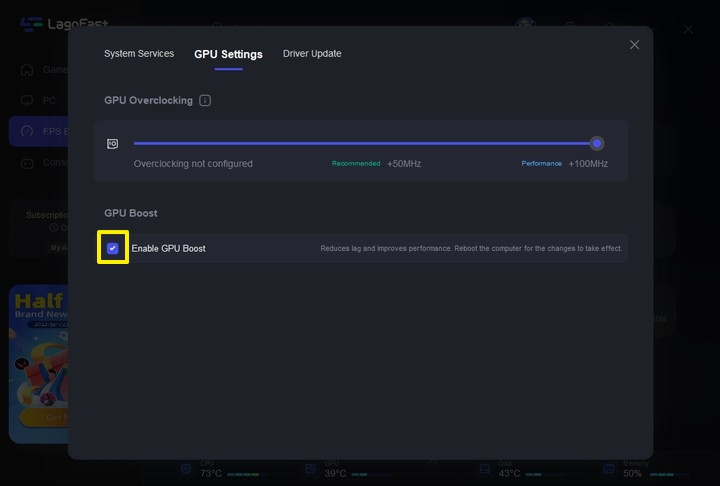 Step 5: Click "GPU Driver" on the FPS Boost page to check your GUP Driver updating version.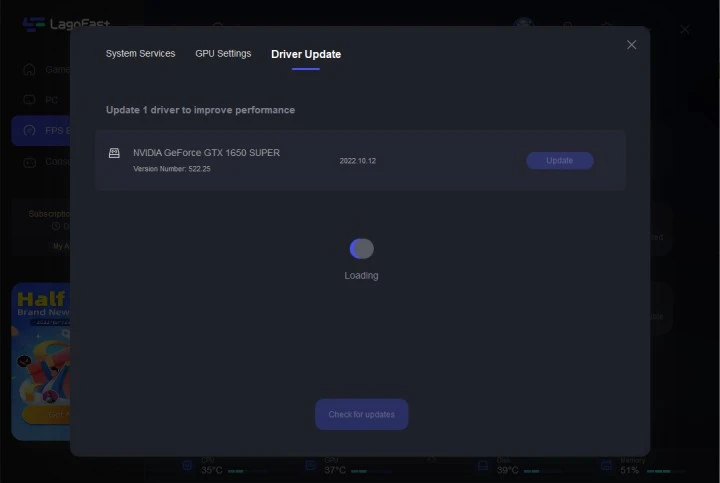 Common Causes for NBA 2K23 Connection Error
NBA 2K23 in addition to the previous online gameplay, one of the most recent trailers reveals more information about MyTeam, which also includes a brand new way to work with three people to complete — Triple Threat Online Co-op, this brand new game mode will allow players with friends for online gameplay across different variations, such as Party Mode, Co-Op, and Competitive Online. Online games may be a great deal of enjoyment for players, but they can also have connection errors for a variety of reasons. Server-side issues are a likely reason, a big inflow of players or regular server maintenance by game officials can result in server close. Of course, it might be your own network issues, such as a sluggish internet connection, a congested network, or router issues.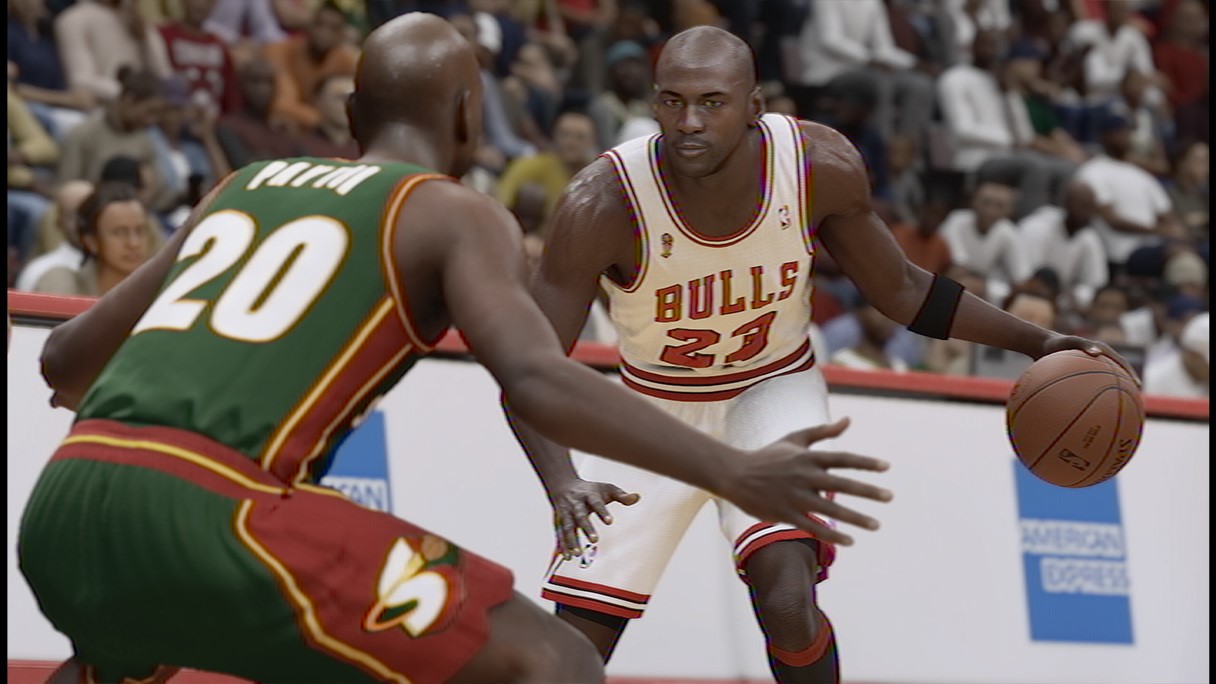 Other Solutions to NBA 2K23 Connection Errors
There are other methods for resolving NBA 2K23 connection issues, but they may not be as quick and successful as using LagoFast. Following that, we have compiled a list of probable solutions to the NBA 2K23 connection timed out, connection failed.
Check your internet connection: The error could be caused by slow internet speed or latency issues. To stay connected to the server when playing NBA 2K23 online, we need a fast and consistent internet connection. As a result, you can test your internet connection by running various online programs.
Close other internet connection needed apps: You can potentially solve the problem by ensuring that your Internet connection is not overloaded. Before you start the game, there may be several applications running in the background of your computer that are eating your bandwidth, causing your gaming network connection to be too slow and time out. At this point, you should launch Task Manager and terminate any apps that are hogging your network.
1. Open Task manager by pressing CTRL + SHIFT + Esc keys together.
2. Click on the Network tab.
3. Right-click pick and end task for high network usage apps.

4. Disable your antivirus: Your antivirus software analyzes your computer regularly for malware threats and prevents these applications from running. If it considers NBA 2K23 to be harmful software, the game will not run properly. You will now need to whitelist NBA 2K23 in your anti-virus program. If you continue to have troubles after doing this operation, you must temporarily stop your anti-virus software while playing the game.
Update the network driver: When we experience network connectivity issues, it is possible that outdated network drivers are at blame. The role of network drivers is to ensure that all network-related functions on the computer execute smoothly. As a result, NBA 2K23 connection issues can be caused by a missing, obsolete, or corrupted driver. Here is how to update it:
1. Open the search box by pressing the Windows logo key + S.
2. Enter "device" and then click on the Device Manager search result.
3. Scroll down to the "Network adapters" area in the new window. Then double-click it to enlarge it.
4. Select Update driver from the context menu of your Network driver.
You may also have NBA 2k23 crashing error, read this article to get more fixes!
NBA 2K23 FAQs
What are the new features in NBA 2K23 MyTEAM?
In one of 2K's most recent trailers, it was revealed that NBA 2K23's MyTEAM mode will include brand-new features, which has sparked a wave of excitement among basketball fans.
Here are the new features of MyTEAM:
Clutch Time Single Player: Enter a single-player version of Clutch Time, a fast-paced level featuring a 4-point line, to battle against the AI with your best starting five.
Starter Cards: Players can head their collection with All-Stars Ja Morant, Jimmy Butler, or Joel Embiid. Before making their final decision, players will get to play with their Starter Card choices in a Triple Threat game.
Triple Threat Online: For the first time in MyTEAM history, this brand new game mode will allow users to team up with friends for Co-Op 3-v-3 online multiplayer in a variety of permutations.
Unlimited: Players who achieve the top tier of the new Prestige Tiers can restart and earn even more rewards.
No contracts: Contracts have been deleted from MyTEAM! Permanent player cards are now yours to use as you see fit across MyTEAM without the requirement to fill out contracts.