FPS is to some extent an index of the game's smoothness. Thus, it is necessary for players to come up with several methods to increase FPS in Diablo Immortal.
Diablo Immortal is a massively multiplayer online action role-playing game developed by Blizzard and Netease. This free-to-play game was released in 2022 and received mixed reviews. However, it has a great player base because, by the end of July 2022, it has reached 30 million downloads.
Why does FPS drop when I am playing Diablo Immortal
FPS drops for a couple of reasons, it may occur due to an unstable Internet connection. Maybe there are too many devices connected to your network while you are playing the game. And that is likely to be a direct reason that will cause FPS drops.
In this article, we will provide you with several ways to boost your FPS in Diablo Immortal. Let's check it out!
How to Increase FPS in Diablo Immortal
1. Try LagoFast FPS Booster.
LagoFast is a revolutionary game accelerator that can greatly improve your computer performance and provide you with a truly immersive gaming experience. The unique game data transmission protocol fundamentally ensures a stable and smooth game experience (superfast connection, simultaneous acceleration of multiple servers, servers switching at will), ensuring that every player enjoys games with increased FPS, lower ping, and less lag.
In addition, LagoFast is quite easy to use, I strongly recommend you should download it now and try to use it to increase FPS in Diablo Immortal.
Step 1: Search for Diablo Immortal on the top of the interface and click it.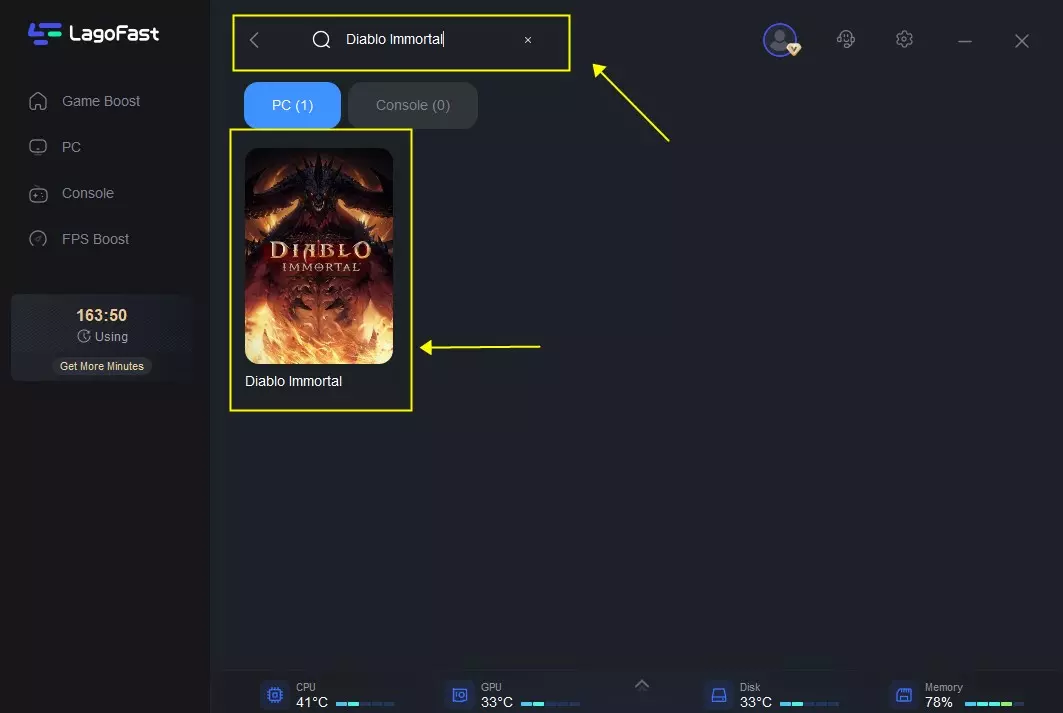 Step 2: Select the server and node that suits you best with low ping and less lag.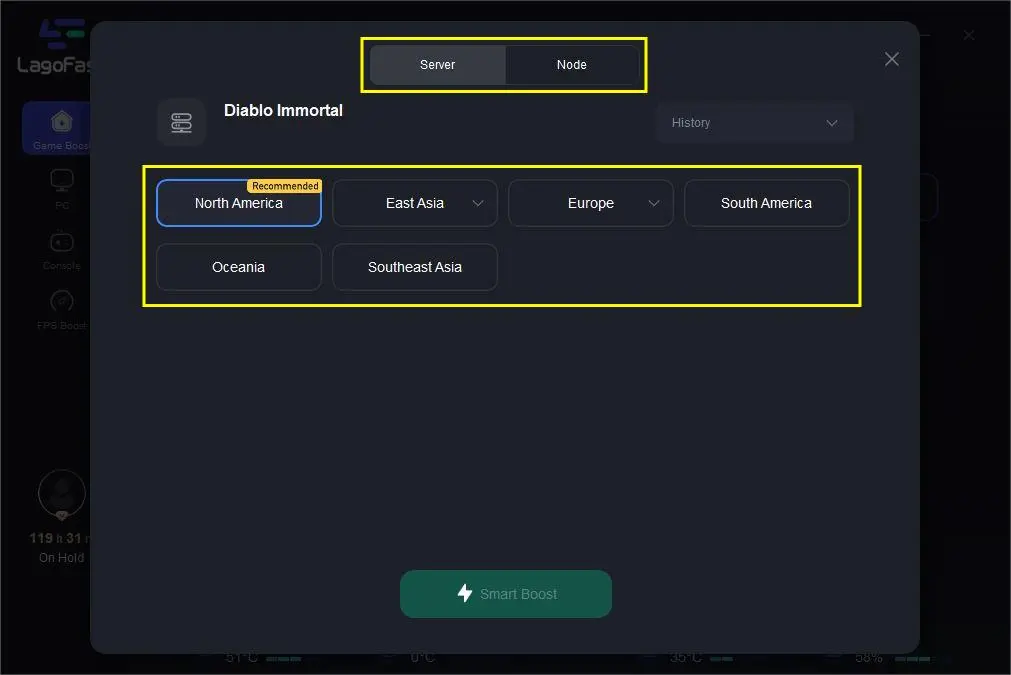 Step 3: Enjoy Diablo Immortal with no packet loss and increased FPS!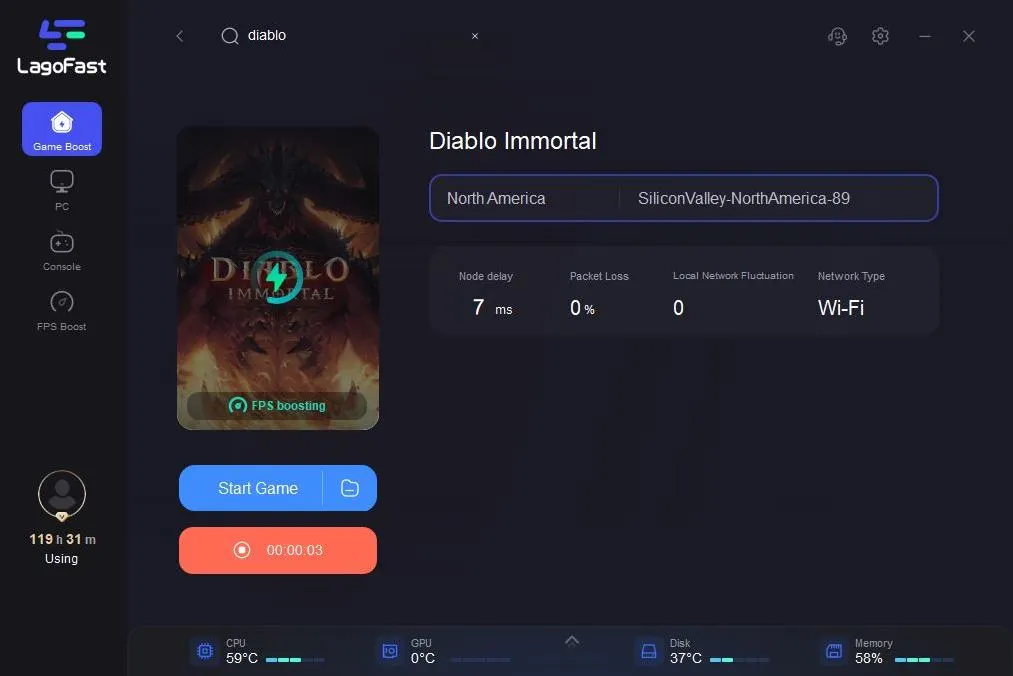 Besides, LagoFast has an advantage compared with other game accelerators. You can stop it whenever you want without being charged. You can pause your time in LagoFast because it only charges you when you turn it on. In LagoFast, the cost can be calculated in minutes, which makes it a more economical choice for players all around the world.
2. Check your computer.
Outdated graphics card drivers, malware & virus attacks, or hard drive issues may greatly affect your FPS in Diablo Immortal. Thus, before you run the game, it is necessary to check your computer for a better experience.
Step 1: Make sure your PC meets the minimum requirements.
P.S. the minimum requirements for Diablo Immortal are:
CPU: Intel Core i3 or AMD FX-8100.
RAM: 4 GB.
OS: Windows 7 / Windows 8 / Windows 10 / Windows 11 (64-bit)
Video Card: NVIDIA GeForce GTX 460, ATI Radeon HD 6850, or Intel HD Graphics 530.
Pixel Shader: 5.0.
Vertex Shader: 5.0.
Step 2: Update to the latest NVIDIA or AMD drivers for your GPU.
Step 3: Make sure Windows is up-to-date.
Step 4: Make sure Diablo Immortal on your computer is the latest version.
Step 5: Repair or reinstall your game.
Hopefully, this method will help you with FPS drops. If it doesn't, you can contact Blizzard's support service and ask for an official guideline to increase your FPS in Diablo Immortal.
3. Change your Game settings.
Sometimes changing your game settings is a really quick and easy way to help Diablo Immortal run more efficiently on your device. Through searching, optimal settings were found:
Frame Rate: Uncapped
Vertical Sync: Off
Image Sharpening: Off
Visual Effects: Medium
Shadow: Low
Fog: Low
Post Processing: Off
Anti-Aliasing: Low
Environmental Details: Medium
Monster Effect: Medium
Bloom Effect: Off
Vegetation Burning Effect: Off
Reduce PvP Effect: Off
Some settings take up much of your computer's performance but you can barely see the improvement. All you have to do is to turn them off or turn them down a little. By doing so, you will ease the burden of your computer. And after you change your game settings, FPS may maintain a rather higher level than before.
Conclusion: If you are looking for ways to boost FPS in Diablo Immortal, the above 3 ways provided in this article can help you a lot. The feedback from players who have tried LagoFast tells us that the first way might be most helpful. A player said that his FPS increased from 70-90 to 160. So do not hesitate, just go to download LagoFast. It is worth a try!