Counter-Strike: Global Offensive (CS: GO) expands upon the team-based action gameplay that it pioneered when it was launched 19 years ago. New maps, characters, weapons, and game types, as well as updated versions of the iconic CS content (de dust2, etc.), are all included in CS: GO. When the unlikely MOD became the most popular online PC action game in the world nearly right away after its August 1999 release, Counter-Strike surprised the gaming industry, according to Valve's Doug Lombardi. It has remained one of the most popular games in the world for the past 12 years, dominating gaming competitions and moving more than 25 million units globally across the franchise. The award-winning gameplay of CS will be enhanced in CS: GO and made available to players on the PC, next-generation consoles, and Mac. However, players will inevitably experience CS: GO lag during the game, which drives them crazy. In order not to be troubled by CS: GO lag anymore, I recommend you to use LagoFast, which can also fix packet loss, fps drops and other connection problems.
Part 1: The Best CS:GO Lag Fixer
Part 2: Why CS:GO lag happened?
Part 3: Other Ways to Fix CS:GO Lag
The Best CS:GO Lag Fixer
LagoFast can assist you in determining whether there is CS:GO lag when gaming as well as in resolving it. It has more than 8 years of experience increasing in-game performance with an emphasis on eliminating packet loss, relaxing the network, lowering high ping, etc. LagoFast has a sophisticated routing system and has created a special game data delivery protocol. It is very simple to use; all you have to do is click the "boost" button to improve every aspect of your PC's performance. In addition to all of these benefits, LagoFast is inexpensive. Currently, it is the only game booster that enables "plan per minute." Scroll back and examine the previous steps for more details on how to enhance performance in-game.
The following are some of the features of LagoFast:
The only booster for games that works with plans per minute
Simple to use, prevents all game faults
Capable of solving packet loss effectively
More than 8 years of optimizing experience
Specialized protocol for transmitting game data
A resourceful routing method
Support more than a thousand well-known games, including Apex Legends, League of Legends, Halo Infinite, Fortnite, and Warzone 2.
The guide is listed below.
Step1: Click "free trail" bottom to install LagoFast.
Step 2: Type "CGGO" in the search box, and then choose it from the list of results.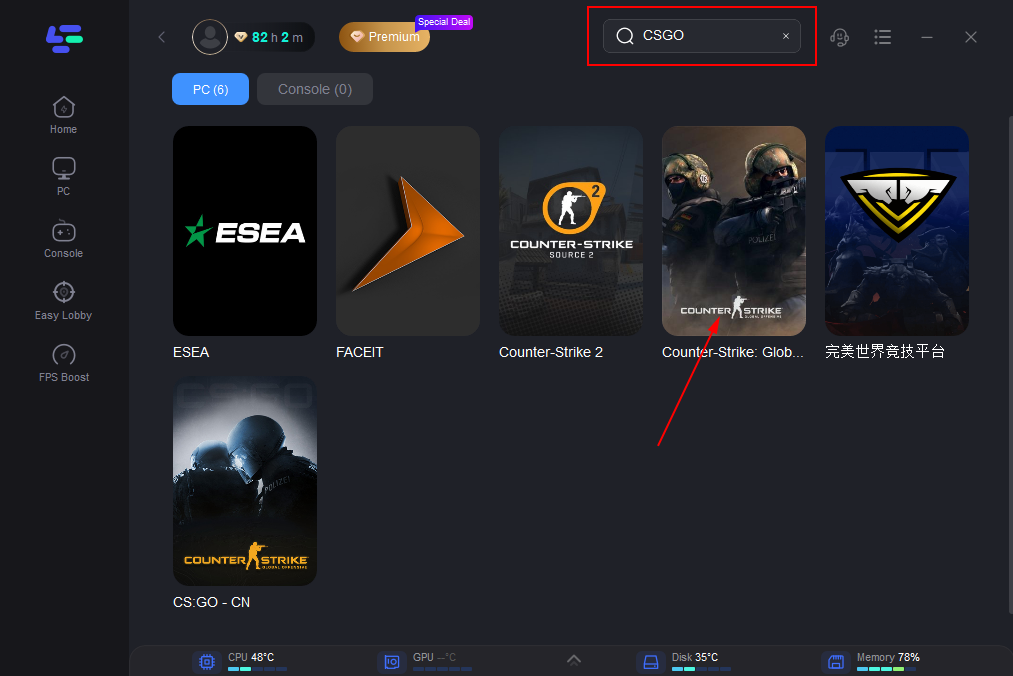 Step 3: Choose a server that matches CG:GO.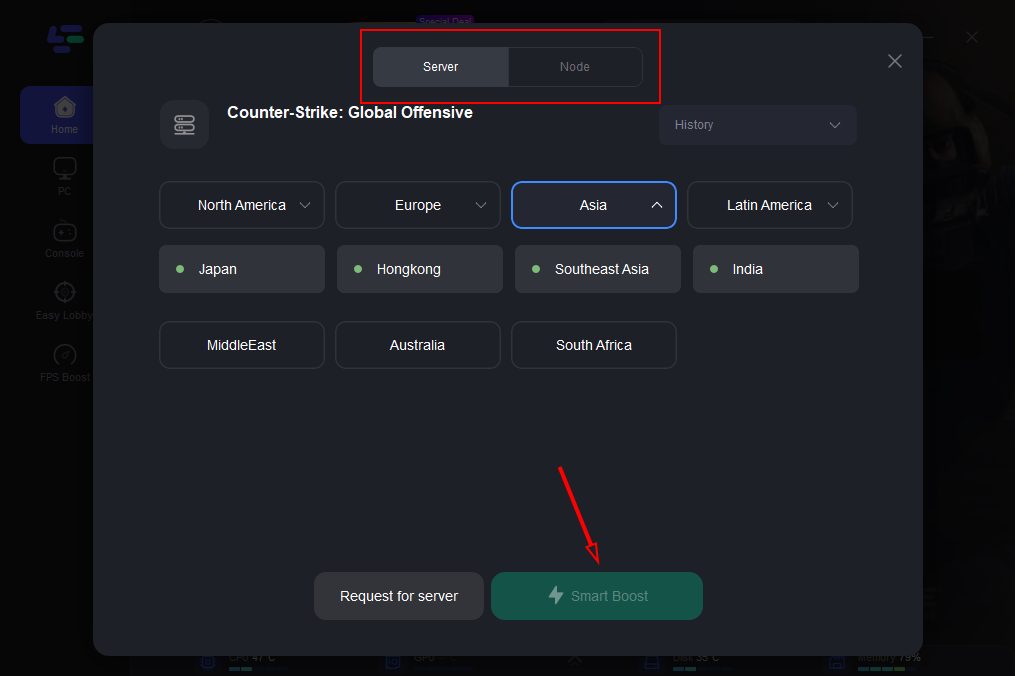 Step 4: To begin boosting, click the Boost button.
Your current packet loss rate and ping rate are displayed on the following page. If the rates are too high, it will also begin to fix.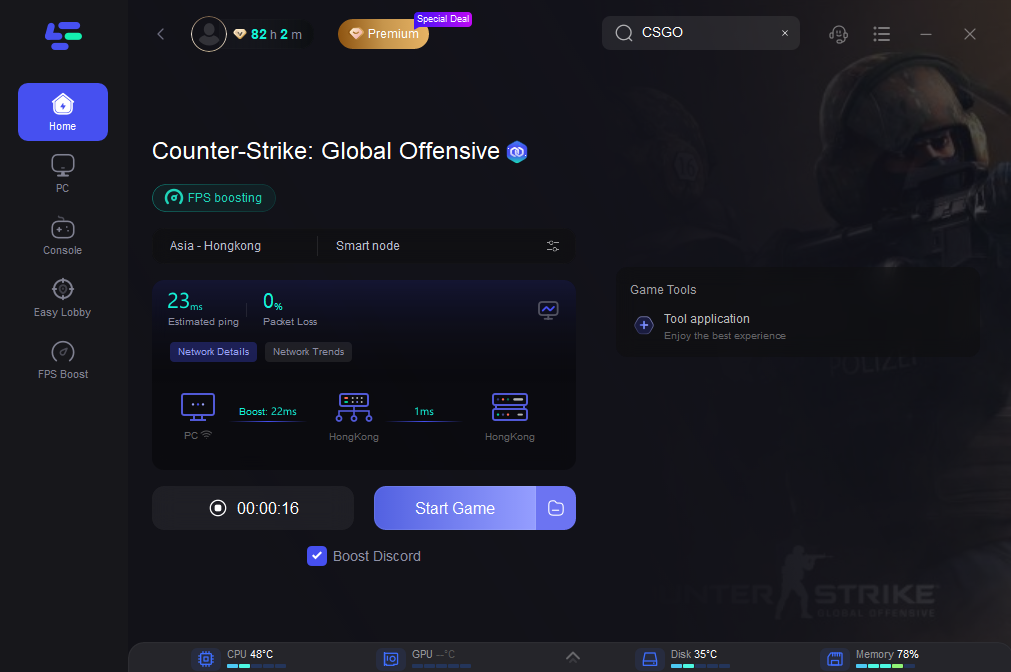 Why CS:GO lag happened?
You are invited to play this game on any of your favorite gaming platforms. It's both a blessing and a curse for CSGO. Players on various platforms will be in a variety of online states. You or your gaming partner can face lag spikes and server issues if you and your partner connect to the CSGO servers using different platforms.
Your Internet speed and the hardware, such as the distinction between a switch and a personal computer, are the two main reasons that might make CSGO lag on a computer. Utilizing LagoFast makes it possible to reduce hardware differences between several hosts. An additional consideration for computer gamers is their graphics cards, RAM, and CPU. The viewing experience can be improved with a powerful graphics card. These are especially important when compared to network speed and online connection.
You should consider all of the aforementioned reasons and follow the recommendations in the following article to learn how to reduce CSGO lag if CSGO lag on your computer and other online issues, such as CSGO stuttering, is a persistent problem for you.
Other Ways to Fix CS:GO Lag
Players from multiple platforms frequently have connection problems with the game's servers in addition to CSGO slowness. The first thing blocking players from connecting to the server could be a network issue, such as oscillations with the CSGO operator. A slow online network is a significant additional element causing CSGO server slowness and spikes in PC lag.
The solutions listed below, in my opinion, ought to be taken into account and applied:
Restart your network: The first thing you should check when CS: GO slows is your network connection. CS: GO will undoubtedly continue to stutter if there is a problem with your network. Simply restarting your network is one of the simplest solutions for games that lag. Your network may need to be restarted to get your Internet connection speed back to normal. If everything else is fine, restarting your network should fix the problem.
Change your PC's power plan: You may experience game lag if your PC's power strategy is Power saver or Balanced. The working capacity of your graphics card and CPU may be limited by the default configuration of Balanced on most computers. Try switching your PC's power plan to High performance to resolve the game lag issue.
Deactivate CPU Parking at Core: Core Parking, a Windows kernel power manager, enhances your system's energy economy by dynamically scaling the number of active logical processors based on workload. Your CPU performance while playing CS:GO may be restricted if you enabled Core Parking.
Limit background downloads and applications: You can experience CS:GO slowness if you're simultaneously using other programs or applications. So before starting the game, try limiting background downloads and programs to check if the problem still persists.
Upgrade your graphics driver: If network issues are not the cause of the CS: GO slowness issue, you should consider updating your graphics driver. The cause of the latency problems in the game may possibly be an out-of-date graphics driver.
Change to a wired network: When you use the wireless network to play games, other users who are also connected to the network will consume some of the data, which will slow down the network and impair how well the game runs. For this reason, I advise switching to a wired network. Because CSGO demands more RAM and update package data, the game will load and update more slowly and may even break connections often if the player's network environment is poor. To reinforce the network and prevent data theft by unwanted users, we can utilize a wired network rather than a wireless one. Utilize as much data as you can for CSGO while shutting down any superfluous programs. If the network data is sufficiently stable and the network speed is swift, connection problems can be reduced.