Have you encountered lag issues when you are playing the game? This annoying problem is generally caused by an unstable wireless network situation. But how can I improve it? The one of easiest ways is to change your wireless router. Following this article, the best wireless routers in 2023 will be shown to help you choose the most suitable one.
Part 1: What is a Wireless Router
Part 2: Top 5 Wireless Router 2023
Part 3: Best Way to Fix Game Lag
What is a Wireless Router
Wireless routers are common in homes because they are the hardware devices used by Internet service providers to connect you to their cable or xDSL Internet network. A wireless router, also known as a Wi-Fi router, is a networking device that combines the networking functions of a wireless access point and a router. A router connects one local network to another or the Internet. A wireless access point uses radio frequencies in the 900 MHz, 2.4, 3.6, 5, and 60 GHz frequency bands to wirelessly connect devices to a network. The most recent wireless routers are based on the IEEE 802.11ac Wave 2 standard, also known as Wave 2.
Top 5 Wireless Router 2023
1. TP-Link Archer AX11000 Next-Gen Tri-Band Gaming Router
The Archer AX11000 received high marks and an Editors' Choice award for its outstanding performance, user-friendly dashboard, and a generous selection of I/O ports, which included eight 1GbE LAN ports, a 2.5GbE WAN port, and two USB ports. It's a big tri-band Wi-Fi 6 router with a big price tag, but it's loaded with features and uses top-tier hardware to keep you in the game, making it one of the best all-around gaming routers on the market.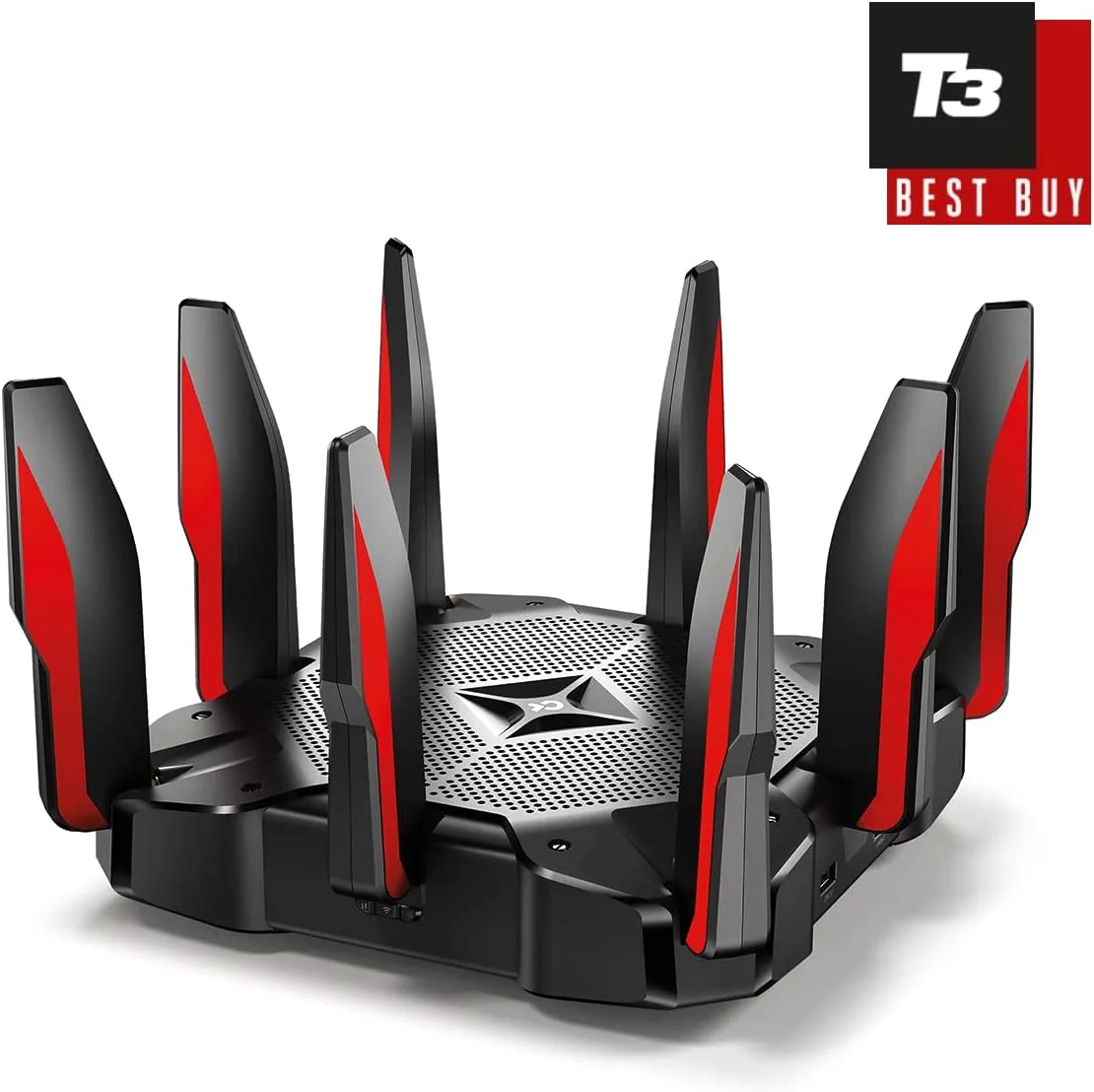 2. Asus ROG Rapture GT-AC5300
Asus' ROG Rapture GT-AC5300 is a powerful Wi-Fi 5 router that delivers fast throughput and is loaded with connectivity options. It was designed with online gamers in mind. It has eight 1GbE LAN ports, two of which have automatic bandwidth priority for use with gaming PCs and consoles, link aggregation support, and dual USB 3.0 ports. The ROG Gaming Center dashboard includes a number of game-enhancing features such as Game IPS, Game Boost, and a Game Radar feature that displays the global servers for specific games.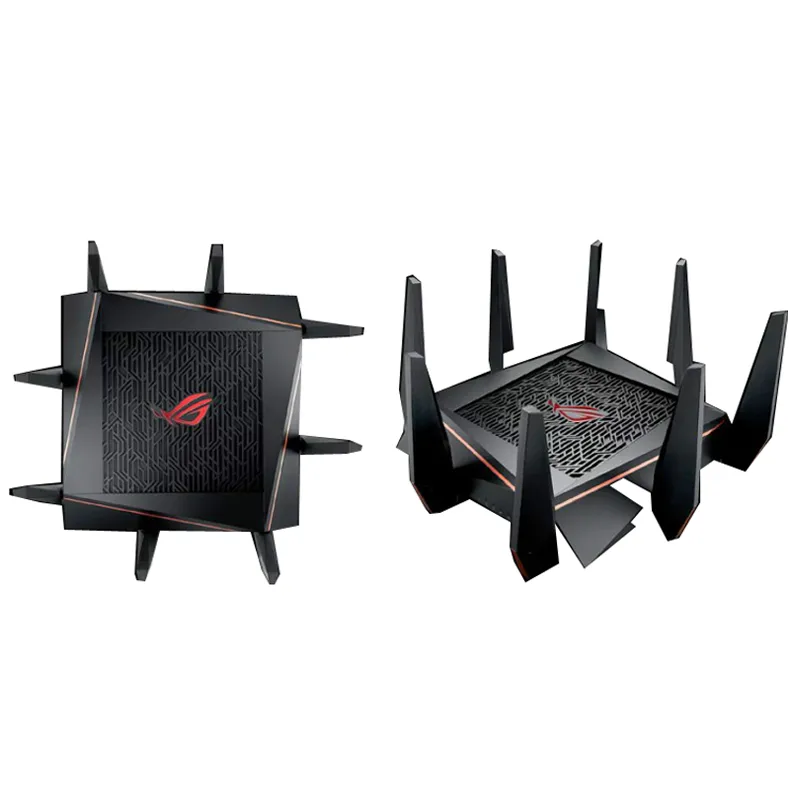 3. TP-Link Archer AX6000
The Archer AX6000 Next-Gen Wi-Fi Router from TP-Link falls somewhere between a full-fledged gaming router like the Asus ROG Rapture GT-AXE11000 and a basic budget option like the Archer A7 AC1750 from TP-Link. The middle of the road' approach of the Archer AX6000 results in a router that is larger than some, with plenty of antennas (8) and gigabit Ethernet ports (8, plus a 2.5GB WAN). You also get Wi-Fi 6, but not the newer 6E, which uses the less-crowded 6 GHz band.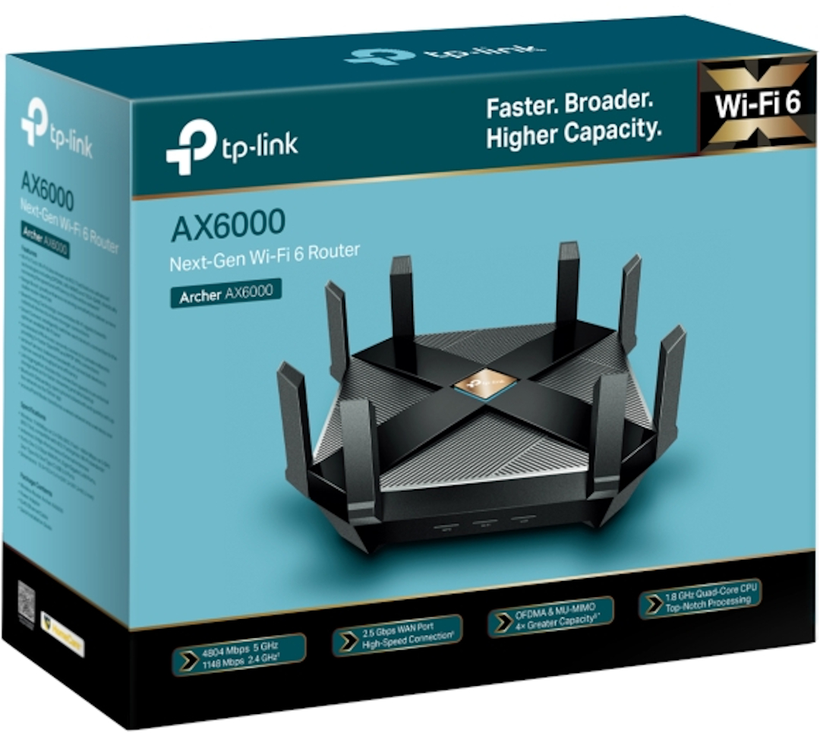 4. Netgear Nighthawk Tri-Band Wi-Fi 6E Router (RAXE500)
The first Wi-Fi 6E router to arrive in our labs was the Netgear RAXE500. We've seen others since, but the Nighthawk's 6GHz radio transmissions and high-speed networking via a 2.5GbE port and five 1GbE ports with link aggregation continue to impress us. In our performance tests, this futuristically designed tri-band router delivered very fast throughput and excellent signal range, though its $600 price tag may put some people off. In addition, the RAXE500 provides fast file transfer performance and is simple to manage via a web console or mobile app, though network security software is an additional cost.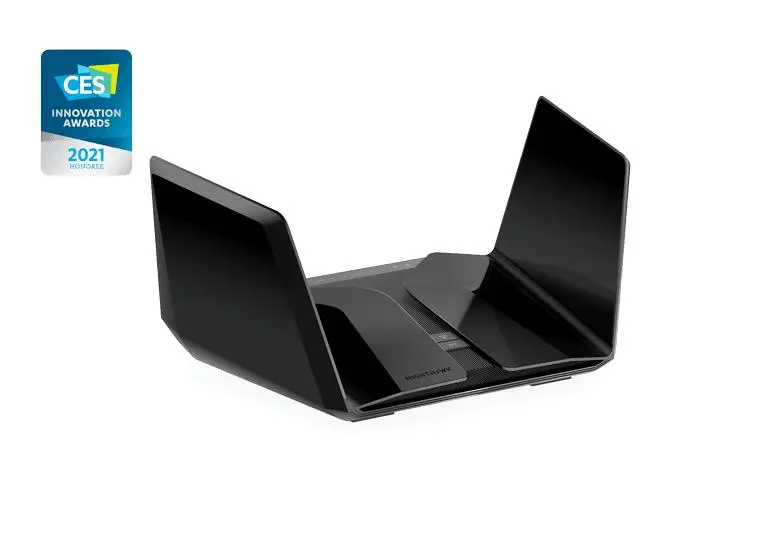 5. TP-Link AC4000 MU-MIMO Tri-Band WiFi Router (Archer A20)
Despite using older 802.11ac wireless technology, the Archer A20 delivered strong throughput numbers in our performance testing. It also performed well in our file transfer tests, indicating that it can easily handle large downloads. The router is simple to set up with a Quick Setup Wizard, and its web console has a user-friendly interface for managing your network.
It includes three years of TP-Link HomeCare software, which combines Trend Micro's age-based parental controls with network security tools to protect your network and connected clients from malware and other malicious content.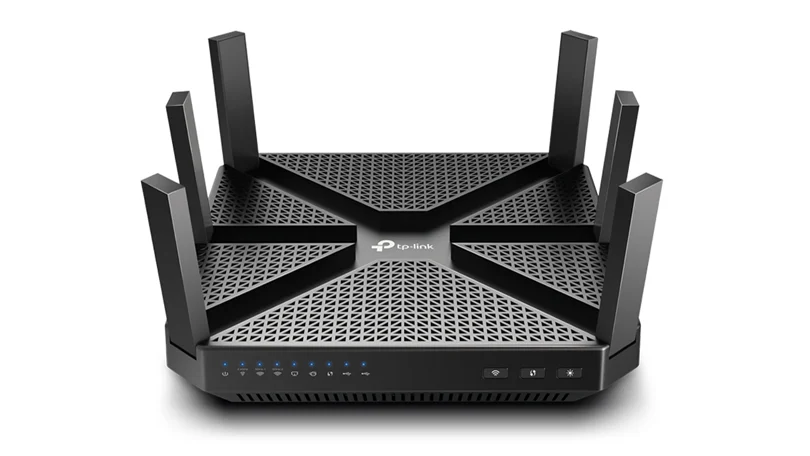 Pros

Cons

TP-Link Archer AX11000 Next-Gen Tri-Band Gaming Router

+ Lots of gamer-friendly settings

+ Numerous ports

+ Multi-gig WAN

+ Link aggregation

+ Lifetime malware protection

+ Solid parental controls

- Expensive

- Bulky

Asus ROG Rapture GT-AC5300

+ Speedy throughput performance

+ Lots of gamer-friendly features

+ Eight LAN ports

+ Works with Alexa voice commands and IFTTT applets

+ Slick user interface

- Expensive

- Huge footprint

- Middling file-transfer speeds

TP-Link Archer AX6000

+ Affordable Wi-Fi 6 option

+ Abundant Ethernet, supporting link aggregation

+ Easy to setup and use

+ Excellent compatibility across all clients tested

- Simplistic software

- Dual-band and no 6E

Netgear Nighthawk Tri-Band Wi-Fi 6E Router (RAXE500)

+ High throughput and file transfer speed

+ 6GHz radio band is used.

+ Aggregation of multi-gigabit LAN/WAN links

+ Supports a channel bandwidth of 160MHz

- Expensive

- Netgear

- Armor protection requires subscription

- Limited parental controls

- No QoS settings

TP-Link AC4000 MU-MIMO Tri-Band WiFi Router (Archer A20)

+ Cheap

+ Very fast file-transfer speeds

+ Strong parental controls and anti-malware tools

+ Alexa voice control

Middling 5GHz range performance.
Best Way to Fix Game Lag
But as shown above, the cheapest ones are over $100, and if you want to change the wireless router, you still have to wait for it to deliver and take the time to install it. Why not try using a game booster LagoFast? The features of this product are as follows:
Very Easy To Use

Improve your game-running network

Various methods for resolving game lag

Test and reduce game real-time

high ping(https://www.lagofast.com/en/blog/gaming-ping-reducer/)

Avoid game freezing and crashing

Assist you in easily increasing game FPS based on your requirements

Two ways to use LagoFast: monthly membership and plan per minute.
If you want to try using LagoFast, here are the steps you can follow:
Step 1: Click the Free Trial button to download the LagoFast client and experience the game boost service. Or directly go to LagoFast site.
Step 2: Before running the game, for example Battlefield 2042, you just need to find it in LagoFast and click the Boost button.
Step 3: And then choose the server and node with the lowest ping.
Step 4: After this easy click, LagoFast game booster will improve your game internet connection, decrease Battlefield 2042 high ping, and reduce lag issues in the background. While you are playing the game, you can see the accurate ping test result. And in addition, LagoFast will boost the FPS for Battlefield 2042 at the same time.