As a reboot of the classic Modern Warfare series and a sequel to the 2019 reboot, MW2 still takes place in a modern and realistic setting and it invents several new multiplayer game modes. All these make MW2 a popular game around the world.
Part 1: How to Find the Best Settings for WM2?
Part 2: Try LagoFast to Enhance Your Game Performance
How to Find the Best Settings for MW2?
We all know that we need to change our game settings to the best if we want our computer to perform at its best level. And there are no best MW2 settings for every player. Each player has to find the best settings for their own computer.
According to each player's hardware, the optimal settings should not be exactly the same. However, it is possible to find the best MW2 setting for most players. Then players are able to adjust their settings based on their hardware.
Through relentless searching, best graphic, quality and view settings are found:
Display mode: Fullscreen Exclusive
Display monitor: Primary
Display adapter: Make sure it's your best graphics card
Screen refresh rate: Check your monitor's max, then set it to that
Display resolution: 1080p
Dynamic resolution: Off
Aspect ratio: Automatic
V-Sync gameplay: Off
V-Sync menu: Off
Custom frame rate limit: Custom
Gameplay: 300
Menu: 90
Out of focus: 30
Display gamma: 2.2
Brightness: Based on your preference
Focus mode: Off
Quality presets: Custom
Render resolution: 100
Upscaling/sharpening: FidelityFX CAS
Strength: 65
Anti-aliasing: SMAA T2X
Anti-aliasing quality: Normal
Video memory scale: 90
Texture resolution: Low
Texture filter anisotropic: Normal
Nearby level of detail: Low
Distant level of detail: Low
Clutter draw distance: Short
Particle quality: High
Particle quality level: Low
Bullet impacts & sprays: On
Shader quality: Low
Tessellation: Off
Terrain memory: Max
On-demand texture streaming: Off
Streaming quality: Low
Volumetric quality: Low
Deferred physics quality: Low
Water caustics: Off
Shadow map resolution: Low
Spot shadow quality: Low
Cache spot shadows: On
Spot Cache: Low
Cache sun shadows: On
Particle lighting: Low
Ambient occlusion: Off
Screen space reflections: Off
Static reflection quality: Low
Weather grid volumes: Off
Nvidia reflex low latency: On
Depth of field: Depends on your preference
World motion blur: Preference
Weapon motion blur: Preference
Film grain: 0.00
FOV: 110 or depending on your preference
ADS FOV: Affected
Weapon FOV: Wide
Third-person FOV: Around 80-100
Vehicle FOV: Default
First-person camera movement: 100 or depending on your preference
Third-person camera movement: 100 or depending on your preference
Default spectator camera: Preference
If you want to find the best controller settings for MW2, first and foremost, you need to find your favorite sensitivity to quicken your reflex. Sensitivity settings vary from one to one, you need to adjust it to your preference.
If you want see other controller settings:
Button Layout Preset: Tactical
Flip L1/R1 with L2/R2: Turn this on if you use a claw grip or require a faster button press time
Stick Layout Preset: Default
Controller Orientation: Up
Controller Vibration: Off
Trigger Effect (PS5): Off
Aim Down Sight Behavior: Hold
Automatic Sprint: Off
Equipment Behavior: Hold
Weapon Mount Activation: ADS + Melee
Interact/Reload Behavior: Tap to Reload
Armor Plate Behavior: Apply One
Try LagoFast to Enhance Your Game Performance
Sometimes even though you change your game settings to the best, your game performance is still not at the optimal level. This is when you should try another way to improve your gaming experience.
At this time, we sincerely suggest an extraordinary game accelerator to you. It is called LagoFast and it is famous for its smart routing and precise boosting. Due to its unique LFP protocol, LagoFast can help you troubleshoot many gaming issues such as lag, packet loss, high ping, and low FPS.
Thanks to LagoFast's simple and clear interface, all you have to do is to:
Step 1: Download LagoFast.
Step 2: Search for the game(MW2 here).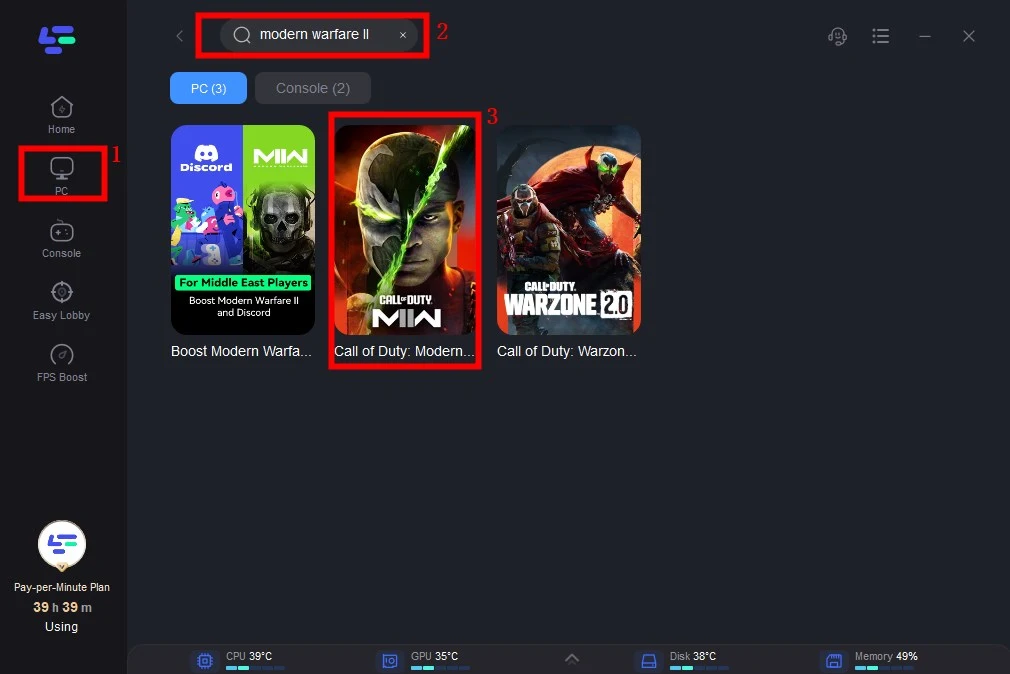 Step 3: Choose the server and node.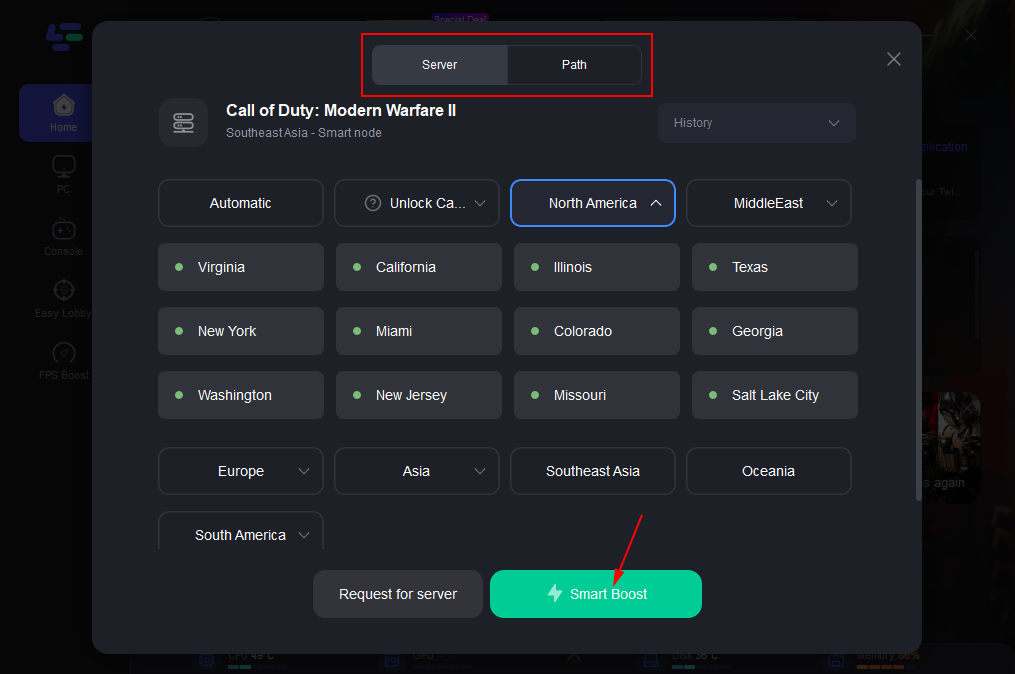 Step 4: Enjoy your game (MW2) with enhanced performance!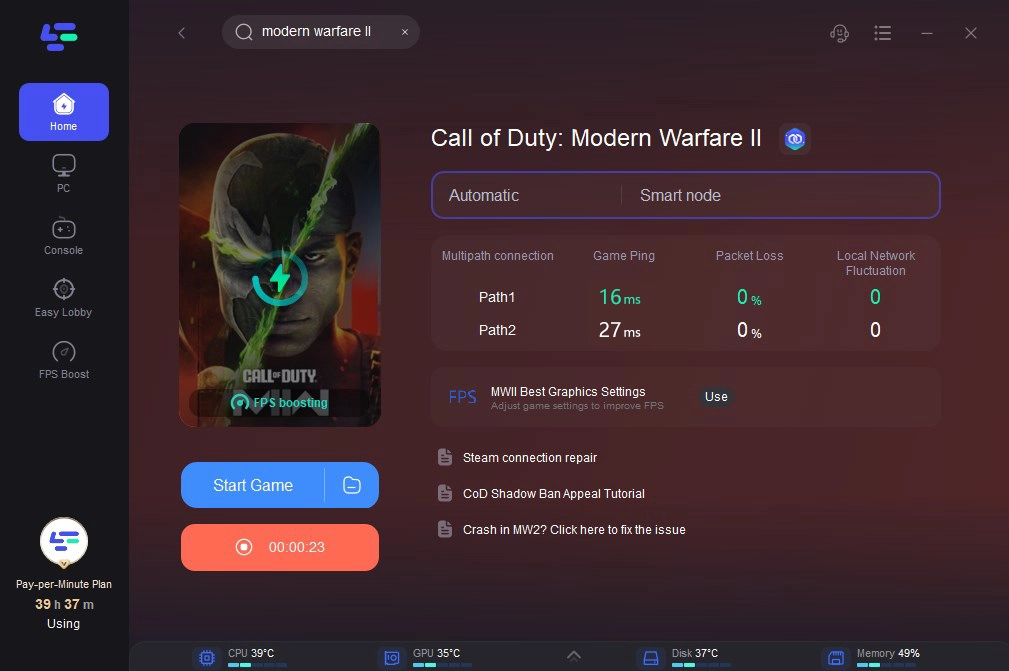 In addition, LagoFast supports more than 1000 games and its server network covers more than 60 countries, which means that you can experience super-smooth gaming anytime anywhere.
Last but not least, LagoFast allows its users to pay per minute. It only charges players for the minutes they actually used. This manifests LagoFast's consideration for players all over the world. It is no wonder that all the players who have used LagoFast will always give positive feedback.
Conclusion
If you are searching for the best settings for MW2, this article is exactly what you need to read. And if your game is still laggy after changing your settings, remember to download LagoFast and give it a try! It won't let you down!