Fortnite is one of the most popular games nowadays, but players have encountered some unpleasant in-game issues. Some said that they had random Fortnite item shop FPS drop issues, which makes it hard for them to purchase the outfits or other items they want. In this article, I'll tell you everything about Fortnite FPS issues and Fortnite FPS boost. If you want to fix your Fortnite item shop FPS drop in no time, read on!
Part 1: What Is FPS in Fortnite?
Part 2: What Is a Good FPS for Fortnite?
Part 3: Why does Fortnite Item Shop FPS Drop Happen?
Part 4: Tips for Fortnite FPS Boost
What Is FPS in Fortnite?
FPS is one of the essential components of high-quality gaming. A moving image is produced by displaying a certain number of static images—referred to as frames per second—during each second. The gaming experience becomes more fluid as the FPS increases. It is obvious that not everyone will be able to afford sophisticated hardware capable of 240 frames per second, but that doesn't mean the game can't be enjoyed.
What is FPS drop?
Now we know that FPS refers to frames per second. So it is apparent that the higher the frame rate the better. So FPS drop means the frame rate abruptly drops to a relatively low rate. For instance, you are playing Fortnite with a constant FPS above 100. In this case, your game experience is meant to be smooth. All of a sudden, it drops to a rate below 60. You may have a chance to face stuttering or lagging. This is what we call an FPS drop.
What Is a Good FPS for Fortnite?
Is 60 a good FPS for Fortnite?
After figuring out what is FPS in Fortnite, now we can discuss what is a good FPS for Fortnite. Generally speaking, FPS above 60 is recommended and can already give you a smooth gaming experience no matter in Fortnite or other video games. Even though a higher FPS might make the experience more fluid, 60 FPS is typically considered to be the magic number for a great gaming experience without being at a hardware disadvantage to other players. In addition, the vast majority of monitors are 60 Hz monitors, which means that going above 60 FPS would be completely useless because it would require your screen to refresh more frequently than 60 times per second.
Is Fortnite laptop FPS the higher the better?
You may be surprised that FPS is not the higher the better. But of course, it has to reach above 60. Why is 60 the most recommended frame rate? The reason is that it's good for your hardware health. Although it may be fun to play a power-hungry online multiplayer game like Fortnite on these high-performance settings, doing so will deteriorate your hardware much more quickly than playing in a perfectly acceptable 60 FPS configuration would. To maintain a functional frame rate of 120 frames per second, the processor and graphics card must both work extremely hard. This can easily lead to overheating and a shortened hardware lifespan.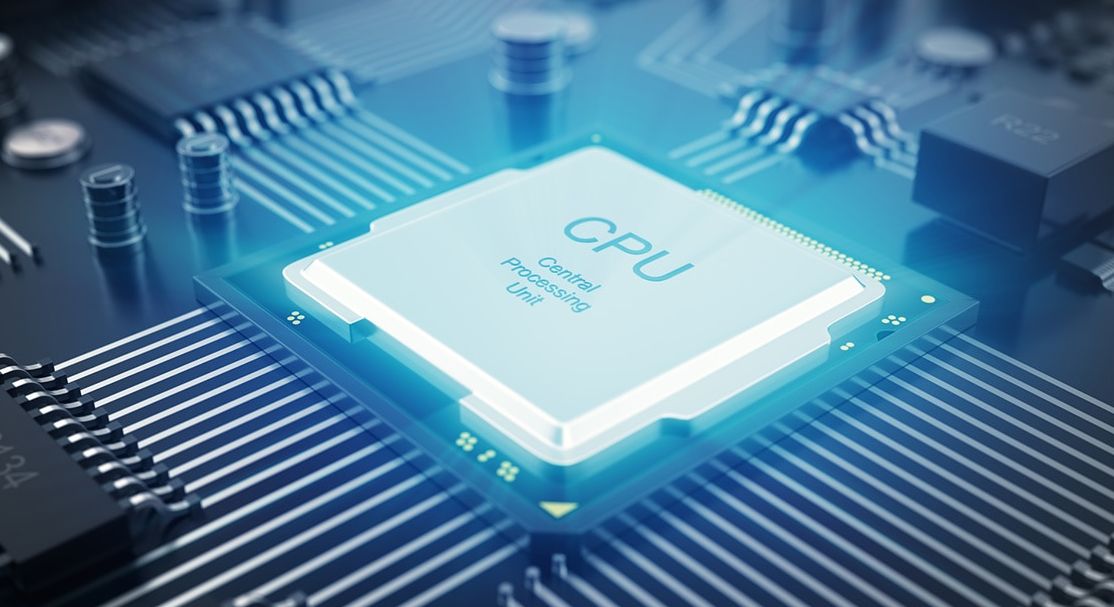 Why does Fortnite Item Shop FPS Drop Happen?
Many players don't know why Fortnite item shop FPS drop happens. To help you find a more targeted solution to fix your problem, I'll show you the following causes of Fortnite item shop FPS drop. You can check which one suits your situation the most.
In-game bugs. If you only experience serious FPS drop in Fortnite item shop but have a smooth gaming experience while battling. Then it may not be your PC's fault. It is possible that there are some bugs in the item shop so the Fortnite item shop FPS drop always happens.
Poor network connection. No matter what kind of game issues you have, a proper network connection is very important. If you always use WiFi during making a purchase in the Fortnite item shop, then an FPS drop is very likely to happen.
Outdated graphics card. If Fortnite item shop FPS drop is not a single case you also experience obvious FPS drop while gaming in other parts of Fortnite or other video games. An outdated graphics card is probably the reason because it cannot handle the FPS that Fortnite requires.
Background applications. If there are too many background applications running while you playing Fortnite, the possibility of FPS drop will highly increase. Because it will take up the room of your CPU & RAM so that Fortnite can not run properly.
Tips for Fortnite FPS Boost
I bet you have a better understanding of FPS and FPS drop now, so it is time to tell you how to change FPS in fortnite, in another word, how to boost Fortnite FPS.
When it comes to game issues like Fortnite FPS boost, it is quite complicated to fix it yourself. I suggest you use a professional FPS booster to help you do all the tricky things. LagoFast is the most recommended product for its cost-efficiency and professionality. It has more than 8 years of experience in boosting in-game FPS, fixing lag issues, and reducing high ping. To better serve customers, it has independently developed a unique game data transmission protocol to guarantee both quality and privacy. When it comes to costs, which are most concerned about by users, LagoFast does offer a fair price. It has the lowest subscription plan among top boosters and it's the only one that supports a Pay-per-Minute plan, which means you can stop charging whenever you want.
The features of LagoFast are as follows:
Support Pay-per-Minute plan
Not only professional but also cost-efficient
More than 8 years of boosting in-game FPS (including Fortnite)
Self-developed game data transmission protocol
Worldwide distributed servers and nodes
Support 1000+ popular games including League of Legends, Apex Legends, FIFA 22.
Here's how to use LagoFast:
Step 1: Download LagoFast.
Step 2: Type Fortnite in the Search box and choose it among the results.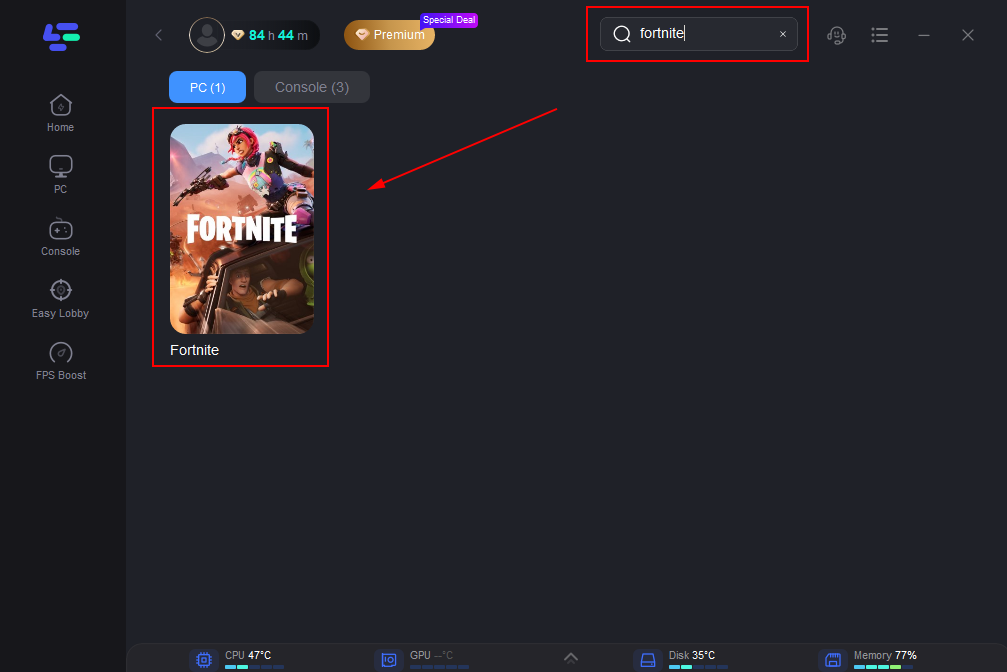 Step 3: Click on the Boost button to start boosting.
On this page, you can have a direct look at your real-time ping and packet loss rate which are closely connected to your FPS performance.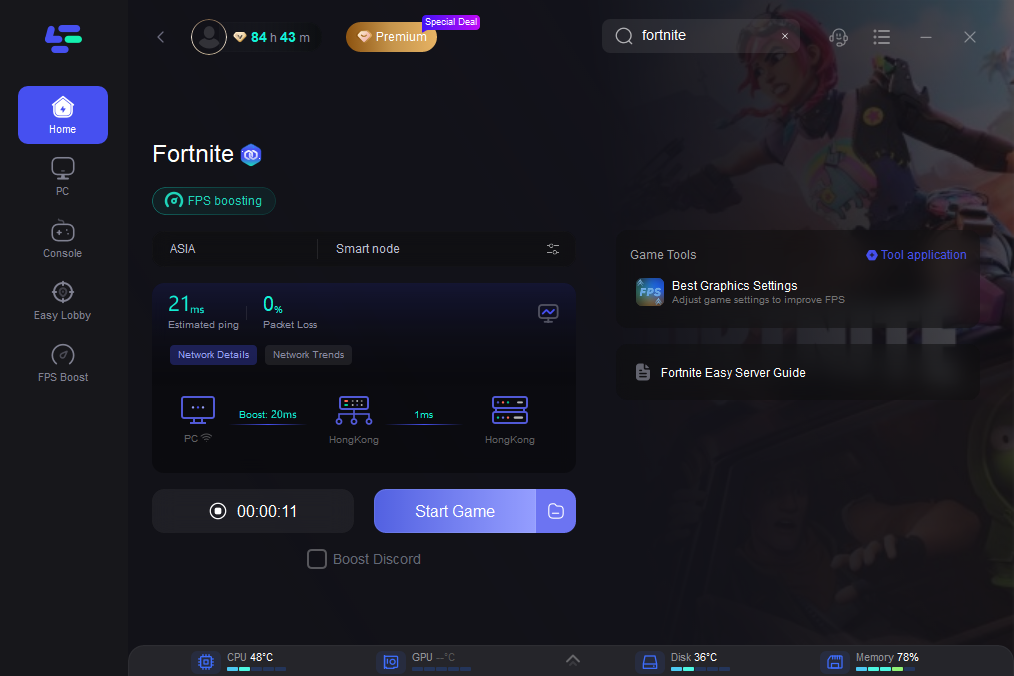 Except for game boosting, there is a specific FPS Boost service provided by LagoFast. You can manually adjust settings by clicking on the ones you want to turn on/off.
To do so:
Step 1: Click on "FPS Boost" on the left side.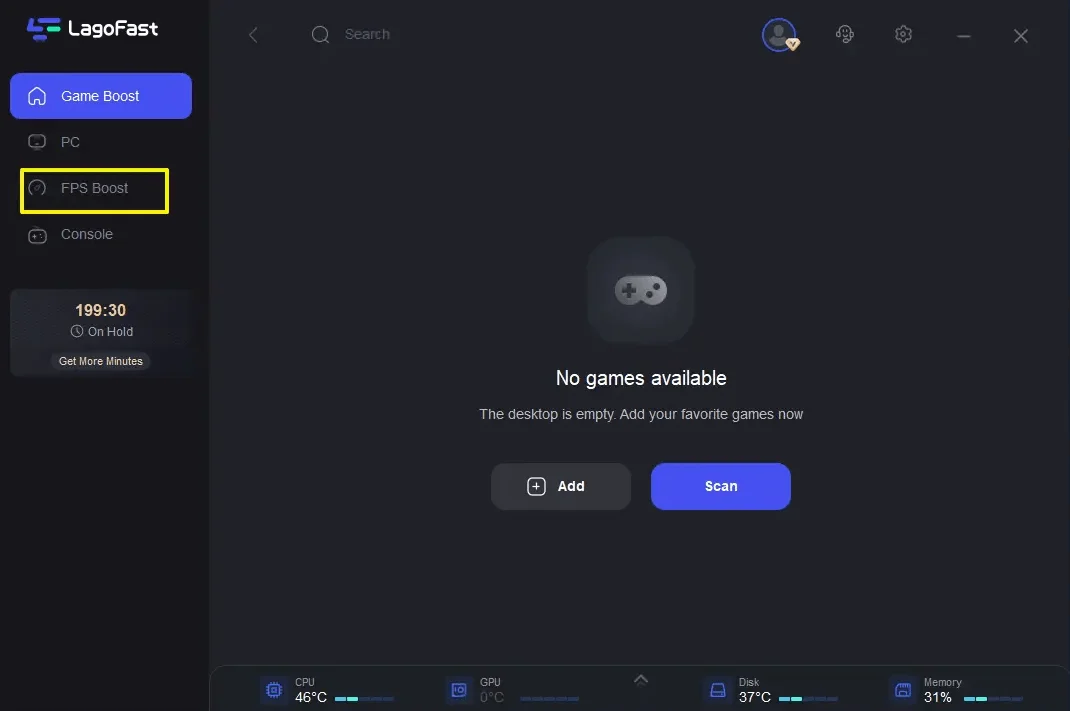 Step 2: Click "CPU Optimization" on the FPS Boost page and choose the settings that you want to open.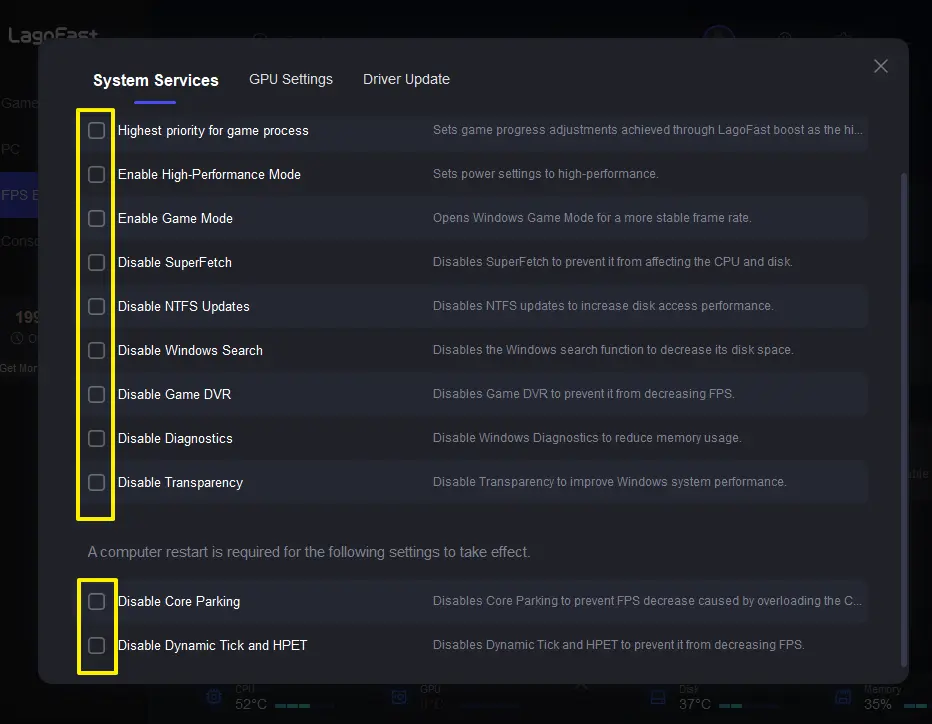 Step 3: Click "GPU Settings" on the FPS Boost page.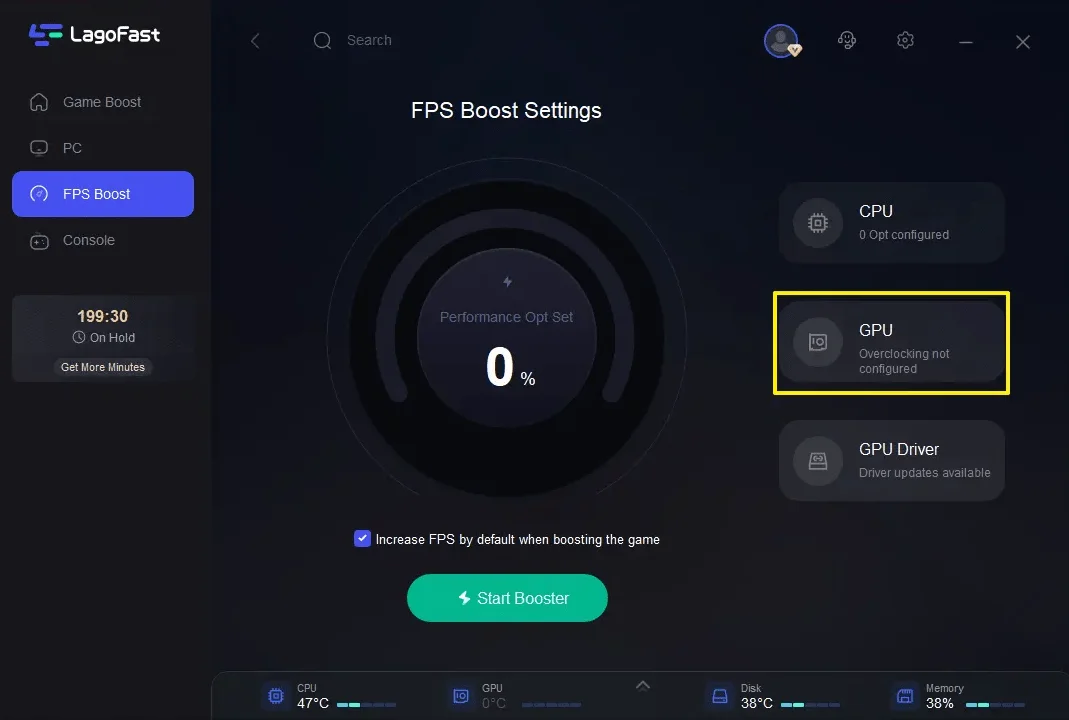 Step 4: Slide to choose your overclocking level in the first bar and tick "Enable GPU Boost" in the second bar.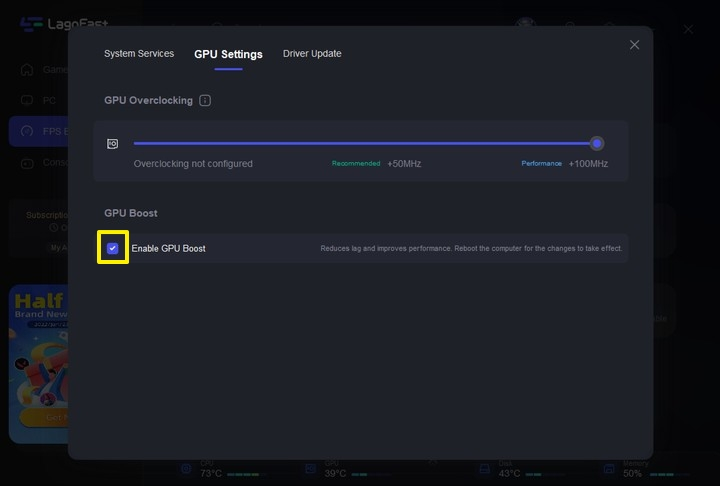 Step 5: Click "GPU Driver" on the FPS Boost page to check your GUP Driver updating version.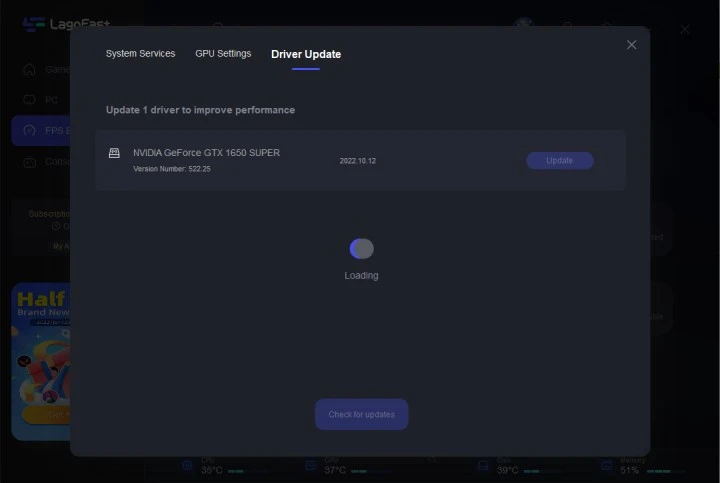 At last, you need to return to the FPS Boost page, and clicking "Start Booster" is OK.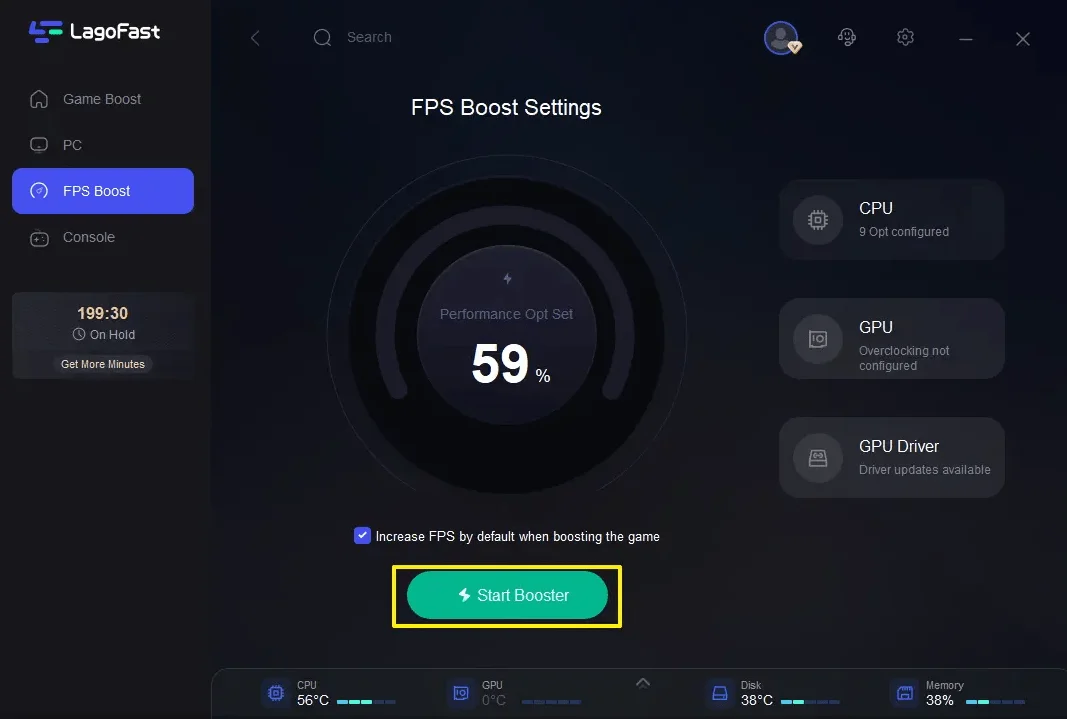 Tip2: check your PC configuration
Before launching the game, it is important to make sure that your PC or laptop meets the minimum requirements of Fortnite. If you want to achieve a Fortnite FPS boost, you'd better meet the recommended requirements. The minimum and recommended requirements of Fortnite are as follows: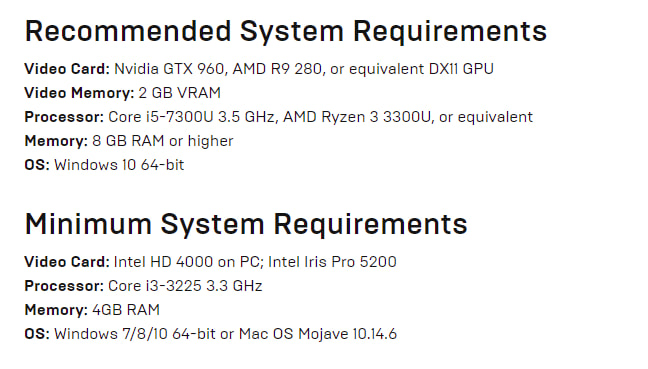 Tip3: Update your graphics driver
You now understand the necessity of updating your graphic drivers, but how? Here are two ways to do so:
Update manually: An update done manually is the most straightforward method. Find out which of the available drivers is the most recent by visiting your graphics card manufacturer's website. And do it all by hand! Please keep in mind that the driver you select must be compatible with your Windows version.
Update automatically: Its name, "the automatic update," makes it clear. If you are technologically savvy or you are short on time, you can choose the automatic update option.
Tip 4: set Fortnite to a higher priority
Set your Fortnite game to a higher priority in the task manager can possibly prevent Fortnite item shop FPS drop. It is simple to do, here is how you can do it:
Launch Fortnite.
To open "task manager", press ctrl + shift + ESC. You will be prompted for "permission." Then, click "yes."
Select the "Details" tab.
Select "High" from the context menu of the Fortnite-related processes (FortniteClient-Win64-Shipping.exe, FortniteClient-Win64-Shipping EAC.exe, and FortniteLauncher.exe).
Started Fortnite again
Tip5: install the latest updates & patches
As I've mentioned above, sometimes Fortnite item shop FPS drop happens because of bugs. This is not your fault, all you have to do is to follow up on the official announcements and install the latest updates and patches in time. These can automatically fix the FPS drop issues and make your gaming experience smooth again.