Since the launch of the PS5 and Xbox Series X|S, there have been lots of controversies about Respawn Entertainment's update on releasing Apex Legends 120 FPS on next-gen consoles. While many fans have been requesting this upgrade, some still doubt whether it can work out. So, with that in mind, we took our time to find out more on this topic. And in this article, we'll share our take on the Apex of Legends 120 FPS and how to get it.
Part 1: Is There Apex Legends 120 FPS on Consoles
Part 2: How to Run Apex Legend 120FPS on PC
Part 3: How to Fix Apex Legend 120FPS Lagging on PC
Part 4: FAQs About Apex 120 FPS
Is There Apex Legends 120 FPS on Consoles
As of when this article was written, Apex Legends 120 FPS is still not supported on consoles. The game still runs its regular 60 FPS on high-end consoles.
How to Run Apex Legend 120 FPS on PC
Method 1. Change Settings in Apex
It's easy to run Apex 120 FPS on PC. You just need to follow the procedures outlined below to get the job done.
Step 1: Start your PC and go to Origin or Steam.
Step 2: Open your Game Library and find Apex Legends and right-click on it.
Step 3: Click Game Properties on Origin. However, if you're using Steam, select Properties.
Step 4: Next, go to the Advanced Launch options. If you're using Origin navigate to Advanced Launch while for Steam, go to General tap.
Step 5: For Origin, navigate Command line arguments while for Steam, click the Launch Options. Then, type the following command; -refresh 120 +fps_max 1 -freq 120.
You've successfully unlocked the 120FPS in your Apex Legends game.
Method 2. LagoFast - Best FPS Booster for Apex Legends
You can also use LagoFast to increase FPS on Windows PC effortlessly. It will help to optimize the hardware conditions so that you can get the highest FPS. With just a few steps, you can boost FPS in Apex Legends easily.
Step 1. Free download LagoFast and sign in;
Step 2. Click FPS Boost and confirm the optimization details;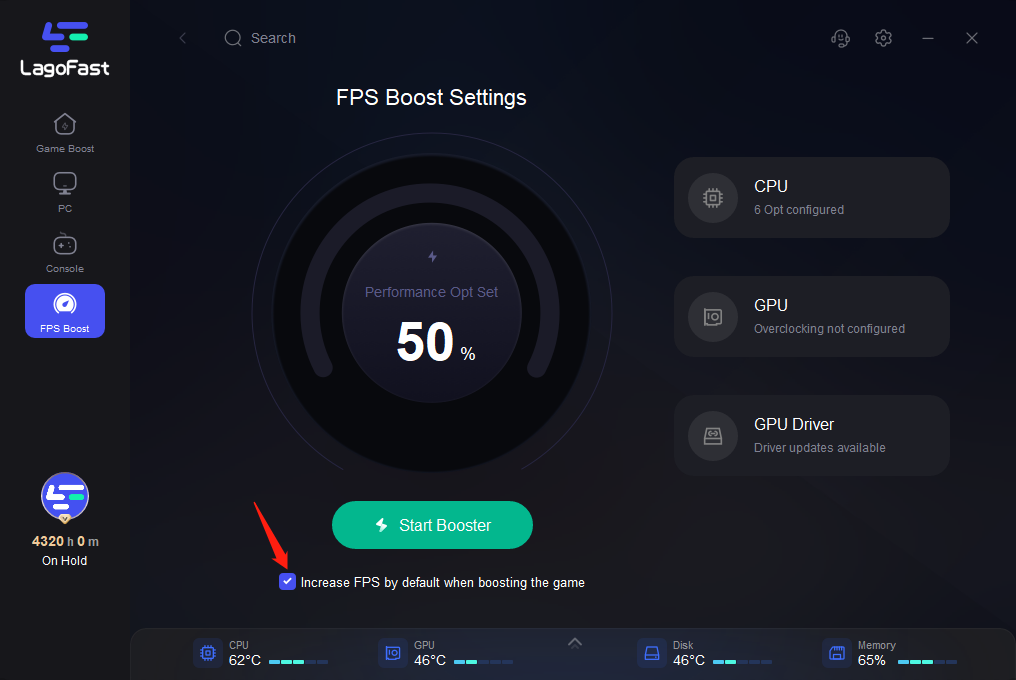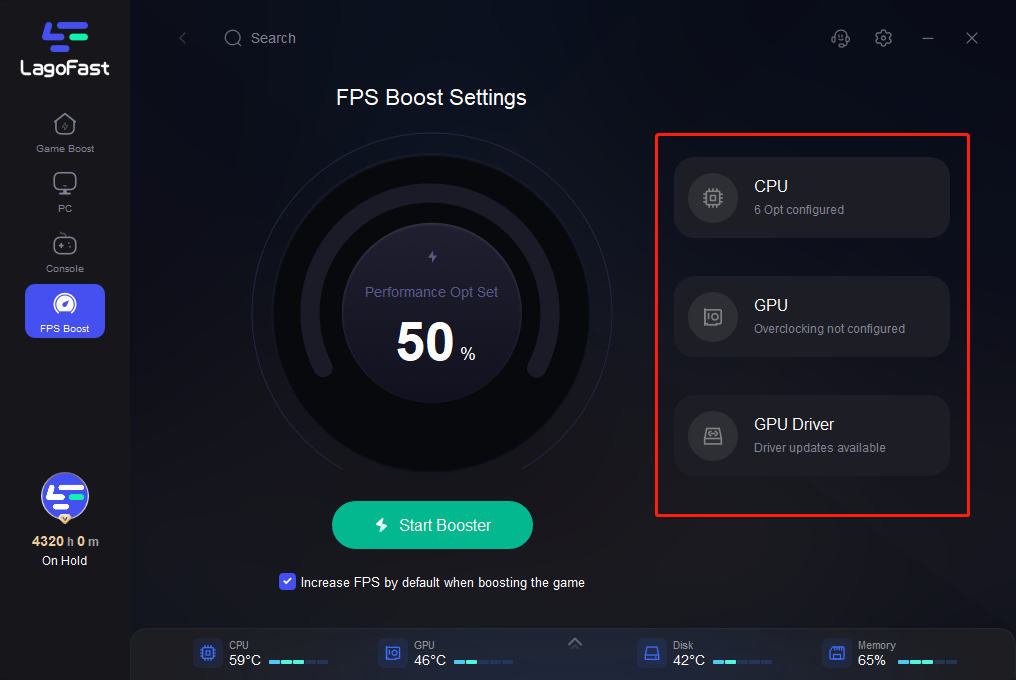 Step 3. Start Booster and enjoy increased FPS!
Then you can launch games from your local desktop or inside LagoFast. LagoFast also provides an ultimate FPS boost with its PRO features. The PRO version will help update graphics drivers automatically and support backup and restore your updated drivers. There is no worry about any game or system crashes after the driver update.
How to Fix Apex Legend 120FPS Lagging on PC
If you're experiencing lag while playing Apex Legends at 120FPS on your PC, you can also use the powerful game booster - LagoFast. It's a top-leading tool that boasts many efficient features that enable gamers to enjoy a hassle-free gaming experience on PC.
Also, Lagofast supports nodes and unique routes to address network connectivity, thereby, enabling gamers to reduce transmission time while enhancing network connectivity. You can even select the node based on your geographical location before starting the game.
Key Features:
Highly compatible with more than 1000 high-end games, including Apex Legends, FIFA 23, etc.

Supports 360-degree protection to enable users to enjoy a lag-free gaming experience.

Supports FPS boost to facilitate smooth game visuals.

Smart routing and precise boosting allow players to enjoy a gaming experience with lower ping and less lag.
Step 1: Launch lagoFast and select Game Boost from the top left side. Then, type " Apex Legends" in the search bar.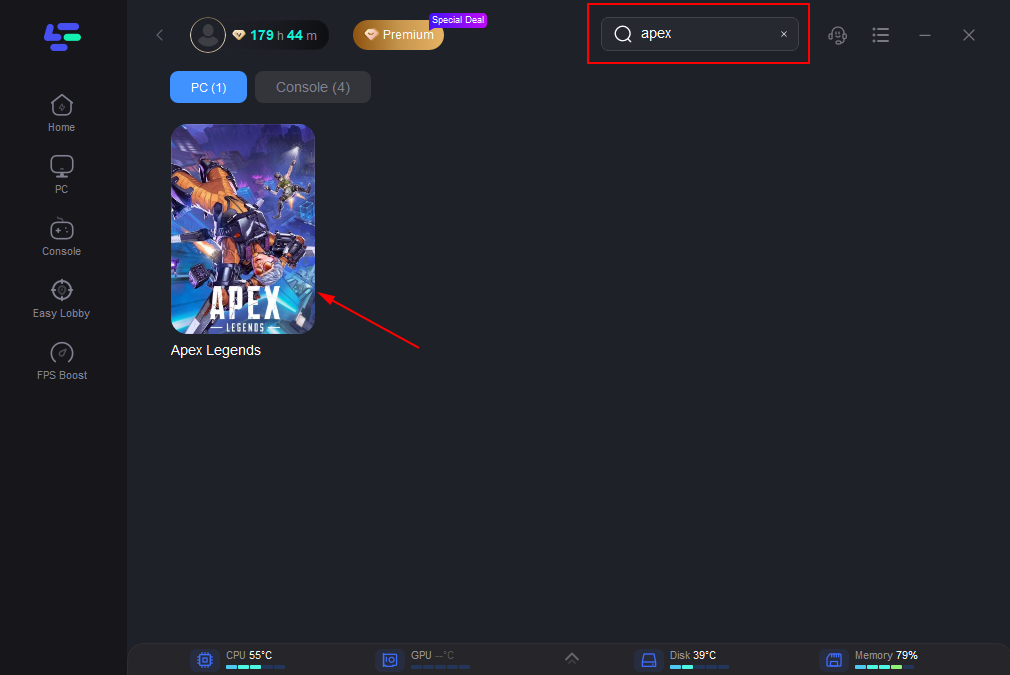 Step 2: Select a node with a suitable ping for your game.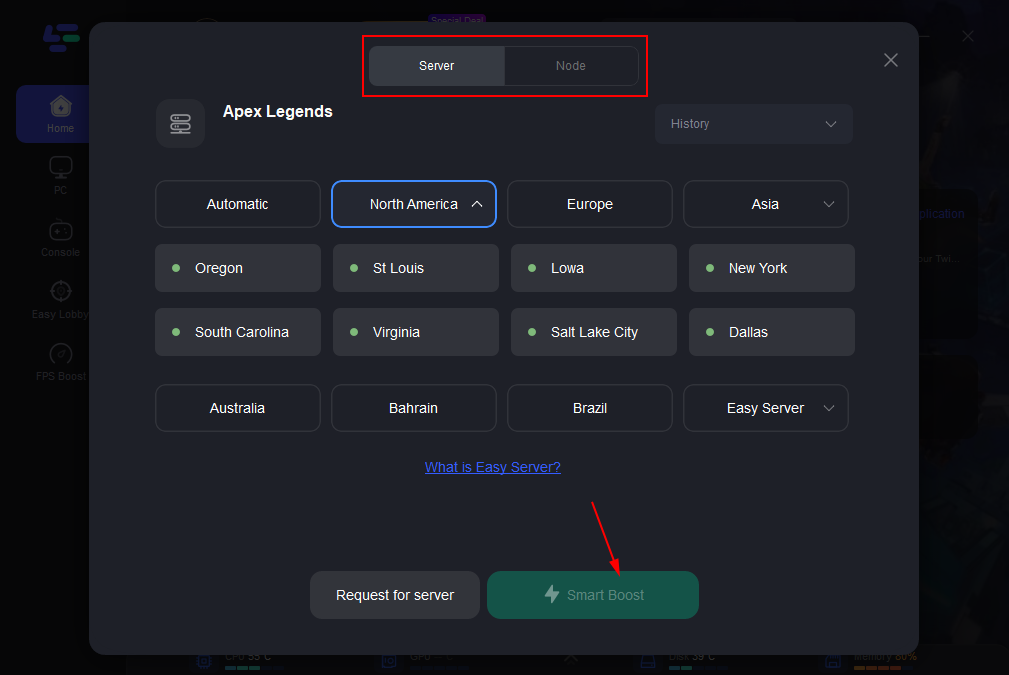 Step 3: Finally, click the Smart Boost button to eliminate bugs and glitches in preventing you from running Apex Legends 120FPS smoothly.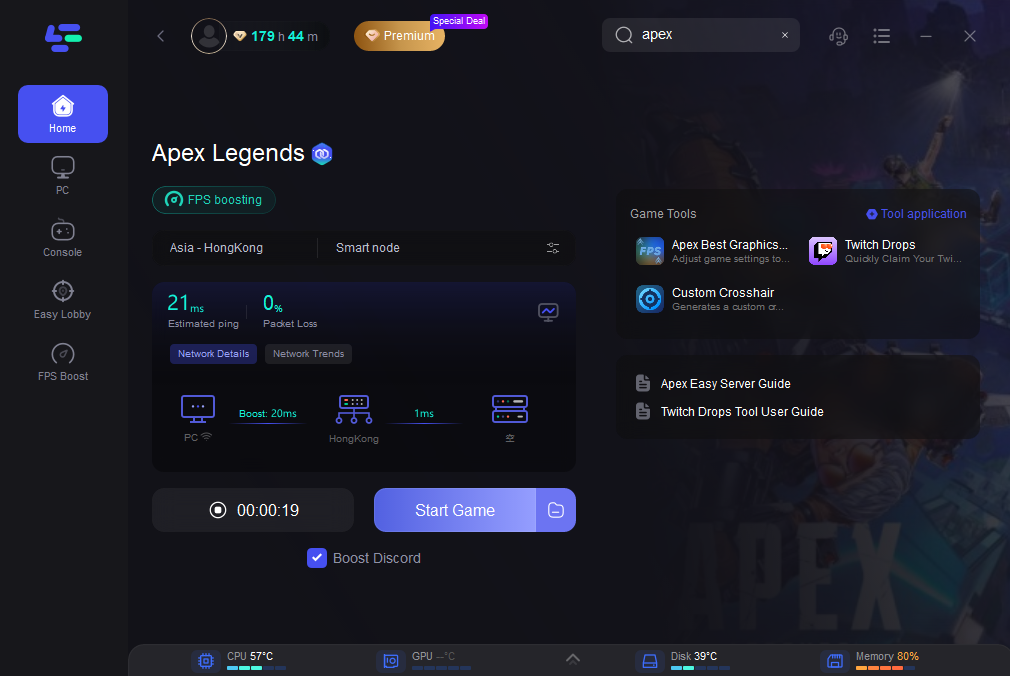 FAQs About Apex 120 FPS
Can I Get Apex Legends 120FPS on Mobile?
No, you can't get Apex Legends 120FPS on mobile. The max FPS you can run Apex Legends on mobile is 90FPS, and this only works on iPhone 13 and later.
What is the Max FPS Apex Legend Can Run on PC?
The Apex Legends FPS on PC is capped at 144FPS. But the amazing thing is some high-end PCs can run the game at an FPS rate higher than that.
Will Apex Legends Get 120FPS on Consoles?
Unfortunately, there are no updates concerning this. Gamers are still hoping to see this upgrade.
Final Thoughts
Boost FPS on competitive games like Apex Legends is a great way to have an edge over your opponents. However, keep in mind that 120 FPS in Apex Legends requires a combination of hardware upgrades and software optimizations. For this reason, investing in a high-end GPU, CPU, and monitor can significantly improve your gaming experience while adjusting in-game settings and updating drivers can also boost performance.
Also, you can employ software like LagoFast to enhance your gaming experience on Apex Legends. It will enable you to enjoy the smoothest and most immersive gameplay experience.