Call of Duty: Modern Warfare II" shapes a new world of conflict for players, with iconic members of Task Force 141 returning under fire. From small-scale, high-stakes infiltration operations to highly classified missions, players will enjoy a truly immersive gameplay experience. IW also brings players the most advanced gameplay with new gun controls, advanced AI systems, new ordnance modifications and other gameplay and graphical innovations that bring this Modern Warfare series up to date. In this update, IW fixes various crashing issues, resolves some gameplay bugs, fixes some lighting issues with map geography and lighting effects, and updates some bugs related to gun modifications. inevitably, however, based on client and network issues, your update may not complete as expected, affecting your ability to experience the new game content in-game first. We'll show you how to fix Modern Warfare 2 update issues and other problems in the game, such as easy lobby. The problems you encounter with the Modern Warfare 2 update are a piece of cake for LagoFast, which is the easiest way to fix in-game issues. Just in case, we will also introduce you to methods that will also solve the problem.
Part 1: LagoFast: Modern Warfare 2 Update Issues Solver
Part 2: Effective Ways to Solve Modern Warfare 2 Update Issues
Part 3: What Causes Modern Warfare 2 Update Issues?
LagoFast: Modern Warfare 2 Update Issues Solver
Many unanticipated problems have surfaced as users anxiously attempt to upgrade Modern Warfare 2 in order to experience the new game content. The MW2 beta update data was too slow to download, could not be installed correctly, and the game slowed down after the upgrade, among other problems, according to players' complaints. These issues can have a significant impact on how well players are able to complete the game's goals and provide them the opportunity to run into issues that are unrelated to their skill level yet have an impact on the course of the game. In this situation, give LagoFast your worries! All of your issues will be rapidly and successfully resolved during gaming and game updates! Let me introduce you to LagoFast, a game-specific acceleration program. With more than 8 years of expertise using industry-leading data transfer protocols to solve gaming challenges, lagoFast is knowledgeable about a variety of game problems. At the same time, LagoFast can adapt to a variety of challenging network situations because of its great compatibility. Additionally, it will provide you access to real-time network identification and pair you with the most advantageous network node using ping values as a guide. Additionally, it offers exclusive lines in 60 different nations, so you may use LagoFast anytime, wherever to have the best gaming experience! I'm confident you'll adore LagoFast if you're ready to give it a shot! It can solve all of your worries such as stuttering and packet loss.
Let's check out what LagoFast can provide.
Pay-per-minute, pay-as-you-go, more affordable
Not just a game booster, but also a game problem solver
Exclusive global route Lower your ping and increase your frame rate
Improve your gaming experience in just 4 simple actions.
Step 1: Download LagoFast.
Step 2: Type "Modern Warfare 2 " in the Search box and choose it.
Step 3: Choose the server you wanted.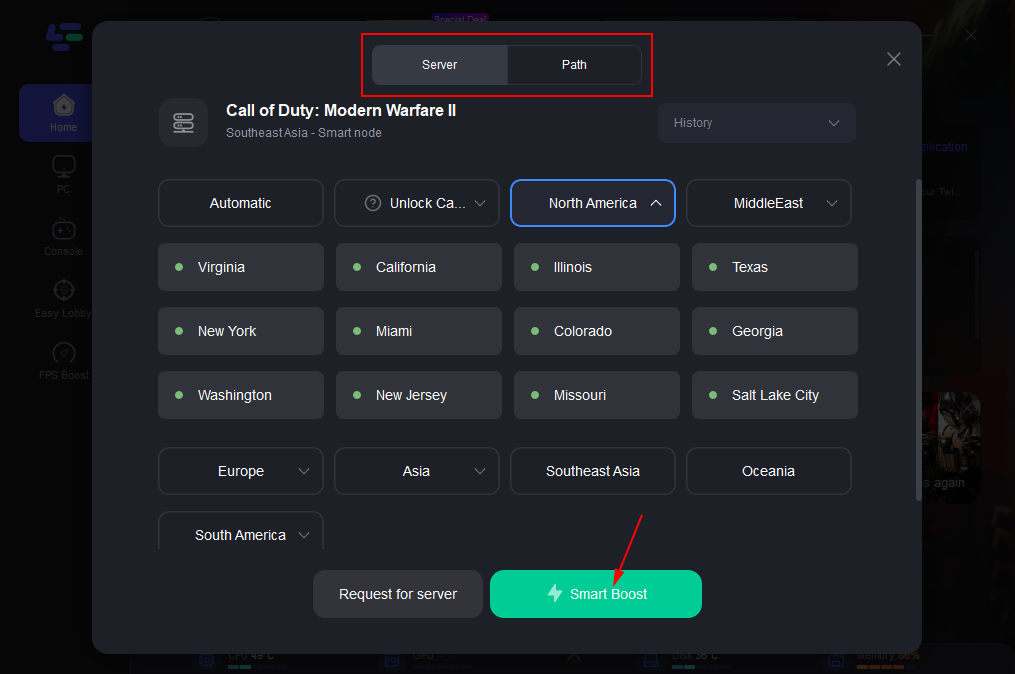 Step 4: Click the Boost button to start boosting Modern Warfare 2.
This page displays your real-time ping rate and packet loss rate, allowing you to see the LagoFast's boost impact.
What's more, you can change the FPS buttons in order to find a boost condition. To do like this:
Step 1: Select the FPS Boost tab in the left column of the desktop.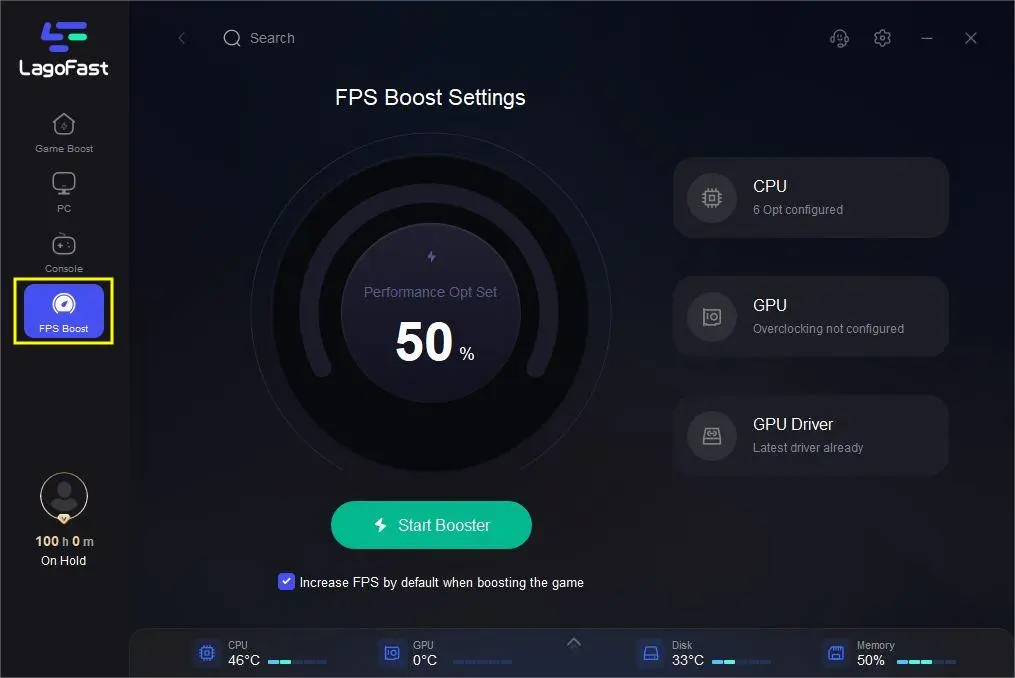 Step 2: Click on/off the settings according to you, then boost the CoD: Modern Warfare 2.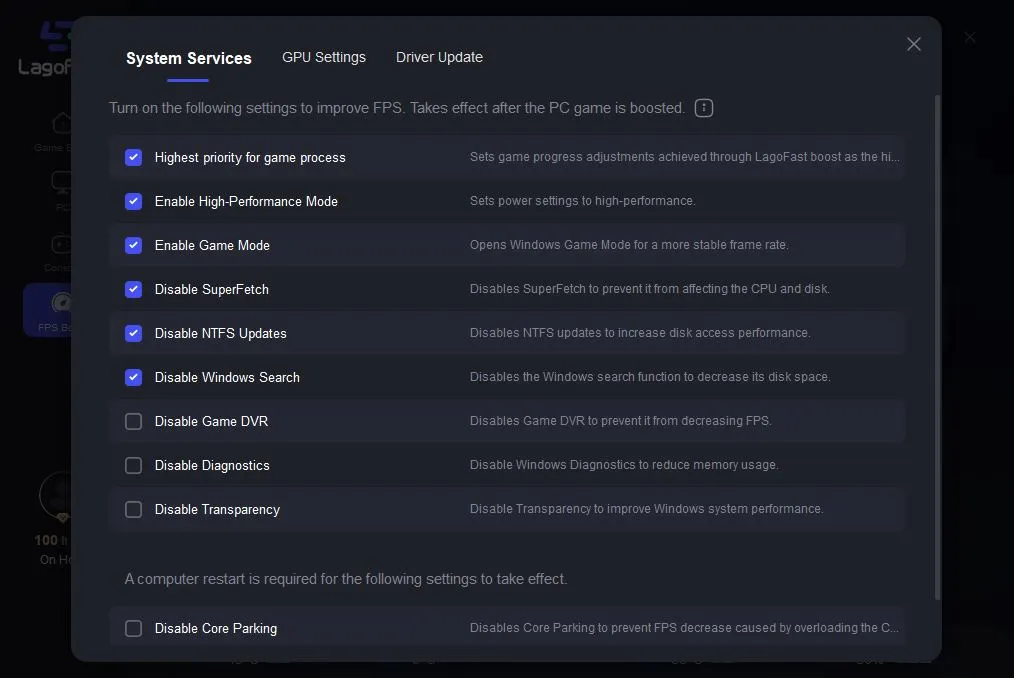 LagoFast has more to offer than that, we highly recommend you use the easy lobby feature, trust me, you will love it once you experience it!
Let's see how to use LagoFast to get the easy lobby!
Step 1: Download LagoFast, remember to get a free trial time.
Step 2: Type " easy lobby " in the Search box and click the one you need.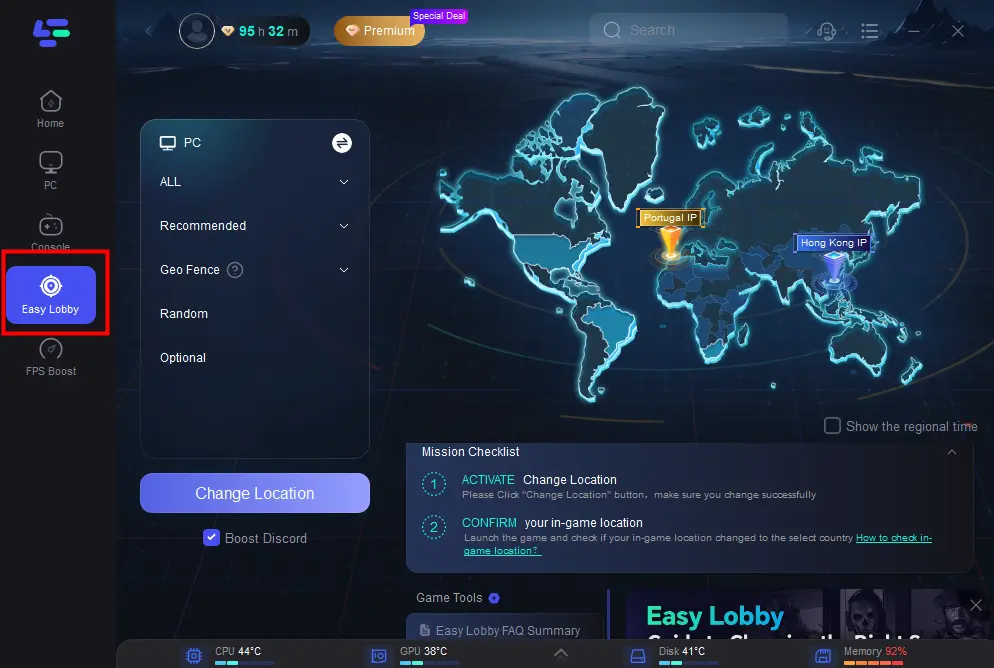 Then, you can adjust the server you wanted and choose the best nodes with lower ping.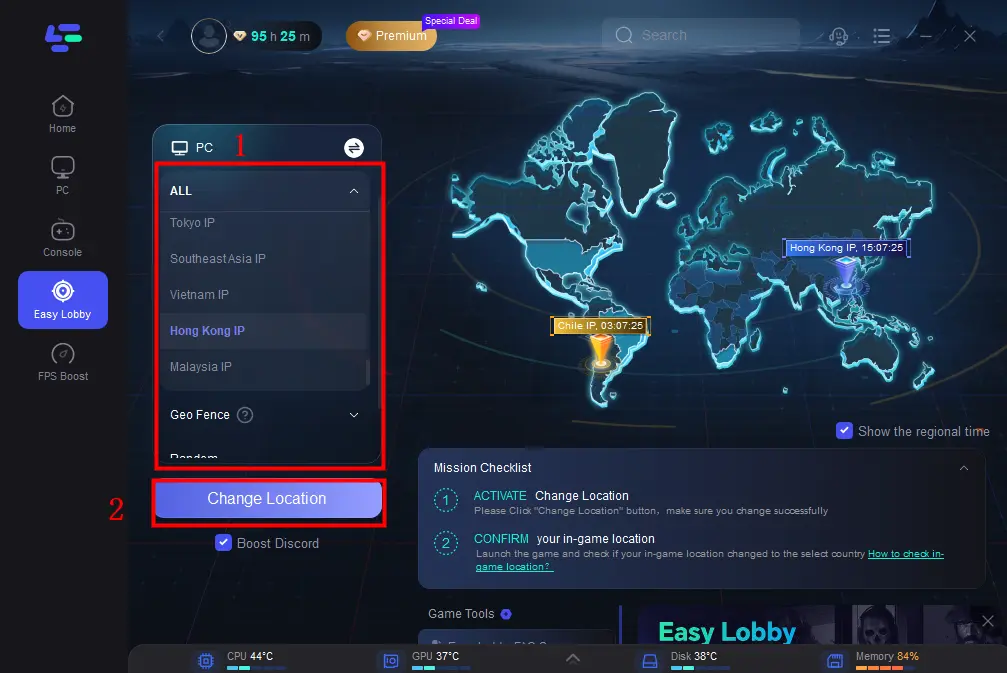 Step 3: Click on the Boost button to begin boosting.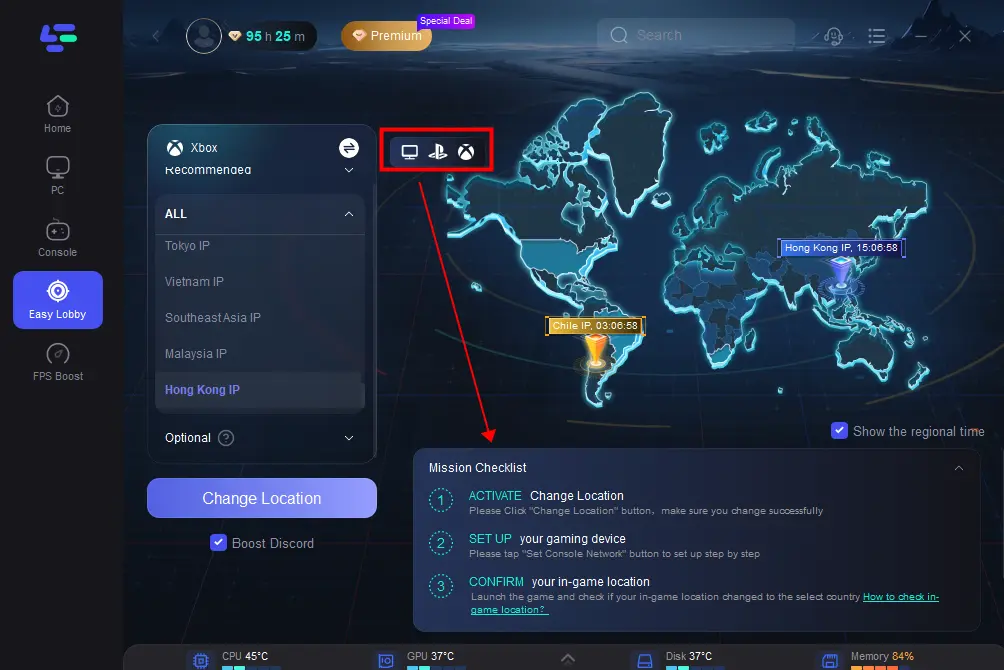 On this page, you can have a direct view of your real-time ping rate and packet loss rate, which are related to your game experience.
Effective Ways to Solve Modern Warfare 2 Update Issues
Check your PC system and PC Configuration: If you see the following message during the update process: Your PC system is too low to run the game, please upgrade your system. Then the cause of the update failure is your PC system is too low, update your system to solve it. If you fail when you try to open the game after the update, you can compare the minimum running standards provided by the game manufacturer, and if your computer cannot meet the requirements, we suggest you change to a new facility for the game.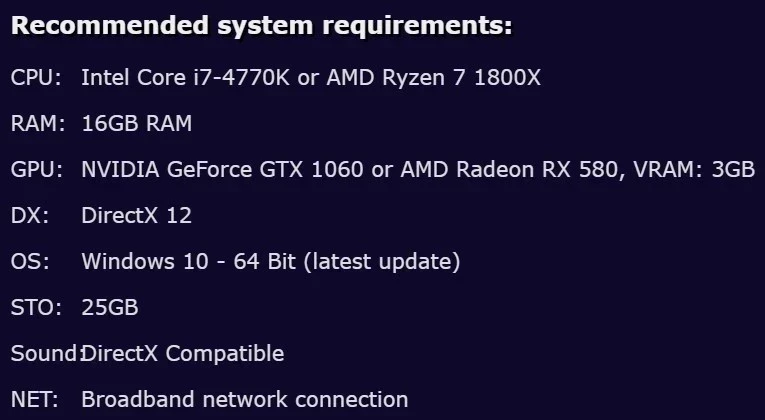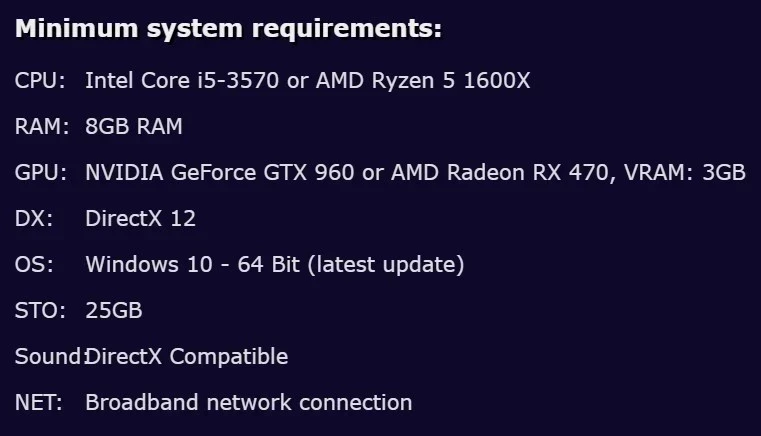 Choose a more stable network: Modern Warfare 2 is a game that takes up more memory and update package data, if the player's network environment is poor, the loading and update speed will be slower, and maybe stuck all the time update, then we can open the game gas pedal to improve the network, as you know, LagoFast will solve everything.
Modify firewall settings: Modern Warfare 2 requires a lot of computer privileges, if the installation update keeps showing loading, players can simply close the firewall, if you must open the firewall, open the firewall settings, and set Call of Duty 19: Modern Warfare 2 to whitelist, and then reopen the game.
What Causes Modern Warfare 2 Update Issues?
A game update patch package is a small package to solve the problem released for this situation when the game screen and special effects need to be optimized or there are defects in the system security policy for the game system exposed in the process of operation. So why does the update package instead make the game unplayable?
Memory consumption: When updating MW2 you should make sure that as little software as possible is running at the same time. Such games with high configuration requirements often require a lot of memory, and if you have multiple software open at the same time it can easily lead to problems such as lagging or computer system crashes when installing the update.
Equipment incompatibility: If you can successfully update, but when you open the game on the computer, it shows that you can not enter, then it may be that the computer configuration and the game require a configuration incompatible, it is best to choose a higher configuration than the minimum running requirements of the phone, so that you can play more smoothly, otherwise even if you enter the game will be met with heat, flashback problems.