Wanna get rid of VRChat's constant lagging, crashing, and low FPS issues? Try LagoFast! You'll have the smoothest experience of
VRChat Overview
The Internet enables us to communicate with people all over the world without actually leaving our own rooms. VR technology makes online communication even one step further. In VRChat, you can create your own 3D character, build your own community and make friends. However, this is a big challenge for your computer's performance. LagoFast serves as your backup to help you enjoy your VR chatting without VRChat lagging and crashing.

VRChat is a social virtual reality game that lets players interact in a virtual world. Software is free to download and use; no additional hardware is required. Although the graphics and gameplay are simple, the product is more than just a game. It is a social platform where players can create and share their own experiences. The program is free to download and use; no VR headset is required to participate. Voice, text chat, friends lists, user-generated content, and other features are available in the software VR Chat download for PC. The graphics in VRChat, which can be downloaded for free on a PC running Windows 10, are quite good. The textures are excellent, and the environment is diverse and detailed. Character models are well-crafted and appear realistic. The world and the characters are simple, but it's sufficient to create a sense of immersion. VRChat game download offers a diverse range of visually stunning locations to explore, from sprawling cityscapes to cozy interiors of homes and businesses. Unlike any other games, in VRChat, all you have to do is to chat with different people and wander around. The multiplayer aspect is what truly distinguishes VRChat's free download. There are always people to interact with, and chatting with friends in a virtual world is a lot of fun.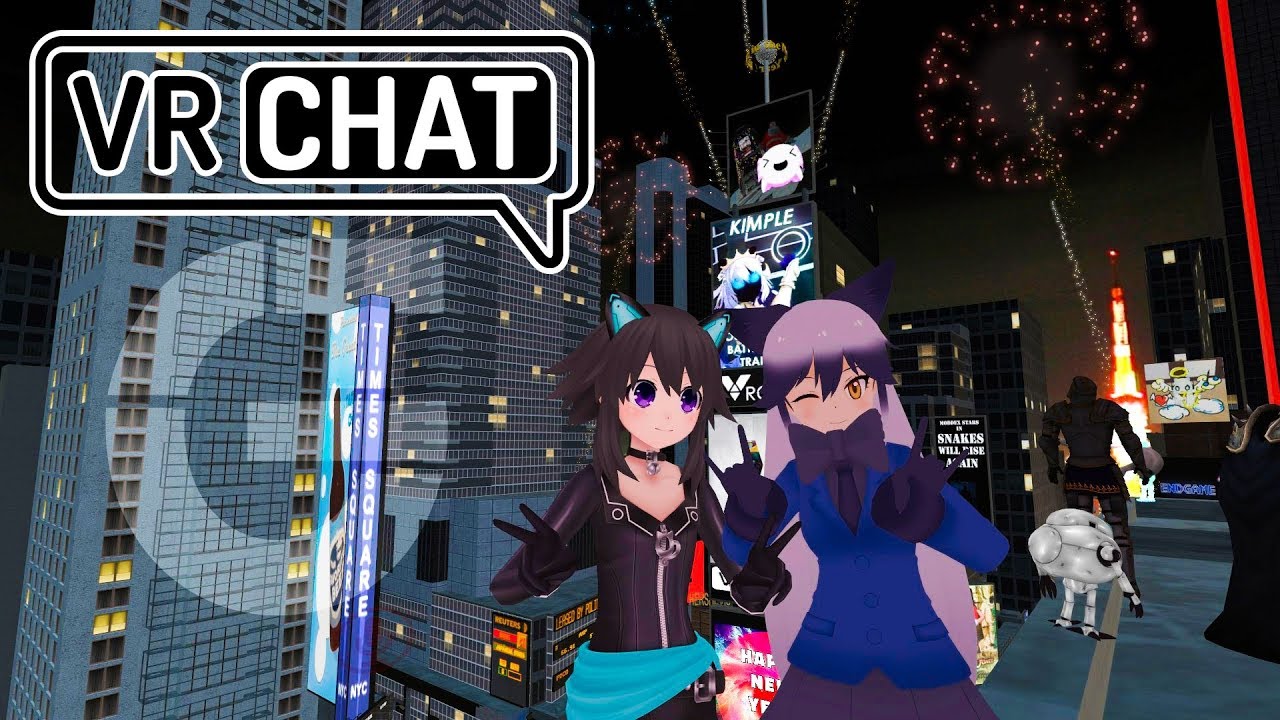 Despite all the good stuff we've discussed above, VRChat does have a lot of issues like VRChat lagging, crashing, and low FPS. I strongly recommend you to give LagoFast a try for its professionality in this field. VRChat Lagging is mainly due to the long distance between your computer and the game server. LagoFast, with its globally distributed servers, can simply solve this problem. Besides, it can also highly boost your in-game FPS, avoid high ping, and give players the best gaming experience. So, what are you waiting for? Download LagoFast to guarantee your smooth VR communication with players from all over the world!
What Can LagoFast Do to Fix VRChat Lagging?
VRChat is increasingly popular among players all around the world, therefore, more and more players have noticed VRChat's lagging problem and find it annoying. No one wants to stutter or be unable to speak while chatting with others.
LagoFast, a professional product focusing on improving players' gaming experience, is a perfect fix for VRChat's lagging issue. Unlike other normal VPNs, it developed its game-specific data transmission protocol independently. So it's not only functional but also private and secure. Moreover, it combines different kinds of game data routing technologies that make chats and interactions in VRChat amazingly smooth. Additionally, VRChat lag fixer LagoFast has worldwide distributed servers that perfectly match the needs of VRChat's players from different countries. It can smartly allocate the best routes for players and easily fix the VRChat lagging issue.
The features of LagoFast are as follows:
Professional experience in fixing lag
Self-developed game data transmission protocol
Combination of different kinds of routing technologies
Guarantee smooth interactions in VRChat
Worldwide distributed servers
Smartly routes allocating system
How Can I Use LagoFast in VRchat?
As a wonderful VPN, LagoFast can help you solve all kinds of problems. In the next, I will show you how to use the product.
Step 1: Download LagoFast.
Step 2: Search VRChant in the Search Box and select it in the search result.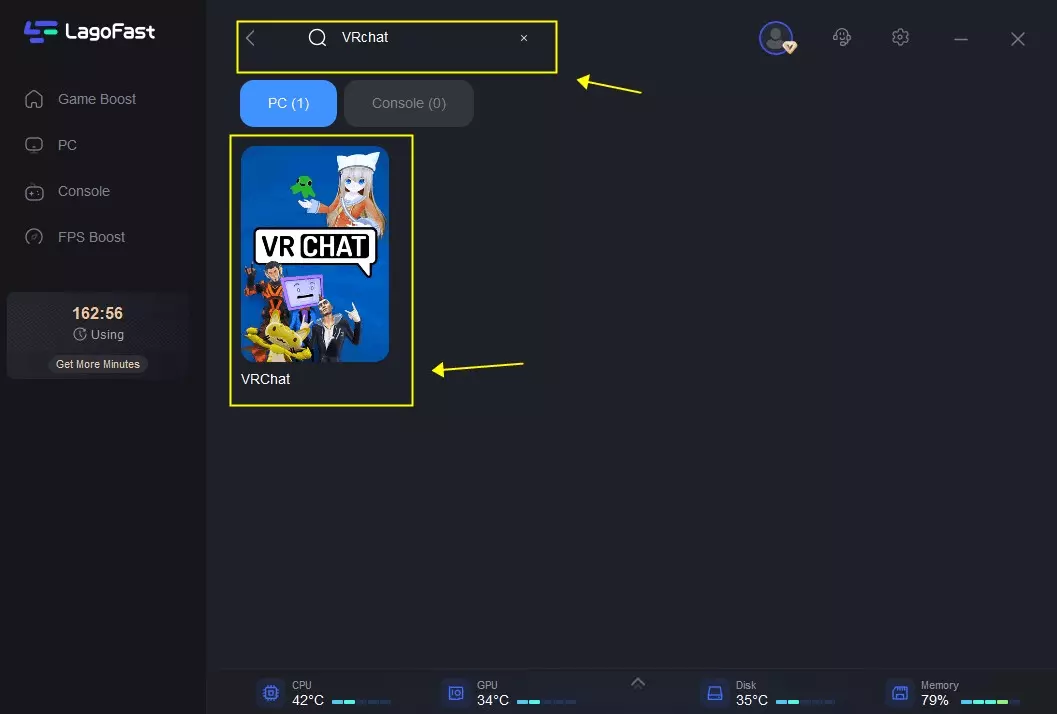 Step 3: Choose the server.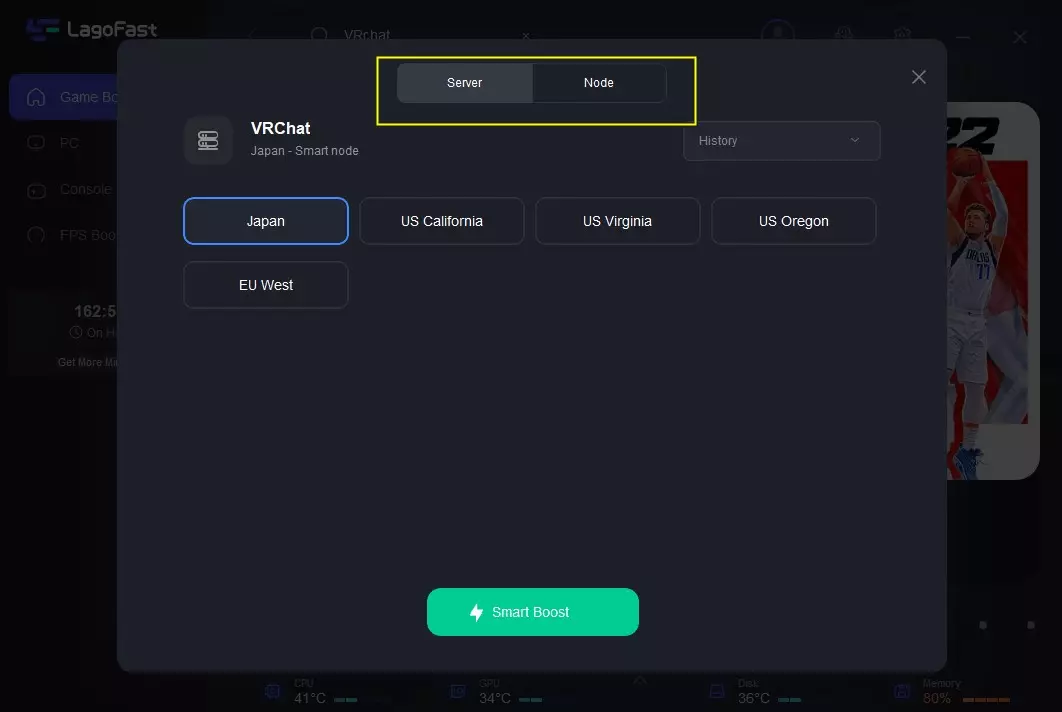 Step 4: Click on the Boost button and start boosting. Here, you can see your real-time ping & packet loss rate.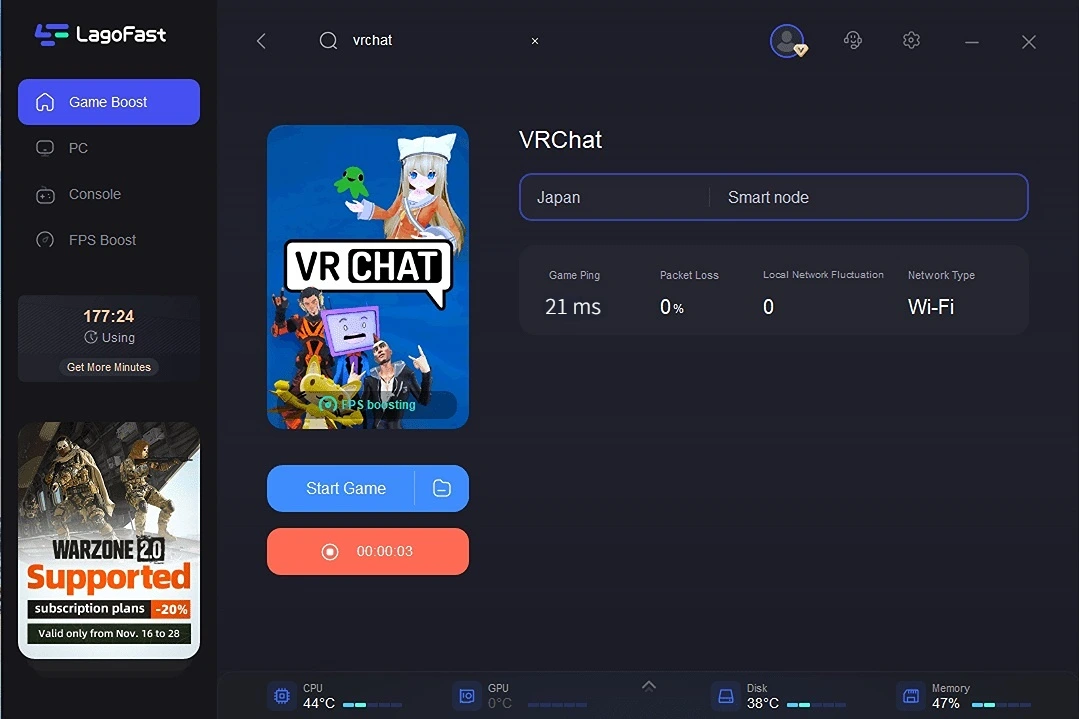 Video of How To Use LagoFast