LagoFast has provided countless users with the lag fix, FPS boosting, and ping test services for more than 8 years and received
Phasmophobia Overview
Some may think that common issues like lag, latency, crashing, and low FPS will not happen in the game like Phasmophobia because it takes less space and memory. But the truth is the opposite. Even in Phasmophobia, these problems can also happen due to different reasons. Luckily, LagoFast can help you figure out why and how.

Kinetic Games' Phasmophobia is an indie co-op psychological horror game. On the 18th of September 2020, it was released in early access for PC with crossplay VR support. Explore haunted locations filled with paranormal activity with up to three other players as a team of paranormal investigators. Play through thrilling gameplay moments as you interact with ghosts, spirits, and other paranormal phenomena. Support your team by monitoring the location from the safety of the van using CCTV cameras and motion sensors, or go inside and get your hands dirty with the ghostly activity, which will become increasingly hostile as time goes on. The special points of Phasmophobia are as follows:
Realistic graphics and sounds and minimal user interfaces will ensure a completely immersive experience that will keep you on your toes.
Cross-play is available. Phasmophobia supports all players, whether they have VR or not, so you can play with both VR and non-VR friends.
Co-op multiplayer mode. You can play with up to four friends in this co-op horror game where teamwork is essential for success.
Various ghosts. There are over ten different types of Ghosts, each with its own set of characteristics, so each investigation will be unique.
Thrilling investigations. Using well-known ghost hunting equipment such as EMF Readers, Spirit Boxes, Thermometers, and Night Vision Cameras, search for clues and collect as much paranormal evidence as possible.

The concept and the mode of Phasmophobia are one of a kind. However, the game can't be truly enjoyed if there is Phasmophobia lag, low FPS, and Phasmophobia crashing issues. Let me introduce you to the ultimate option to get rid of all these problems, the Phasmophobia lag fixer —— LagoFast. It cultivated deeply into the field of the game. Fully understand the needs of players. So feel free to rely on LagoFast and start your journey in Phasmophobia! With LagoFast, you can have a smooth interaction with either VR or PC teammates, and have a more vivid image of the ghosts as well as the haunting. Trust me, your ghost-hunting experience will have much more joyfulness with LagoFast!
How Does LagoFast Work to Fix Phasmophobia Lag?
Lag issues often have something to do with the network connection. An unstable or low-speed network always causes Phasmophobia lag spikes, high ping, and even crashing. Besides, it also can be due to something wrong between your PC and the game server. Phasmophobia lag fixer LagoFast is your perfect choice to solve these problems.
LagoFast has devoted itself to studying players' needs and improving their gaming experiences for more than 8 years. It has globally distributed servers that can allocate players to the nearest one no matter where they are. This highly enhances the stability and performance of the network, reducing the Phasmophobia lag issues to the minimum. Additionally, LagoFast can effectively boost Phasmophobia FPS, giving players the best audio and visual experience while hunting the ghosts. Although the functions of LagoFast are fancy and various, the way of launching it is quite simple. With a simple click on the "FPS Boost" button, you can be ready to embrace your best Phasmophobia in-game experience ever!
The main features of LagoFast are as follows:
More than 8 years of experience
Provide a stable and high-speed network
Effectively reduce Phasmophobia lag and crashing issues
Highly boost Phasmophobia FPS
Globally distributed servers
The simple way of operation
How Can I Use LagoFast?
As a wonderful VPN, LagoFast can help you solve all kinds of problems. In the next, I will show you how to use the product.
Step 1: Download LagoFast.
Step 2: Search the game in the Search Box and select it in the search result.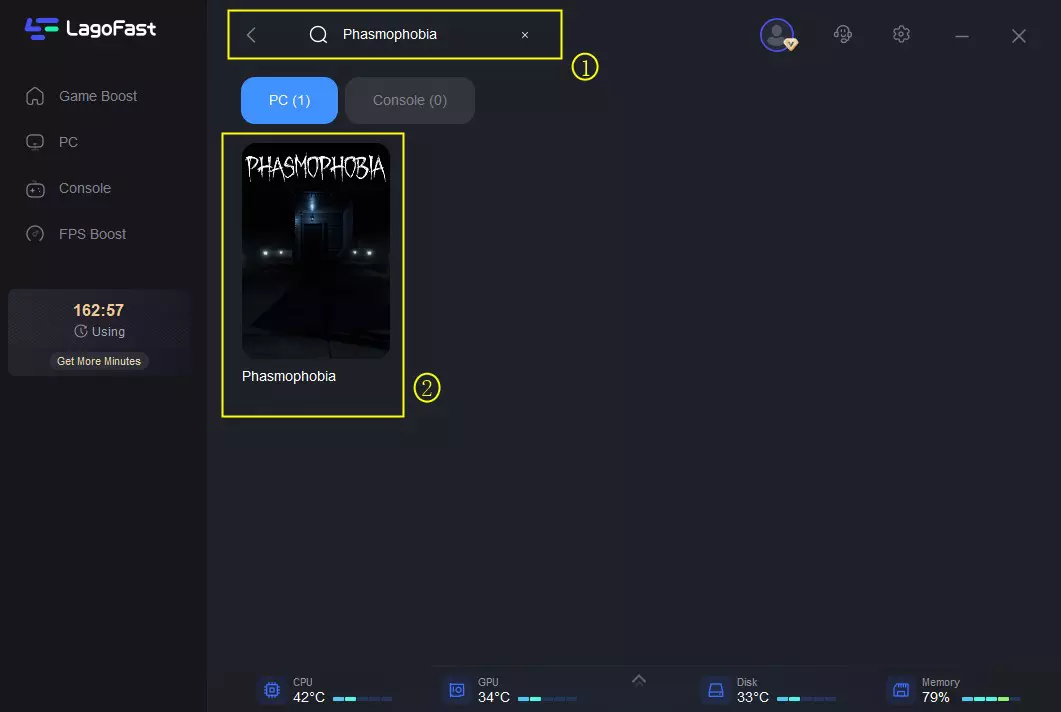 Step 3: Choose the server.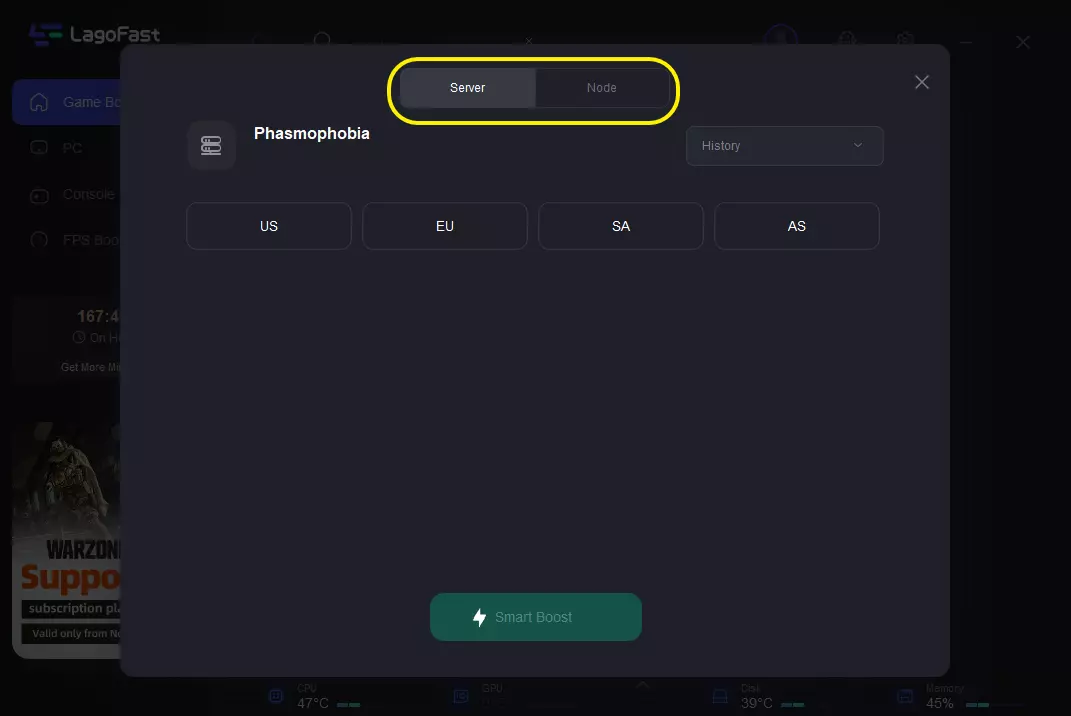 Step 4: Click on the Boost button and start boosting. Here, you can see your real time ping & packet loss rate.
Video Of How To Use LagoFast