LagoFast is a game booster that can help you fix serious Paladins lag and FPS issues.
Paladins Overview
Paladins: Champions of the Realm is a Hi-Rez free-to-play online shooter game. The game was created by Evil Mojo, a Hi-Rez internal company, and launched on May 8 for Microsoft Windows, PlayStation 4, and Xbox One.
Paladins is set in a vivid fantasy setting, with a wide range of Champions, including mech-riding goblins, mystical elves, jetpack-wearing dragons, and sharpshooting humans among its cast of Champions. In order to keep the game entertaining, new Champions are frequently added to Paladins. Each Champion brings a distinct set of skills to the battlefield.
Whatever your playstyle, Paladins has something for you. You can transform into an assault rifle track star, a grenade-throwing explosives expert, or an iron sights sniper all as the same Champion thanks to Paladins' deckbuilding mechanism.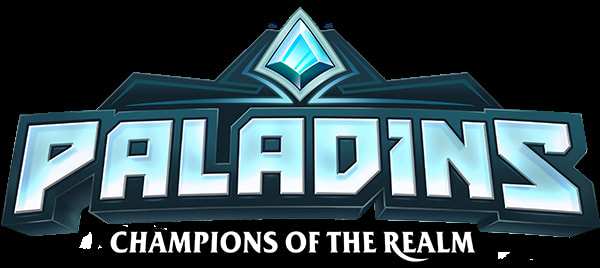 But the question is that if there are Paladins lag or Paladins FPS issues, no matter what your playstyle is, you can't enjoy the gaming and there is a great chance to lose. And Paladins is not a single case, any video game with serious lag issues and FPS drop can make it unplayable and affect your in-game performance. An abrupt frame freeze occurred while you were in the ideal attacking stance and had a clear line of sight. Before you realize it, you have died and your team has lost the match. We are aware that this can be extremely disappointing. This happens mostly because of noticeable latency and stuttering issues, so how can players fix them? I know a product that can work perfectly to help you get rid of Paladins lag —— LagoFast. With LagoFast, you don't need to bother finding ways to fix Paladins lag yourself. All you have to do is to depend on LagoFast to automatically fix all the game issues for you. I know you are doubting how it works. Read on! I'll show you every detail and feature of LagoFast.

LagoFast: Your Overwhelming Choice to Fix Gaming Issues
LagoFast is a top-notch game accelerator that, as I've already indicated, can efficiently fix Paladins lag and Paladins FPS problems. But how does it accomplish that? LagoFast has more than 8 years of gaming optimization experience, and over that time, they've dealt with a variety of games and circumstances, so they've gained a lot of first-hand knowledge about how to minimize lag. Paladins is one of the 1000+ games it supports. LagoFast's secret weapon is a self-created game data transmission protocol that can automatically assign players to the most efficient routes. LagoFast also has servers and nodes that are scattered internationally, allowing it to serve gamers everywhere. On top of that, LagoFast may raise PC users' FPS performance, something that other game boosters are unable to do. LagoFast has made significant investments to create a sophisticated system, but it still chooses to charge customers fairly. It is the only top-rank game booster that supports a Pay-per-Minute plan and provides the cheapest monthly plan. Furthermore, a free trial is available to new users.
The features of LagoFast are as follows:
Have 8+ years of experience in fixing game issues
Support 1000+ games
Win praise from worldwide players
Capable of fixing Paladins lag and boosting FPS
Offer new users a free trial
Support a Pay-per-Minute plan
How Can I Use LagoFast?
As a wonderful VPN, LagoFast can help you solve all kinds of problems. In the next, I will show you how to use the product.
Step 1: Download LagoFast.
Step 2: Search the game in the Search Box and select it in the search result.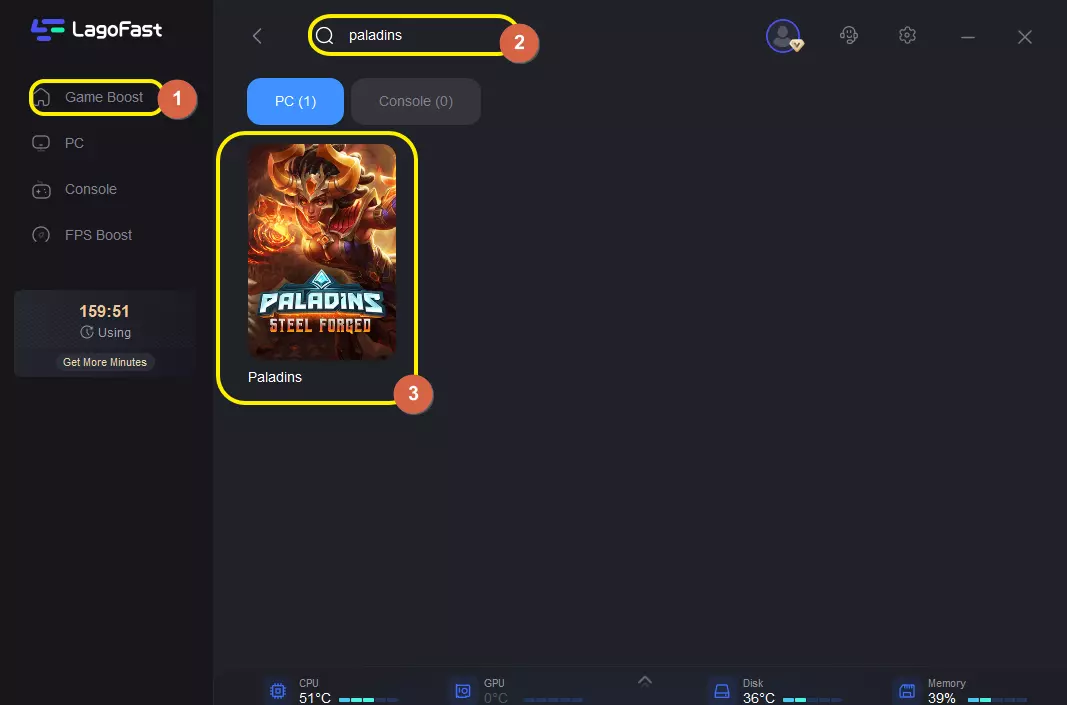 Step 3: Choose the server.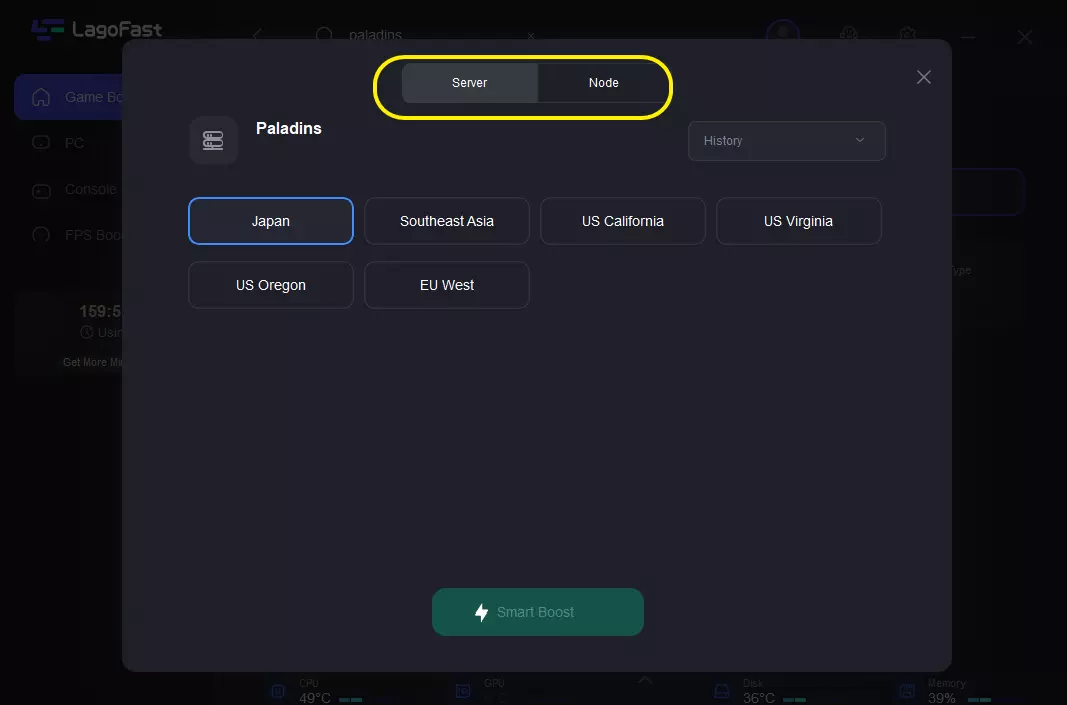 Step 4: Click on the Boost button and start boosting. Here, you can see your real-time ping & packet loss rate.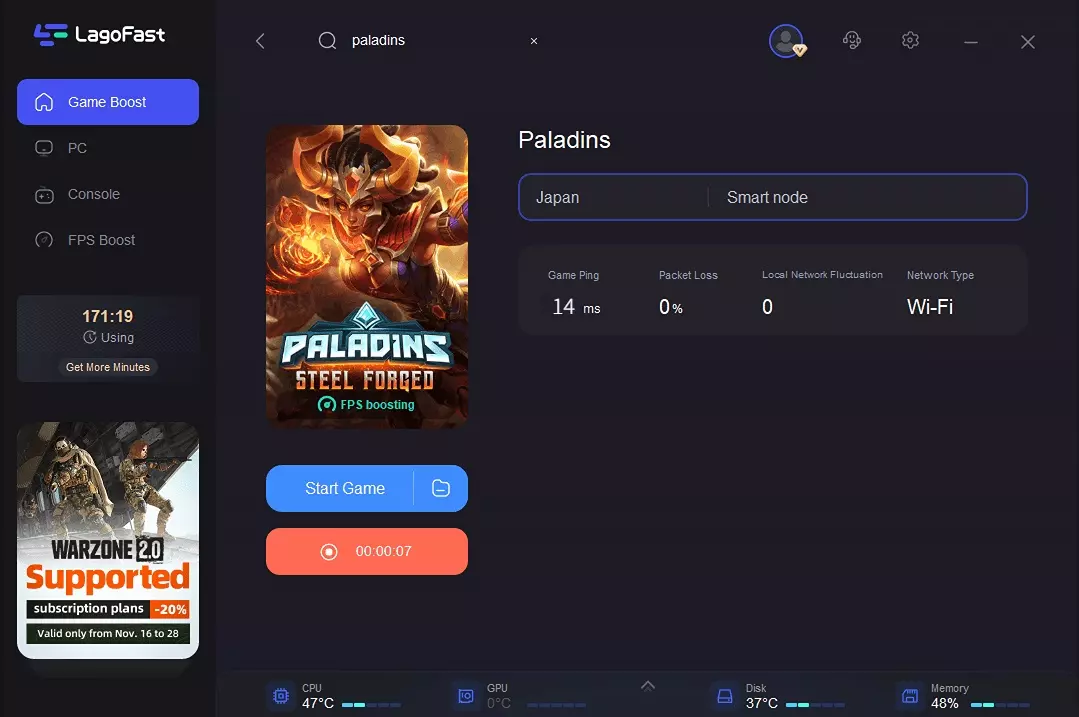 Video of How to Use LagoFast