LagoFast specializes in fixing Halo Infinite lag, boosting in-game FPS, and avoiding packet loss.
Halo Infinite Overview
Halo Infinite, like previous Halo games, is a shooter with most gameplay taking place in first-person. Several weapons and vehicles from the Halo series, like the Warthog, are used by players. Critics gave Halo Infinite generally positive reviews, with some calling it a return to form for the series. The visuals, gameplay, open world design, soundtrack, and story were all praised. The fascinating in-game experience attracts loads of players, which leads to an overloading server. In this case, using LagoFast can help you to the full extent to avoid lag, FPS drop, and packet loss.

Developed by 343 Industries and released by Xbox Game Studios in 2021, Halo Infinite, a first-person shooter game, is the sixth mainline entry in the Halo series and the third in the "Reclaimer Saga" (2015). With a focus on multiplayer, Infinite offers deathmatch, capture the flag, and other game types in both standard 4-versus-4 and Big Team Battle variations. The latter increases the player count in competitions from 8 to 24. Ability pickups, which allow a player to activate special power, such as dashing, active camouflage, and "repulsor" charges that can knock enemies and projectiles back, are new to multiplayer. Infinite also includes a variety of training modes for newcomers. In weapon drills, players can practice using various weapons, and in practice games, they can compete with computer-controlled bot players.

Although the storyline and the game modes are praised by most of the players, Halo Infinite's poor graphics quality is under criticism. Unsatisfying graphics performance can be caused by high ping, FPS issues, and poor network connection. Fortunately, with LagoFast, these are all can be solved easily and properly. To guarantee players a smooth gaming experience, LagoFast has developed its own game data transmission protocol that can automatically allocate the best routes for them. A nearer server, along with a better route, can highly enhance players'PC performance from all aspects. Give LagoFast a try, download it now!
What can LagoFast do to improve the gaming experience in Halo Infinite?
There are several issues complained about by players in Halo Infinite, such as lag, FPS issues, and packet loss. As I've mentioned above, LagoFast can help players avoid such issues to the full extent.
To begin with, LagoFast has worked hard in optimizing gamers' experience for more than 8 years. Additionally, to provide better service, it developed its own game data transmission protocol and smart routing system. This separates LagoFast from normal VPNs because it has more safety and privacy. Moreover, LagoFast has globally distributed servers, which enable worldwide players of Halo Infinite to have access to the best service no matter where they are.
The features of LagoFast are as follows:
Fix game issues in Halo Infinite
Provide the smoothest gaming experience in Halo Infinite
8 years of experience in optimization
Self-developed game data transmission protocol
Privacy & security guaranteed
Worldwide distributed servers
How Can I Use LagoFast?
As a wonderful VPN, LagoFast can help you solve all kinds of problems. In the next, I will show you how to use the product.
Step 1: Download LagoFast.
Step 2: Search the game in the Search Box and select it in the search result.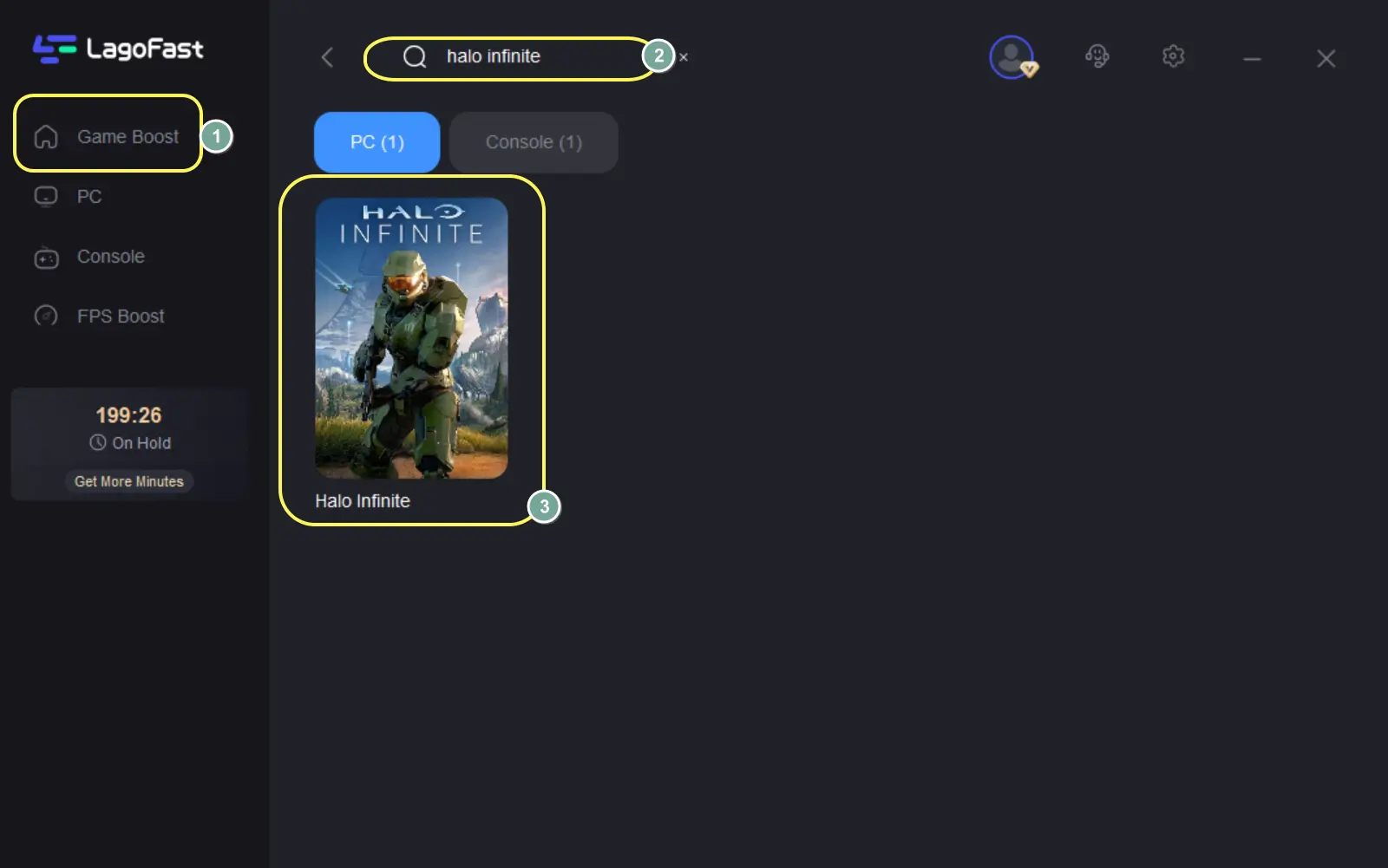 Step 3: Choose the server.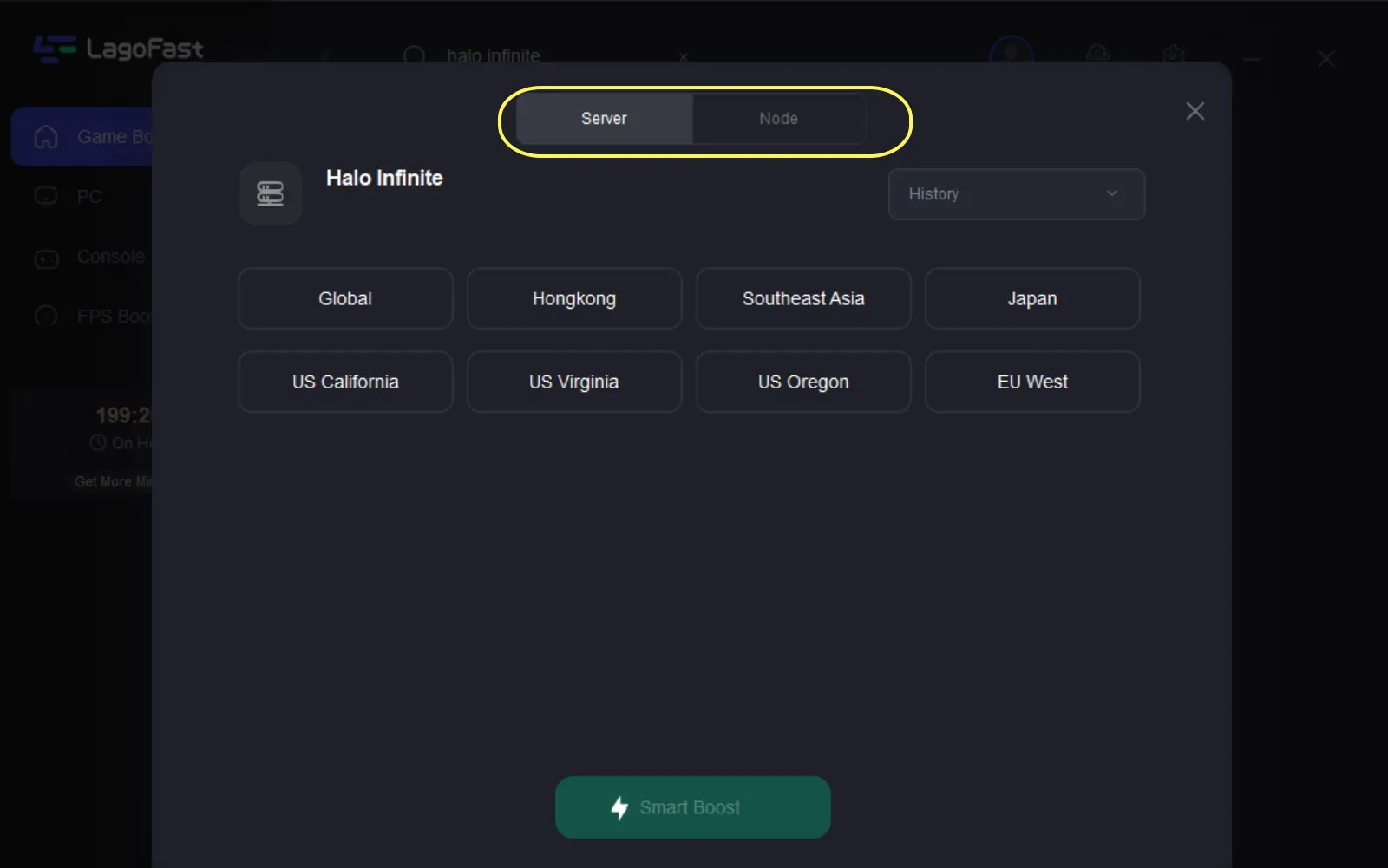 Step 4: Click on the Boost button and start boosting. Here, you can see your real time ping & packet loss rate.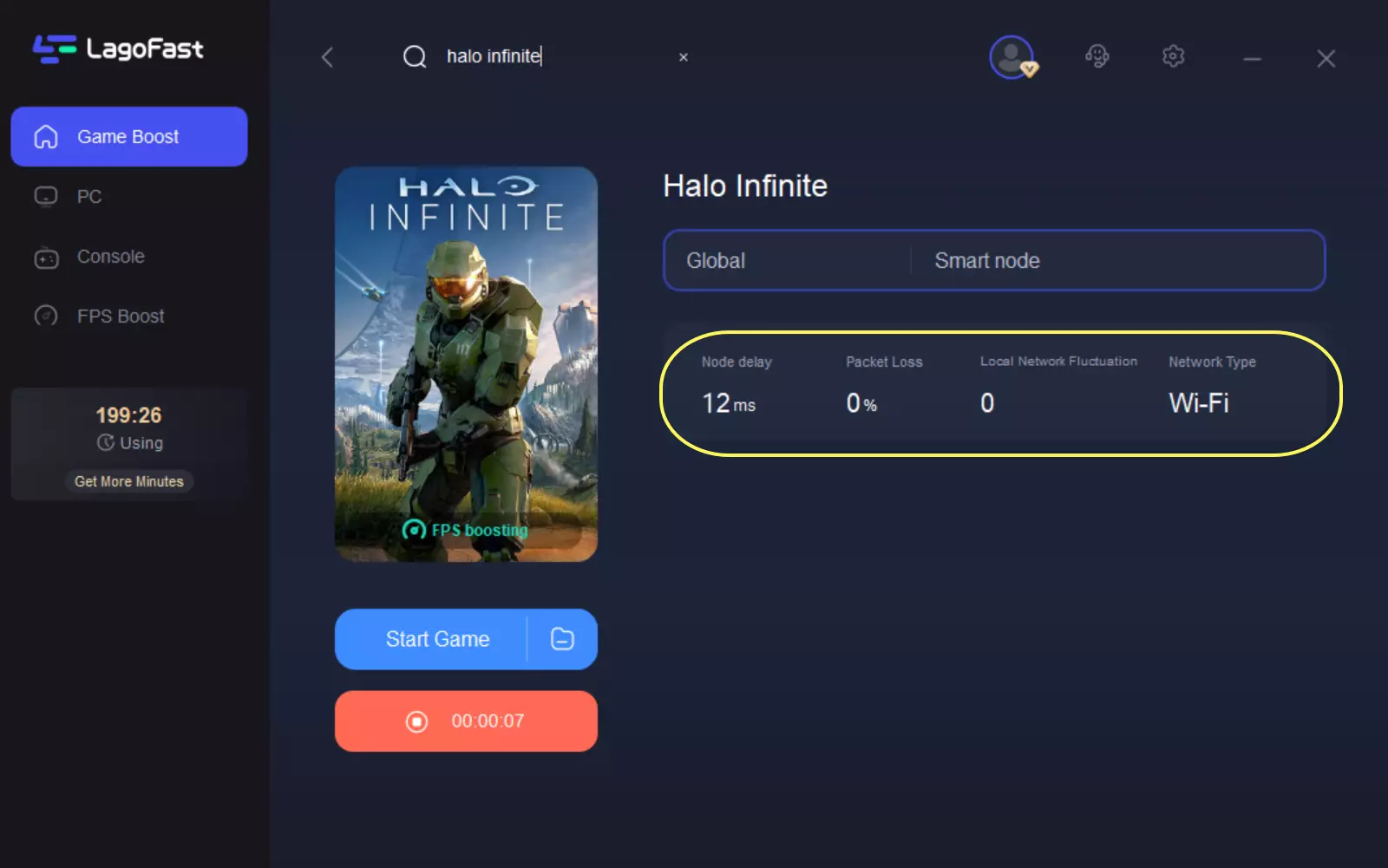 Video Of How To Use LagoFast