It is wise to use LagoFast to go of Destiny 2 lag, low FPS, crashing, and other network issues
Using LagoFast To Fix Destiny 2 Lag Is Helpful
Destiny 2 is a free-to-play online-only multiplayer first-person shooter video game developed by Bungie. It was originally released as a pay-to-play game in 2017 for PlayStation 4, Xbox One, and Microsoft Windows. It became free-to-play, utilizing the games as a service model, under the New Light title on October 1, 2019, followed by the game's release on Stadia the following month, and then PlayStation 5 and Xbox Series X/S platforms in December 2020. The world of Destiny 2 is a mythic science fiction one. In this world, players assume the role of a Guardian, protectors of Earth's last safe city as they wield a power called Light to protect humanity from different alien races and combat the looming threat of the Darkness. And you can enjoy the PvP and PvE modes.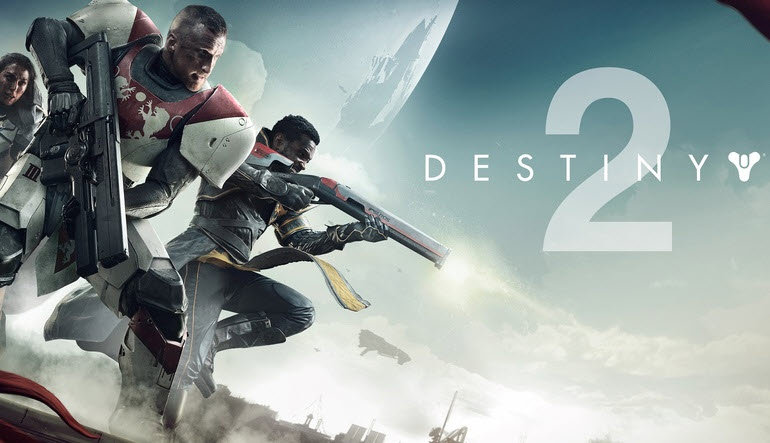 But I guess that you have certainly encountered the Destiny 2 lag and low FPS issue. Don't worry, these problems are very common. And many measures could be taken to fix these issues. However, most of these solutions are hard and costly. Therefore, how about trying to use LagoFast, a professional Destiny 2 lag fixer, to easily get a smooth gaming experience with the price of a cup of coffee? Precisely, the services LagoFast could provide are as follows:
Fix effectively Destiny 2 lag
Offer a stable and secure network connection to reduce Destiny 2 lag
Boost Destiny 2 low FPS
Provide Destiny 2 players with an accurate real-time ping test
Avoid Destiny 2 network crashing
How Can I Use LagoFast in Destiny 2?
As a wonderful VPN, LagoFast can help you solve all kinds of problems. In the next, I will show you how to use the product.
Step 1: Download LagoFast.
Step 2: Search Destiny 2 in the Search Box and select it in the search result.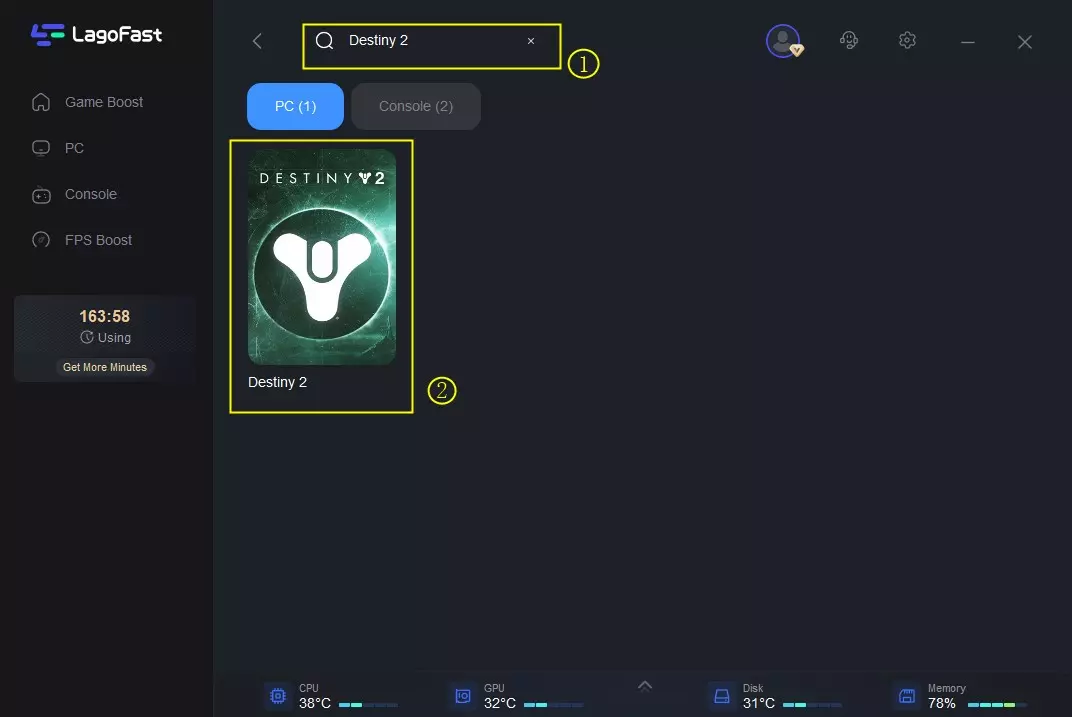 Step 3: Choose the server.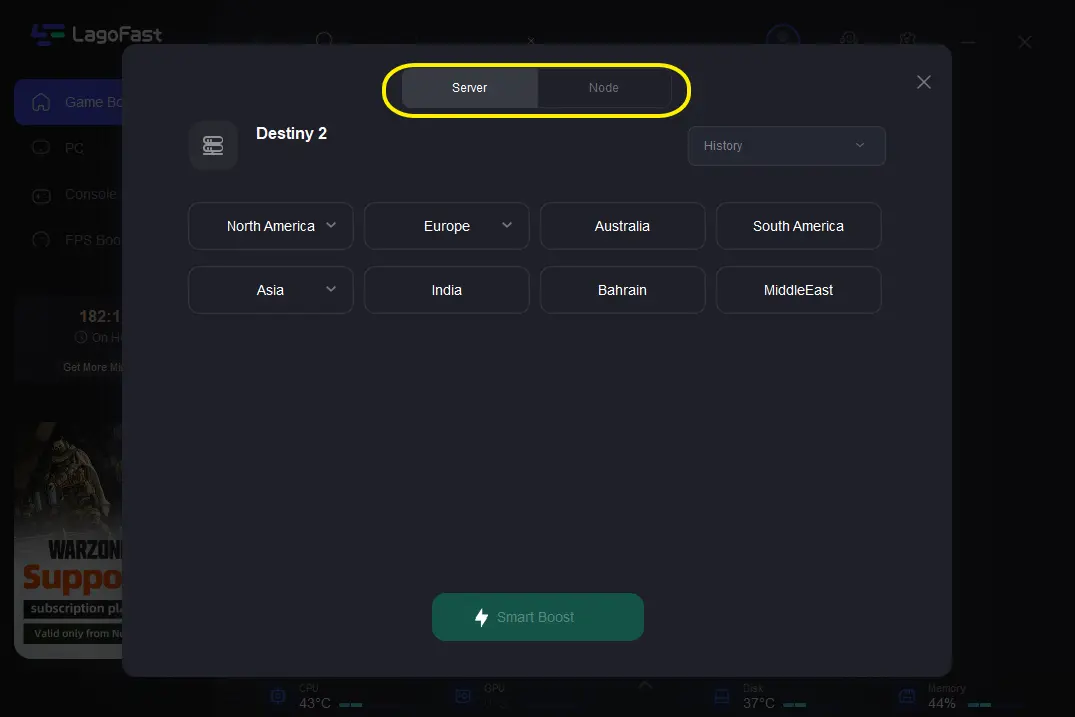 Step 4: Click on the Boost button and start boosting. Here, you can see your real-time ping & packet loss rate.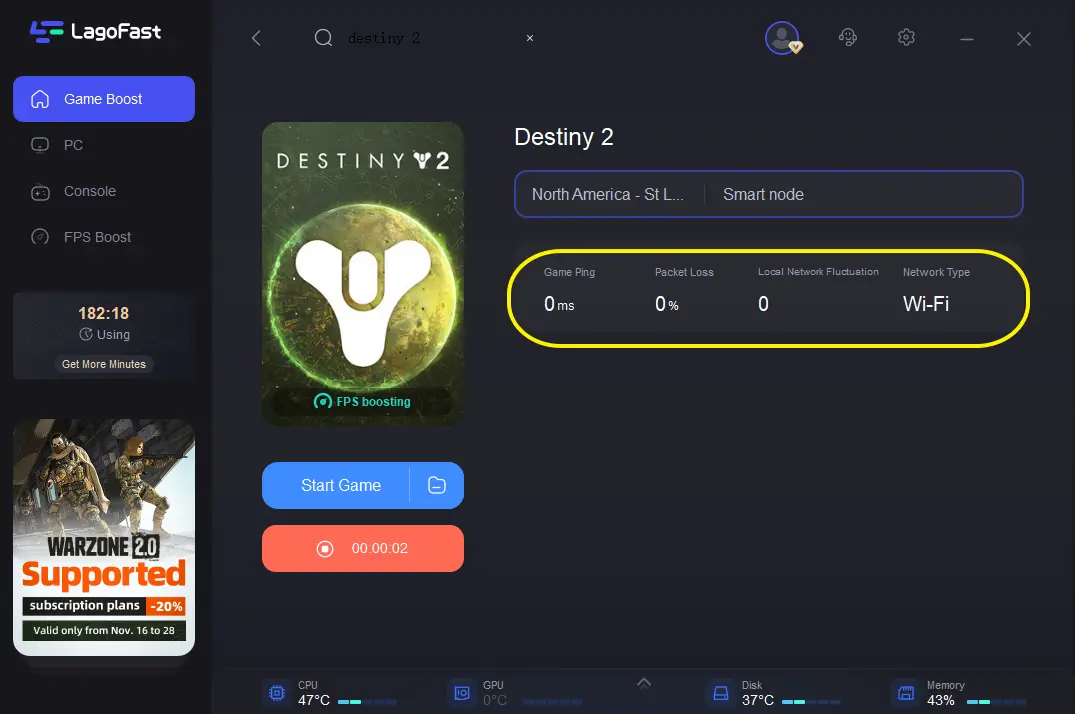 Video of How To Use LagoFast