Are you experiencing Crime Boss Rockay City low FPS? LagoFast will effectively improve your Crime Boss: Rockay City FPS.
A Brief Introduction to Crime Boss Rockay City
Crime Boss: Rockay City is an upcoming first-person action-adventure game that is highly anticipated by gamers. Developed by Ingame Studios, the game is set in Rockay City, a fictional city where players take on the role of Travis Baker, an ambitious up-and-coming gangster with his sights set on becoming the new King of Rockay City, one crime at a time. The game combines first-person shooter action and turf wars, and players can create their own Mafia empire, having to conquer territories in Rockay City, almost like a strategy game. The game features a star-studded cast of characters, including Michael Madsen, Chuck Norris, Vanilla Ice, and Danny Trejo, all of whom will front an explosive Hollywood-esque 90s drama. The game is set to release on March 28, 2023, for PC, and in June 2023 for PS5 and Xbox consoles. The game is rated M for Mature, with intense violence, blood and gore, sexual themes, the use of drugs, and strong language. With its non-linear story, open world full of opportunities, and highly replayable missions, Crime Boss: Rockay City promises to be an exciting and immersive gaming experience for players.
Picture this: you're playing Crime Boss: Rockay City, and you're in the middle of an intense turf war with rival gangs. Suddenly, your FPS drops and the game becomes unplayable. You're frustrated and don't know what to do. That's where Lagofast comes in. With Lagofast, you can reduce lag and improve your FPS, ensuring that you can play the game smoothly and without interruption. By optimizing your internet connection and reducing network congestion, Lagofast can help you achieve a smoother and more enjoyable gaming experience. Don't let low FPS ruin your gaming experience, try Lagofast today and become the new King of Rockay City, one crime at a time!
Why Crime Boss: Rockay City FPS Drops?
Some players have reported experiencing crime boss: rockay city low FPS, which can be frustrating and ruin the gaming experience.
One of the main reasons why Crime Boss: Rockay City experiences low FPS is due to the game's high system requirements. The game requires a powerful graphics card, a fast processor, and a lot of RAM to run smoothly. If your computer does not meet these requirements, you may experience low FPS while playing the game. Additionally, if you have other programs running in the background while playing the game, they can also cause low FPS.
How to Fix Crime Boss: Rockay City Low FPS
Players' gaming experiences in Crime Boss: Rockay City may be significantly impacted by the low FPS, lag, packet loss, and other network connection problems they encounter. As a result, players are often concerned with how to improve low FPS in Crime Boss: Rockay City and how to resolve lag issues. To improve the gaming experience, it is recommended to use LagoFast, a Crime Boss: Rockay City FPS boost tool, before launching the game. LagoFast offers an FPS panel in its client, which allows for easy adjustment of game settings to enhance the performance of the computer. It also uses a unique data transmission protocol and server to select the best data transmission route, leading to smooth gameplay. In brief, LagoFast is a comprehensive tool that offers many additional services:
Diagnose Crime Boss: Rockay City performance
Increase Crime Boss: Rockay City FPS
Improve network connection to avoid crashing
Fix Crime Boss: Rockay City lag issues
Perform an accurate real-time ping test
Reduce high ping in Crime Boss: Rockay City
Offer 2 options: subscription plan for the month, or pay per minute
Follow the guide to increase Crime Boss: Rockay City low FPS.
Step 1: Click the Free Trial button to download the LagoFast client and experience Crime Boss: Rockay City fps boost service.
Step 2: Before running Crime Boss: Rockay City, you just need to find Crime Boss: Rockay City in LagoFast and click the Boost button.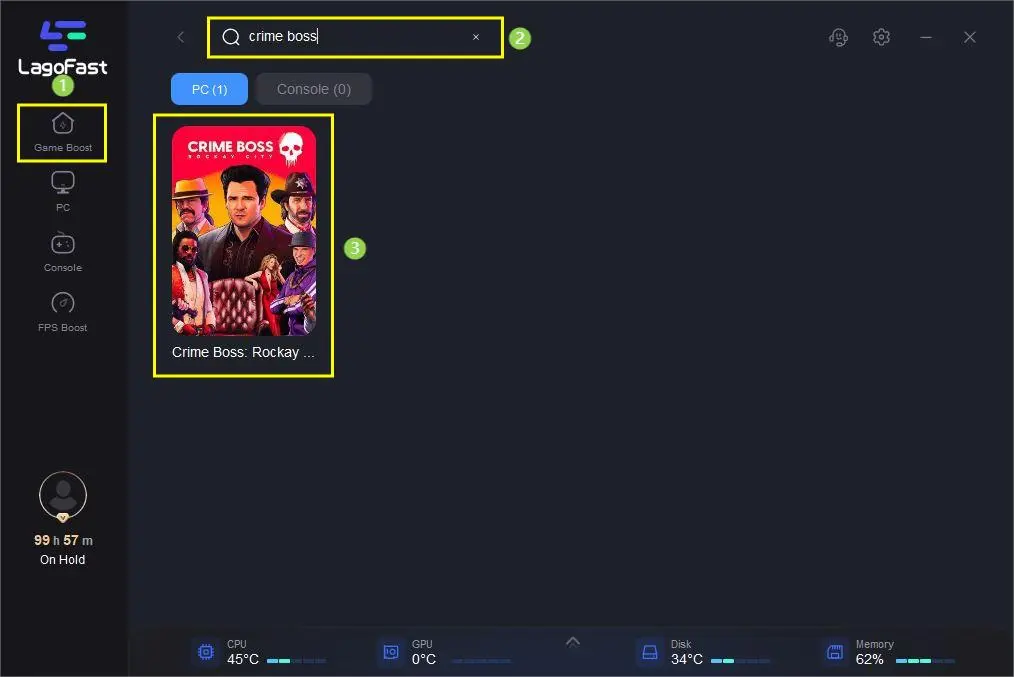 Step 3: And then you can choose the server you want.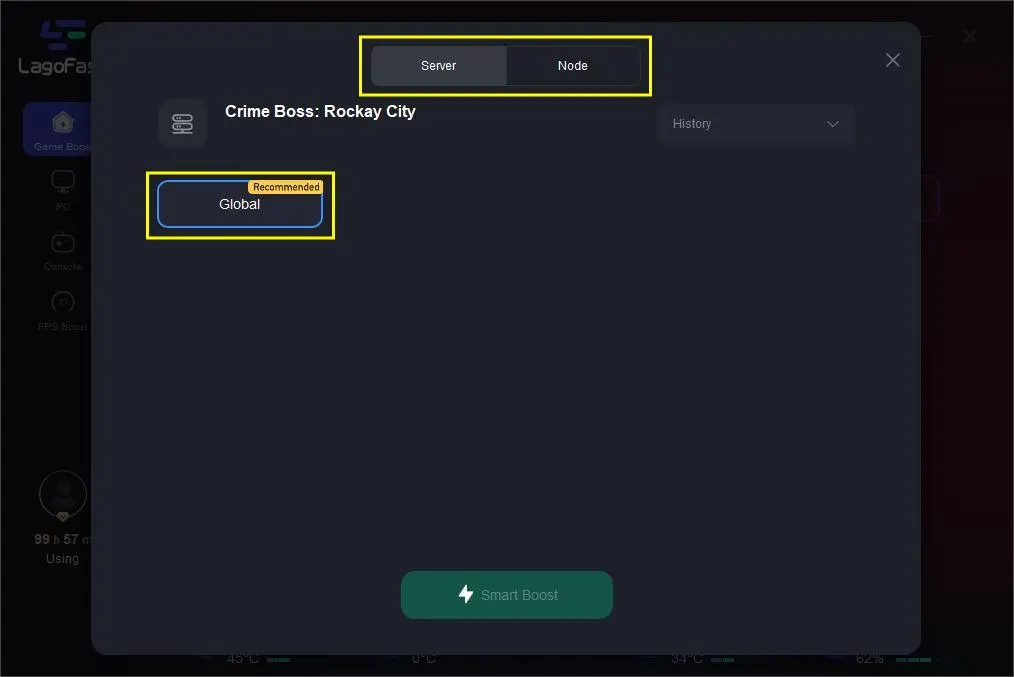 Step 4: After this easy click, LagoFast game booster will improve your game internet connection, decrease high ping, and reduce lag issues in the background. And also provide you with many other tests, like real-time ping test, packet loss, and local network fluctuation.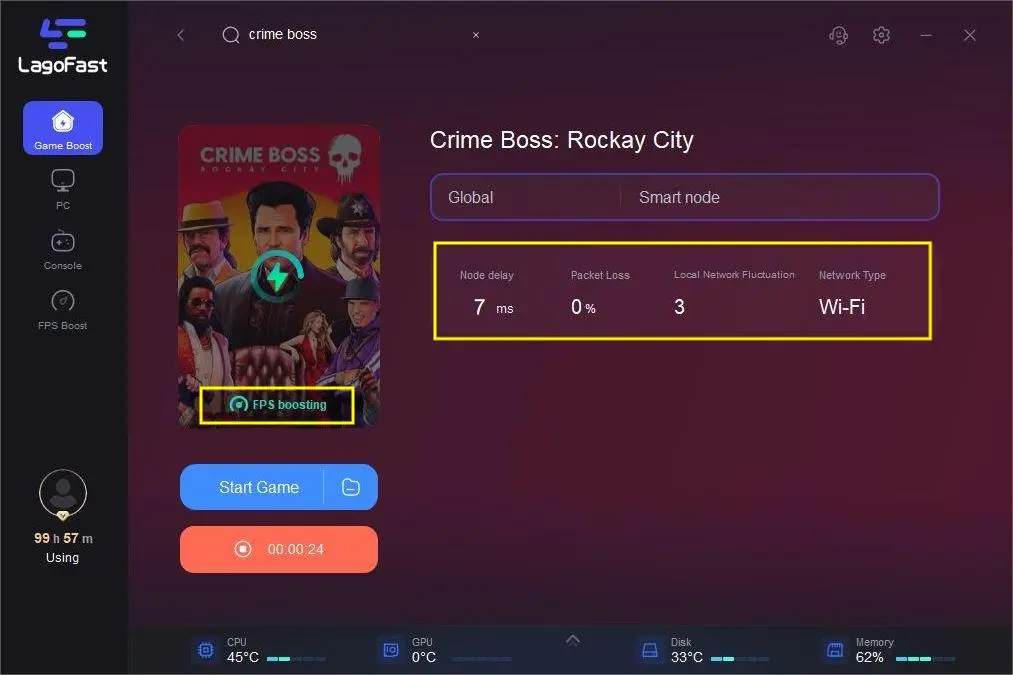 Video of How to Use LagoFast