Call of Duty: Warzone 2.0 will be an extension of the Modern Warfare II universe and will take full advantage of state-of-the-art technology (shared for the first time in Call of Duty) to deliver new, smoother pre, during, and after gameplay the battle royal experience. In this update, Warzone 2 map, game mode, and equipment have been greatly changed. Nevertheless, inevitably, due to warzone 2 server status and network issues, your update may not complete as anticipated, preventing you from seeing the new game content for the first time in-game. Some users have warzone 2 updates that won't start or are unable to install pc. We'll demonstrate how to resolve issues with Warzone 2 update as well as other issues with the game, like easy lobby. The simplest method for resolving in-game issues, LagoFast, can easily handle any issues you have with Warzone 2 update. We will also tell you approaches that will also address the issue, just in case.
Part 1: LagoFast: the Best Warzone 2 Update Issues Solver
Part 2: Other Ways to Solve Warzone 2 Update Issues
Part 3: Why do Warzone 2 Update Issues happen?
LagoFast: the Best Warzone 2 Update Issues Solver
Users who are eager to upgrade Warzone 2 in order to play the new game content have run into a number of unexpected issues. Due to warzone 2 server status and connection issues, players complained that the beta update data was difficult to download, warzone 2 was unable to install pc, and that warzone 2 update won't start, among other update bugs. Players may encounter problems that are unrelated to their skill level but still have an impact on the game's plot as a result of these problems, which can significantly affect how well they are able to complete the game's objectives.
Give your worries to LagoFast in this circumstance! The gaming and game updates will quickly and effectively solve all of your problems! LagoFast is a game-specific acceleration program, which I will now introduce to you. lagoFast is knowledgeable about a range of game issues and has more than 8 years of experience using industry-leading data transfer protocols to resolve gaming challenges. LagoFast's excellent compatibility allows it to adapt to a variety of difficult network circumstances at the same time. Furthermore, it will connect you to the most advantageous network node using ping values as a guide and give you access to real-time network identification. LagoFast also provides exclusive lines in 60 different countries, allowing you to use it whenever and wherever you like for the best gaming experience. If you're willing to give LagoFast a try, I'm sure you'll love it! It can eliminate all of your concerns, including Warzone 2 packet loss and connection failed.
Let's see what LagoFast has to offer.
The most effective Warzone 2 game booster

Cheaper with pay-per-minute and pay-as-you-go

A tool that is both a game booster and a problem solver

Unique international route Reduce ping while boosting the frame rate
In just four easy steps, you can enhance your gaming experience.
Step1: To install LagoFast, click the "Free Trial" button.
Step2: Type "warzone 2" into the search bar and press Enter.
Step3: Choose the server that works for you.
Step4: Click the Boost button to begin.
The performance of Warzone 2's frame rate is directly impacted by the ping and packet loss rates, which are both displayed in real-time.
Other Ways to Solve Warzone 2 Update Issues
There are some other solutions when warzone 2 is unable to install pc or warzone 2 update won't start, although not as quick and easy as Lagofast.
Check the system and configuration of your computer: During the updating process, if you notice the following message: Please upgrade your PC system because it is not powerful enough to run the game. Your PC's system is too old, which is the likely cause of the update failure. Update your system to fix the problem. If you encounter problems after installing the update and trying to launch the game, you can check the minimum system requirements provided by the game's developer. If your computer is unable to meet these requirements, we advise switching to a better gaming setup.
Select a more reliable connection:

Warzone 2

requires more memory and update package data; as a result, if the player's network environment is subpar, the game's loading and update speed will be slower, and it may even become stuck updating constantly. In such a case, we can open the game's gas pedal to strengthen the network; as you are probably aware, LagoFast will resolve all issues.

Change firewall settings: Since

Warzone 2

requires a lot of computer privileges, players should close the firewall if the installation update keeps loading. If they need to open the firewall, they should go into the firewall settings and add

Warzone 2

to their whitelist. Then they should reopen the game.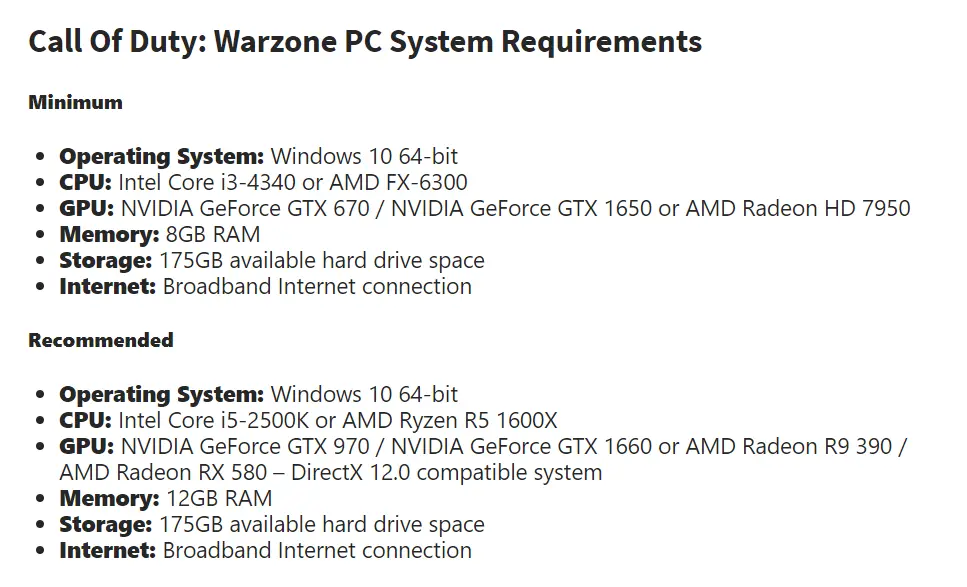 Why Do Warzone 2 Update Issues happen?
If warzone 2 is unable to install pc or warzone 2 update won't start, it is torture for warzone fans. When the game screen and special effects need to be optimized or there are flaws in the system security policy for the game system exposed during operation, a game update package is a compact package that is released to address the issue. Why does the update package render the game unplayable in contrast, though?
Memory consumption: It's best to run as little software concurrently as possible when updating MW2. These configuration-intensive games frequently use a lot of memory, and if you have multiple programs running at once, it can easily cause issues like lagging or computer crashes when installing the update.
Hardware incompatibility: If you can update your device successfully, but when you open the game on your computer, it says you can't enter, it's possible that the configurations of your computer and the game are incompatible. It is best to choose a configuration that is higher than the minimum running requirements of your phone so that you can play more smoothly; otherwise, you may experience heat or flashback issues even if you enter the game.