Call of Duty: Warzone 2 is a free-to-play first-person shooter Battle Royale mode game developed by Infinity Ward. The game includes two modes with a maximum of 150 players and supports three-player teams, single-player teams, two-player teams and four-player teams. Based on your win rate and playtime, the Warzone server will match you with more and more advanced players. That means the stronger you are, the better your opponent will be. As a result, those at the top of the leaderboard frequently face opponents with familiar names. Admittedly, playing against better players can make it more exciting. However, when you just want to relax and enjoy the thrill of the kill while climbing the leaderboard. To meet your need, Warzone 2 bot lobby comes in handy. With Warzone 2 game booster LagoFast, it could be easily achieved with Warzone 2 easy lobby service, which will not affect the game ping.
Part 1: How To Use LagoFast Easy Lobby?
Part 2: Does Using Game Booster Affect Ping Values?
Part 3: Will I Be Banned With LagoFast-Easy Lobby?
How To Use LagoFast Warzone 2 Easy Lobby?
The first is, what is LagoFast? LagoFast game booster is a professional product that combines several game data route technologies to allow global players to play smoothly and without lag. It allocates the best routes for players using its game data transmission protocol, accurately identifies game traffic, and allows live streaming and music listening while playing games. Because the servers are distributed around the world, we can access the accelerated servers from anywhere. To avoid unstable ping, game-specific routes are also used concurrently.
To meet the need for relaxing playing and a good gaming experience, LagoFast has launched the Warzone 2 easy lobby service. With LagoFast, you can change the geographic location and time zone where and when there are fewer online matches, and then the probability of matching to a bot lobby in Call of Duty: Warzone will increase.
With LagoFast, you will also not be concerned about Warzone 2 game issues, like Warzone 2 lag, low FPS, high ping, packet loss, etc. And the difference between other game VPNs and game boosters is several fee choices: become a member for monthly, quarterly, or annual fees; or plan per minute. Therefore, if you do not play games every day, or you do not need game booster service every day, LagoFast will be the most economical choice!
If you want to try using the LagoFast game booster and Warzone 2 easy lobby service, follow these steps!
Step 1: Click the Free Trial button to download the LagoFast client and experience the game boost and Warzone 2 easy lobby service. Or directly go to LagoFast site.
Step 2: Before running COD Warzone 2, you just need to find Warzone 2 easy lobby in LagoFast and click the Boost button.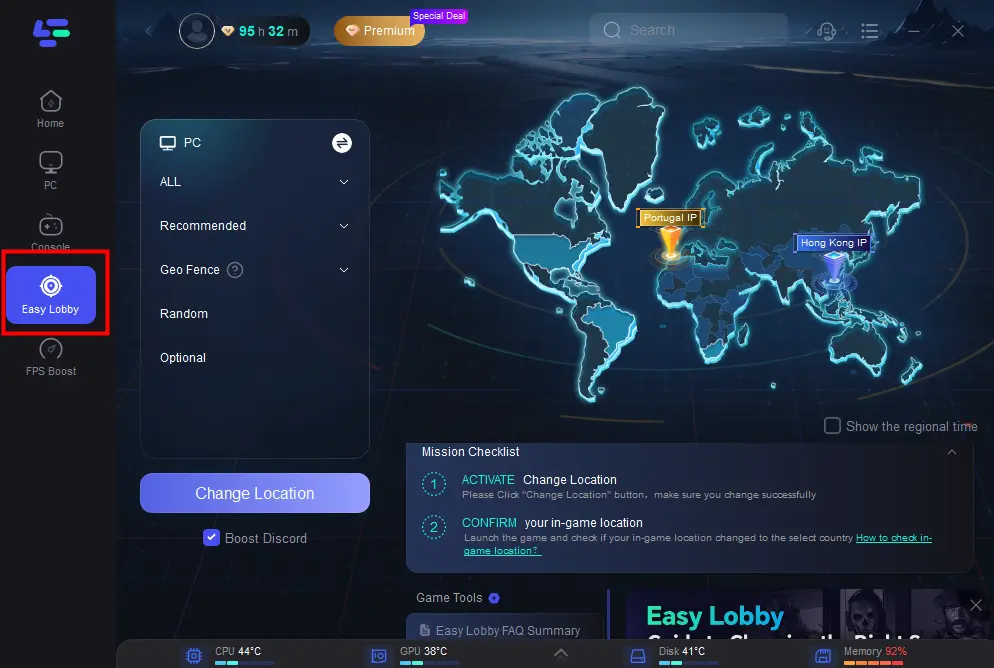 Step 3: And then you can see the choice panel of game servers and nodes. You can pick the server you want to change and the best code for the lowest ping.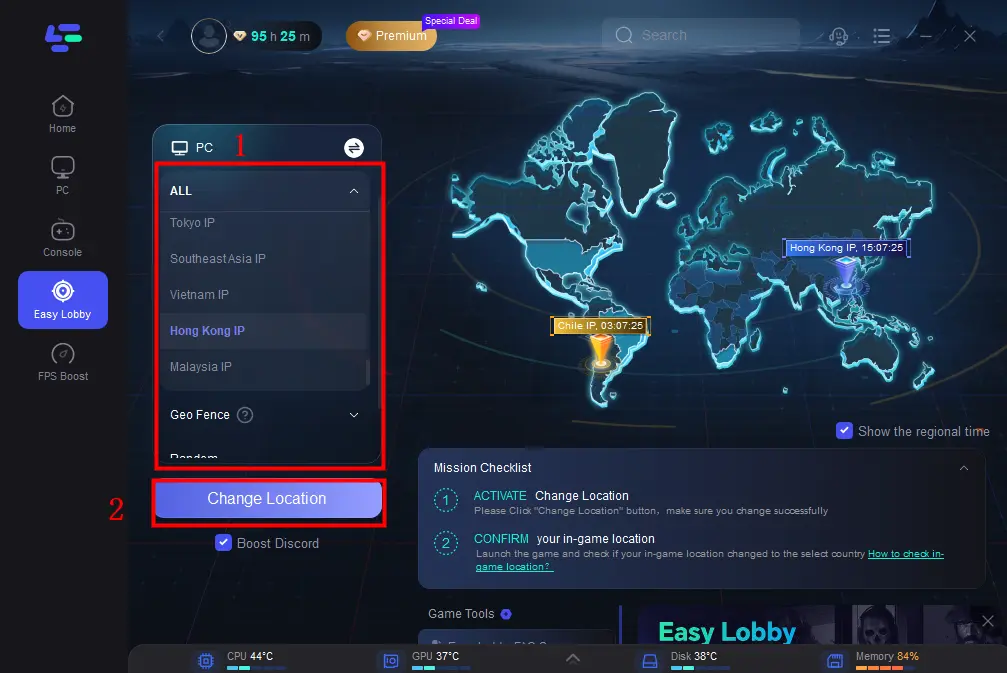 Step 4: Click the Boost button before running the game. While you are playing the game, you can see your real-time ping test and packet loss on this page.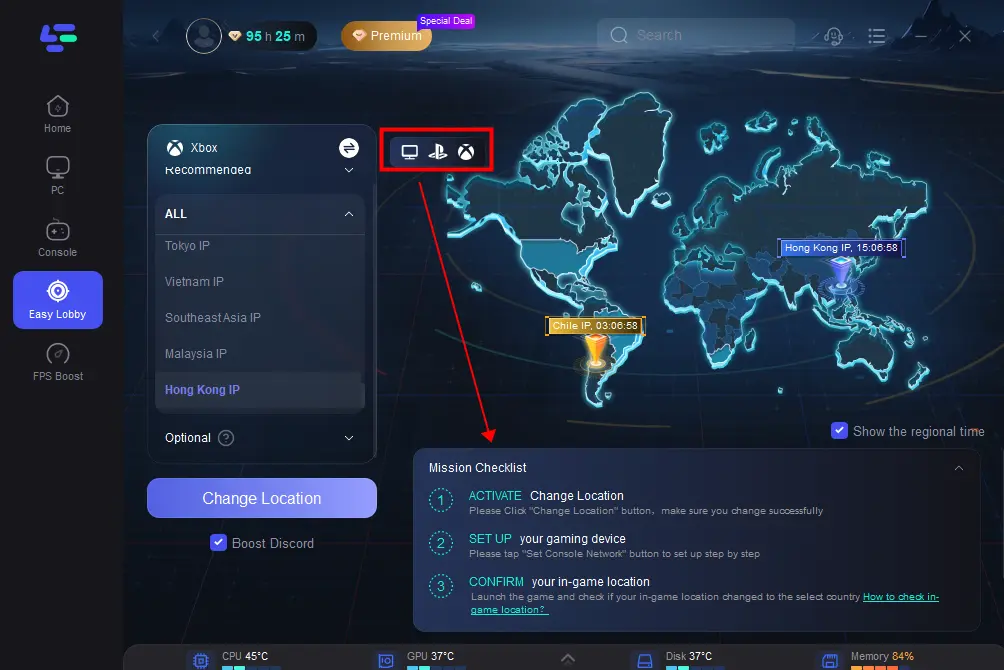 Does Using Game Booster Affect Ping Values?
Ping is referred to as the time spent on the route of data transmission. If your ping value is higher than 100, you will experience game lag issues. And generally speaking, when the distance between your computer and the game server increases, the ping will also be higher. Therefore, many players are concerned that if I change the server which is not in my geographic location to realize Warzone 2 bot lobbies, will my ping increase?
However, if you use LagoFast, you will not have this issue; instead, LagoFast can lower the ping value, which is its advantage as a game booster. When we enable LagoFast and enhance the game with a single click, you will be able to connect to the server of your choice as well as choose the network node with the lowest ping via real-time network detection.
And in this picture, you can see the differences between VPN and LagoFast, which will get you to understand our product.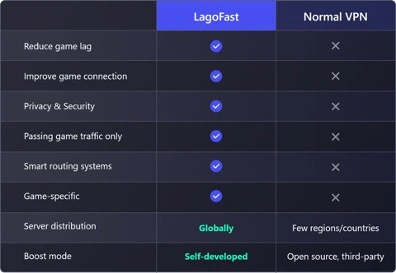 In addition to the distance that will affect ping, if you still have high ping in Warzone 2, reading this article, How To Lower Latency will be helpful to find the true reason.
Will I Be Banned With LagoFast Easy Lobby?
Activision does not specifically specify that using a VPN in Warzone 2 is illegal, however, the Call of Duty Security and Enforcement Policy states the following: Any attempt to conceal, disguise, or obfuscate your identity or the identity of your hardware devices may result in an indefinite suspension. Using Warzone 2 VPN may be deemed cheating because it conceals the true IP address as well as location information. Furthermore, several players have reported being permanently banned from the game for using Warzone 2 VPN, and the permanent ban applies to all games, including CoD's released and unannounced titles. However, many players believe that using Warzone 2 VPN is safe.
However, utilizing LagoFast is different; it is 100% safe, and there is no need to update the information hidden from you to comply with the CoD security policy. As a result, you won't be banned from using LagoFast Warzone Easy Lobby. After utilizing LagoFast for acceleration, you'll have a completely different gaming experience with Call of Duty: Warzone.