Call of Duty: Warzone 2.0 is ready to make its impact as a rebuilt, free-to-play, free-for-everyone take on the Battle Royal game. The Warzone 2 map, game mode, and equipment have all undergone significant changes in this update. It actually runs quite well for the most part and has tons of settings players can adjust to improve their experience, but still , it is almost inevitable that there are some technical issues players routinely face. In this article, we have collected some recent issues to improve your gameplay, as well as helping you fasten the downloading process. Additionally, if you want to keep having fun while playing the game while still maintaining your efficiency, I strongly recommend you to try LagoFast, the best VPN for the game and an effective game booster.
Part 1: LagoFast: the best solution to Warzone 2 crash
Part 2: Recent problems of Call of Duty: Warzone 2
Part 3: How to download Warzone 2 quickly?
LagoFast: the best solution to Warzone 2 crash
LagoFast is professional in optimizing players' in-game experience, including fixing lag, reducing high ping, and boosting FPS. With its unique game data transmission technology, you are able to enjoy your game in a stable and smooth environment. It supports a pay-per-minute & 7-day free trial for new players. What are you waiting for? Come and experience the best virtual private network (VPN) service for playing Call of Duty: Warzone 2.
Download LagoFast now and start your 7-day free trial with the best Warzone 2 lag reducer
Step 1: Download LagoFast and register.
Step 2: Search the game by typing "Warzone 2" into the search bar and click.
Step 3: If there is more than one server option, pick the one that best fits your needs, and then you are able to choose the Node with the lowest ping.
Step 4: You are able to directly check your real-time ping rate and packet loss rate on the page.
Recent problems of Call of Duty: Warzone 2 and how to fix them
Below we provide some tips for the recent problem showing up. Hope it can help!
Warzone 2 social not working
Problem: Some players have reflected that one issue especially troubling is the Social menu, which allows players to check on their friends' statuses and join games. During the test tonight on 16th November, we found an error reported in the friend system. After clicking the "Social" tab in the game, it will jump back to the main interface of the game or prompt a purchase window of the COD19. Up to now, we have received players' feedback from Twitter and Steam, both foreign and domestic. The possible cause could be related to some player in the friend list, which could paralyze other player's entering as long as he or she is online. Right now, Steam's self-developed Friend-list system could avoid this issue by group invitation, but other platforms are still expecting the official repair.
Solution: If you are a player from Steam, you can avoid such issues through the group invitation function from the Friend system. If you are a player from other platforms, the solution is still pending, and we will wait together for Warzone 2's official notice.
Can't play COD Warzone even though my phone number is postpaid
Problem: The phone verification system is meant to cut down on toxic behavior from players, preventing them from creating endless new accounts to evade bans or to cheat. SMS Protect is designed for text-enabled mobile phones. A separate Battle.net support page notes that "mobile phones with prepaid plans may not work with the phone notification service." It also doesn't work with VoIP numbers. That restricts the service to players with postpaid cellular plans, which may not be affordable or easily accessible to many players around the world.
However, some player encountered such an issue: After downloading the game and opening it, the page shows he cannot play because the phone number is "prepaid", but actually it is postpaid.
Solution: If you start the game from Battle.net, the official will prompt that you need to bind your mobile phone number to start the game. For players who have problems doing so, we recommend that you start Warzone 2 from Steam.
Step 1: Download Call of Duty: Warzone 2 from Steam.
Step 2: Enter the Activision web page, you may need to register first if you don't have an account. To help your registration process, fill in the corresponding information according to the registration requirements and perform human-machine verification. In the last step, select "I do not have a bound account" to complete the registration.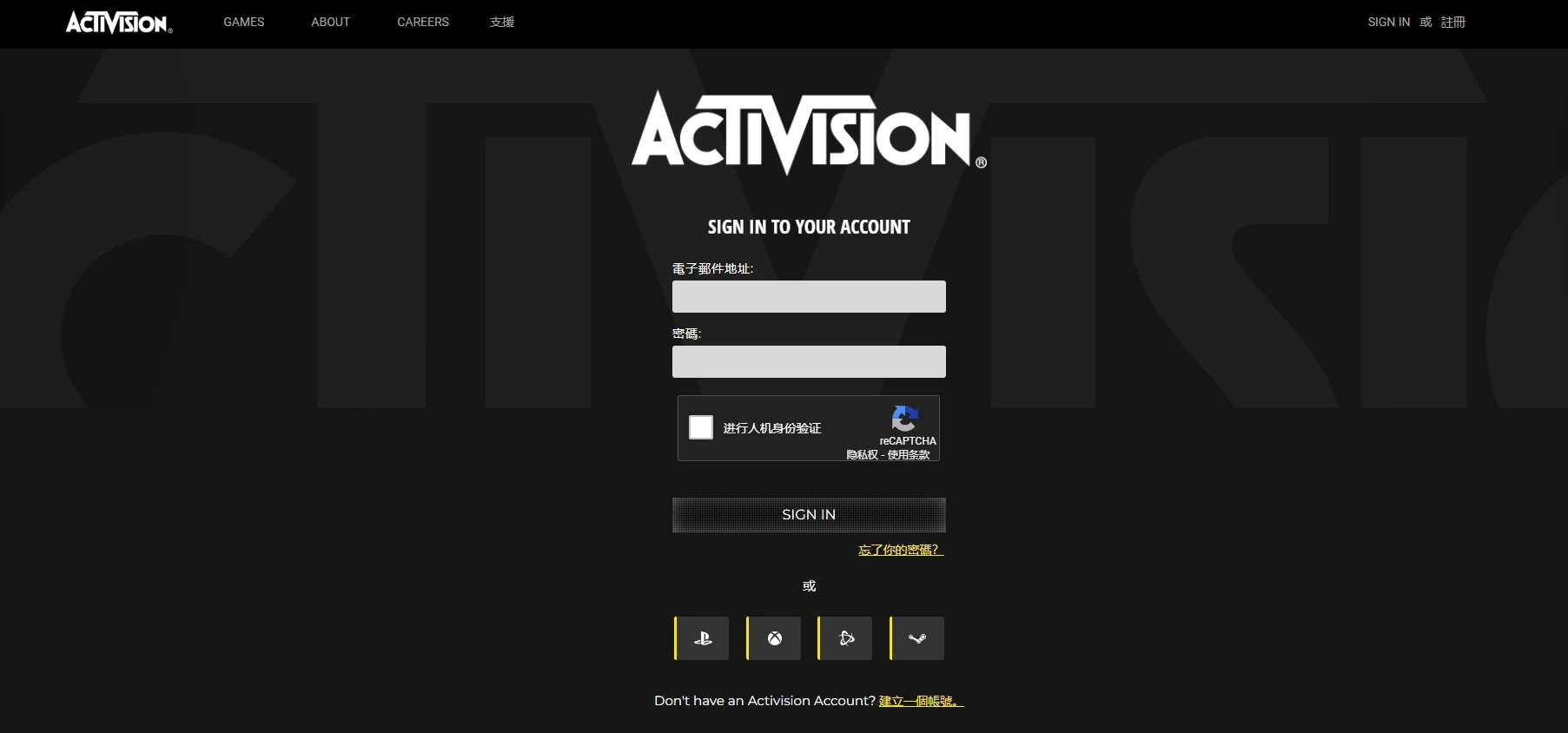 Step 3: Back to the Activision page, click on the tap "PROFILE" and log in.
Step 4: Go tot the connection page and choose "connect to Steam".
Step 5: Log in with your Steam account at the prompted window, and complete the binding.
Warzone 2 crash at startup
Problem:Some players reported that the game crashes before it opens,
Solution:
1. Use LagoFast. Many people have proven that Lagofast is the most effective solution for cod mw2 to failed connection. For those who aren't sure, we also offer a free trial so you may test it out before deciding. You'll enjoy a really fluid game with LagoFast's support. Here's how to use LagoFast:
Step 1: Download LagoFast.
Step 2: Click " Setting " and " Network Tools "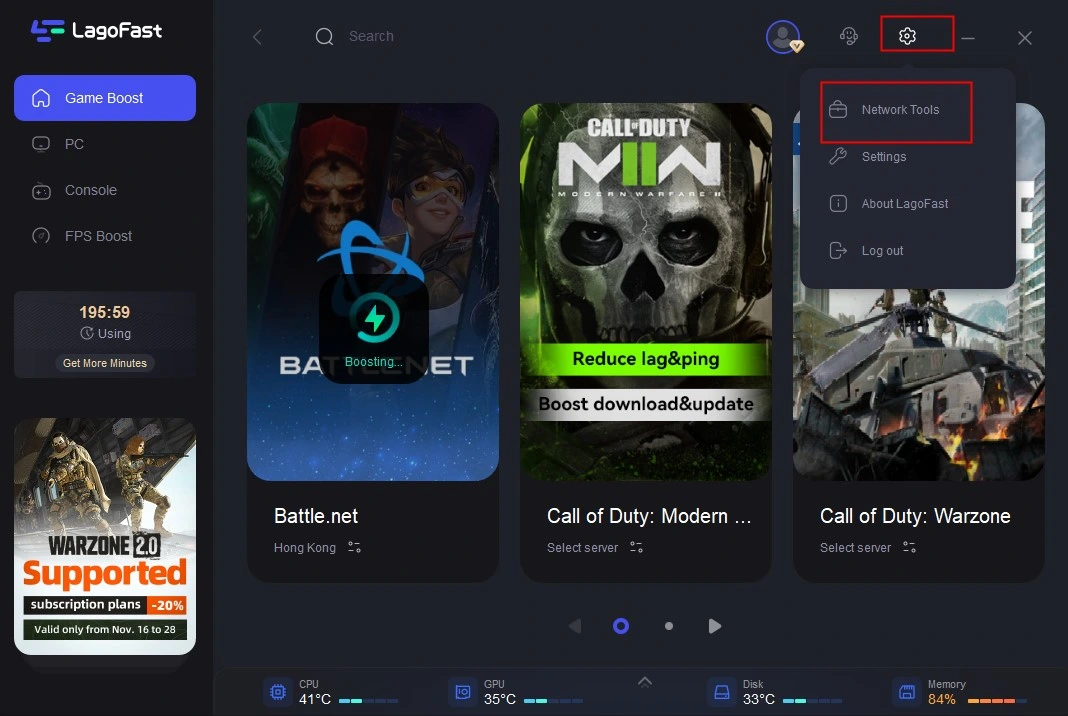 Step 3: Select " System Repair ", Click " Use "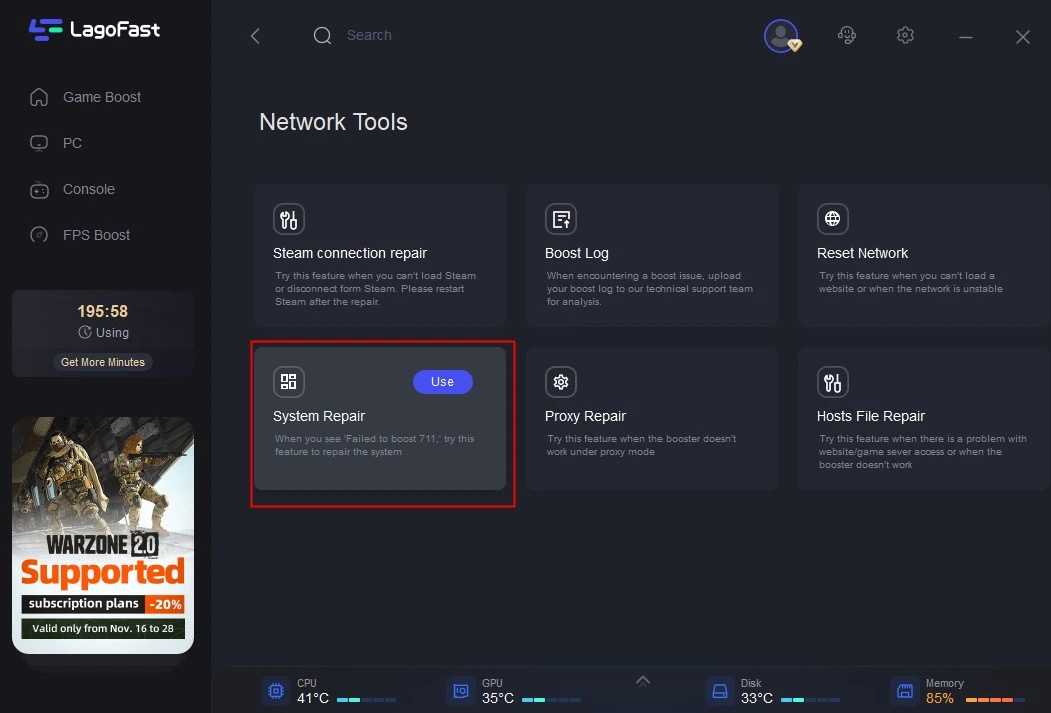 Step 4: Click " Steam connection repair "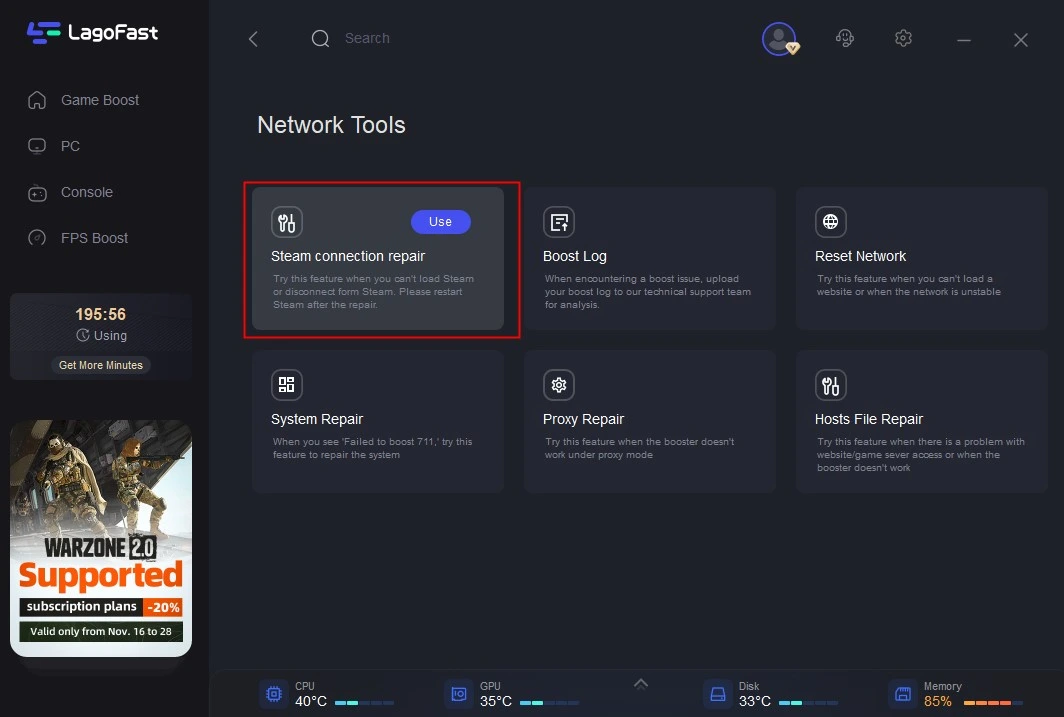 2. Verify your requirements. Make sure you fulfill the minimal system requirements.
3. Continue to follow the official announcement. You can keep up with the official COD Warzone2 Twitter/Reddit account to get real-time updates on things like server closures.
4. Download patches and updates. Never forget to download the most recent updates and patches. Your gaming experience will be improved, and numerous bugs and in-game problems, such as connectivity problems, will be automatically fixed.
Encounter frequent flashback in Warzone 2
Problem: Many players reported frequent flashback in Warzone 2(both from Battle.net and Steam)
Solution: update your graphics card to INVIDIA 526.98 and the problem will be fixed easily.
I can't input a new nickname?
Problem: Some players reflected that after logging in, they were told that previous names cannot be used, but after putting in a new name, the page shows that a change nickname token is needed.
Solution: Players can enter the Activision web, go to the connection page and choose "connect to Steam"(you may refer to the previous content for registration process).Then you are able to change the nickname in Activision.
Landing Bug
Probelm: " When jumping out of the plane 3 seconds after you're able to deploy your parachute I get lag/game freezes " "every time I try to land the game just freezes and then I land in a random place" Are you currently experiencing such landing bug? Then here is the best answer!
Solution: Use LagoFast, the game booster. After download and register, you will be asked to choose a server, pick Automatic. This option will provide players the server with highest quality, and lowest ping as well. This can solve your landing bug!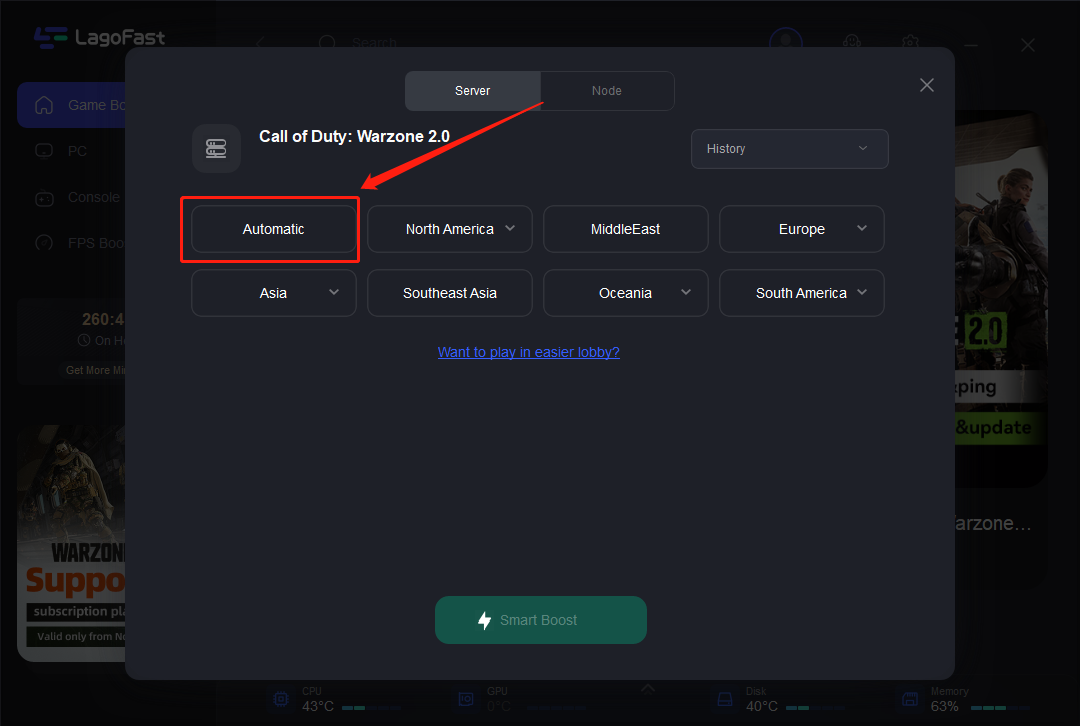 You can boost Warzone2 or Battle.net on LagoFast to speed up the preload process! Warzone2 high-speed download will be also supported at its release time (Boost Warzone2 or Battle.net)
For PC user:
Step 1: Select PC tab -> Boost CoD-Warzone2: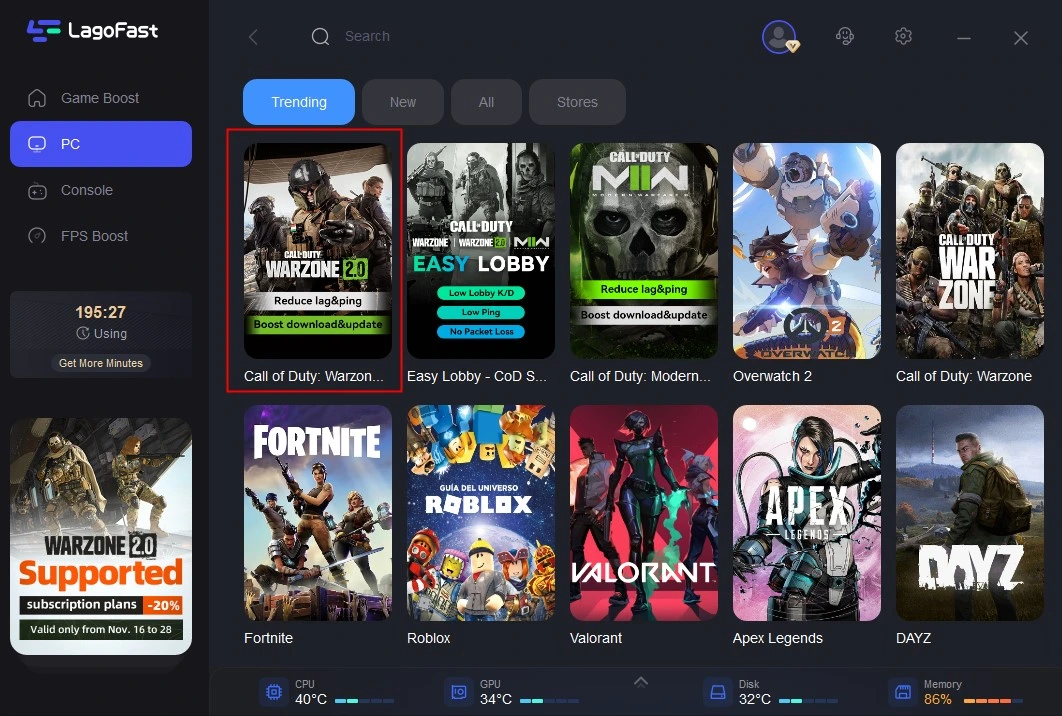 Or Battle.net: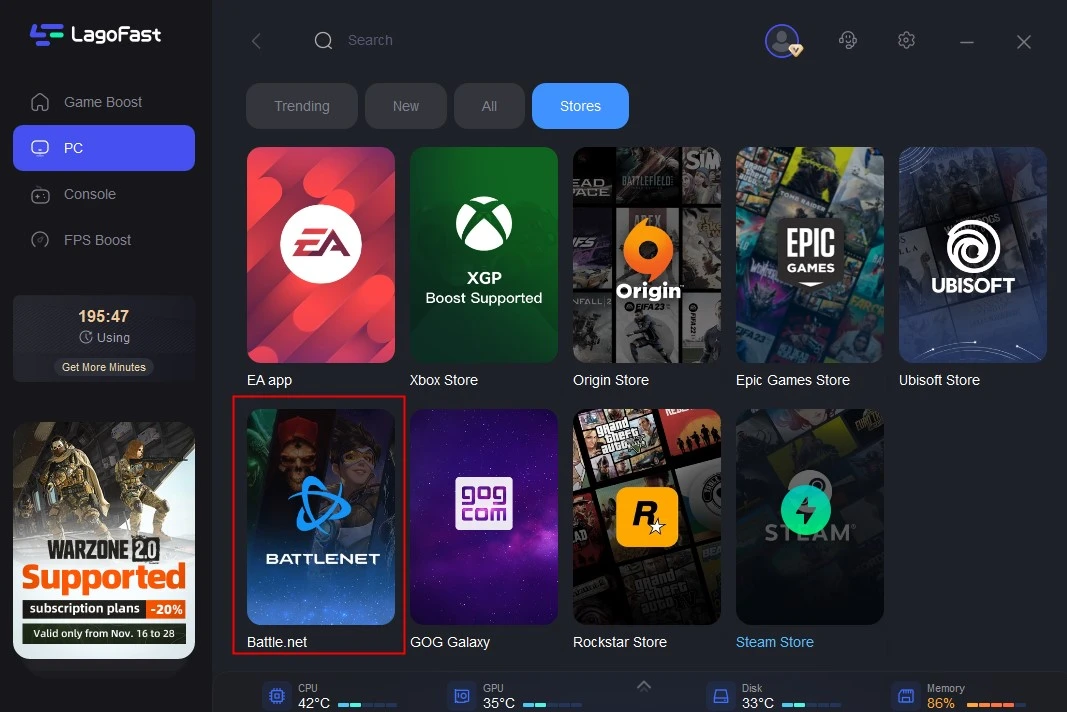 Step 2: Choose your local server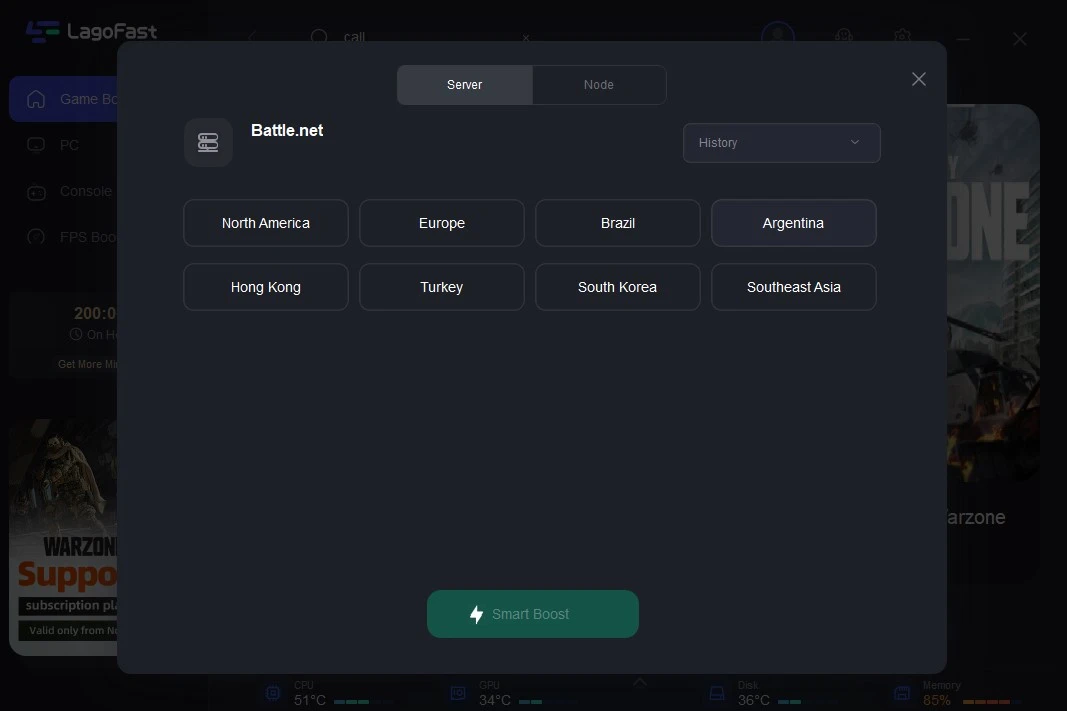 Then, choose the node with the lowest ping: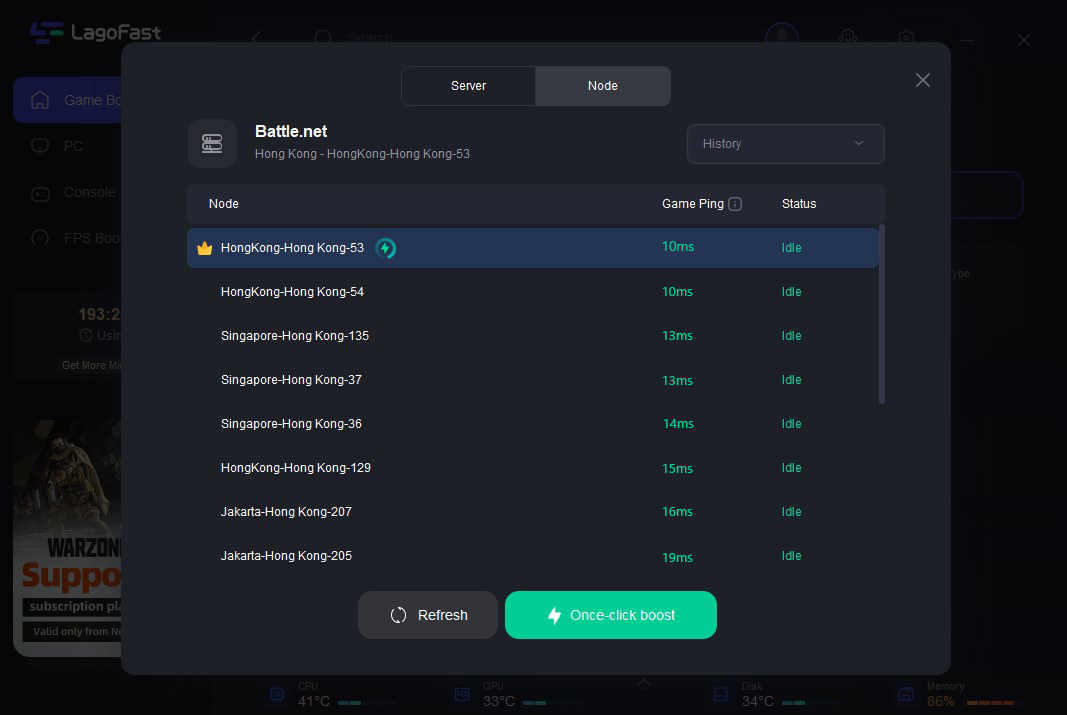 Step 3: Settings done on LagoFast. Go download Warzone2 from the official website and see the miracle happening!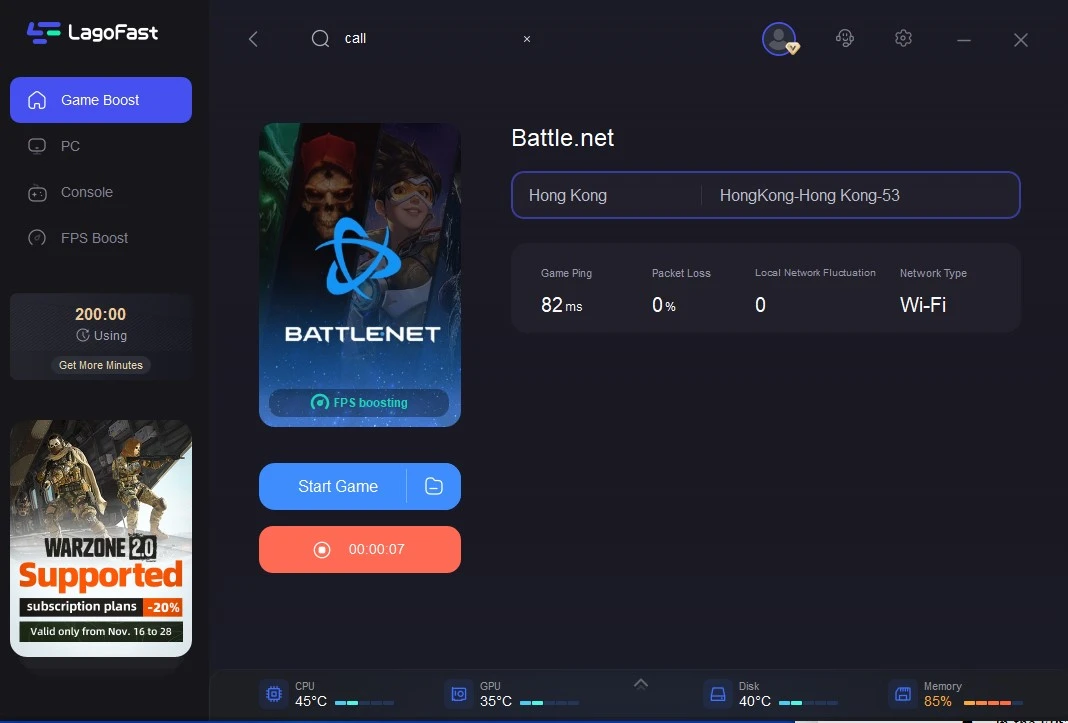 For PS/Xbox players:
Step 1: Select Console -> PS/Xbox -> Boost Warzone2 Or Playstation Store/Xbox Store: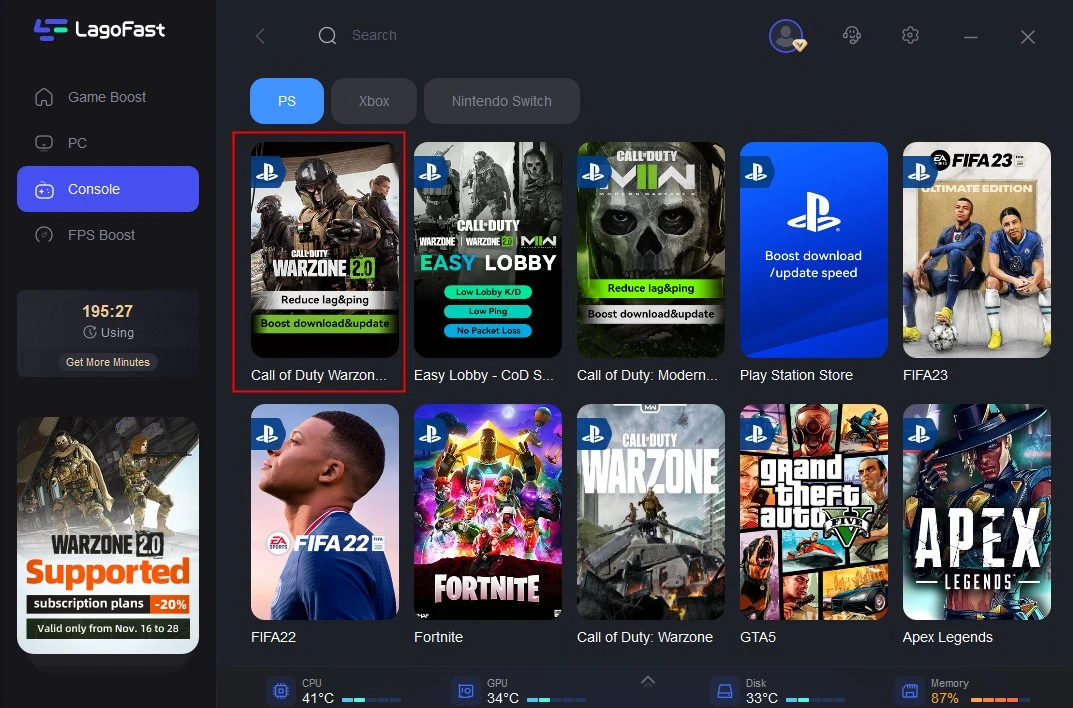 Step 2: Complete the setup on your PS or Xbox
Step 3: Choose your local server and the node with lowest ping (refer to the previous page) and start a fast download!