Super People is a new Battle Royale from Korean developer Wonder People, who claims the game would "revolutionize how you think about the genre." It has 12 separate playable classes, each with its own set of talents and capabilities, and only one super soldier or squad will survive till the end. However, it appears that some gamers are experiencing Super People Network Connection Errors while attempting to access the title, which is unusual. However, it appears that many players encounter Super People connection failed issues while attempting to enter the game, which is unusual. Don't worry! We have summarized some ways to solve the problem, one of the easiest ways is to download LagoFast.
Part 1: Why does Super People have the connection failed problem?
Part 2: LagoFast: Best fix for Super People connection failed
Part 3: Other fixes for Super People connection failed
Why does Super People have the connection failed problem?
In Super People, you can Operate the super soldiers with their characteristics, so you can feel the fun of different survival battles. However, encountering connection failed problems when we are playing Super People is a very chagrined thing. Unfortunately, uneven speeds or an out-of-date router can cause connection problems. Your connection issues could be the result of a much larger issue at your service provider's end. Next, we list some of the factors that can cause Super People connection to fail.
I

nternet speed is too low: If you have too many devices utilizing too much bandwidth at the same time, your overall speed may suffer.

M

odem unconnected with internet provider: Because your modem is not communicating properly with your internet provider, your internet may disconnect at any time.
Out-of-date Wi-Fi: An aging wireless router is a common source of connectivity problems.

F

aulty cables: If you have loose, outdated, or damaged cables, your internet will continue to disconnect.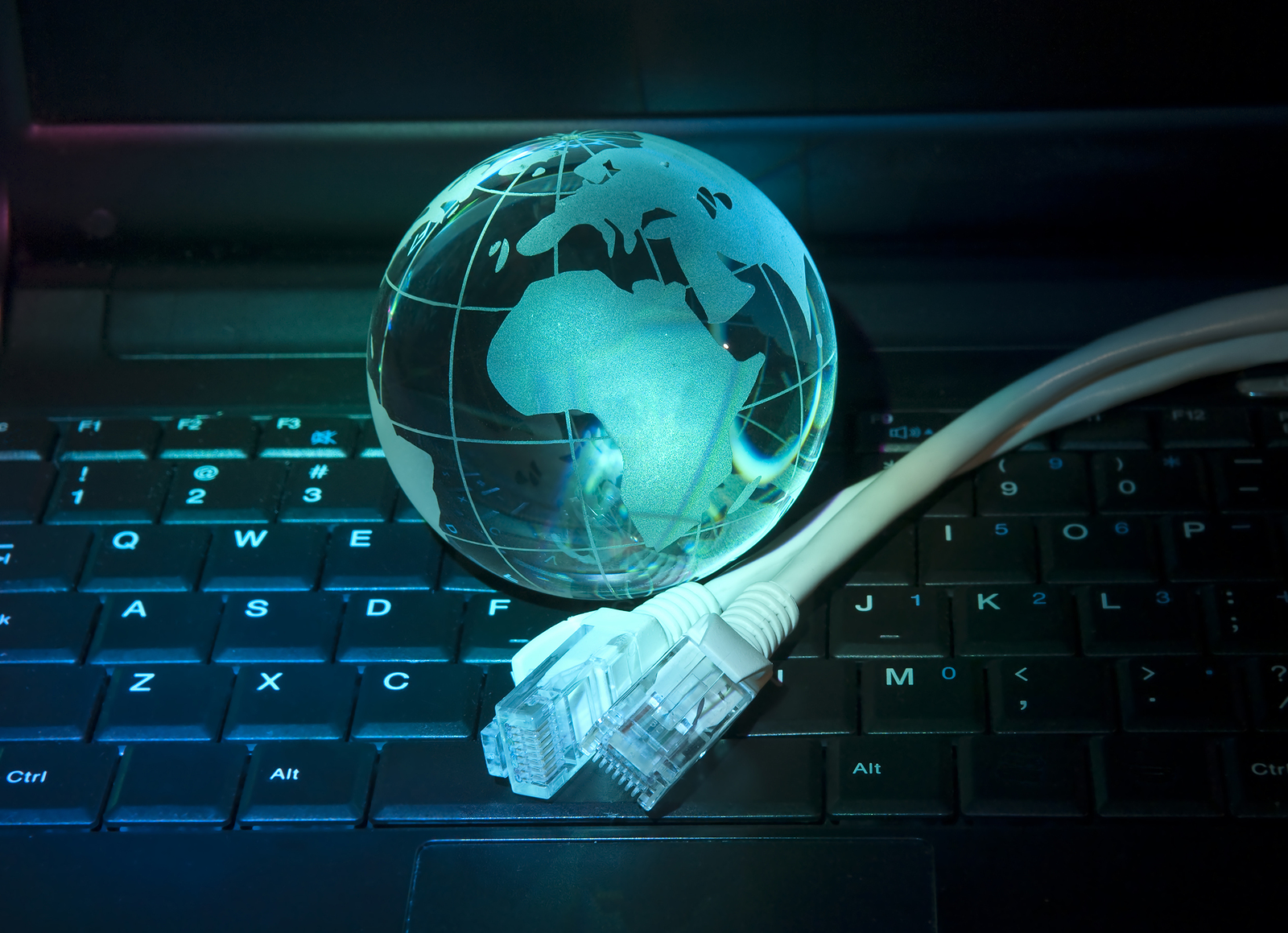 LagoFast: Best fix for Super People connection failed
You will be unable to play or access the Super People game unless you have a valid internet connection or network connection. However, many players have encountered Super People connection issues or Super People timed out.
Luckily, we will introduce you to the solutions, among which we recommend most is a game booster, because it can help you solve a variety of problems even if you don't know what causes them. And, after careful consideration of all factors, we present to you LagoFast.
LagoFast's advantages are as follows:
Support Plan-Per-Minute service, more economical and cost-effective.
Worldwide distributed servers & nodes
More than 8 years of fixing game issues
Reduce ping while also increasing FPS

S

imple to use, with a single press of the Boost button
Kill Super People lag and high ping issues
Here's how to use LagoFast:
Step 1: Download LagoFast.
Step 2: Type super people in the Search box and choose it among the results.
Step 3: Click on the Boost button to start boosting.
On this tab, you can see your real-time ping and packet loss rate, which are closely related to your FPS performance.
You can change the settings manually by clicking on the ones you want to turn on/off.
To accomplish this:
Step 1: Click on "FPS Boost" on the left side.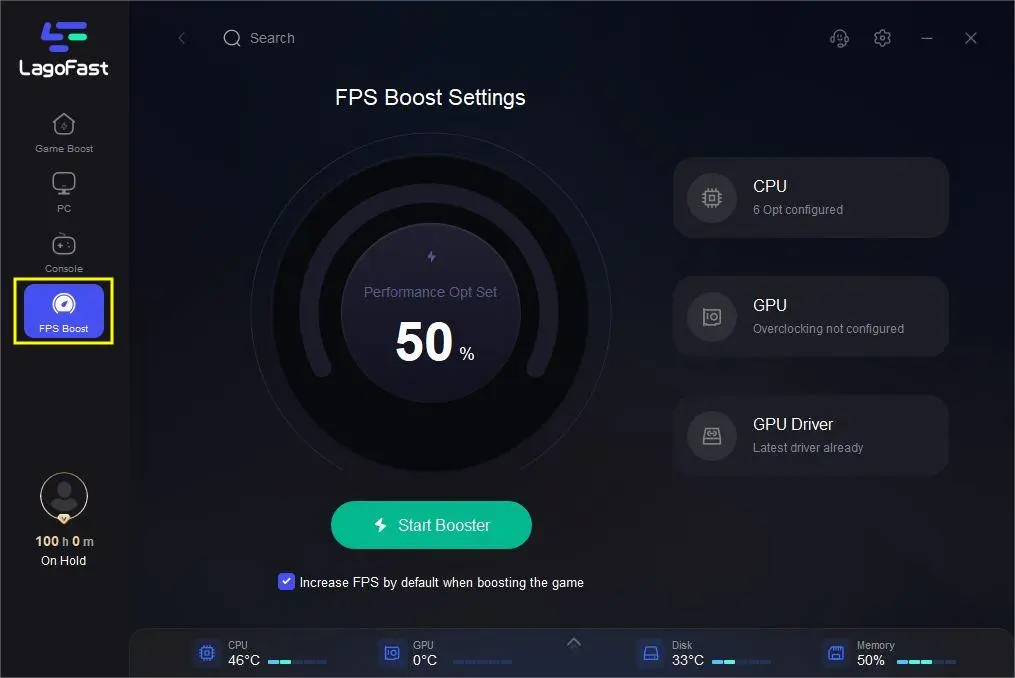 Step 2: Click "CPU Optimization" on the FPS Boost page and choose the settings that you want to open.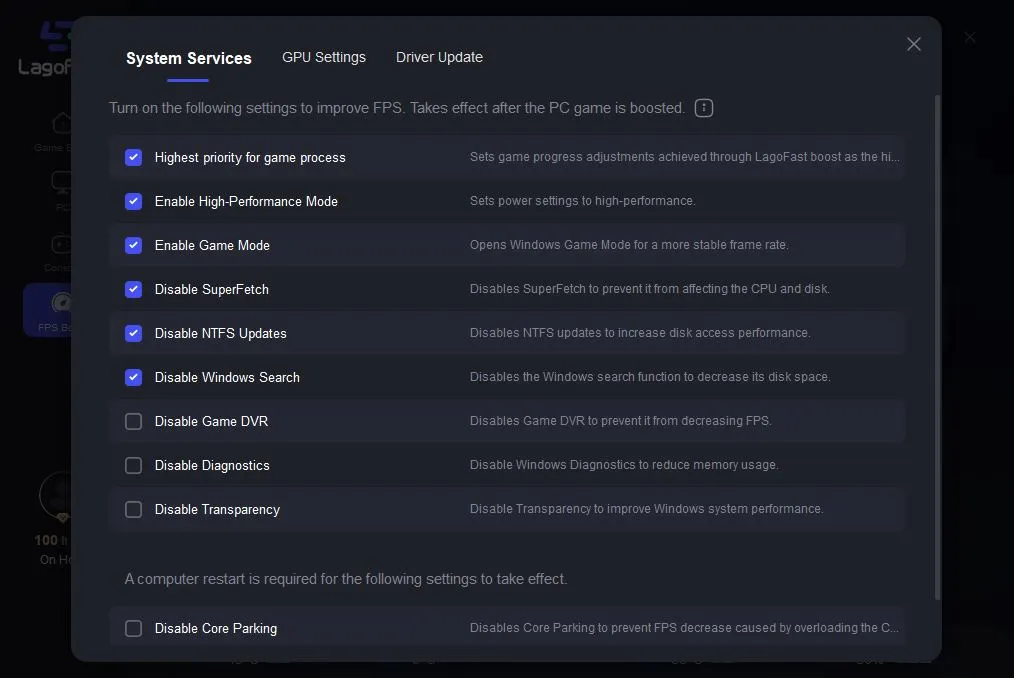 Step 3: Click "GPU Settings" on the FPS Boost page.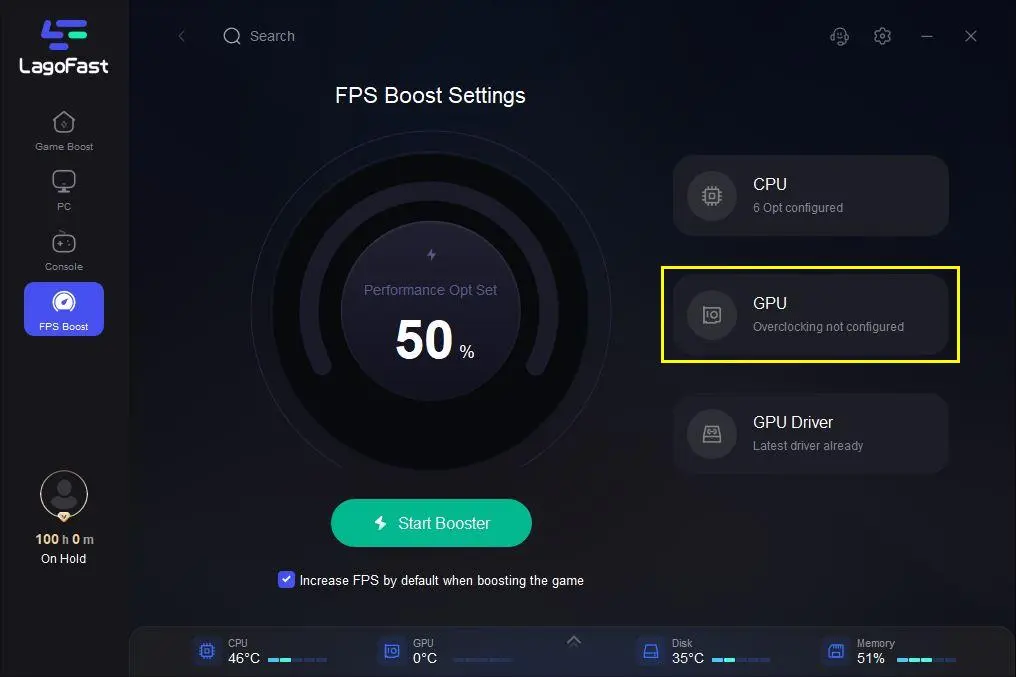 Step 4: Slide to choose your overclocking level in the first bar and tick "Enable GPU Boost" in the second bar.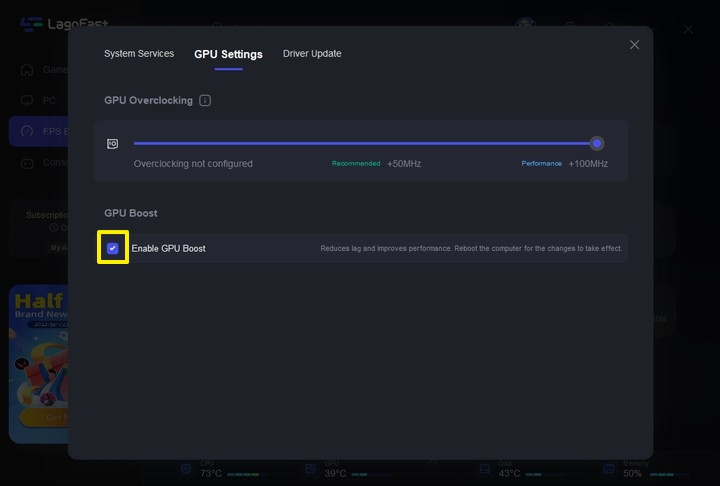 Step 5: Click "GPU Driver" on the FPS Boost page to check your GUP Driver updating version.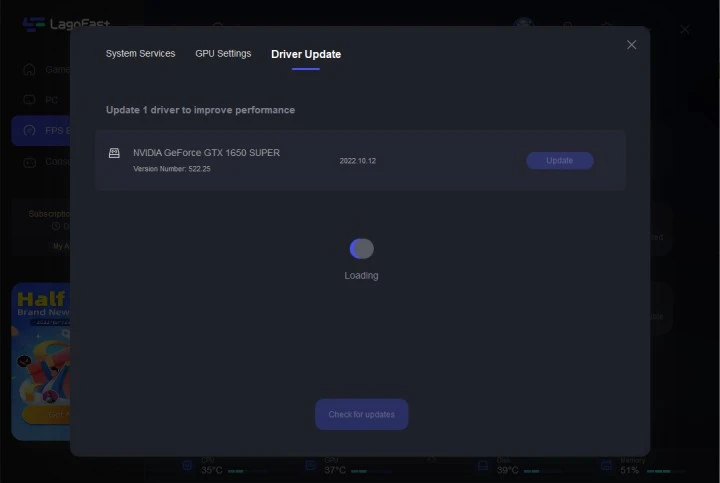 Other fixes for Super People connection failed
Of course, in addition to downloading a game booster, there are many other ways to solve the Super People connection issue. Here we share a few possible solutions that should help you resolve such issues.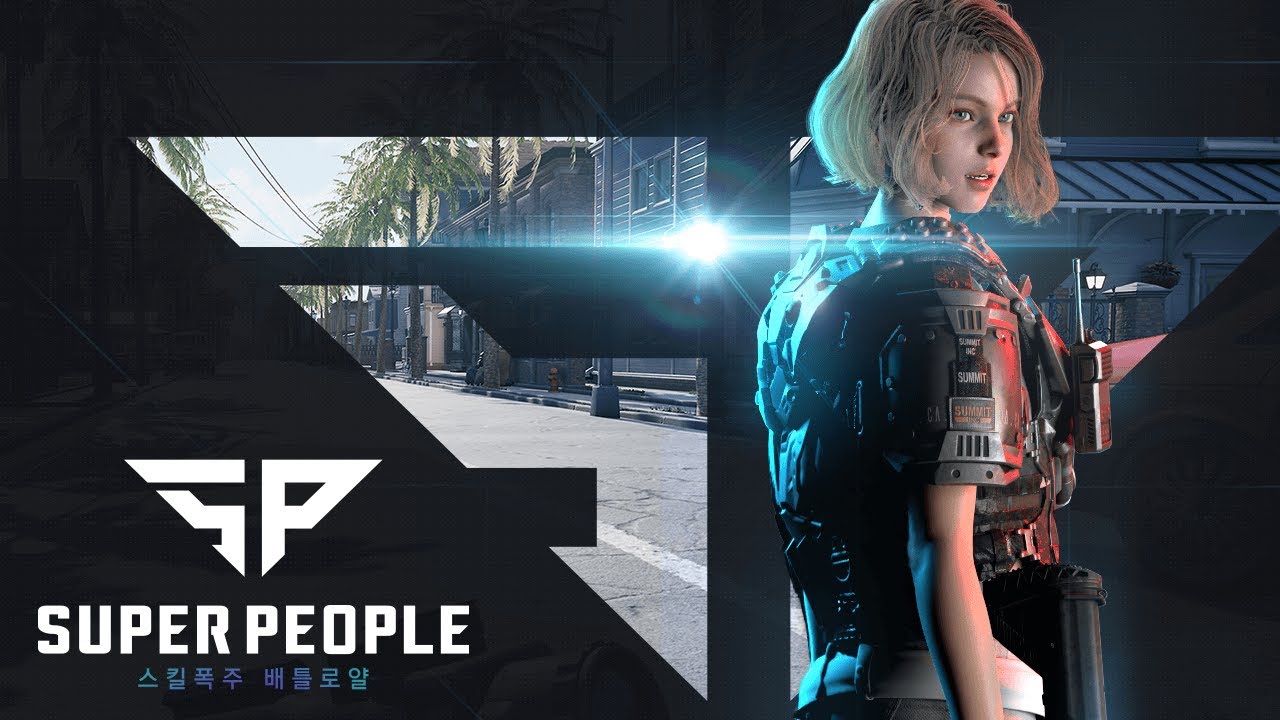 Reboot the Router: Wireless (Wi-Fi) connectivity can occasionally produce multiple glitches or latency issues for a variety of reasons. And these will lead to Super People connection issues. It is preferable to restart the Wi-Fi router to resolve the temporary connectivity issue. It could be quite beneficial to you.
Restart your Router: The router may cause a series of problems such as slowing down the Internet speed after working for a long time, which will also make the Super People connection timed out. However, you can try restarting your router to resolve such an issue. Turn off the router, then unhook the power cable. Then reconnect the power cable and power on the router. After restarting the router, try launching Super People.
Upgrade to a greater Router: You should think about upgrading to a newer, more powerful one, especially if you have many laptops, smartphones, and tablets and your router version is very old.
Use a Wired Internet Connection: Wireless connections have some signal or network strength concerns, which negatively impact server connectivity and data throughput. Using a cable connection will significantly lessen networking-related issues. You can test the connection by connecting the same modem that your router uses directly to your PC.
Wipe Your Settings Clean: Resetting your router to its factory default settings may help. Most routers require you to push a small reset button on the back panel and hold it down for several seconds until the LED lights start flashing. Once reset, you can log into the online interface and start over. Just be careful not to enable the same setting that triggered the problem, to begin with.
Flush your DNS: When you remove the DNS cache, your computer must get data from the DNS server every time you visit a new page. This could be the answer if the connection error was caused by erroneous DNS cache data.
Try disabling IPv6 Connection: Check to see if you're using an IPv6 connection. Super People may have problems connecting to the network.

Absolutely, you should also check whether your computer configuration meets the minimum system requirements to run the game.