Dying Light 2 is a survival horror action role-playing game, developed and published by Techland. It continues the first-person post-apocalyptic zombie theme of its predecessor. The game's new protagonist, Aiden Caldwell, has parkour skills and is able to climb ledges, jump from heights, and navigate quickly through urban environments. Aiden will also use walkers to cushion his fall. The game also provides tools such as paragliders and grappling hooks to further aid in travel. Dying Light 2 first episode DLC will be released on November 10, 2022. Aiden enters a bloody rodeo where the greatest warriors will fight to the death. He will soon realize that the pursuit of fame and fortune is only the beginning, and he finds himself embroiled in a conspiracy of power and revenge. But what a terrible thing to have Dying Light 2 lag issues while you are trying to survive in a post-apocalyptic world! In this article, we'll tell you some useful ways to fix it, including the best game assistant – LagoFast.
Part 1: LagoFast: Your Game Assistant
Part 2: How to Fix Dying Light 2 Lag and Stuttering?
Part 3: Causes of Dying Light 2 Lag
LagoFast: Your Game Assistant
Once you enter the arena, the ever-changing variety of situations in it will put you in a loop. You can use your skills to complete various challenges and see if you really have what it takes to make it big here. But this goal is obviously very difficult to achieve in the case of Dying Light 2 lag. But the ultimate gaming experience is no longer a figment of your imagination if you try LagoFast, built by a team with over 8 years of expertise in solving tricky network problems using industry-leading data transfer protocols. If lag is caused by network problems, LagoFast's powerful compatibility can adapt to a variety of different network environments, and it can provide real-time network diagnostics, using ping values as a judgment criterion to match you with the best network node. On the other hand, if your Dying Light lag is caused by computer performance, then LagoFast can boost games by monitoring computer performance and closing unnecessary software. you can use LagoFast anytime, wherever you are. Because LagoFast has exclusive routes in more than 60 countries. Come and try LagoFast! It is definitely the best game booster for Dying Light 2!
Let's see the features of LagoFast!
Support Plan-Per-Minute service, not waste any time!
8+ years of experience in fixing different game lagging.
Easy to use, with only one click.
Exclusive routes over 60 countries
Reduce ping while boosting FPS
With only 4 steps, you can enjoy Dying Light 2!
Step 1: Download LagoFast and register.
Step 2: Type Dying Light 2 in the Search box and click on it.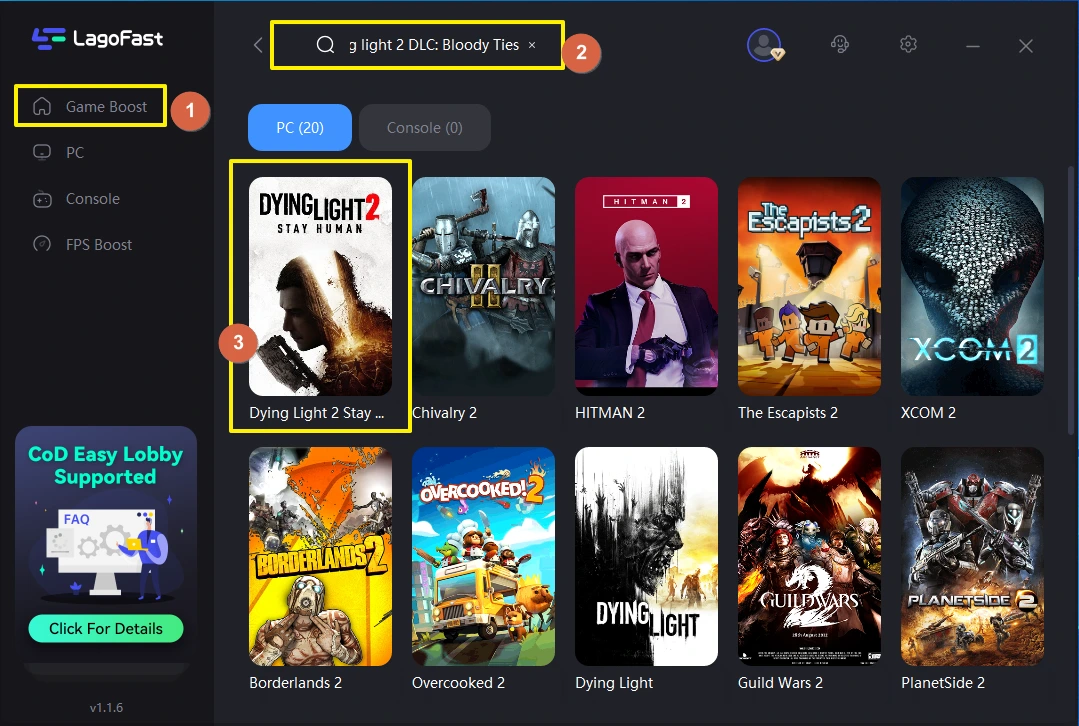 Step 3: Choose your needed server and the best nodes by yourself.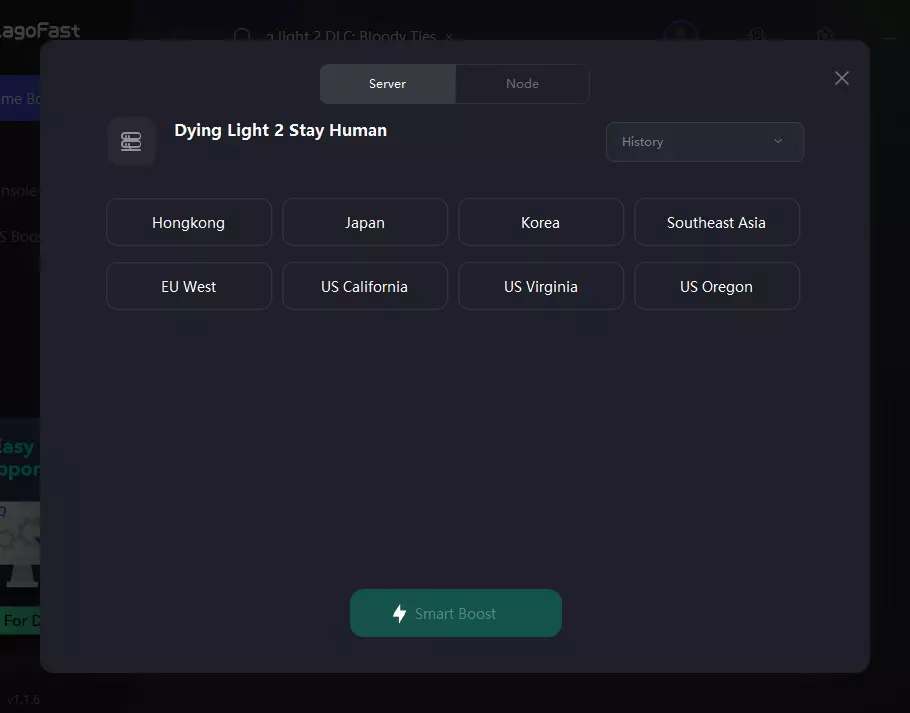 Step 4: Click on the Boost button to start boosting.
You can know Dying Light 2 real-time ping and packet loss rate, which are closely related to your FPS performance.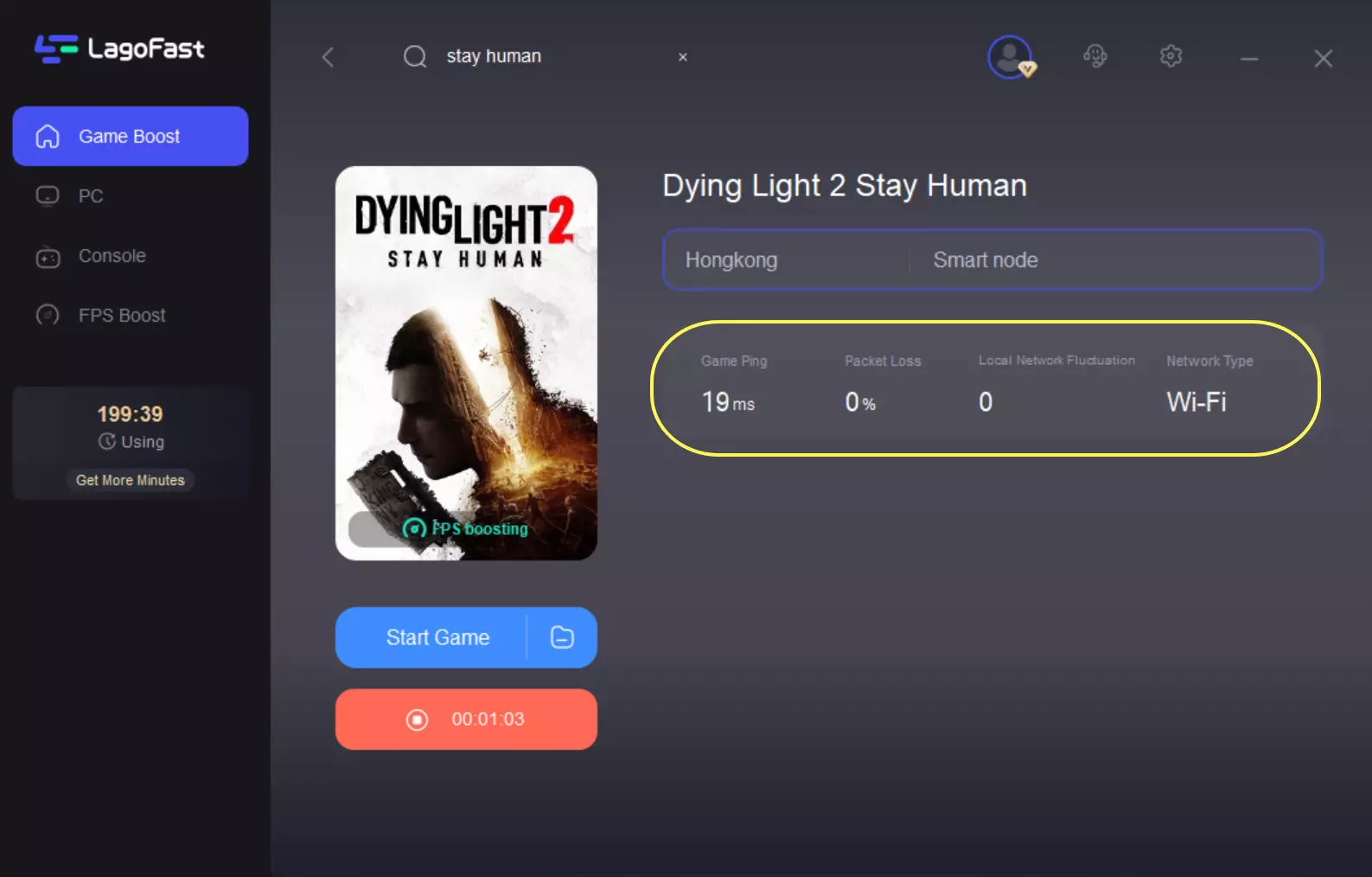 Also, change the settings manually by clicking on the ones you want to turn on/off.
To do like this:
Step 1: Select the FPS Boost tab on the left side of the desktop.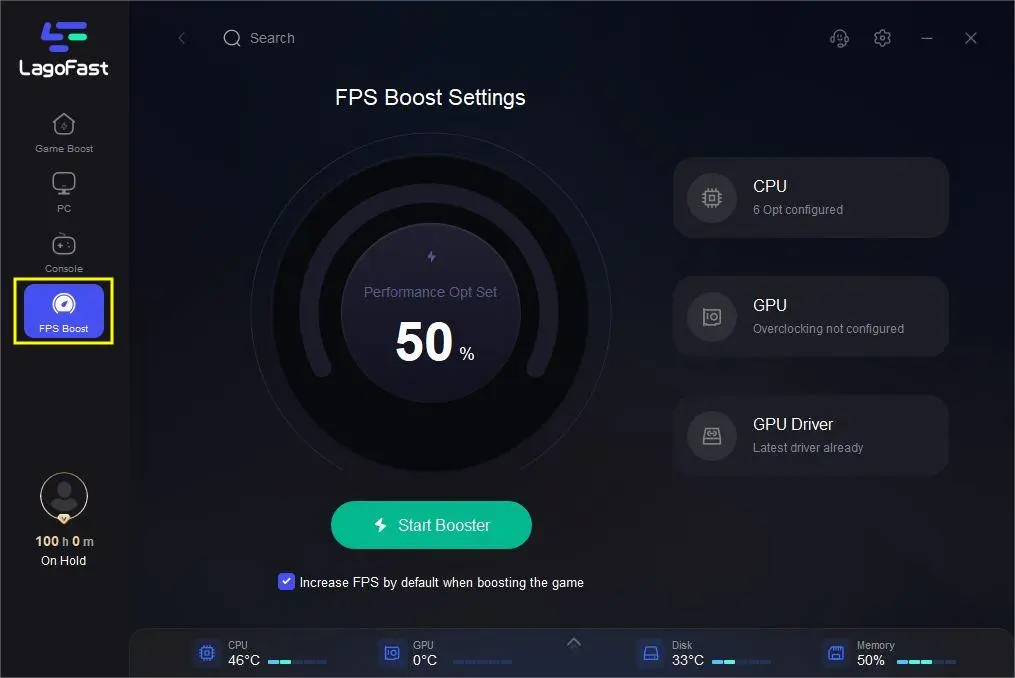 Step 2: Turn on/off the settings to boost Overwatch 2 FPS.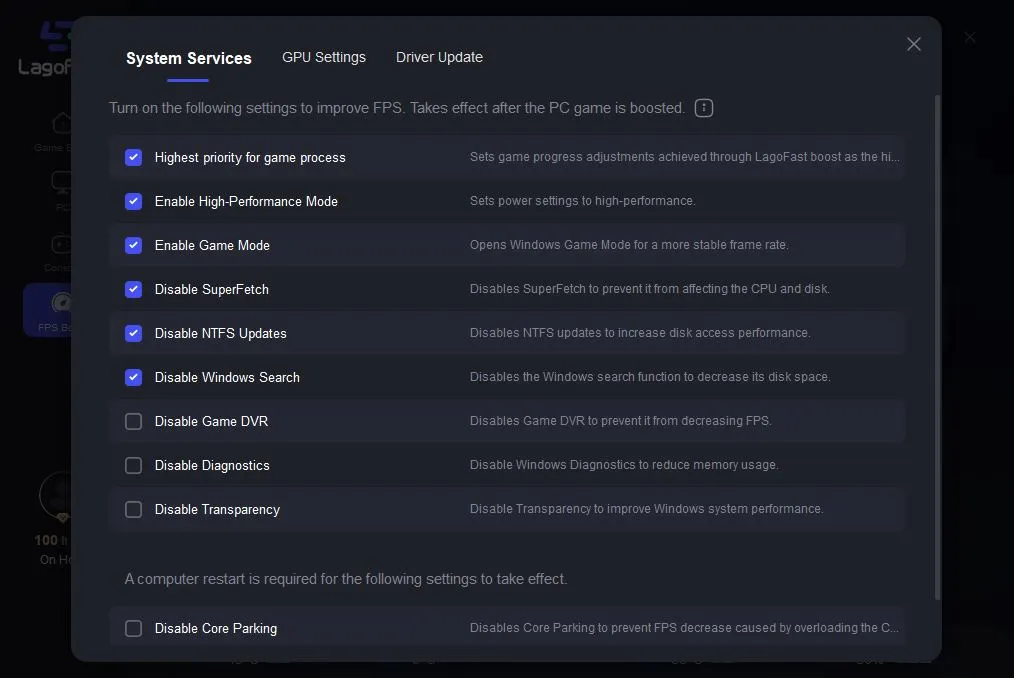 How to Fix Dying Light 2 Lag and Stutterring?
Of course, you can also rely on your own strength to stop lag(https://www.lagofast.com/en/blog/what-does-lag-mean/). But after you try, Dying Light 2 lag issues if there is no significant improvement, we still recommend you to leave the problem to the experts to solve.
Close background apps: This is actually the principle that most game booster works. Because there are many applications working in the background of the computer, most of them are not necessary for the normal operation of the computer. If you let them continue to run, they will take up a lot of computer resources. And many networked applications will seize the limited Internet data. What we need to do is to open Task Manager and close those non-system-level programs.
Verify integrity of Dying Light 2 files: Corruption of the game during installation may cause Dying light 2 lag. we can follow the steps below to verify the integrity of the game files on Steam.
1. Open your Steam client.
2. Right-click Dying Light 2 and select Properties from the LIBRARY menu.
3. Choose the LOCAL FILES tab. Then select Verify game file integrity.
4. Steam will now verify the files in your game. This procedure could take several minutes. When the process is finished, close the Window and launch your game.
Set Dying Light 2 on High Priority: If you order to prioritize the game when the PC is processing processes, then Dying Light 2 will run with more priority or allocate more resources to the game first. Follow these simple steps and you will have a more enjoyable gaming experience.
1. Right-click with the cursor on the taskbar.
2. A drop-down menu with various options will appear. Then, from the drop-down menu, choose Task Manager.
3. You'll see a list of third-party apps (including games) that are currently active on your computer.
4. Select "Details" from the Task Manager's menu option at the top left.
5. The "Details" tab displays a list of all currently running third-party applications, as well as their CPUs, status, and memory usage.
6. Scroll down to the game you want to prioritize, then right-click on it.
7. Move your cursor to "Set priority" to reveal the following six priority levels:real-timee, high, above normal, normal, below normal, and low.
8. Priority should be set to "Above Normal" or "High."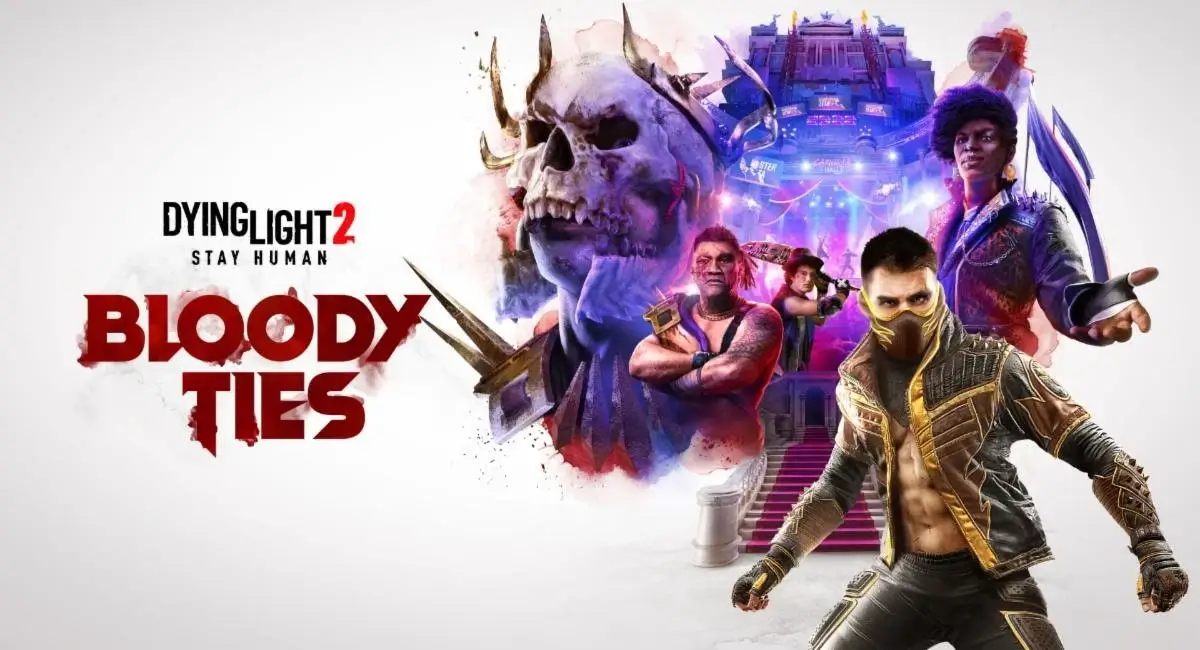 Causes of Dying Light 2 Lag
What is lags meaning? The delay between your input and the output is referred to as lag. We have summarized for you some common causes that can lead to Dying Light 2 lag. This will help you to have a clearer understanding of the problem.
Low upload speed: When Internet providers talk about their network speeds, it is often the download speed that is mentioned. Download speed is how fast you can extract data from the server, upload speed is simply how fast you want someone to send data. Upload speed is often more important for online gaming. On a plan with a fast download speed, the upload speed can be very slow.
Unstable network: Nowadays, most of us use our laptops to play games, but when we play games on our laptops we often use wireless networks. Wireless networks are convenient and can connect many devices to the same piece of the Internet, but they are very unstable and easily interfered with, and when the distance between the computer and the router is a little far, the signal will be significantly weakened.
Graphics setting too high: The PC game has attracted many players with its beautiful graphics and intriguing storyline. However, if we focus on the quality of the graphics and give up the smoothness of the game will also seriously damage our gaming experience. When our graphics card performance is not strong enough, a clear picture is a burden on the computer.
Dying Light 2 DLC: Bloody Ties FAQs
What's the release date of Dying Light 2 DLC: Bloody Ties?
The release date of Dying Light 2 Bloody Ties has been pushed back yet again, and it is now set for November 10. The game was supposed to come out on October 13, 2022, but Techland wants to give its team more time to fix bugs and polish the DLC. This is the second time the game has been postponed.
What's the gameplay of Dying Light 2 DLC: Bloody Ties?
Gameplay-wise Bloody Ties will feature a brand new story adventure, as well as new challenges and quests to complete and characters to meet. Aside from the arena battles of The Carnage Hall, new weapon types and discoveries will be hidden for you to find.
The brutal battles that await you in the DLC are shown below: