'I am called, and I must answer, as always.' In the summer of 2016, Overwatch turned out in different areas around the world. As a personal shooter game, Overwatch 2 also incorporates the elements of MOBA games. Many experienced players try to return to experience new models and new maps. However, when players return to this game, many of them are worried about Overwatch 2 login errors as well as Overwatch 2 connection errors, such as Overwatch 2 login errors.
Part 1: What are the Overwatch 2 login errors?
Part 2: How to fix Overwatch 2 login errors on PC
Part 3: Possible causes for Overwatch 2 login errors
What are Overwatch 2 login errors?
Login errors refer to the phenomenon of the player cannot connect to the server properly, or the server failing to load the game properly. For example, connection errors or something wrong with the game server itself. To support players from different countries, Overwatch 2 needs to provide lots of different server players, which ensures that a million players can enjoy the game at the same time. Considering that Overwatch 2 is a 5v5 online PvP game, if there is something wrong with one of the player's network connections or server, the whole game will face Overwatch 2 login errors. Common styles of Overwatch 2 login errors like Overwatch 2 connection errors, Overwatch 2 connection issues, Overwatch 2 server down, Overwatch 2 server errors, and so on.
Generally, there are 3 manifestations showing that you might suffer from login errors in Overwatch 2.
1. Immediately disconnected while logging in to Overwatch 2;
2. Receive the error "Lost Connection to Game Server" as soon as you log in;
Overwatch 2 gets stuck in a loop while logging in to the game.
H
ow
to
fix Overwatch 2 login errors on PC?
Method 1. Use LagoFast Game Booster
There is no doubt that LagoFast is a useful Overwatch 2 game booster. It takes place in not only Overwatch 2 login error but also Overwatch 2 server error. That is why I suggest it to you strongly, to a large extent, it can effectively fix Overwatch 2 login errors. Firstly, LagoFast owns a self-developed internal data transfer protocol. This protocol can offer a stable network connection. It can also help to reduce Overwatch 2 connection errors. It also works on reducing network conditions and selecting the online node with the lowest ping rate. On the other side, LagoFast, in terms of other Overwatch 2 performance issues, players can help to reduce Overwatch 2 connection issues and Overwatch 2 packet loss.
LagoFast full features are as follows:
Offer a Pay-Per-Minute plan, player-friendly, and nice to your wallet!
Longer than 8 years of game booster experience
Easy to use, easy to find button
Cheap but effectively
Support over 1000 games, you can choose whatever you want
The steps on how to use LagoFast:
Step 1: Download LagoFast.
Step 2: Type Overwatch 2 in the Search box and click the Overwatch 2 button.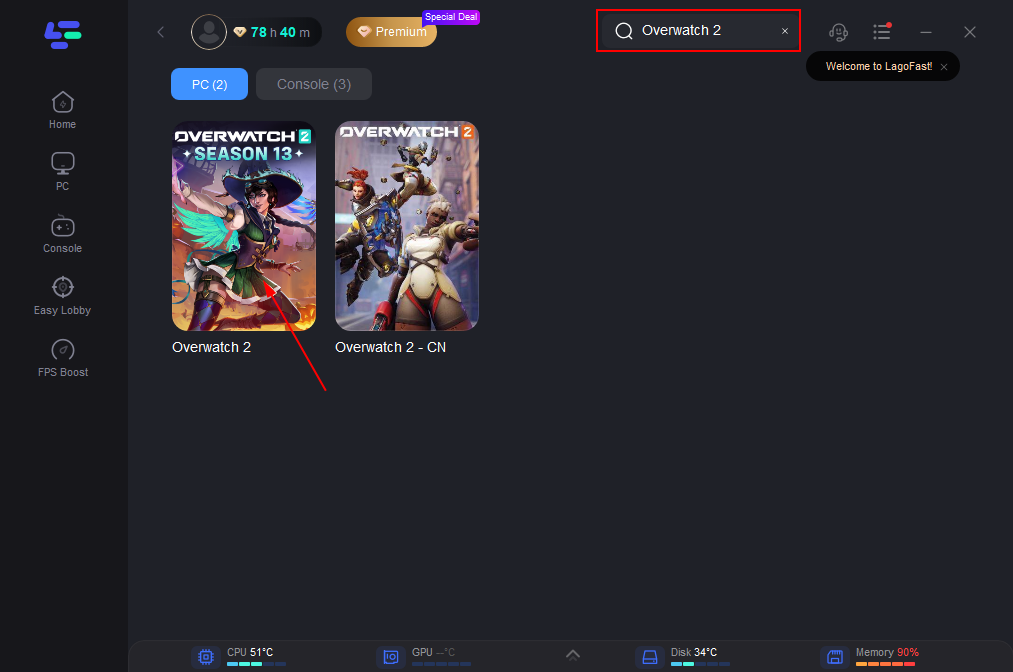 Step 3: Choose the server you like or the nearest server.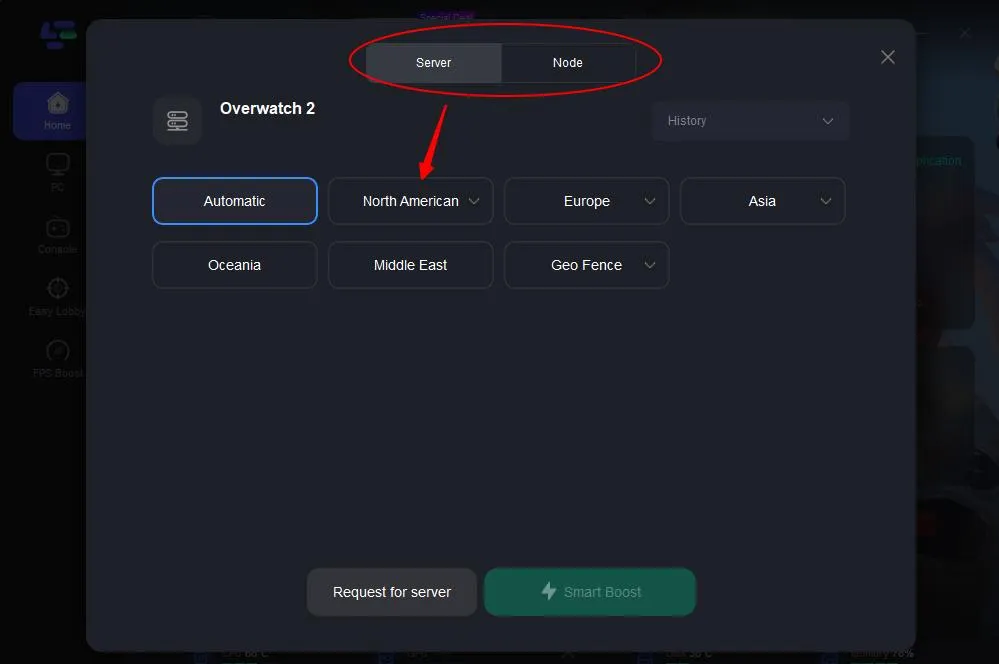 Step 4: Then you can see the ping and status of packet loss after Overwatch 2 Game boosting.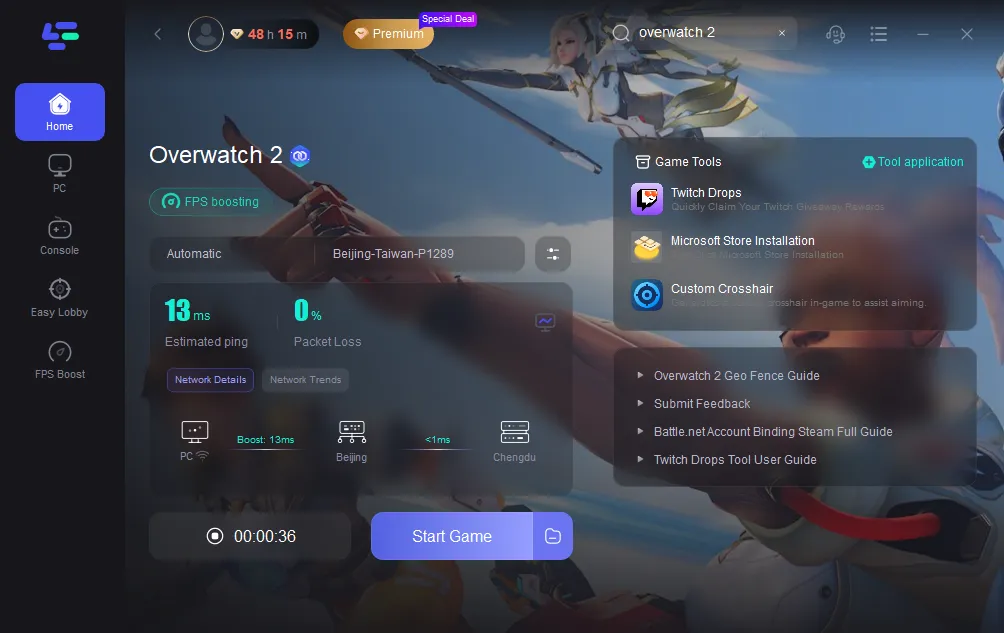 Method 2. Repair Game Files in Battle.net
Corrupted and damaged game files can cause a wide variety of problems and errors. Updating the game can often resolve these issues, please check for game updates before using the repair tool.
Open the Battle.net desktop app.
Click the icon of the game you are trying to repair.
Click the cogwheel next to the Play button and select Check for Updates.
If your game is up-to-date and the problem persists, use the repair tool:
Click the cogwheel next to the Play button and select Scan and Repair.
Click Begin Scan.
Wait for the repair to finish.
Other settings for Overwatch 2 login errors and server errors
Except for the game booster--LagoFast, some other reasons can lead to Overwatch 2 login errors at the same time. If you want to know how to fix Overwatch 2 login errors and connection errors, you need to take lots of possibilities into consideration. Here are some settings you can choose, I hope they can be useful.
Subscribe to the official Twitter of Overwatch 2 or Blizzard, and join the game player community: By subscribing to the official Overwatch 2 or Blizzard account, players can not only know the latest information about the game, including game updates and new maps with the new role but also keep knowing the maintenance time and emergencies of the game. What is more, in the player community, players can communicate with other players and learn how to solve connection problems like Overwatch 2 failing to connect to the game server.
Change to a wired online connection: An abnormal players' network connection is another possible cause of the Overwatch 2 login error. Even if the wired connection is not more convenient than a wireless connection, it can't be interfered with by something like a wall or door. It is very important for the stable operation of Overwatch 2. Because ethernet can provide the stability of your network connection and prevents your online connection from Overwatch 2 connection errors on startup. For a better gaming experience, when you fail to connect to Overwatch 2 game server, you can try to switch to a wired network. While your environment cannot ensure limited network usage, make sure the distance between the computer and the router is the shortest, or the number of devices connected to the router is the least.
Why I got login errors in Overwatch 2?
Many reasons will lead to Overwatch 2 connection issues. For instance, one of the player's online speeds is lower than any other. The influence of online speed should not be ignored. If there are issues with Overwatch 2 connection, Here are the factors you can think of.
Too low network speed: When players are connecting to Overwatch 2 at a low speed, their computers cannot connect to the local server stably. At that time, the game will meet Overwatch 2 login errors. Generally speaking, Overwatch 2 does not update frequently, the player's low internet speed is the common factor for Overwatch 2 server down.
Abnormal server work: If all the methods are used, the problem is still unable to solve. There may be something wrong with the official.
Conclusion
Overwatch 2 login errors fail the gamers to load the game and play it smoothly. This is pretty annoying for every player who has encountered the error. LagoFast, as the best game booster for online games, can help solve the login error in Overwatch 2 easily. Simply install it on your PC and boost Overwatch 2 in LagoFast will fix this issue immediately!