New World is a massively multiplayer online role-playing game developed by Amazon Games Orange County and published by Amazon Games, releasing on September 28, 2021. The game is set in the mid-17th century, with players colonizing the fictional island of Aeternum Island, located in the Atlantic Ocean. In an open-world MMO full of danger and opportunity, players can deploy supernatural forces, wield lethal weapons, and fight in teams in a classless real-time combat system. But during the game, many players are having problems with New World lag. If you can't wait any longer and want to experience the ultimate gaming experience immediately, we recommend LagoFast, a professional New World game booster. Besides, we have also collected several other solutions for you.
Part 2: Why do I Encounter New World Lag?
Part 3: Best Ways to Fix New World Lag
What is Lag?
Lag is defined as the time elapsed between user action and the response of the server supporting the task. In our context, lag is the perceptible delay that occurs between the player's input and the appearance of the corresponding response in the game. Lag has an impact on the speed and quality of game rendering, as well as hit detection, which can be fatal in fast-paced FPS games. Because FPS games necessitate a near-perfect synchronization of actions and on-screen reflections. Consider the following scenario: you and the enemy both see each other clearly at the same time, but because the enemy's computer has lower latency, his computer can perform actions faster, resulting in you being killed first and losing the game. So, it's possible that your sluggish computer is causing you more pain.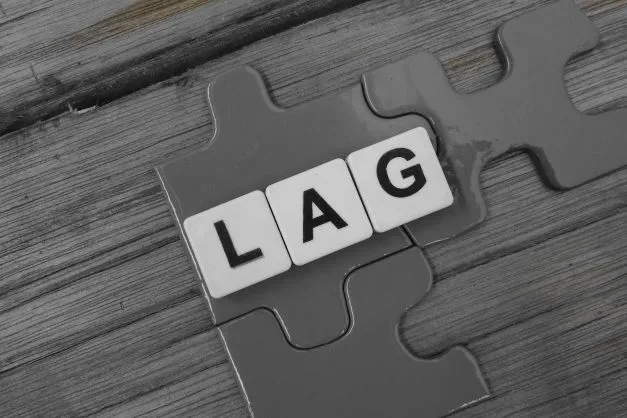 Why do I Encounter New World Lag?
There are numerous causes of New World lag, ranging from too many players entering the game to overstressing the server to hardware or software issues on the player's computer. To better address New World lag, we will first explain what can cause this issue.
Poor performance CPU: A CPU that is too hot, too old, or not powerful enough will result in high CPU usage and, as a result, New World lag. Because the computer's software will all take up CPU running memory, a good CPU processor is required if you want a lag-free gaming experience. The higher the performance of your CPU, the faster your PC will run.
Wireless internet: Although wireless networks improve our lives in many ways, they also have a number of drawbacks. To begin with, wireless networks are extremely unstable and easily interfered with, and if there is a lot of stuff between your computer and the router, the network speed will become extremely slow. Second, because routers have limited network data, if multiple devices are connected to the same network, your computer will not be allocated enough broadband, resulting in slower Internet speeds and New World lag.
Too many background apps: When we turn on the computer, many applications run in the background to keep the machine running smoothly. We will also launch chat programs or browsers. All of these, however, will consume CPU memory and network memory, resulting in New World not allocating enough resources and causing lag.
Broken network driver: The network driver in our computer manages all network-related processes. As a result, we can speculate that it is corrupted, old, or missing.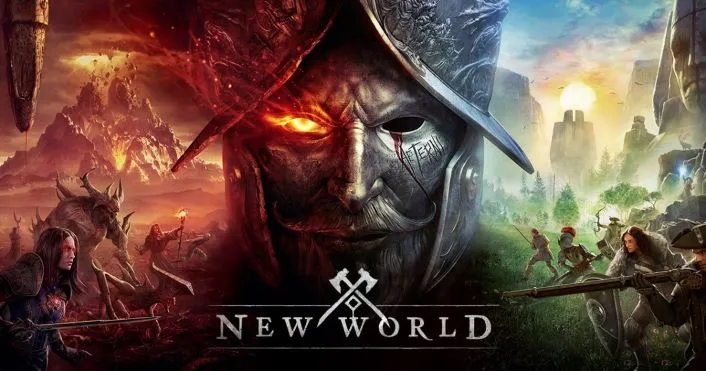 Best Ways to Fix New World Lag
Let us introduce you to LagoFast, one of the best New World helpers. I'll go over some of the advantages of LagoFast: To begin with, it effectively addresses New World's lag issue; LagoFast can improve your network conditions by utilizing the internal data transfer protocol. It also detects networks in real-time and matches the best network nodes with the lowest ping values. Second, LagoFast can boost FPS, allowing you to begin a fantastic gaming experience with just one Boost button. Finally, you might not believe it, but LagoFast is the only game booster and game VPN that provides a per-minute package, so you won't be bothered by subscribing for the entire month but not having time to play games.
Here is the summary of LagoFast features:
Support Pay-Per-Minute, wallet-friendly!
More than 8 years of fixing various game issues
Easy to use, boost with only one-click
Free trial
Supports over 1000 games, whatever game you want to play
Let's see how to use LagoFast:
Step 1: Download LagoFast.
Step 2: Type New World in the Search box and click it among the results.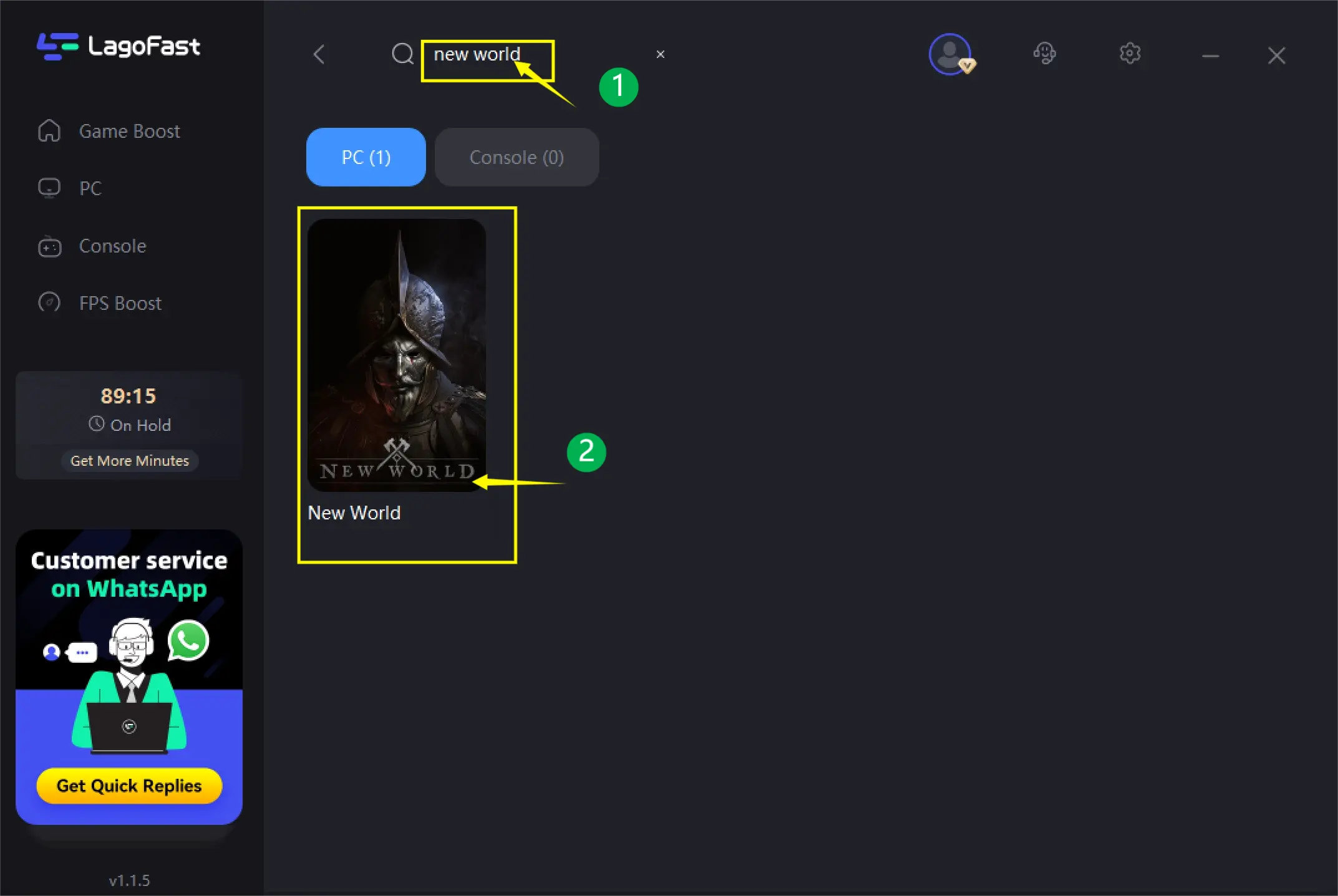 Step 3: Choose your needed server (remember same as your game server).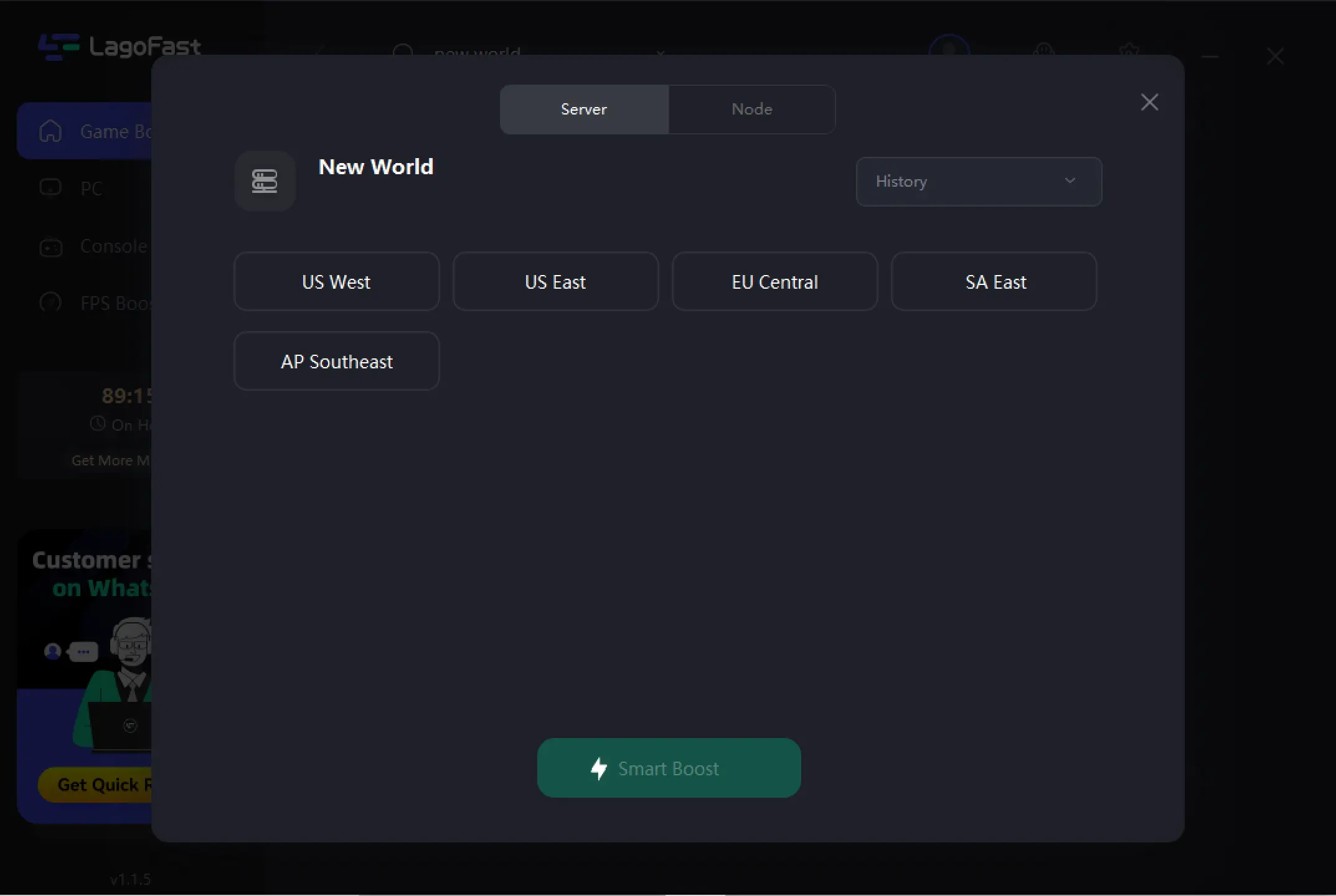 Step 4: Click on the Boost button to start boosting.
On this tab, you can see your real-time ping and packet loss rate, which are both related to your FPS performance in New World.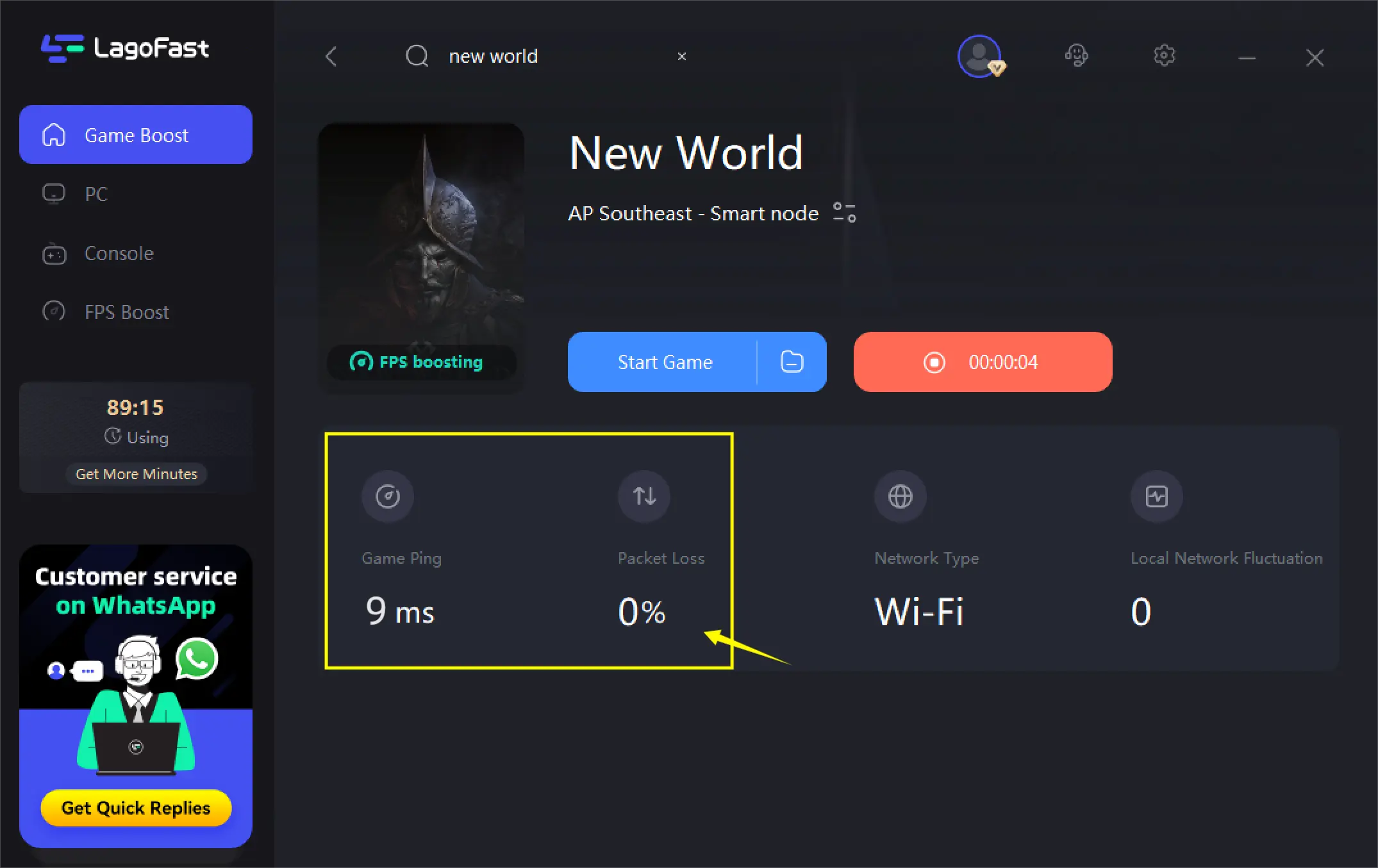 Aside from game boosting, LagoFast offers a dedicated FPS Boost service. You can change the settings manually by clicking on the ones you want to turn on/off.
To accomplish this:
Step 1: On the left side of the desktop, click the FPS Boost tab.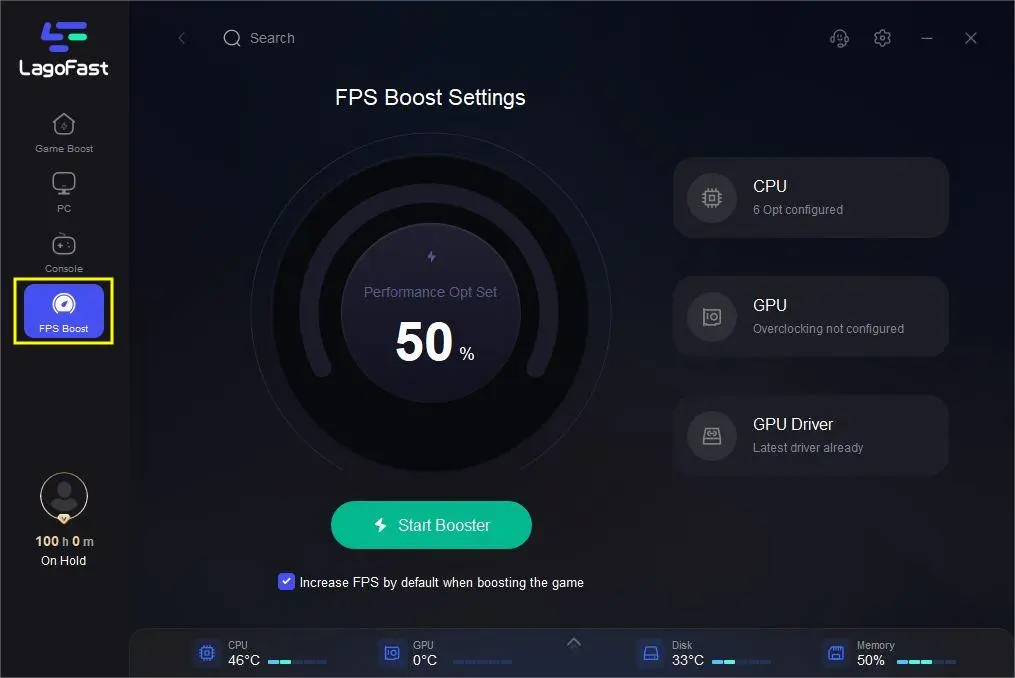 Step 2: Turn on/off the settings to boost Minecraft FPS.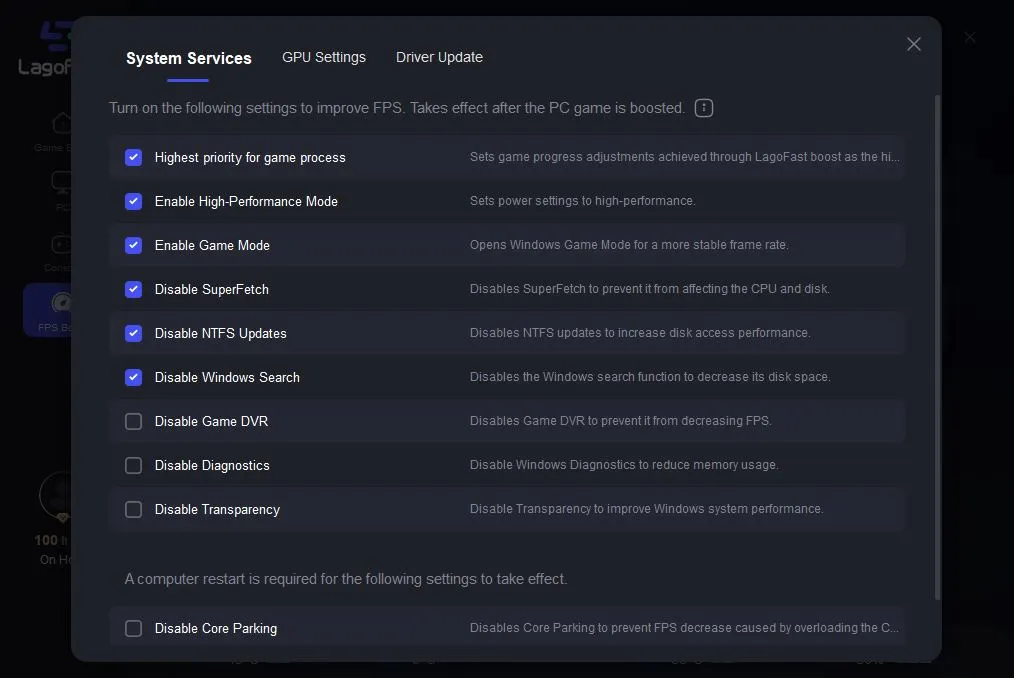 Other fixes to New World lag
Because many reasons can cause the game lag, it is a difficult task to know the root cause. But if you know exactly what causes your New World lag, you can take the following methods for the cause, and hope they will be of some help to you.
Whitelist New World: Anti-virus software scans your computer regularly to look for malicious software and to detect computer lag. If you do not whitelist New World, anti-virus software will monitor the data between your computer and the game server, slowing down the network and causing New World lag. so you can whitelist New World, and if that doesn't work, try switching off your anti-virus software while playing the game.
Change New World graphics: Players prefer to play the game in a more polished graphical environment. But what's the point of having great graphics if the game lags as a result of these advanced settings? If your PC isn't powerful enough, the majority of your resources will be used to create advanced graphics settings, with only a few resources used to handle communication data between the PC and the game server. This is when you should properly lower your graphics settings, which will help you have a more enjoyable gaming experience.
Close background apps: As we have mentioned above, if you have a lot of memory-hogging apps running in the background, your game will hardly be smooth. So you need to open your computer's task manager and turn off those apps that are taking up resources that should belong to your game.
Using a wired network: A wired network may not be as convenient as a wireless network, but it is critical to New World's smooth operation. Because using Ethernet ensures a more stable network connection and prevents your network from being split up by other devices. However, if your circumstances prevent you from using a wired network, you can reduce the barriers or distance between your computer and the router, as well as the number of devices connected to the router.