The players can form groups of up to five people, join one of three factions (the Marauders, Syndicate, or Covenant), collect raw materials from resource locations (such as wood, stone, animal skins, etc.), craft items, take over settlements, go on quests, explore the world, or engage in combat with monsters or other players. No auto-locked targeting attacks are used during gaming; as a result, an accurate aim is needed. The player must use their mana, stamina, and health to defend against the hostile mobs' progressively strong and complex attack behavior skill sets by timing their attacks, dodging their strikes, blocking their weapons, retreating, or creeping stealthily. Bow, hammer, hatchet, great axe, fire staff, life staff, musket, blunderbuss, spear, sword/shield, ice gauntlet, void gauntlet, and great sword are the available options for the weapon skill trees at the moment.
When it first came out, New World was one of the most anticipated games, and by today's standards, it still maintains a respectable player base. Therefore, we'll show you the best solution, LagoFast, to fix your high ping in New World if you're one of these players and you've been experiencing high latency troubles while playing. Besides, LagoFast can run ping test to show your Ping in New World. What's more, it can also solve fps drop, packet loss, and other New world issues.
Part 1: Best New World High Ping Reducer
Part 2: Why New World Ping Spikes
Part 3: Other Fixes to New World High Ping
Best New World High Ping Reducer
The first thing that comes to mind when I think of how to lower high ping in new world is LagoFast, an effective new world high ping fixer.
In reality, it can be challenging to reduce ping in all circumstances, however, using Lagofast may be effective. LagoFast has more than 8 years of experience in the game-boosting industry and has assisted millions of users in resolving challenging issues with online games, such as low frame rates and high ping. Due to the success of its unique game data transfer protocol, LagoFast is emerging as a leader in this industry. There are many popular, expensive game boosters available right now; you may even be familiar with some of them. Comparatively, LagoFast is less expensive because it offers a Pay-per-Minute plan to every subscriber. In addition, we offer brand-new clients a free trial.
Advantages:
Fix ping, lag, and other new world issues

8+ years of experience with gaming boosters

a widely used protocol for sending game data

Simple to setup and operate

Support a pay-per-minute Plan

Support many popular games, such as Overwatch 2, COD: WM2, COD: warzone 2

Support free trial
Follow four steps to use it.
Step 1: Download and then install LagoFast.
Step 2: Input " New world" into the search bar and press it.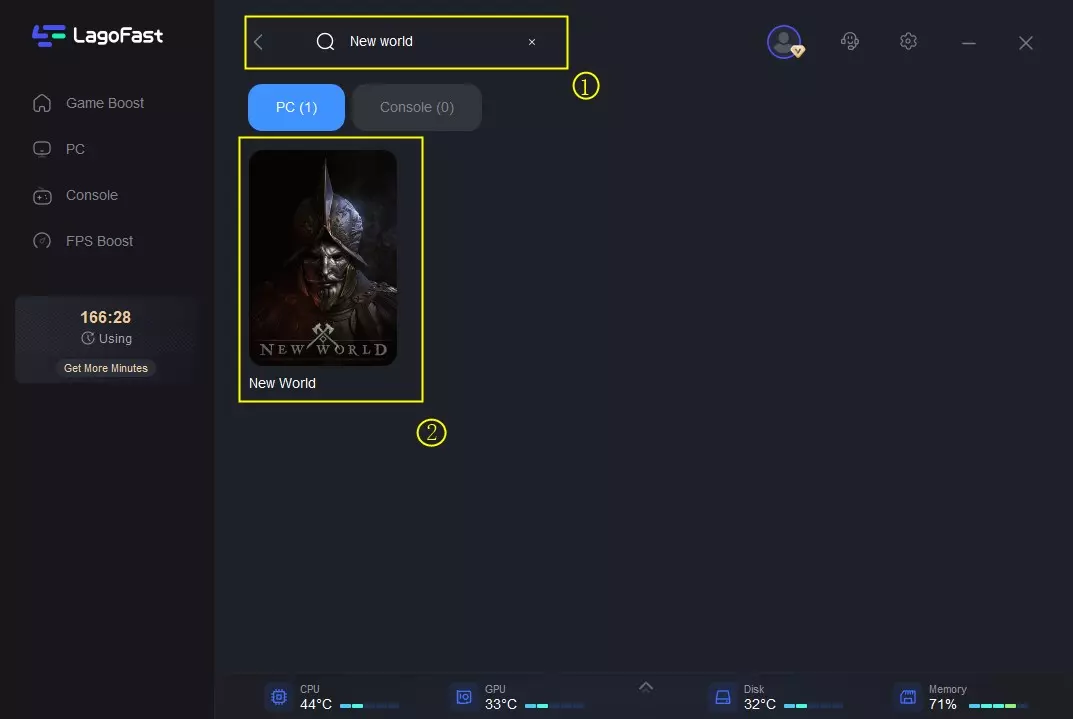 Step 3: Choose the server that matches New world.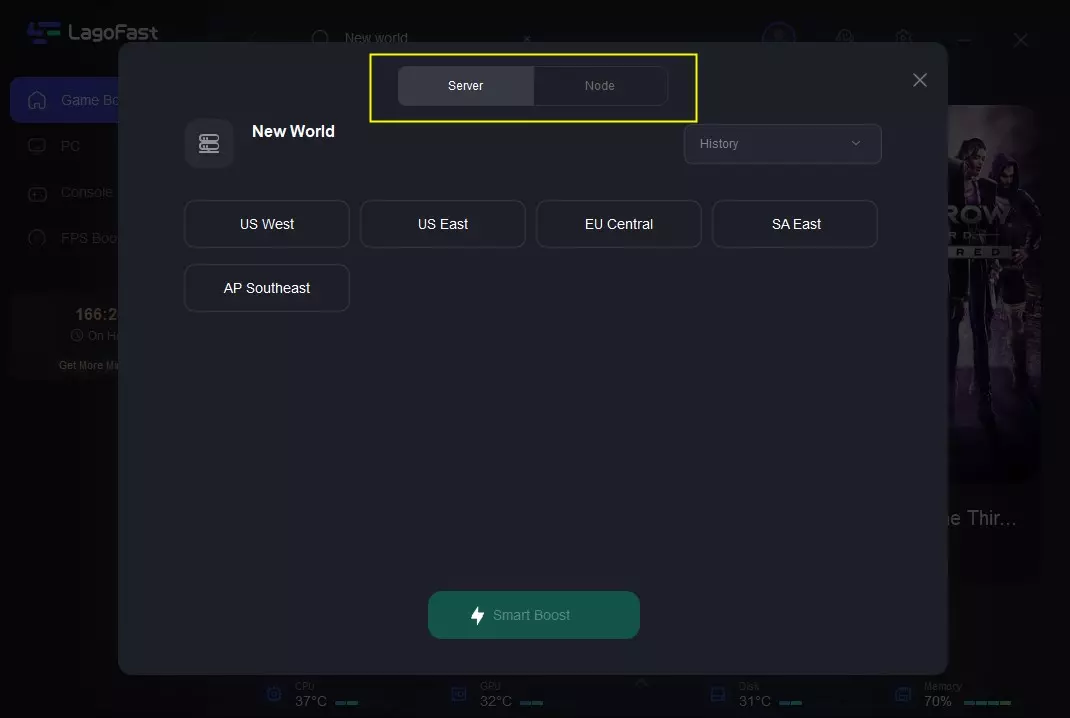 Step 4: Click booster to begin.
The real-time displays of new world ping and packet loss rates have an immediate effect on game frame rate performance.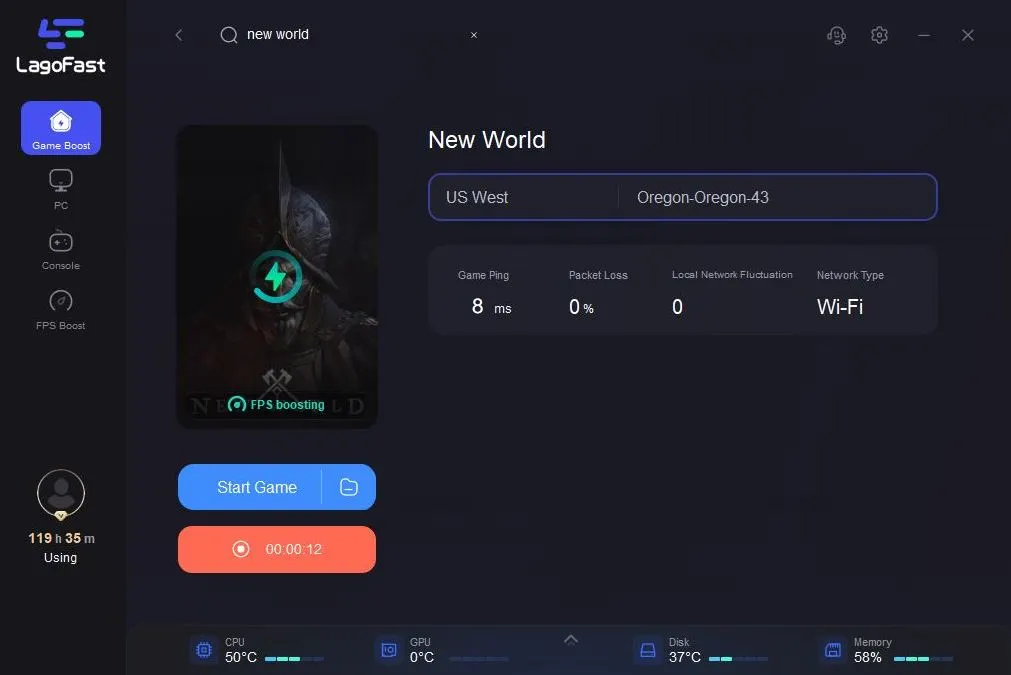 Why New World Ping Spikes
The term "ping" refers to the round-trip time that is used for data transmission between your computer and the gaming server. Furthermore, Ping uses millisecond timing. 50 to 150 milliseconds is the normal ping duration. Pings under 50 ms are challenging to achieve but will significantly enhance your gaming experience. Ping that stays under 100 ms, however, is ideal for gaming. When your ping is high, which is greater than 100 or even 150, you will notice game lag. When your ping suddenly jumps to more than 200 or more than 200, this is known as a ping spike. You'll observe that some commands take some time to carry out and that some movements hesitate before briefly traveling really quickly. High ping in new world can be pretty annoying.
Why did New World Ping Spikes? When New World ping spikes occur, a bad network connection is typically to blame. For instance, excessive network and bandwidth usage, an erratic wireless connection, and bad routing... An unstable connection will have the biggest effect on new world ping out of all these factors.
System settings, game files, and the health of the game servers can all have an impact on new world ping issues in addition to the network connection.
Other Fixes to New World High Ping
There are some other ways to fix new world high ping, just in case. Try the methods below one by one until you find the one that works for you.
Switch servers. The distance to the server is one of the major variables that affect ping. You can choose from a variety of servers offered by New World to connect. It is advised that you select the server that is closest to where you are right now. In any case, try establishing a connection to a closer server to see if that resolves the high ping problem.

Restart your router and modem. Rebooting your router and modem is the best solution for many issues relating to the quality of your internet connection. Your connectivity and slowness troubles in New World can be resolved by doing this. A proper power cycle must be performed when rebooting your devices; do not simply remove and replace the power cord. A good power cycle will help you avoid having to restart your gadgets every time you encounter a problem.

Close background applications. An easy way to reduce new world high ping is to reduce network usage by closing background applications that consume bandwidth while you play New World. Your internet browser or communication applications such as Discord and Skype can use a lot of bandwidth, so if you want to maintain a constant connection to the Shinsekai servers, please close any applications you are not using. You can view the list of applications running in the background in Task Manager.

Update your network drivers. Make sure you have the most recent network driver versions installed if you notice latency when playing New World. Updating all of your computer drivers is always crucial.

Use a Hardwired Connection. As a wired connection, such as an Ethernet wired connection, may be transparent to other wireless connections, there may be less interference with a wired connection than a wireless connection. Without the existence of concrete walls or other obstacles, data flow across a cable link would be faster and more trustworthy. Therefore, switching to an Ethernet wired connection could be beneficial for boosting network speed and reliability as well as for lowering ping spikes in new world.
Overall, this guide explains how to fix new world high ping and covers all the necessary information.