Call of Duty: Modern Warfare is a 2019 first-person shooter game developed by Infinity Ward and published by Activision. And as so far, there are two versions of Modern Warfare. The second one, titled Modern Warfare II, is published in 2022. Modern Warfare 2's gameplay, campaign, multiplayer, and graphics all received positive feedback. The handling of the campaign's subject matter, including the depiction of the Russian military, as well as balancing issues in multiplayer, drew criticism.
But in this game, many players complained that the Modern Warfare lag issues have seriously affected the gaming experience. Even when the internet is fine, there is a delay problem. Don't worry, this article will show you what is lag, and how to fix it.
Part 1: What Is Modern Warfare Lag
Part 2: What Causes Lag in Modern Warfare 2
Part 3: Why My Modern Warfare Lagging But the Internet Is Fine
Part 4: What Is The Easiest Way To Fix Modern Warfare Lag
Part 5: Other Solutions To Fix Lag
What Is Modern Warfare Lag
In general, lag is the time difference between a task and its outcome. For example, the fraction-of-a-second pause between pressing a keyboard key and seeing it appear. And also, lag in gaming refers to any noticeable slow response in an online game caused by high latency or a bad connection. On a slow Internet connection, for example, your character or the environment they're in may stutter.
And instead of Modern Warfare lag, if lag only happens temporarily, it's called a lag spike.
Lag slows down the responsiveness of your controls. In comparison, lag does not dramatically affect gameplay in games that aren't as time-sensitive and reliant on the gamer's quick reflexes.
What Causes Lag
There are numerous causes of lag, just as there are numerous types of lag. As previously stated, lag is caused by high latency. Further investigation reveals that high latency is caused by network issues or low-performance graphics cards. The following are the most common causes of game lag:
Insufficient internet bandwidth
Issues with internet speed
Type of bad internet connection
Wireless internet problems
GPU overworked (graphics processing unit)
Why My Modern Warfare Lagging But the Internet Is Fine
But the lag is not just due to network issues. Sometimes your internet is fine, but you will also experience lag problems. Then, you can try finding the reasons by these 2 aspects following:
1. Hardware configuration: You should make sure that your computer have meet the Modern Warfare minimum system requirements:
Modern Warfare 1:
OS*: Windows 10 64-bit (v.1709 or higher)
CPU: Intel Core i3-4340 or AMD FX-6300
RAM: 8GB RAM
HDD: 246GB HD space
Video: NVIDIA GeForce GTX 670 / GeForce GTX 1650 or Radeon HD 7950
DirectX: Requires DirectX 12 compatible system
Network: Broadband Internet connection
Sound Card: DirectX Compatible
Modern Warfare 2:
OS: Windows 10 64 Bit (latest update)
CPU: Intel Core i3-6100 / Core i5-2500K or AMD Ryzen 3 1200
RAM: 8 GB
Hi-Rez Assets Cache: Up to 32 GB
Video Card: NVIDIA GeForce GTX 960 or AMD Radeon RX 470
Video Memory: 2 GB
2. The Modern Warfare server status: if there are some bugs in the server, or there are so many players online, you may be experienced annoying lagging issues. Come to this page to see if your Modern Warfare server is fine: Click Here.
What Is The Easiest Way To Fix Modern Warfare Lag
As we know, Modern Warfare lag issues could be caused by bandwidth, internet speed, wireless network connection, and some other hardware issues. Therefore, if you want to fix Modern Warfare lag, you can improve one by one for the reasons. But identifying the real reason is not an easy thing. And I can ensure that using a professional tool to help you could be much easier. For example, you can try using LagoFast, This product will automatically test your game's running situation and then take the appropriate action with just one click before starting the game. This professional product may also provide FPS boost services in addition to resolving Modern Warfare server lag. It may also be the most cost-effective option because there are two options: plan per month or plan per minute.
Step 1: Click the Free Trial button to download the LagoFast client and experience the game boost service. Or directly go to the LagoFast site.
Step 2: Before running Modern Warfare, you just need to find the game you want to play in LagoFast and click the Boost button.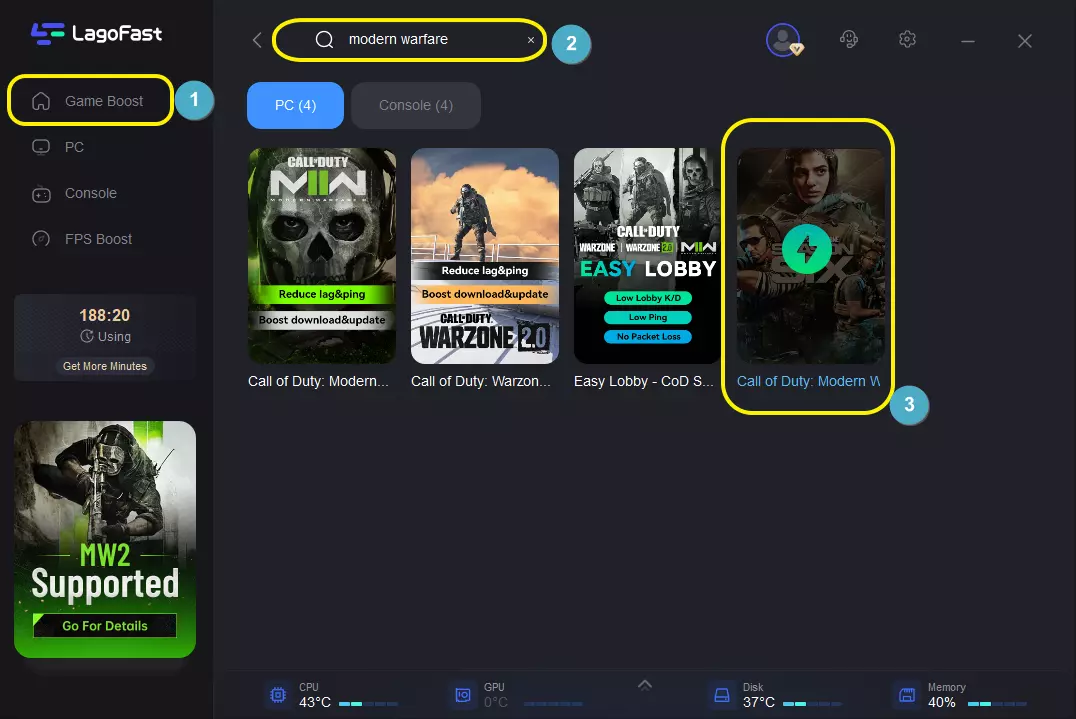 Step 3: And then you can click the FPS boost button to change settings to improve your game FPS based on your specific requirements.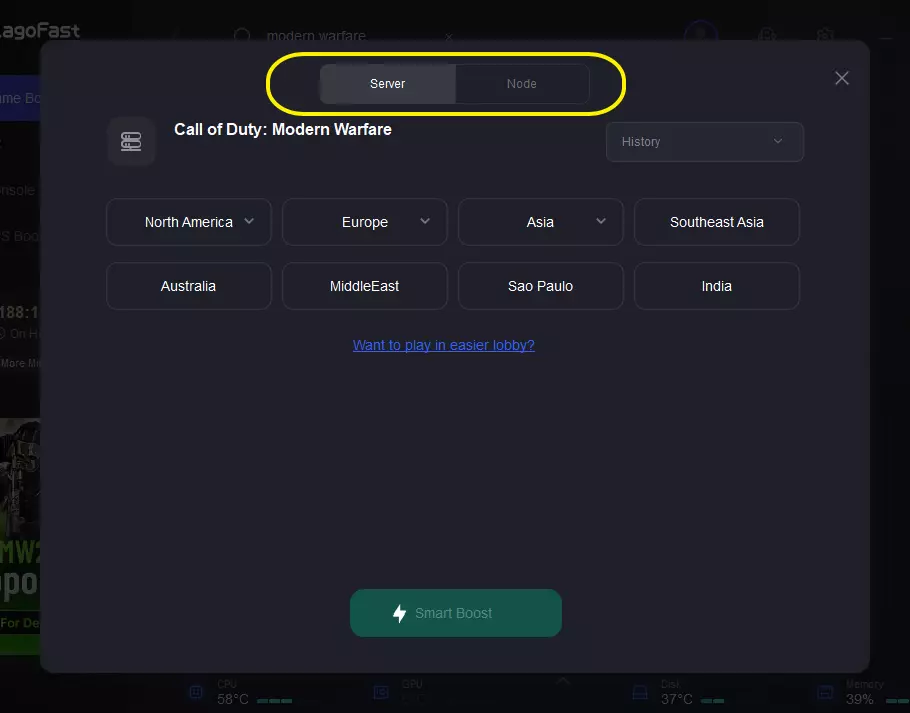 Step 4: After this easy click, the LagoFast game booster will improve your game internet connection, decrease high ping, and reduce lag issues in the background. And also provide you with many other tests, like packet loss and local network fluctuation.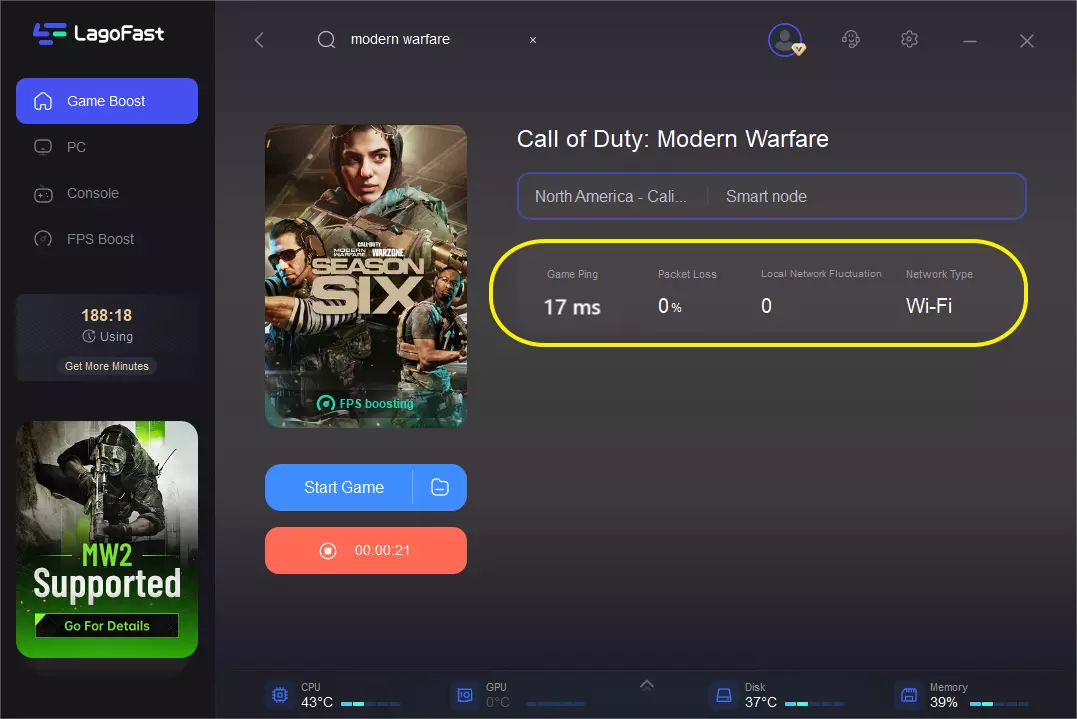 Other Solutions To Fix Modern Warfare Lag
Recheck your Wi-Fi connection.
Try moving your router to a more central location in your home. Reboot the router. If this does not improve your connection, your Wi-Fi signal may be having trouble reaching your gaming console or wherever you are with your PC. If your Wi-Fi signal does not reach your gaming devices far enough, lag will occur. Wi-Fi extenders can help you spread your wireless signal and, as a result, your internet connection throughout your home.
Make use of a wired Ethernet connection.
In contrast to a wireless connection, an Ethernet wired connection may be invisible to other connections, resulting in less interference. Data transfer over a wired connection would be faster and more reliable if there were no concrete walls or other impediments. As a result, switching to an Ethernet wired connection may help with lag resolution.