Dying Light 2: Stay Human was released in early 2022 as the highly anticipated sequel to the original game from seven years prior. Dying Light 2 is everything fans hoped it would be. The sequel reintroduced the original game's smooth first-person parkour mechanics, as well as new traversal methods like a grappling hook. According to the announcement trailer for the Dying Light 2 DLC, players will enter a kind of gladiatorial arena where they will be pitted against both human and zombie enemies. Though it is unclear how this gladiator arena came to be, players must fight their way through the arena's various levels and environments to defeat the relentless waves of enemies. The protagonist must win their fights in order to be crowned champion and claim their prize in the arena, whatever that may be. However, it is implied that something more sinister is going on during these events, and players will most likely discover the true nature of Carnage Hall throughout Dying Light 2: Bloody Ties. Such wonderful game content has also whetted the appetite of players. But just like other video games, many problems such as Dying Light 2 connection errors, lag, and FPS drops are numerous. In order for you to have a super smooth gaming experience right away, we'll introduce you to some solutions, the most effective of which is to use LagoFast!
Part 1: LagoFast: The Best Game Booster for Dying Light 2
Part 2: Equally Useful Methods for Connection Issues
Part 3: Why do You Encounter Dying Light 2 Connection Issues?
Part 4: Dying Light 2 DLC: Bloody Ties FAQs
LagoFast: The Best Game Booster for Dying Light 2
Dying Light 2 Can't Join Player Session error and the Dying Light 2 connection failed error can greatly affect our gaming experience. This is most likely due to your poor internet connection or high latency. These problems are a piece of cake for LagoFast. Because it has over 8 years of experience in solving gaming problems using industry-leading data transfer protocols. And, its robust network compatibility can adapt to a variety of tricky network conditions. As soon as you turn on LagoFast, it provides you with real-time network diagnostics and matches you with the network nodes with the lowest ping values. All these features ensure the perfect resolution of Dying Light 2 connection errors. In addition, it can also significantly improve the performance of the game, while boosting FPS reduces ping, and getting 0 ping is no longer empty talk. In order to prevent players from being too busy in their daily lives to play the game and thus wasting money on a subscription to the game booster, we offer a time charge package. Proudly, LagoFast is the only game booster and game VPN that has a pay-per-clock package. Come and try LagoFast, which is the most suitable game booster for Dying Light 2!
Here is the list of LagoFast features:
Support Pay-Per-Minute, wallet-friendly!
More than 8 years of data transmission experience
Easy to use, boost with only one-click
Exclusive routes around the world
Supports over 1000 games
Boost FPS while reducing ping
Let's see how to use LagoFast:
Step 1: Download LagoFast and register.
Step 2: Type Dying Light 2 in the Search box and click on it.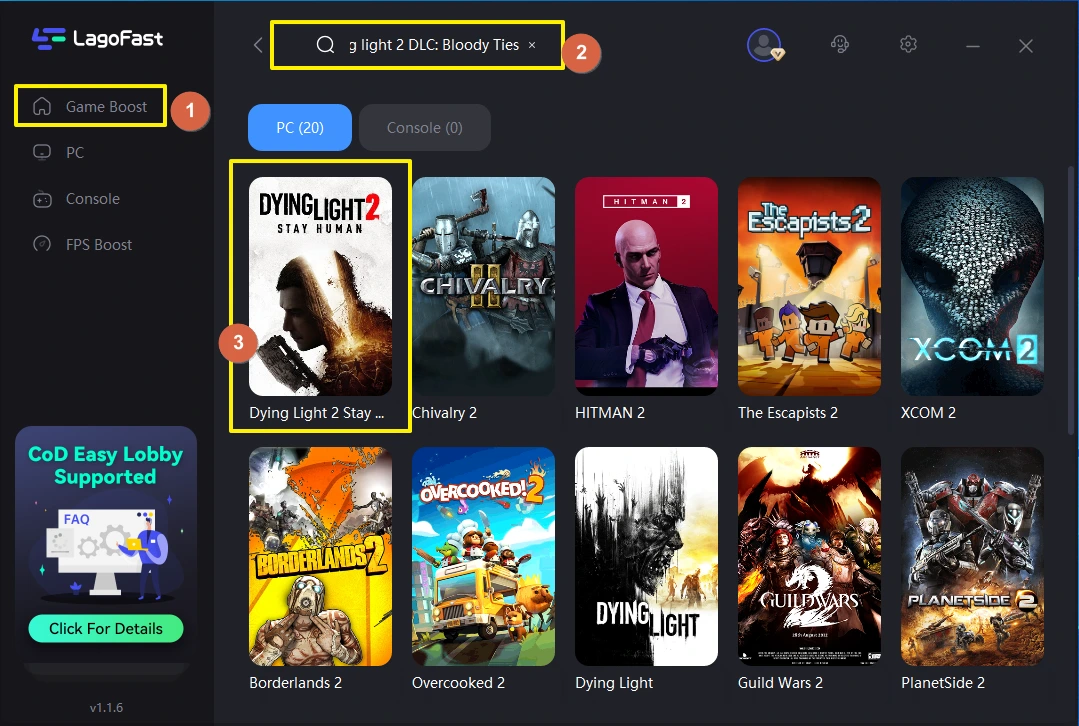 Step 3: Choose your needed server by yourself.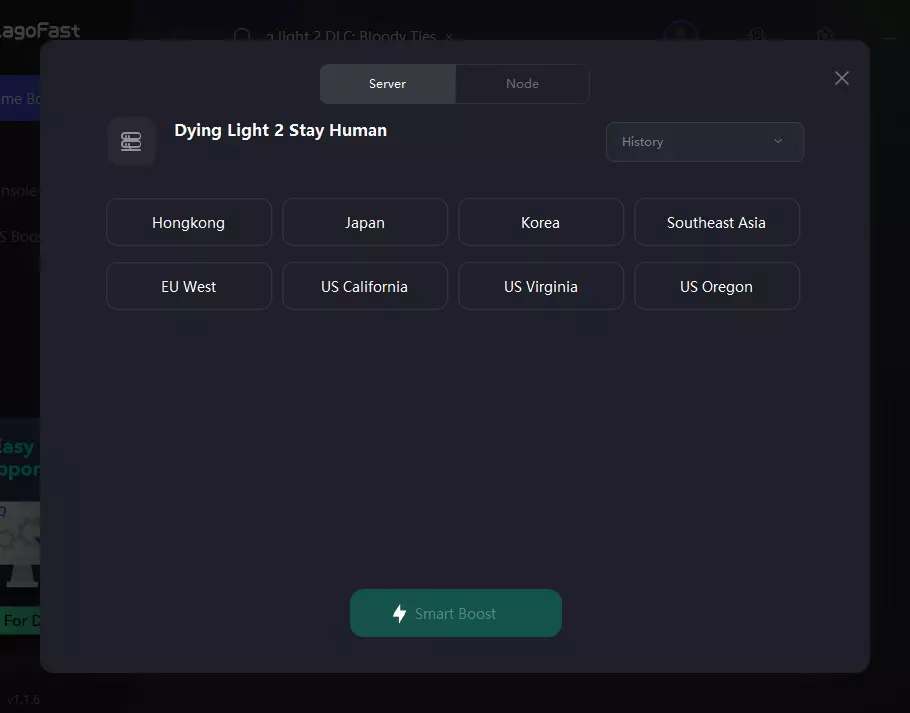 Step 4: Click on the Boost button to start boosting.
You can know Dying Light 2 real-time ping and packet loss rate, which are closely related to your FPS performance.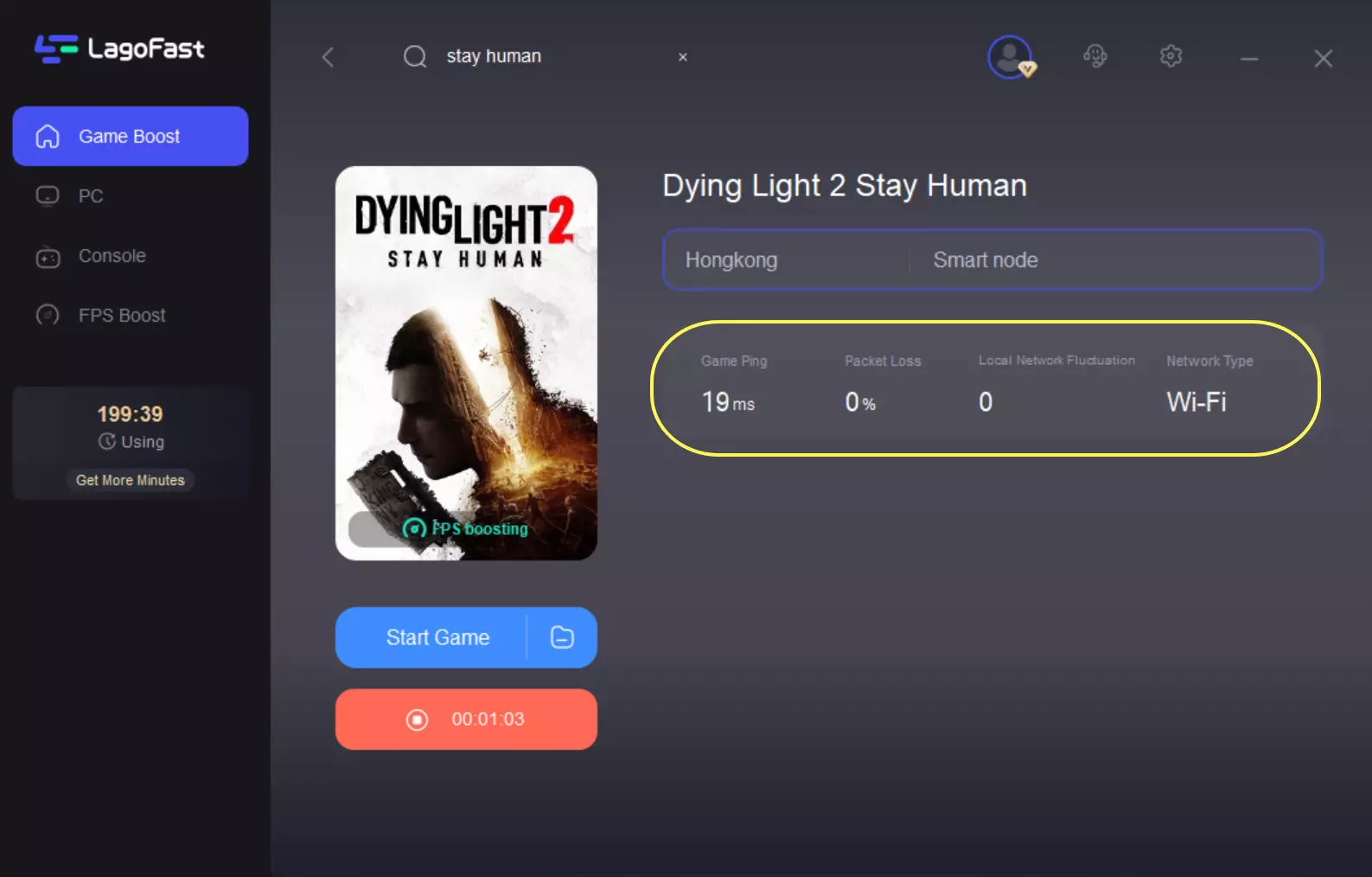 Also, change the settings manually by clicking on the ones you want to turn on/off.
To do like this:
Step 1: Select the FPS Boost tab on the left side of the desktop.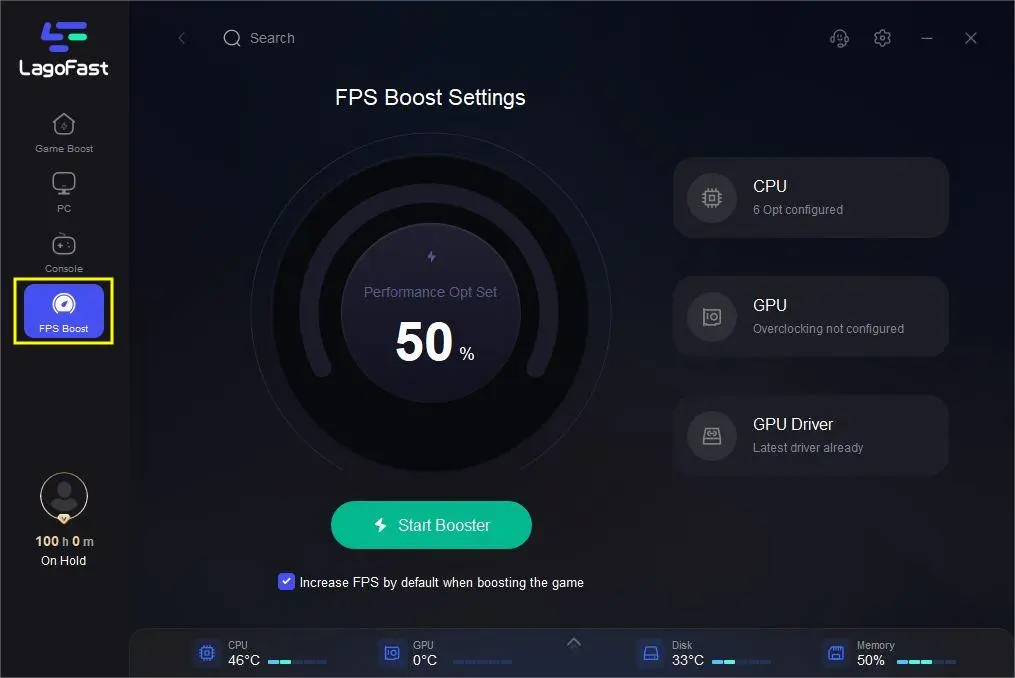 Step 2: Turn on/off the settings to boost Overwatch 2 FPS.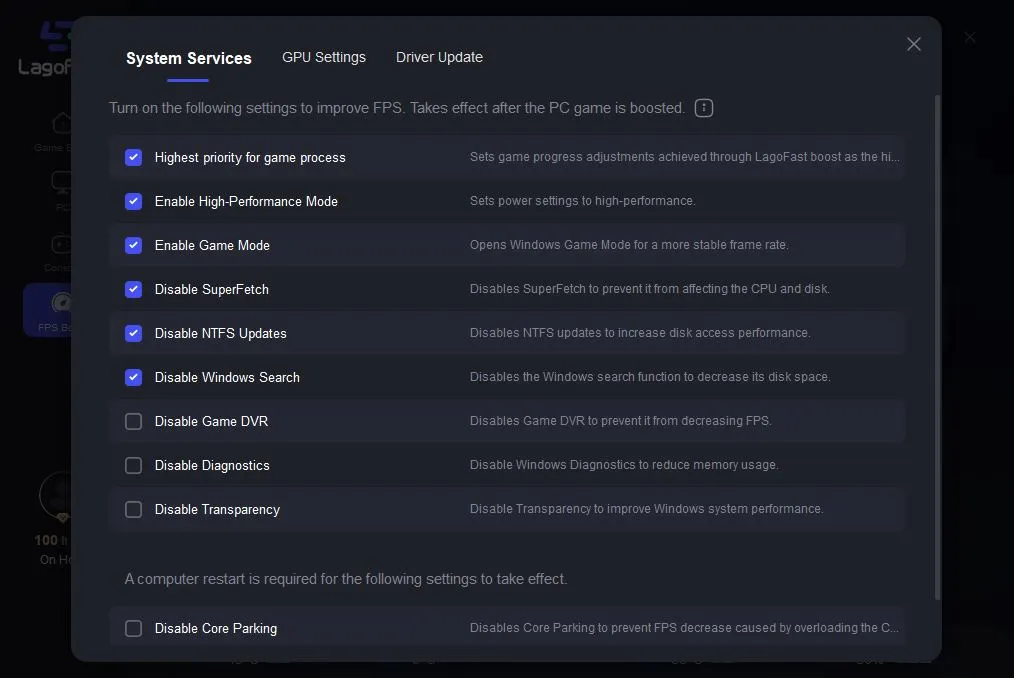 Equally Useful Methods for Connection Issues
The issue that has been holding back the game is server issues, which result in the Dying Light 2 Can't Join Player Session error and the Dying Light 2 connection failed error. While some of the errors may be due to a server-side problem, there may be other solutions.
Update network drivers: Network device drivers receive and transmit data packets over hardware interfaces that connect to external systems, and they provide a uniform interface through which network protocols can communicate. All network-related activities are related to network drivers. So when it is lost, obsolete, or corrupted it will lead to Dying Light 2 connection errors.
1. Enter device manager in the taskbar's search box, then select Device Manager.
2. Choose a category to see device names, then right-click (or press and hold) the one you want to update.
3. Select Automatically search for updated driver software.
4. Select Update Driver.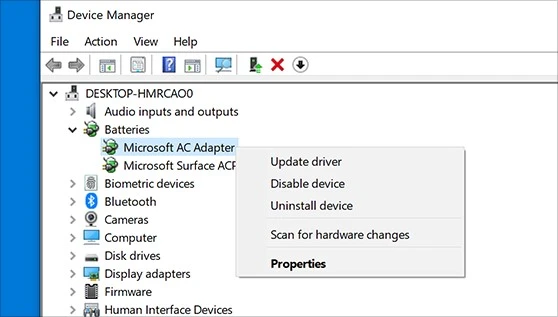 Check the Dying Light 2 Server Status: With errors like the ones described above, there is always the possibility that something is wrong on the server end. A quick check of the Dying Light 2 server status can save you hours of troubleshooting time. To check the server status, refer to the linked guide. If the servers are in good working order, proceed with the steps below.
Whitelist Dying Light 2: Incoming and outgoing connections to the Dying Light 2 server may have been blocked by a firewall or anti-virus software. This is because the firewall or anti-virus software scans our computers regularly to prevent viruses from exploiting the situation. If they deem Dying Light 2 to be dangerous software, they will monitor its network activity and may even block it. So we need to whitelist the game and allow it to pass through and communicate with the game server to avoid issues like Co-Op not working properly or being unable to join player sessions. This is also a useful way to reduce ping.
Why do You Encounter Dying Light 2 Connection Issues?
Low upload speed: Download speed is how fast we get the data from the Internet, and upload speed is how fast we upload the data to the server. For online games, upload speed is even more important. When we choose an Internet provider, they tend to offer download speeds, while upload speeds tend to be low on the same plan.
Game file corruption: Corrupted game files can cause a variety of problems, from minor game glitches to game crashes, in which case we need to verify the integrity of the game, delete the download cache and reinstall the game.
Unstable internet connection: When we use our laptops to play games, we often use a wireless Internet connection. Although Wi-Fi is convenient, it is very unstable and easily interfered with. In our daily life, a router is usually connected to many devices, but the network data is limited, and they will grab the network, making your computer's allocated broadband become less.
Game server issues: In fact, when encountering connection failure or dying light 2 can't join the player session, dying light 2 co-op not working and other problems, the most common reason is still the server. This is because a large number of access requests will cause the server to be overloaded.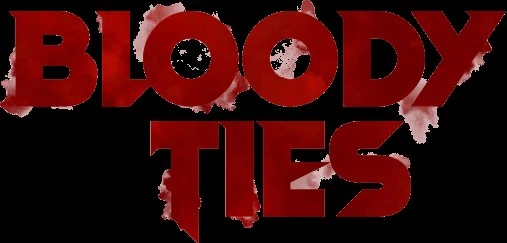 Dying Light 2 DLC: Bloody Ties FAQs
What's the release date of Dying Light 2 DLC: Bloody Ties?
Bloody Ties, the first story DLC for the open-world zombie-slayer Dying Light 2: Stay Human, has been delayed, according to Techland, "to allow the team extra time to polish and squash bugs." This is the second delay for the unreleased DLC, which was supposed to be released in June but was pushed back to September. With this latest delay, Bloody Ties will now be available on November 10th for Xbox Series X|S and Xbox One.
What's the main content of Dying Light 2 DLC: Bloody Ties?
Aiden enters a bloodsport tournament in which the best fighters compete to the death. He quickly realizes that his quest for fame is only the beginning of his involvement in a plot for power and revenge.