In this post, we'll show you different approaches you can employ to fix Back 4 Blood lagging errors on your PC either by using advanced software or turning some in-game settings. Stick with us to find out more.
What Are the Causes of Back 4 Blood Lagging?
There are several reasons why you might experience Back 4 Blood lagging on your PC or console. They include the following;
Outdated Graphics Drivers:

One of the most common causes of Back 4 Blood lagging is outdated graphics drivers. If your system's graphics drivers are outdated, it causes the game to stutter, lag, or even drop in FPS.

System Compatibility:

If you're looking to use a system with specifications that does not suit the requirements of the Back 4 Blood game, chances are you'll experience lagging error.

Graphics Settings:

The in-game's graphic settings could also be a reason for you to encounter lagging while playing Back 4 Blood. You can try adjusting the settings to fix the issue.

Overlay applications:

Running overlay applications while playing Back 4 Blood could also cause the lagging error. From experience, we've encountered situations where overlap apps like Discord, screen recorders, and Nvidia GeForce Experience cause problems in games.

Poor Network Connectivity:

The truth is you can't play Back 4 Blood with an unstable network connection. So, if your network connectivity is poor, it's advisable you switch to a more stable one.
How to Fix Back 4 Blood Lagging on PC Within A Few Clicks
The best way to fix Back 4 Blood lagging is by using the LagoFast software. The tool offers a plethora of features that allows users with any skill level to eliminate lagging in games, including Back 4 Blood, thus allowing you to enjoy a smooth and seamless gaming experience.
With LagoFast, you won't be limited to only fixing lagging in Back 4 Blood. You'll also be able to eliminate lagging problems in popular games like Call of Duty, Apex of Legends, Fortnite, FIFA 23, and many others.
Overall, LagoFast is one of the industry's top-leading game boosters. Besides, it boasts over either year of experience. So, you can always rest assured that the tool will help you fix all kinds of errors causing your Back 4 Blood input lag within a few minutes. You don't even need to be tech-savvy to operate the tool.
It's compatible with more than 1000 popular games, including Fortnite, FIFA 23, COD, etc.

Supports 360-degree protection, enabling you to have a 100% lag-free gaming experience.

Outstanding game servers with global coverage.

Easily increases FPS while reducing ping value.

Supports smart routing and precise boosting.

Offers very affordable plans, including a pay-per-minute plan.
Step 1: Install the latest version of the LagoFast software on your PC. Then, launch it and select Game Boost from the relevant area.
Step 2: Type " Back 4 Blood" in the search bar on the new interface. Then, select a node with an appropriate pinge for the game.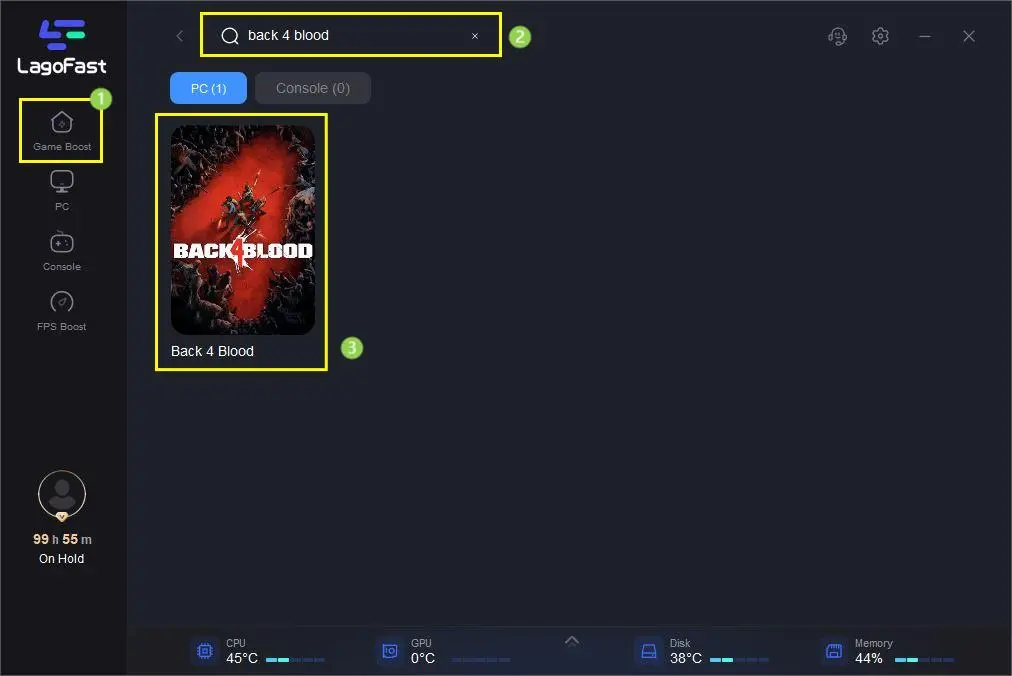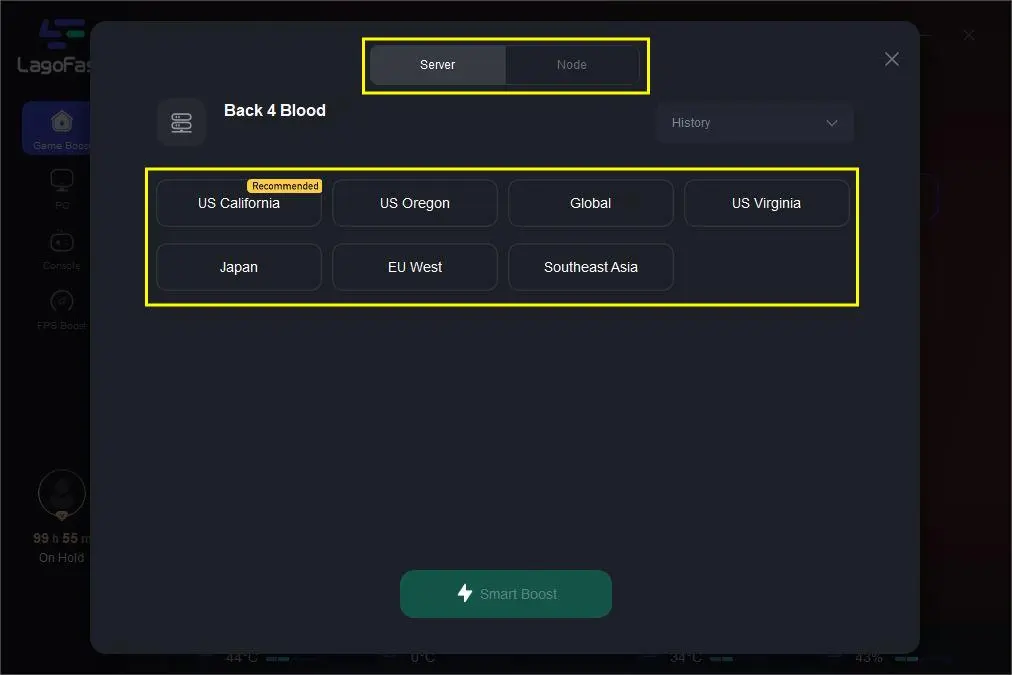 Step 3: Finally, click Smart Boost to wipe out errors causing the Back 4 Blood to lag. Your game should start running smoothly afterward. It's as simple as that!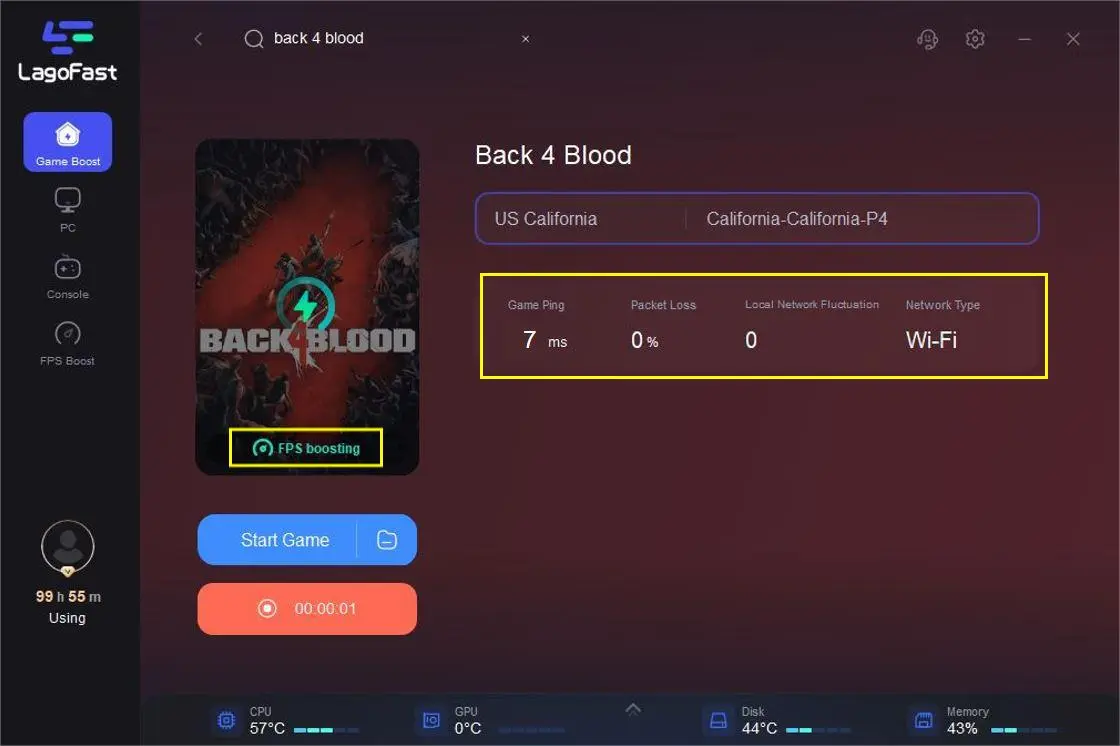 Other Reliable Methods to Fix Back 4 Blood Lagging
Besides the solution explained above, there are other reliable ways to resolve Back 4 Blood lagging issues. However, keep in mind that these fixes are not 100% trusted compared to using LagoFast.
Method 1: Switch to a Stable Network Connection
As mentioned earlier, it's impossible to play the Back 4 Blood game with an unstable network connection. So, if you're in a similar situation, we recommend you try switching to a more stable network to see if the lagging will stop.
Method 2: Check your System Compatibility
If the above method does not work, then the issue might be your system compatibility. Check your system specifications and confirm it satisfies the following requirements of the game;
| | | |
| --- | --- | --- |
| Hardware/Software | Minimum | Recommended |
| OS | Windows 10 64-bit (Version 18362.0 or later) | Windows 10 64-bit (Version 18362.0 or later) |
| CPU | Intel Core i5-6600 or AMD Ryzen 5 2600 | Intel Core i5-8400 or AMD Ryzen 7 1800X |
| GPU | GeForce GTX 1050 ti or Radeon RX 750 | GeForce GTX 970 or Radeon RX 590 |
| RAM | 8GB | 12GB |
| Storage | 40GB | 40GB |
| DricetX | DirectX 12 | DirectX 12 |
Method 3: Update Graphics Drivers
If your system compatibility is confirmed, then the problem might be caused by your graphics drivers. If your graphics drivers are outdated, follow the following steps to update them;
Step 1: Start your graphics drivers application. For example, AMD users use AMD Software: Adrenalin Edition.
Step 2: Check for the graphics drivers' latest updates.
Step 3: If there's an update available for your graphics drivers, download it on your system and check whether Back 4 Blood lagging stops.
Conclusion
Fixing Back 4 Blood lagging error is not a difficult task. The article above has discussed the best techniques you can employ to get the job done. It does not matter if you're looking to use advanced software or not. But we recommend using LagoFast as it does the job faster and more efficiently.