With much anticipation, the second edition of csgo has been officially announced. The graphics engine has been upgraded to Origin 2, bringing new gameplay. Compared to the first generation, CSGO2 has been completely revamped in terms of visuals, sound, systems, content, and experience, offering more realistic modeling, lighting, and reflections.
This upgrade is a comprehensive upgrade, from gameplay to graphics to game modes. But there are still some issues that players should be concerned about. The most common one is CS 2 packet loss, which affects players' experiences. Many players have to seek how to fix packet loss in csgo 2. In this article, you can learn about the csgo 2 packet loss reducers.
Part 1: Why I Meet Packet Loss in Counter-Strike 2
Part 2: How to Fix Counter-Strike 2 Packet Loss
Part 3: What is the Benefit of Avoiding Packet Loss in Counter-Strike 2
Why I Meet Packet Loss in Counter-Strike 2
Game packet loss can be caused by a variety of reasons, such as unstable network connection quality, insufficient network bandwidth, and heavy load on the game server. Game packet loss will affect the fluency and experience of gaming. Here are some common reasons for packet loss.
Network connection problems: Unstable network connections, insufficient bandwidth, or high network latency may cause csgo 2 packet loss. The unstable network connection may be caused by a router or network adapter fault, or interference from other network devices.
Computer performance issues: Poor computer performance can also cause packet loss in csgo 2. Games require a lot of computing resources and video memory, and if the computer is underpowered, the game's performance will suffer. In general, if the configuration is not optimal, this phenomenon is more common, even1 packet loss in csgo 2.
Game server issues: Csgo2 official game server overload could also cause packet loss in csgo2. Given the high popularity of the game, if the game server's data processing capacity is insufficient, a certain number of csgo2 packet drops will occur, the game lag will increase, and the game experience will deteriorate.
How to Fix Counter-Strike 2 Packet Loss
As you can see from the above, among the main causes of csgo2 packet loss, improving the network is one of the easiest ways. Because the other two reasons often cannot be adjusted in a short time, and are not the main problem. If you want to improve your network, you can change your wired connection, increase your broadband bandwidth, use a game VPN, and so on. Booster for csgo2 is often the most convenient way. Because they shorten the distance between servers by creating a node, latency is intuitively reduced. Here, I highly recommend CS 2 game booster, LagoFast.
To make sure we have a perfect experience, many players seek for fixes for csgo 2 packet loss. Here I recommend Lagofast strongly. As a professional csgo2 game booster, it does well in reducing packet loss even if it reaches 0 packet loss in CS 2.
If you choose a game booster, you need to consider the following factors: acceleration, stability, security, and price. It has advantages over other products in those aspects. LagoFast has its own data transmission protocol, which can avoid the interference of other products to a certain extent. Secondly, in terms of stability, it has more than eight years of experience in game accelerators, which can cope with various problems of csgo. In addition to the packet loss problem in csgo2, such as csgo 2 lag spikes. In terms of security, the product well protects the user's data privacy, there is a solid security system. Finally, price is one of Lago fast's strengths. It has a pay-per-minute plan, which is user-friendly.
The advantages of Lagofast are as follow:
Has a Pay-Per-Minute plan, an economic plan

Simple to use, just one click

Reduce latency as well as

high ping

FPS Boost

For 1000+ popular online games
Follow the following steps if you want to reduce packet loss in Counter-Strike 2 or get 0 packet loss.
Step 1: Download LagoFast.
Step 2: Type 'Counter-Strike 2' in the Search library and click Counter-Strike 2 button.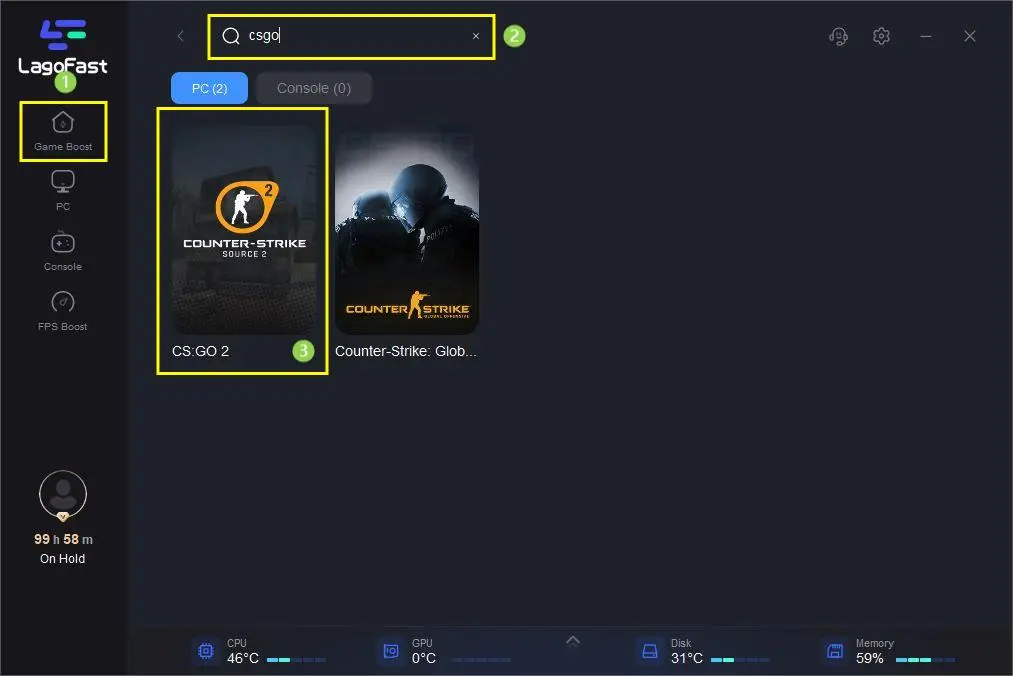 Step 3: Choose the server nearer to you.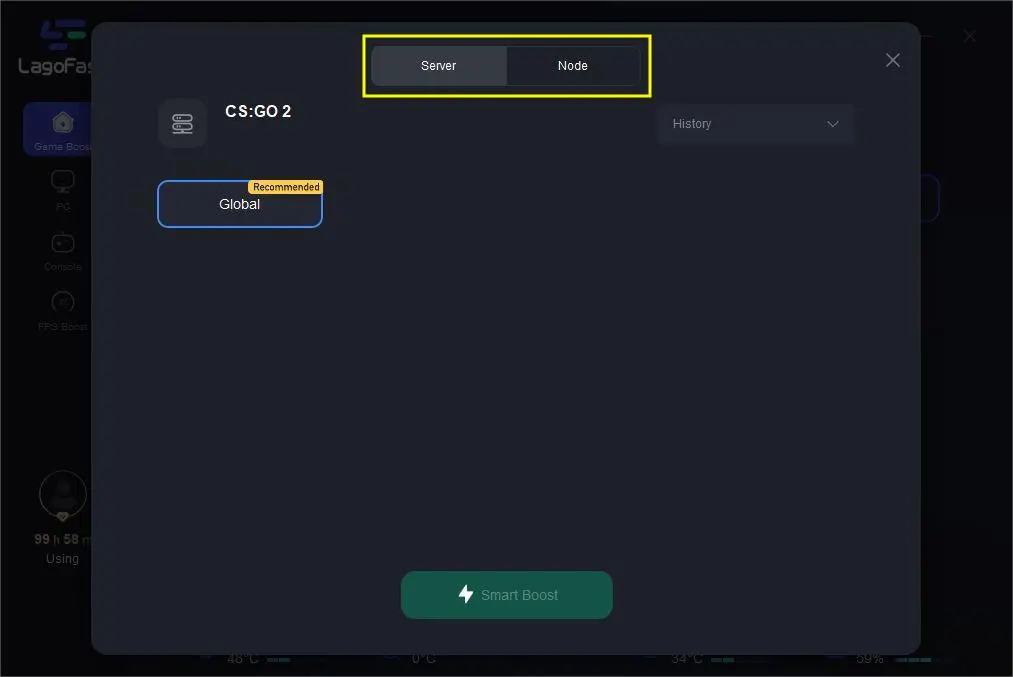 Step 4: Then you can see ping rate and status of packet loss after boosting Counter-Strike 2.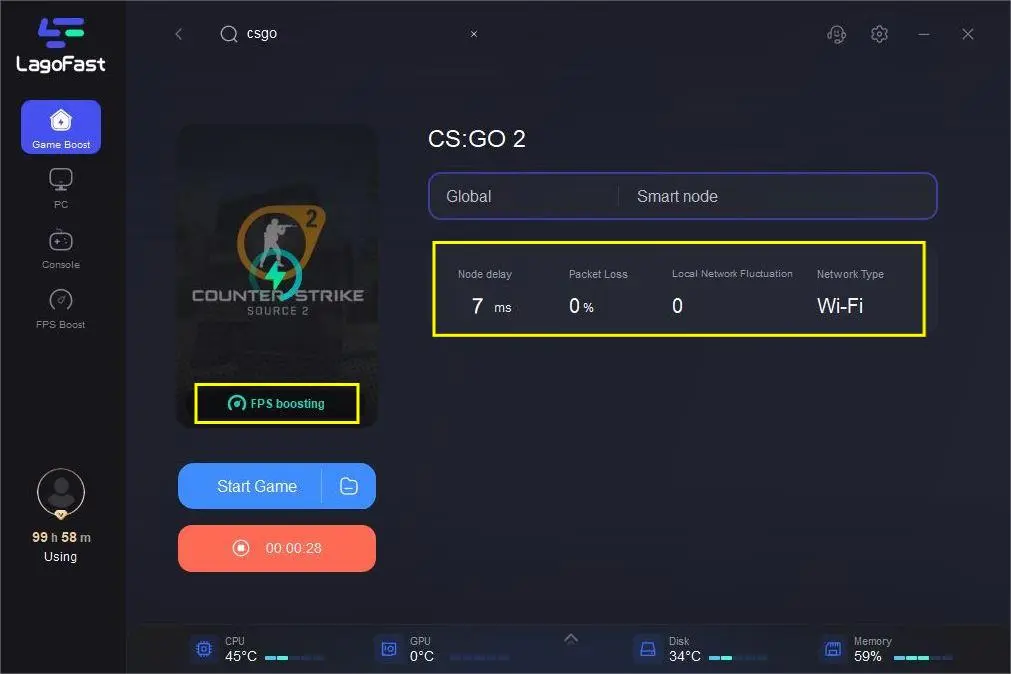 What is the Benefit of Avoiding Packet Loss in Counter-Strike 2
After solving the csgo2 packet drop problem, it is a good thing for both old and new players. The specific benefits are as follows:
Smoother and more impressive experiment: Packet loss causes network latency, and resolving packet loss can reduce latency and improve the responsiveness and smoothness of the game.
Increase user compliance: Game packet loss, if not solved, will lead to player turnover, complaints, and other problems, which will increase operating costs. This would slow down game development and distract developers from focusing on improving the csgo2 experience. Solving the packet loss problem can reduce the occurrence of these problems and reduce the operating cost. Network packet loss will lead to problems such as delays and dropped calls in the game, and solving the problem of packet loss can improve the game experience and make the game more enjoyable for players.
Increase the game competitiveness: the game network quality is an important factor affecting the game competitiveness, solving the packet loss problem can improve the game network quality, thus increasing the game competitiveness.
In general, CS 2 packet loss is caused by unstable network connection or game server overload. Lagofast is a suitable way. Reducing packet loss in csgo2 brings impressive benefits.