When you play computer games, your internet connection's speed can be increased with WTFast. It operates by using a Gamers Private Network (GPN), which directs traffic through privately owned servers that are located nearby. In particular, when playing online games, this enables faster download speeds and reduced ping times. Even though WTFast lowers ping and packet losses, it falls short in terms of preventing lag. Nowadays, more and more players tend to use WTFast when playing games.
However, WTFast is too expensive and many people don't know which game booster is cost-effective and most effective, and what is the best alternative to WTFast. Today, I will introduce you to the 5 best WTFast alternatives for 2023. If this interests you, read on.
Part 6: What Is Game Booster? Why do we need it?
LagoFast
LagoFast is the best alternative to WTFast, which is also the best ping enhancer and free lag reducing software. LagoFast can fix connection problems such as lag, packet loss, high ping, and others. With a focus on reducing packet loss, easing the network, lowering high ping, etc., it has more than 8 years of expertise in boosting in-game performance. LagoFast has developed a unique game data delivery protocol and includes a sophisticated routing system. To increase every area of your PC's performance, all you have to do is click the "boost" button. Along with all of these advantages, LagoFast is also reasonably priced. It is currently the only game booster that makes "plan per minute" possible. For further information on how to improve game performance, go back and look at the earlier steps.
LagoFast has the following characteristics:
The only game booster that utilizes plans per minute
Easy to use and guards against any game flaws
Capable of properly resolving packet loss
Over 8 years of experience in optimization
Specialized protocol for game data transmission
A clever routing strategy
Support more than a thousand well-known computer games, including Warzone 2, Halo Infinite, Fortnite, Apex Legends, and League of Legends.
Here is the guide.
Step1: Click "free trail" bottom to download LagoFast
Step 2: Type the game you play in the search box, and then choose it from the list of results. Take CSGO as an example.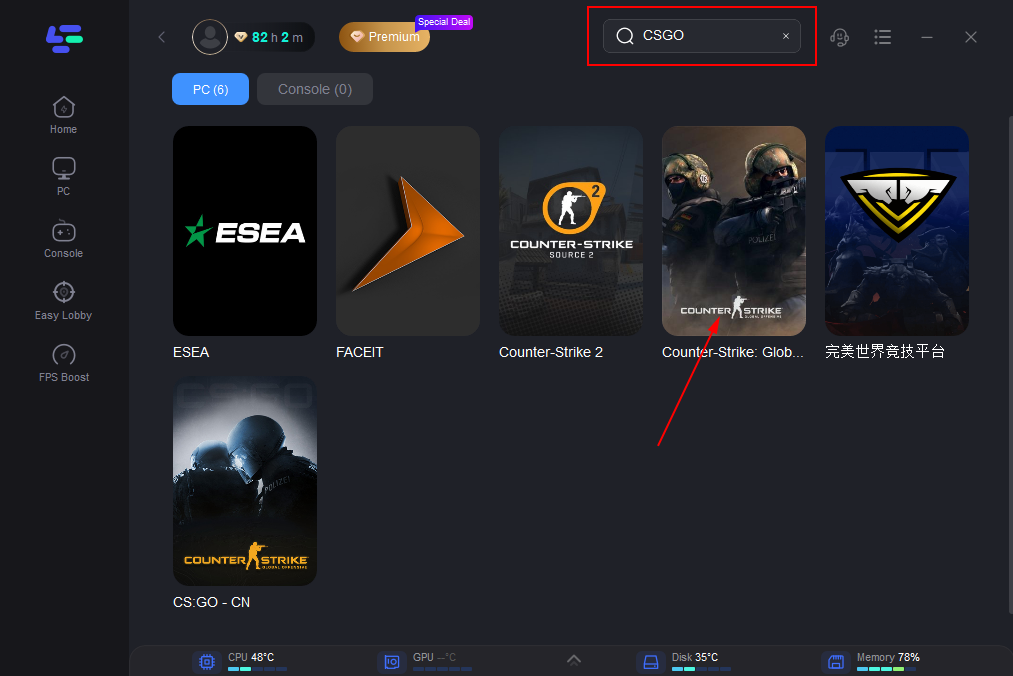 Step 3: Choose a server that matches CS:GO.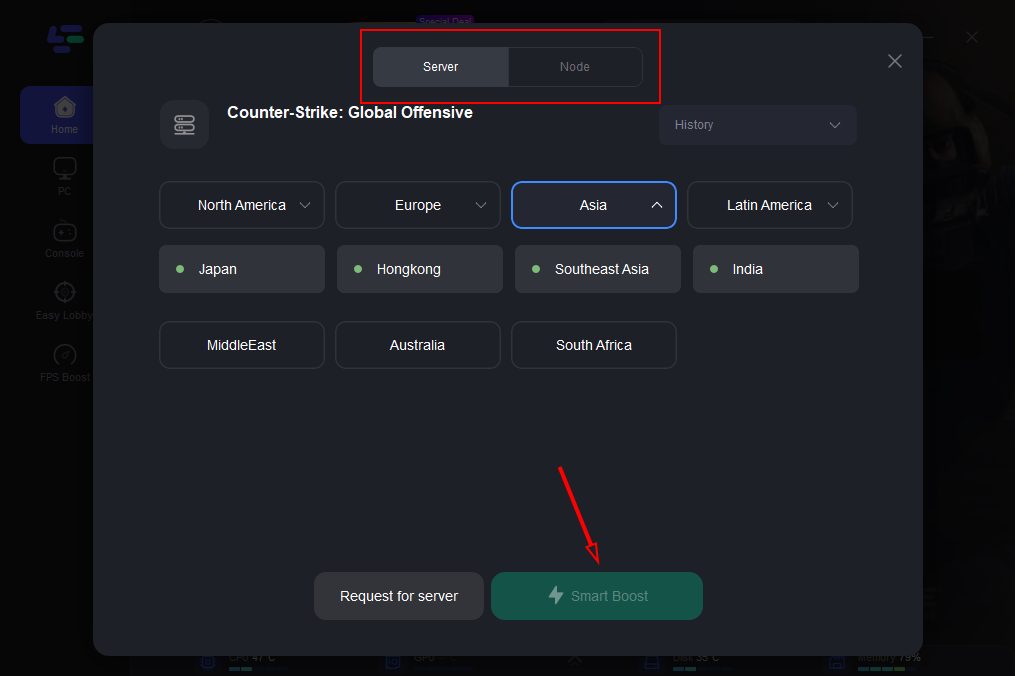 Step 4: To begin boosting, click the Boost button.
Your current packet loss rate and ping rate are displayed on the following page. If the rates are too high, it will also begin to fix.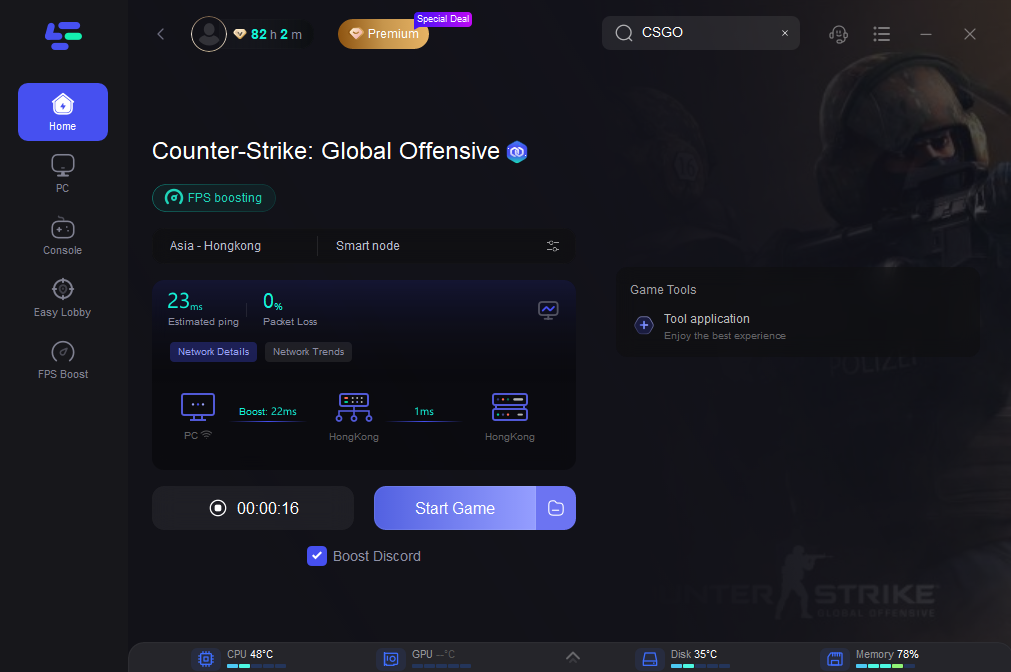 Battleping
Battleping is a great alternative to WTFast but not as good as LagoFast.
By routing your connection through one of their servers, which are spread out throughout the world in high-ping regions, it is claimed that it will reduce your ping by up to 70%. This shortens the amount of time that data must travel between you and the servers.
They have a monthly price, just as other services of a similar nature, however, Battleping is less expensive. Student discounts are also provided. They currently provide a 50% discount on the monthly charge.
Another way they vary from WTFast is that you don't need to download any software because they cleverly make use of your regular browser in place of specialized gaming software.
ExitLag
WTFast's free substitute, ExitLag, operates on all of the same games.
They have servers in all of the main nations, so most people should be able to use this service without any issues. The only difference between this and their paid service is that you cannot select your own server or ping.
ExitLag has been around longer than WTFast, but it hasn't had many updates since 2015, therefore it occasionally has bugs.
ExitLag's main advantage is that you don't need to enter anything in the advanced settings; it will recognize your game automatically, so you won't need to fiddle around with scripts or proxies before you can play. The unattractiveness of ExitLag's website and the absence of manual server selection are its greatest drawbacks.
Despite this, ExitLag provides a number of tools that increase the speed of your game online by decreasing the time it takes for data to be sent and received. It is compatible with all popular video games, so no matter what you play, there won't be any issues. Additionally, you may add particular games to ExitLag so that when they start up, the service will immediately recognize them and begin optimizing your network.
However, in general, ExitLag is one of the best solutions now accessible for improving sluggish online games. It's important to keep in mind that both WTFast and ExitLag require a client on your machine, which means you'll have to put up with those obnoxious pop-ups each time Windows launches.
Latency Optimizer
Latency Optimizer is also a good choice. You can use Latency Optimizer to examine your connection and choose the ideal WTFast server for you. To display pings in games, the application contains a real-time game ping overlay (if supported by the game). The servers that are accessible at each location are listed together with their load and ping times in Latency Optimizer. In a similar manner to WTFast, you can choose the area with the ideal server for you. Available on Windows, Mac OS X, and Linux is Latency Optimizer (32-bit & 64-bit)
However, the Latency Optimizer free service only offers a small selection of regions and servers. To use all servers, you might need to upgrade your account.
Kill Ping
Kill Ping is a similar app to WTFast, which works by sending your connection through their server. You don't need to set up your computer or console in any special ways, and it is really easy to do. If it makes sense for the game you are currently playing, you can also choose from a variety of locations throughout the globe. Similar to WTFast, but less expensive. By lowering your ping with Kill Ping, you can improve your chances of winning in PvP.
The application is free to use, but it also offers a premium version if you want to make use of some more features. Since WTFast is an expensive service, it's wonderful to have alternatives like Kill Ping for those of us who want to benefit from lower ping but don't exactly have the money.
What Is Game Booster? Why do we need it?
A game booster or optimizer, as the name suggests, is a type of software tool created especially to increase your Windows PC's gaming performance. While playing top-notch games, the software enables you to maximize your FPS and stop background processes and other unused Windows services. Additionally, the best PC game optimizer aids players in freeing up RAM and CPU power, improving frames per second, and providing lag-free gameplay. While most game-boosting tools on the market only offer a limited number of functions, a select few paid tools enable exceptional features like FPS counter, Gamecaster, Live performance status, etc.
It frees up RAM needed for PC gaming as well as occupied system resources. Additionally, it kills any background processes and other unneeded software that your PC doesn't need when you play video games. While you're playing online games, it lowers CPU stress and aids in reducing latency, or ping. Furthermore, it auto-boosts FPS and optimizes your PC for a quicker and more fluid gaming experience.