While we are playing online games, we may face disruptions like lag and packet loss. At such times, we need a game VPN to lower ping, eliminate lag and packet loss, or in a word, boost our Internet performance.
Albion Online is a free massively multiplayer online role-playing game with a main theme of medieval fantasy. It is developed by Sandbox Interactive and has over 5 million registered users.
Albion Online is available for Windows, Mac, Linux, iOS, and Android. It is praised for its interesting gameplay and both PVE and PVP experience. In a word, Albion Online is a great game with a big player base.
Part 1: Is it necessary to get a game VPN while playing Albion Online?
Is it necessary to get a game VPN while playing Albion Online?
The answer is yes. A great game like Albion Online desires to be treated as a unique entity and be served with an even better VPN, LagoFast.
You may not know that Albion Online currently has a single server across the entire world. Players from every region come together in a single game instance on PC and mobile to play the exact same game simultaneously. The only server can be overloaded from time to time. At that time, the server will be unable to respond to your requests and you may experience server down while playing Albion Online.
Even though the server is not overloaded, you should know that the server of Albion Online is located in Washington DC, USA, which means that people who live in the USA can have a relatively lower ping. However, if you are an Asian player, things might not go very well for you. That's why you need an Albion Online VPN to improve your gaming experience.
Don't worry. In this article, we will provide you with an efficient and revolutionary VPN!
What is LagoFast?
LagoFast is a game VPN, also called a game booster. From many perspectives, it may be the best Albion Online VPN in 2023. Because it has exclusive routes all over the world, you can have a truly immersive gaming experience in almost every country.
How to use LagoFast?
LagoFast is easy to use for everyone. The interface of it is simple and clear. Within 4 steps, you will be able to accelerate your game and enjoy it in a smooth and stable Internet environment.
Step 1: Download LagoFast.
Step 2: Search for the game.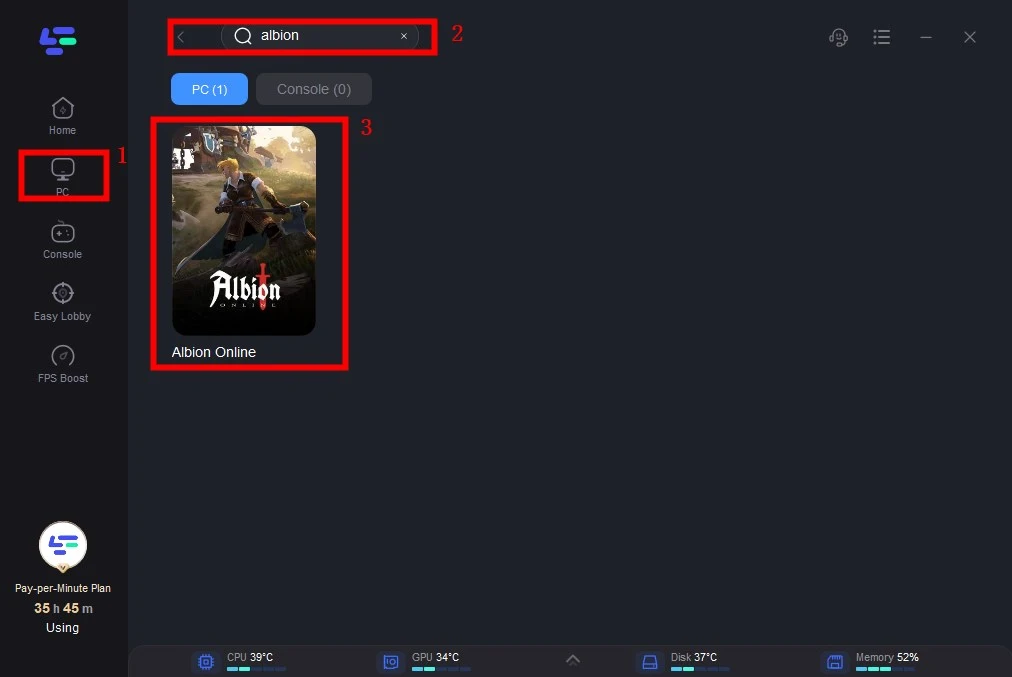 Step 3: Choose the server and node.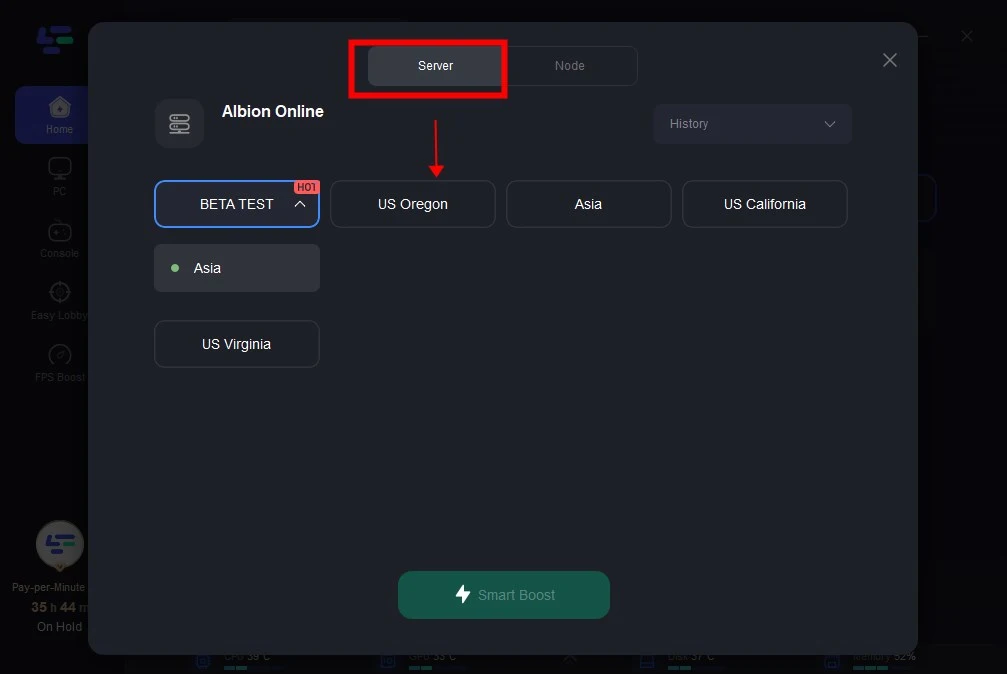 Step 4: Enjoy your game with the help of the best Albion Online VPN!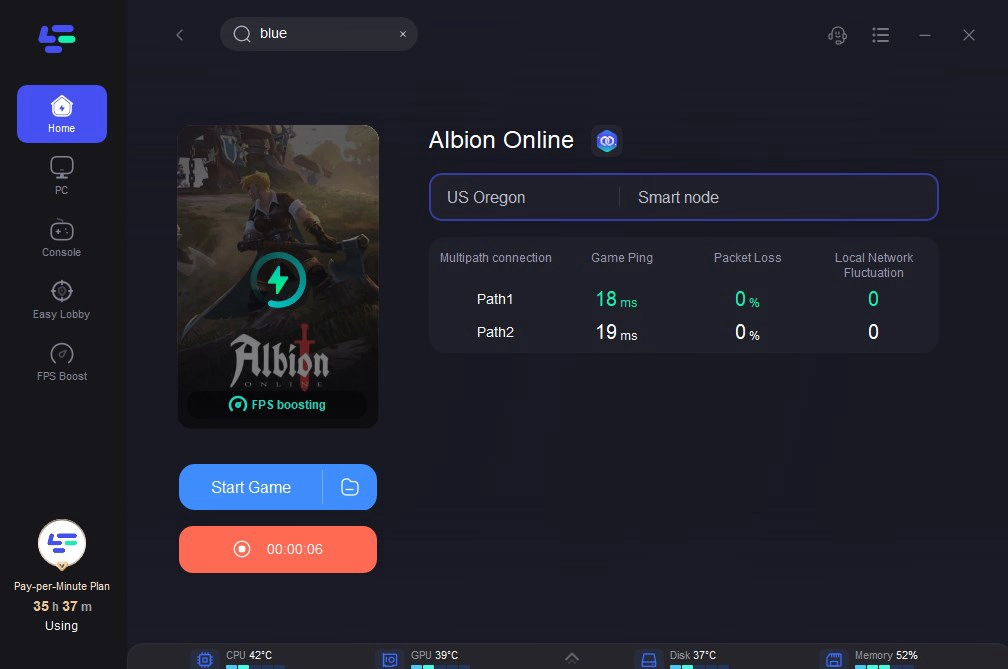 More amazing features about LagoFast!
It is also an economical choice to subscribe LagoFast. Compared with other VPNs, LagoFast has a pay-per-minute plan, which means that you can pause whenever you want without being charged for minutes that you don't actually use it. It is definitely a smart choice to select LagoFast as your Albion Online VPN.
What's even more amazing about LagoFast is that it supports more than 1000 games, including CSGO, LOL, PUBG, Valorant, Fortnite, Rainbow Six Siege, and so on. It can be said that you can accelerate almost every game you like in LagoFast. An excellent experience requires excellent service. Thus, LagoFast customizes each plan according to each game's unique features.
And you may worry about your Internet security while using Albion Online VPN. But we can assure you that it is totally safe to accelerate Albion Online with LagoFast because LagoFast has been implementing data transfer protocol for 8 years. It has powerful compatibility which would provide your computer with all-around protection. You can rest assured to use LagoFast!
To sum up, LagoFast is the best Albion Online VPN in 2023. It can do a lot of things to improve your gaming experience, such as reduce lag, eliminate packet loss, boost FPS and lower ping.
Besides, it has exclusive routes from all over the world which enable all players to enjoy a truly immersive and smooth gaming experience. It is also quite easy to use. LagoFast has a simple and clear interface for every player to boost their games in just a few clicks. Last but not least, LagoFast is always a more economical choice for those who need to accelerate their games. Plan per minute, stop whenever!
Conclusion
After my introduction, I believe that you know more about the best Albion Online VPN, LagoFast. Let's talk less and act more. Download LagoFast, and give it an opportunity to let go of any irritating issues while playing Albion Online!