Imagine you are one of the gamers living far away from the game server, experiencing busy network status, or hoping to play the games in different modes, then you need a game booster to make a difference. What is the best game booster for PC games and how can we choose the most suitable one? Here you can compare 7 popular game boosters and figure out your preferred one.
What Is Game Booster &
Why We Need a Game Booster
A game booster or game accelerator is a type of software application created especially to improve gaming performance. While playing top-notch games, the software enables you to change game server, boost FPS, stop background processes and other unused Windows services.
Game Booster was made to improve any game you're playing, regardless of the genre. Game Booster keeps track of your usage and how the game performs on your device, using information about the temperature and memory to automatically modify your settings for the best performance.
While most game-boosting tools on the market only support a limited service, a select few paid tools have more exceptional features like ping tester, FPS counter, Gamecaster, Live performance status, etc. We'll talk about the best game booster later.
Game booster is important for any kind of game on PC because each kind of game has its own issues. For instance, battle royale games like PUBG always have lag issues and make it difficult for you to be the last one standing. Shooter games like Call of Duty have abrupt FPS drops for no reason which leads to stuttering and glitching. Other popular games like League of Legends and Roblox also have their own issues, such as League of Legends' high ping and Roblox crashing issues.
7 Best Game Boosters on PC 2023
1. LagoFast - Best Game Booster & Full Functions for Gaming
Above all, LagoFast is the most effective and the best game booster. It has more than 8 years of experience in gaming optimization and fixing all kinds of game issues. It specializes in reducing high ping and boosting in-game FPS. Besides, LagoFast will run a ping test and check in-game FPS. It allocates you the best server and routes through its globally distributed servers and nodes. But the most attractive feature of LagoFast is the cost. It's cost-efficient and it supports a Pay-per-minute plan, which is the one and only feature among all the top-rank game boosters.
Follow the steps and try LagoFast in gaming:
Step 1: Download LagoFast.
Step 2: Type the game you want to optimize in the Search box and click on it in the search result. (Take Roblox as an example)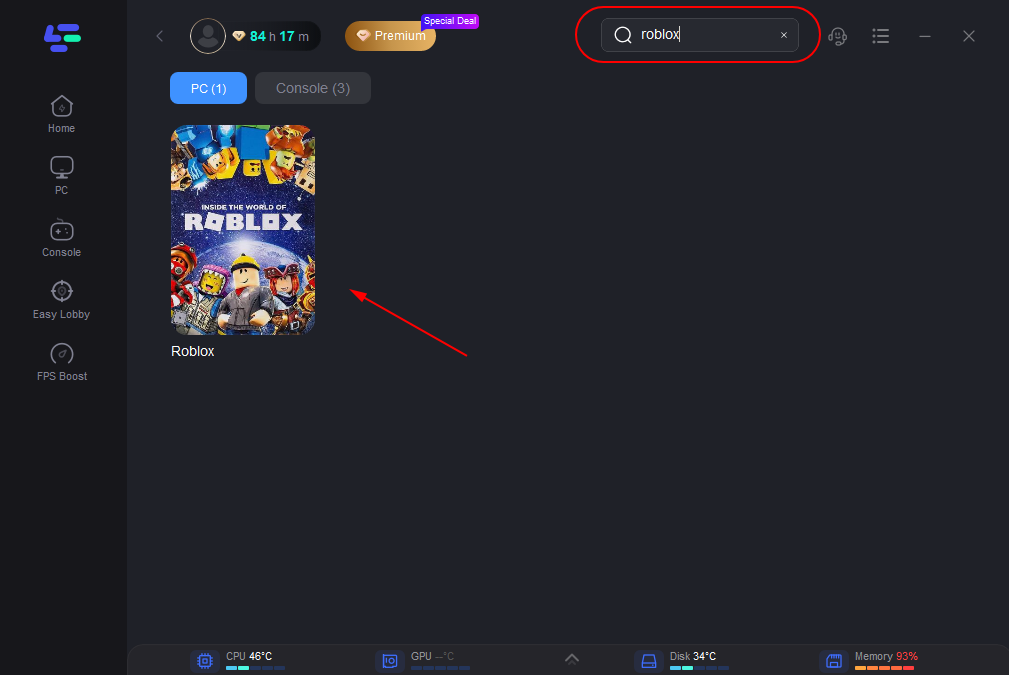 Step 3: Click the Boost button.
You can manually choose the server you prefer or choose smart boost to automatically allocate you the best one.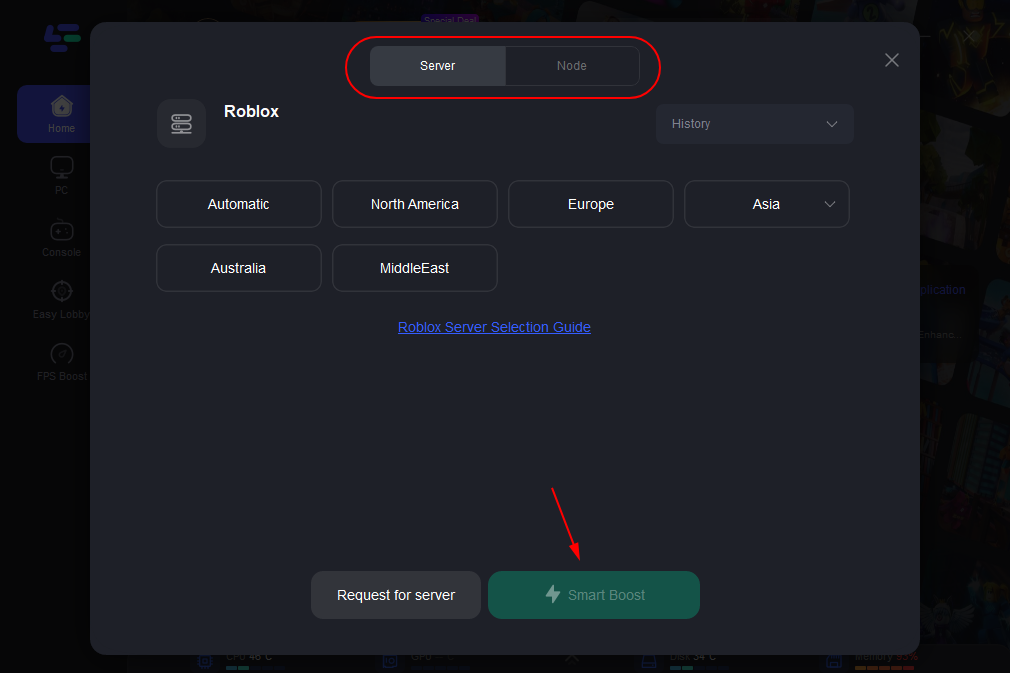 On this page, you can see your real-time ping and packet loss rate.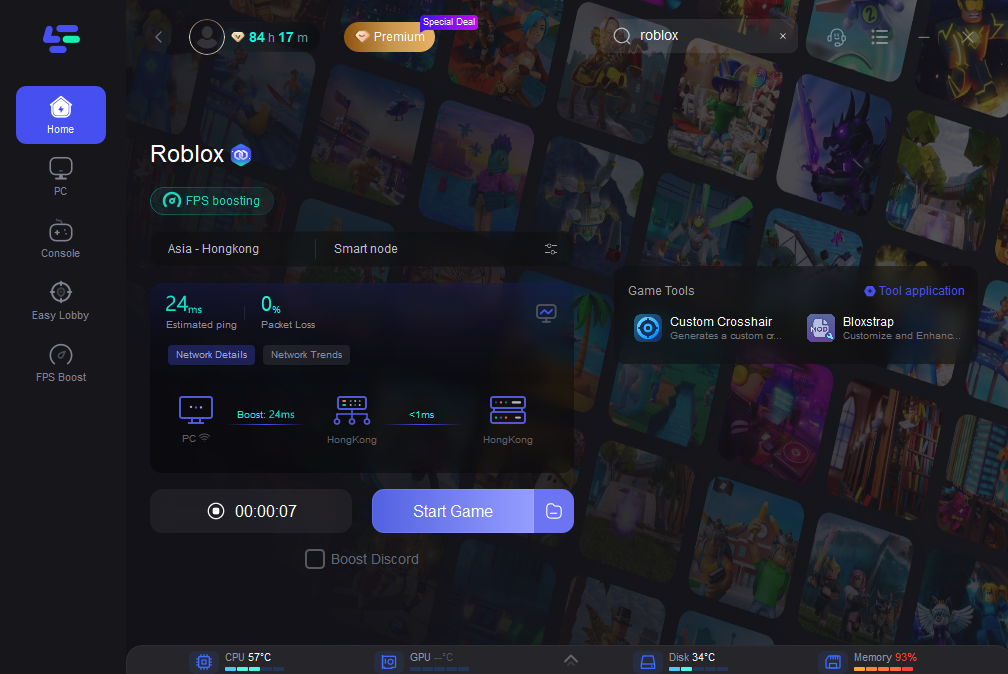 LagoFast is also an FPS booster so it supports FPS boost service. To do so:
Step 1: Click on "FPS Boost" on the left side.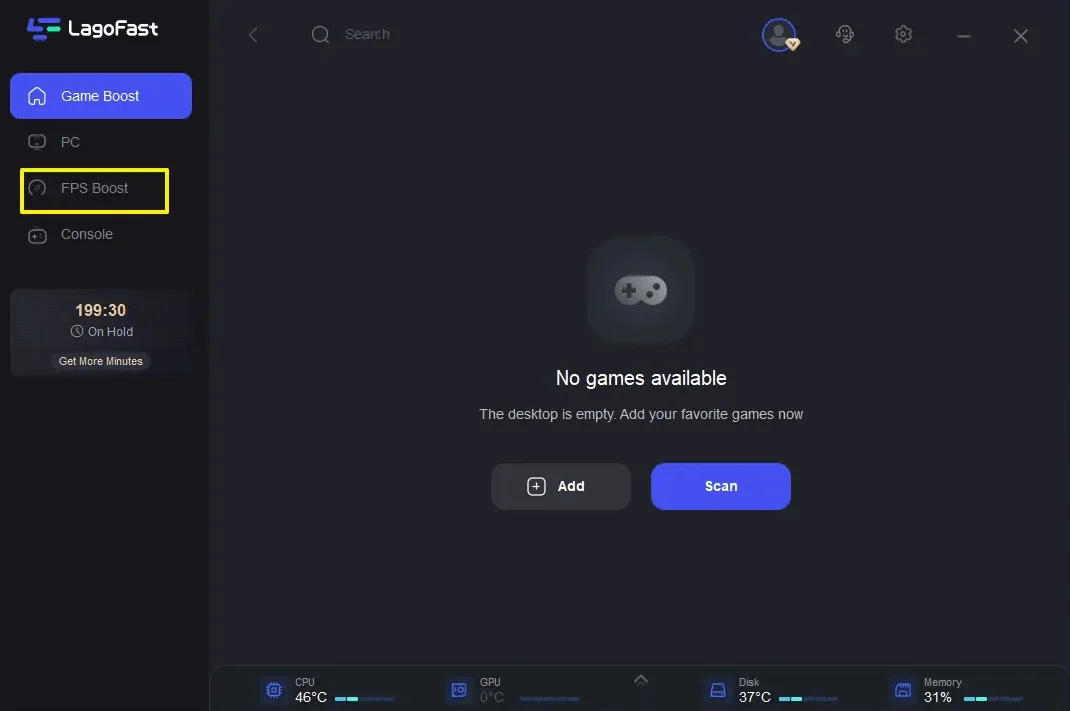 Step 2: Click "CPU Optimization" on the FPS Boost page and choose the settings that you want to open.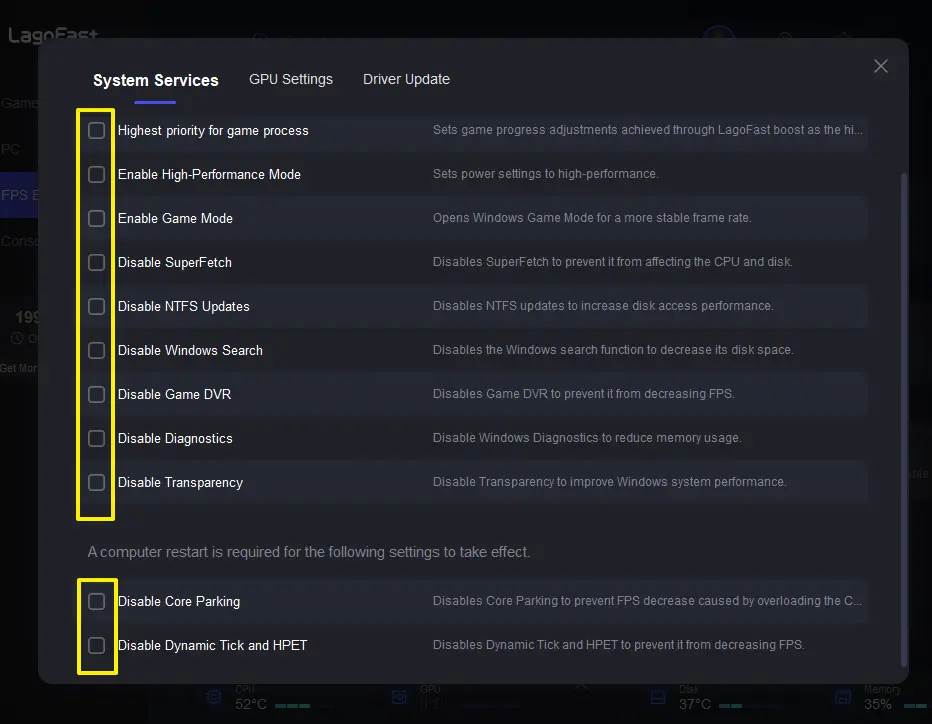 Step 3: Click "GPU Settings" on the FPS Boost page.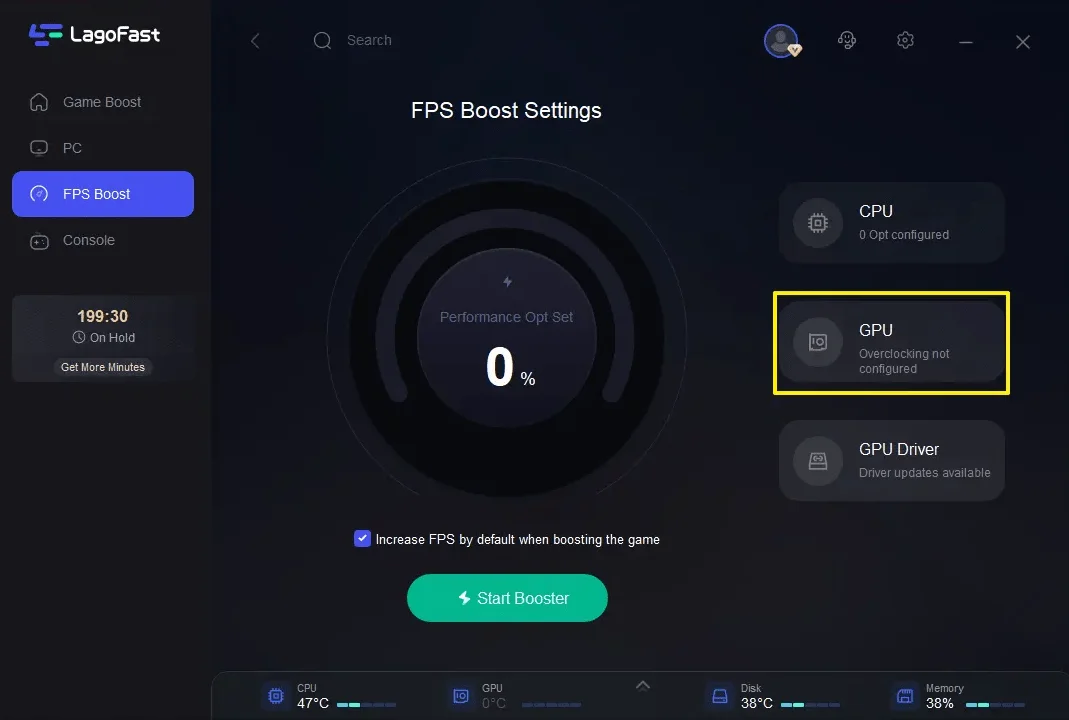 Step 4: Slide to choose your overclocking level in the first bar and tick "Enable GPU Boost" in the second bar.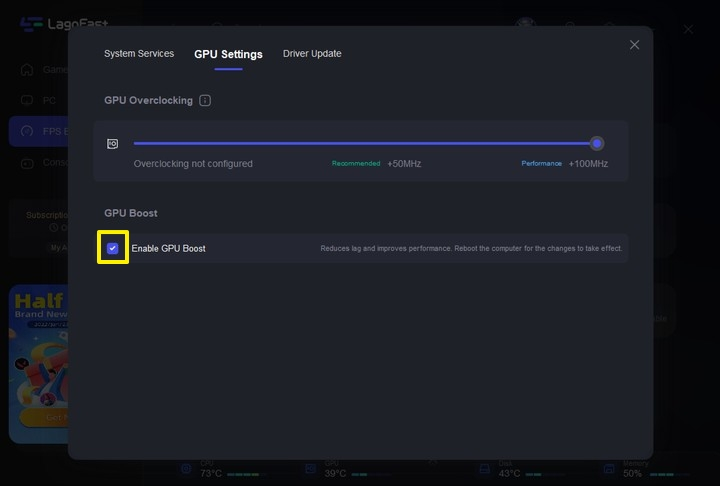 Step 5: Click "GPU Driver" on the FPS Boost page to check your GUP Driver updating version.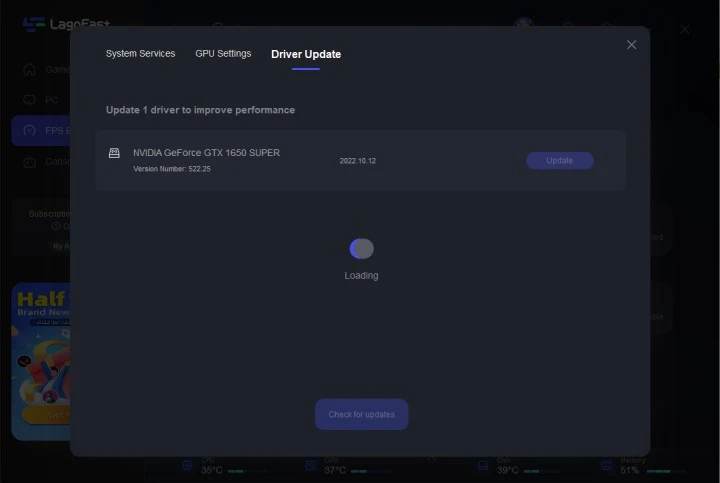 LagoFast is an all-in-one game booster that ensures you top gaming performance. No matter if you want to experience different gaming modes or fix lag issues, LagoFast can be the first choice. Additionally, LagoFast helps gamers with low-end PC to get higher FPS so that they can get better shooting in some gun-like games.
2. WTFast
WTFast has put forward a GPN(Gamers Private Network) concept for gamers to get a gaming network. It optimizes game connection data without hiding the IP address or network configuration. Here you can check the features of WTFast:
The best traffic route for your game is chosen using machine learning.

Players can also change the settings to suit their preferences.

The tool improves the game's speed by lowering latency and ping.

provides in-the-moment analysis of the data transfer between your PC and the game servers.
Cons:
The price is relatively high.
3. Razer Cortex
Unquestionably one of the best and most popular free game boosters for Windows 10, 8, and 7 is Razer Cortex. This widely used game optimizer app maximizes the performance of your Windows PC by controlling and terminating unnecessary background services and programs that are not required for gaming.
The features are as follows:
Apply for Xbox gamers

More like a PC optimizer
Cons:
No choice for players to change the game server

Not for improving PC gaming performance
4. Game Fire
Game Fire 6 is like Razer Cortex and aims at cleaning the PC, it's more like a PC optimizer rather than a game booster. Check the features of Game Fire in the following:
You can play without experiencing lag thanks to the improved system and game FPS.

Numerous potent optimization tools, including a disk defragmenter, an application optimizer, a system settings tweaker, etc. are available.

It functions as an automated tool for improving game performance, giving you the ability to real-time RAM optimization.
Cons:
No game server is available
No support to monitor game temperatures
5. Wise Game Booster
Besides the above game booster on PC, Wise Game Booster is another choice to improve the gaming experience. It will end any unneeded system applications or programs and redirect the test of your PC resources to focus on your gameplay. The key features of Wise Game Booster:
Temporarily disables unnecessary Windows services and other programs.

It enables quicker game information checks and game management.

Via boosting and adjusting other important system settings, it enables you to switch your PC into game mode.

Best game booster for PC.
Cons:
Not updated for a long time
No game server provided
6. Smart Game Booster
Smart Game Booster is more likely an FPS booster for PC gamers. It helps to update the graphics driver and overclock your graphics card to boost FPS in gaming. Smart Game Booster also supports monitoring your CPU temperatures when you are gaming.
Pros:
Effectively boost FPS
PC optimization when gaming
Cons:
No game server is available
Doesn't work for reducing lag & ping
7. Advanced System Optimizer
Advanced System Optimizer is a PC cleaning tool that helps to fresh RAM when you are playing online games. It can also update drivers on your Windows PC for better graphics.
Pros:
Clean and optimize Windows PC
Update drivers
Cons:
No game server is available
Doesn't work for reducing lag & ping
No FPS boost
Overall Comparison of the 7 Best Game Boosters
| | | | | | | |
| --- | --- | --- | --- | --- | --- | --- |
| | Change servers | Boost FPS | Bot Lobby | Update Drivers | Pay-per-minute | Boost Console Games |
| LagoFast | √ | √ | √ | √ | √ | √ |
| WTFast | √ | √ | × | × | × | × |
| Razer Cortex | × | √ | × | √ | × | × |
| Game Fire | × | × | × | × | × | × |
| Wise Game Booster | × | × | × | × | × | × |
| Smart Game Booster | × | √ | × | √ | × | × |
| Advanced System Optimizer | × | × | × | √ | × | × |
Conclusion
All in all, whether a game booster is necessary or not depends on how you want to improve your gaming performance. If you'd like to do something with the game servers and increase FPS, LagoFast and WTFast are the proper candidates. If you just want to clean up your RAM or fresh your PC system, the rest 3 game boosters are chosen. Figure out your deep requirements and choose the best game booster for Windows PC, thus you can enjoy a lag-free gaming experience.