Modern Warfare 2 is getting closer, including a global narrative, multiplayer, Warzone 2, and the DMZ mode. The Call of Duty: Modern Warfare II Multiplayer differs significantly from the preceding Call of Duty: Modern Warfare Multiplayer. The Gunsmith has been completely revamped, which is one of the major modifications. Weapons are now organized into "Platforms," giving the user total control over the armament they bring into battles. In comparison to previous games, the Perks system has evolved. There is now a mechanism called Perk Packages. This is made up of four Perks: two base and two additional known as "Bonus" and "Ultimate." The game also includes realistic vehicle combat. The user may now demolish car components such as bumpers, doors, and blow-out tires. On the Ground War maps, many vehicles are available for use. Swimming and Aquatic Combat are also included in Call of Duty: Modern Warfare II. In contrast to Call of Duty: Modern Warfare, the player will now be able to swim. Water vehicles are available on the Ground War maps, allowing for more mobility. Meanwhile, pre-orders are now available, providing gamers with a slew of special advantages such as Warzone skins and early access. In this article, we'll tell you all we know about Modern Warfare 2 pre-order bonus.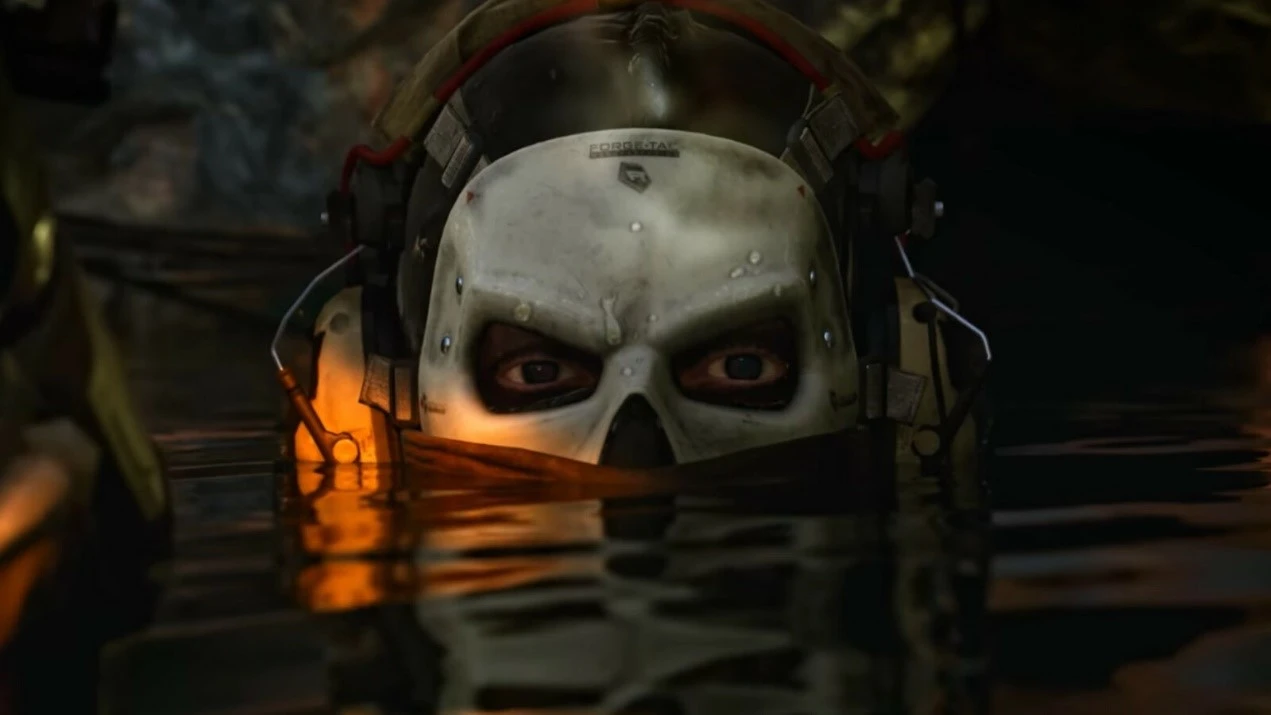 Part 1: Modern Warfare 2 Pre-Order Bonus
Part 2: Modern Warfare Gameplay
Part 3: Modern Warfare 2 Assistant
Modern Warfare 2 Pre-Order Bonus
MW2 is now available for pre-order in two versions, consumers must choose the standard game or they can choose to pre-order the Vault version.
Standard Modern Warfare 2 pre-order bonus
Full access to the story campaign will be available from October 20, and then a week before the October 28 release
Final Judgment bundle, including Deathstroke operator skin and Bloodthirsty weapon blueprints
Modern Warfare 2 Vault Edition Pre-Order Bonus
Includes all bonuses from the Standard Edition
Four playable multiplayer operators from Red Team 141, including Ghost, Farah, Price, and Soap
Season 1 Battle Pass and 50 Level Jump. Players who purchase the Vault Edition Playoffs Season 1 will receive bonuses that apply to the current season
Ghost Legacy Pack, which includes 20 in-game items featuring the iconic Task Force 141 heroes for use in Modern Warfare or Warzone 2019
FJX Cinder Weapon Vault
Call of Duty: Modern Warfare 2 will be released on October 28th on Xbox, Playstation, Steam, and Battle.net. Those who like Warzone or want to get in on the action early to prevent spoilers may be tempted by these pre-order bonuses.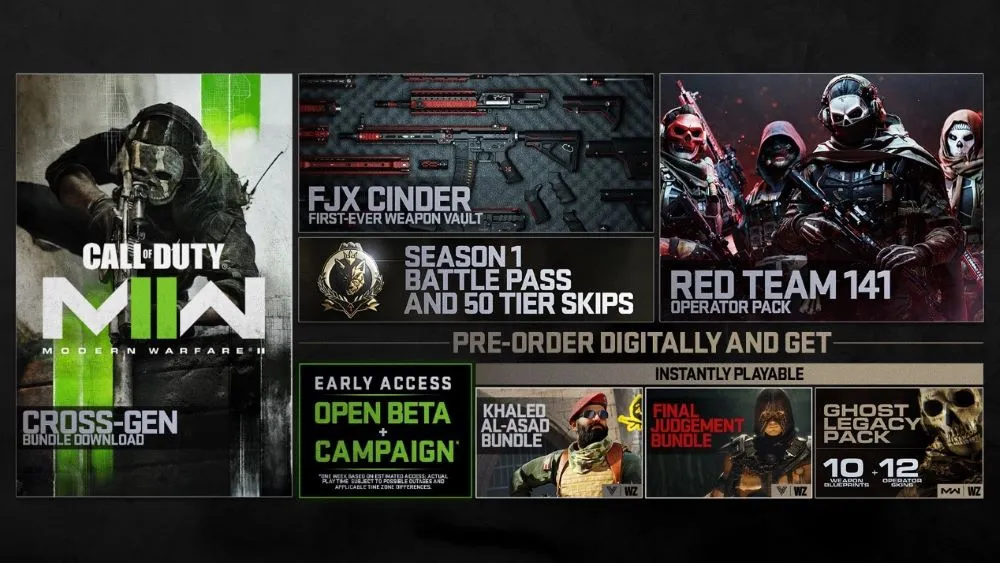 Modern Warfare Gameplay
The trailer has been published to whet gamers' appetites; next, we will quickly introduce you to Modern Warfare 2 gameplay.
MW2 Single-Player Campaign
Picking up where 2019's Modern Warfare left off, with the establishment of Task Force 141, Modern Warfare 2 stars the members of that famous task force: Captain John Price, Kyle "Gaz" Garrick, Simon "Ghost" Riley, Sergeant John "Soap" MacTavish, and an all-new squadmate in Colonel Alejandro Vargas. As Task Force 141 "works to eliminate a terrorist conspiracy and attack on the United States," the campaign will span continents, with operations set in the Americas, Europe, and Asia. Offshore sieges with underwater fighting, all-out explosive assaults from 30,000 feet above enemy strongholds, and high-stakes, low-profile stealth operations in both plain sight and under the cover of the night are all part of the campaign.
Call of Duty: Modern Warfare 2's multiplayer returns classic 6v6 modes as well as large-scale Ground War battles. Long-time Call of Duty gamers will recognize MW2, but Infinity Ward has revealed some significant modifications this time around. Third-person playlists are one of the most significant innovations to MW2. These playlists forsake CoD's traditional first-person perspective in favor of an over-the-shoulder vision similar to that utilized in Fortnite. One significant difference between MW2's third-person mode and Fortnite's is that while aiming down sights, the perspective flips to first-person. According to Infinity War, this allows for "more precise fire." For the time being, the first- and third-person playlists will be kept distinct.
There are two types of multiplayer maps in Modern Warfare 2: Core (6v6) and Battle (large-scale matches). Infinity War has announced five Core maps as of October 7: Breenbergh Hotel, Farm 18, Marina Bay Grand Prix, Mercado Las Almas, and Valderas Museum. According to Infinity Ward, these maps were created to be simple and polished.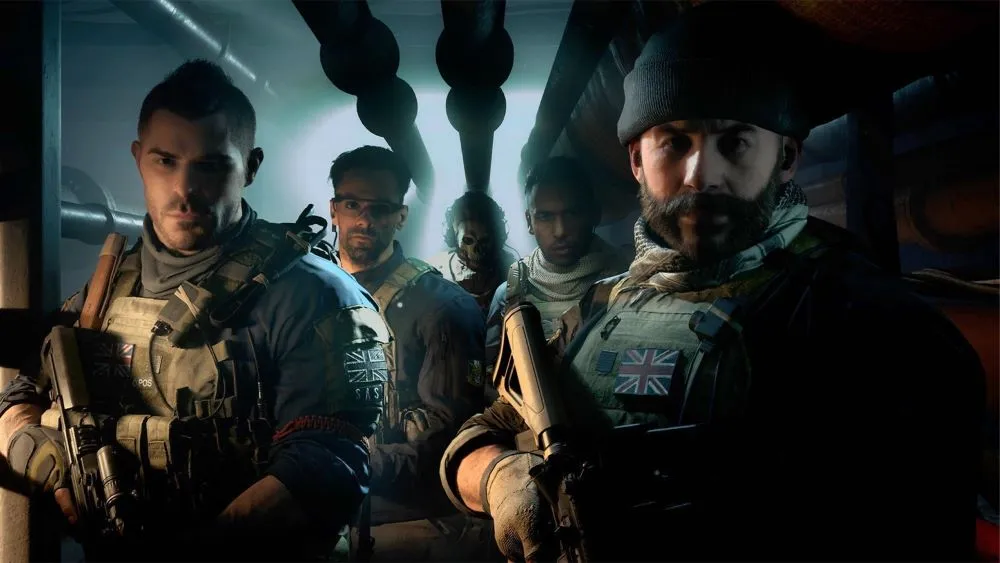 Modern Warfare 2 Assistant
Many users have complained about numerous gaming issues after attempting the Modern Warfare 2 beta, such as latency, poor FPS, and stuttering. To avoid these issues during official gameplay, we shall offer several useful game boosters to help you enjoy an immersive gaming experience.
LagoFast: more than a game booster
After weighing all aspects, our most recommended game booster is LagoFast! It is a game booster created by a team with more than 8 years of professional experience, and it also has the following advantages: First of all, LagoFast can provide real-time diagnostics for your network and match you with the node with the lowest ping value. Its powerful network compatibility can adapt to various complex network environments. Second, LagoFast has an industry-leading data transfer protocol, which can help you solve most gaming problems. After that, you can improve your gaming environment around the world with LagoFast, which has exclusive routes for you in more than 60 countries worldwide.
Let's see the features of LagoFast:
Easy lobby!
Over 8 years in game issues fixing
Exclusive routes all over the world
Reduce ping while boosting FPS
Have better gameplay with only 4 steps:
Step 1: Download LagoFast.
Step 2: Type " CoD: Modern Warfare 2 " in the Search box and choose MW2 among the results.
Step 3: Choose the server you needed.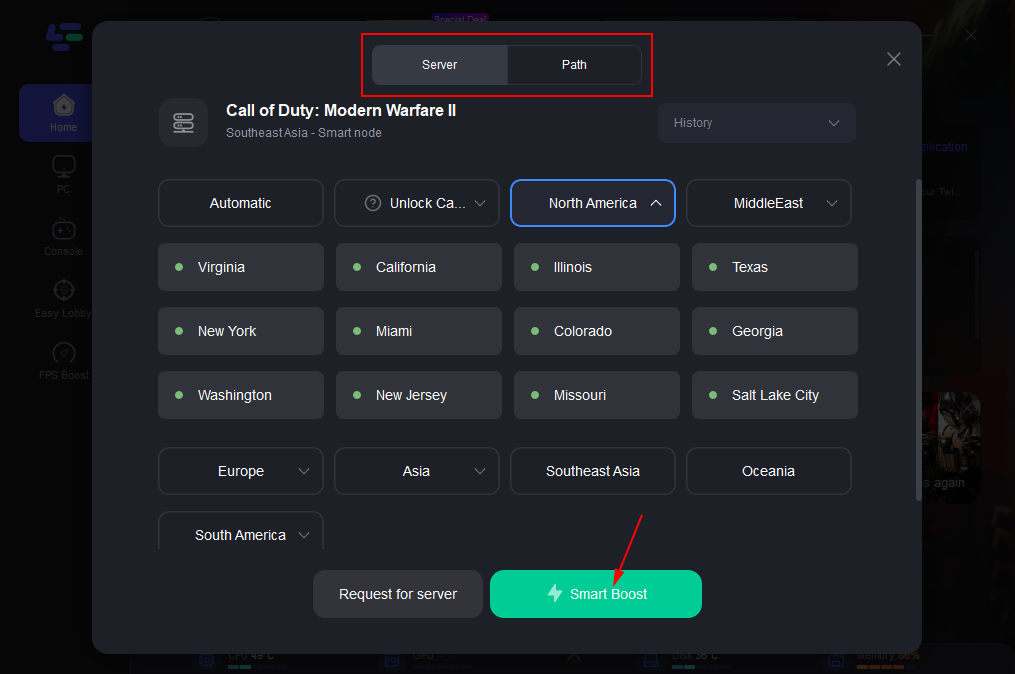 Step 4: Click the Boost button to boost MW2 FPS.
You the can see real-time ping rate and packet loss rate on this page.
Furthermore, you may change the FPS buttons in order to find a boost condition that best suits you. To do like this:
Step 1: Select the FPS Boost tab in the left column.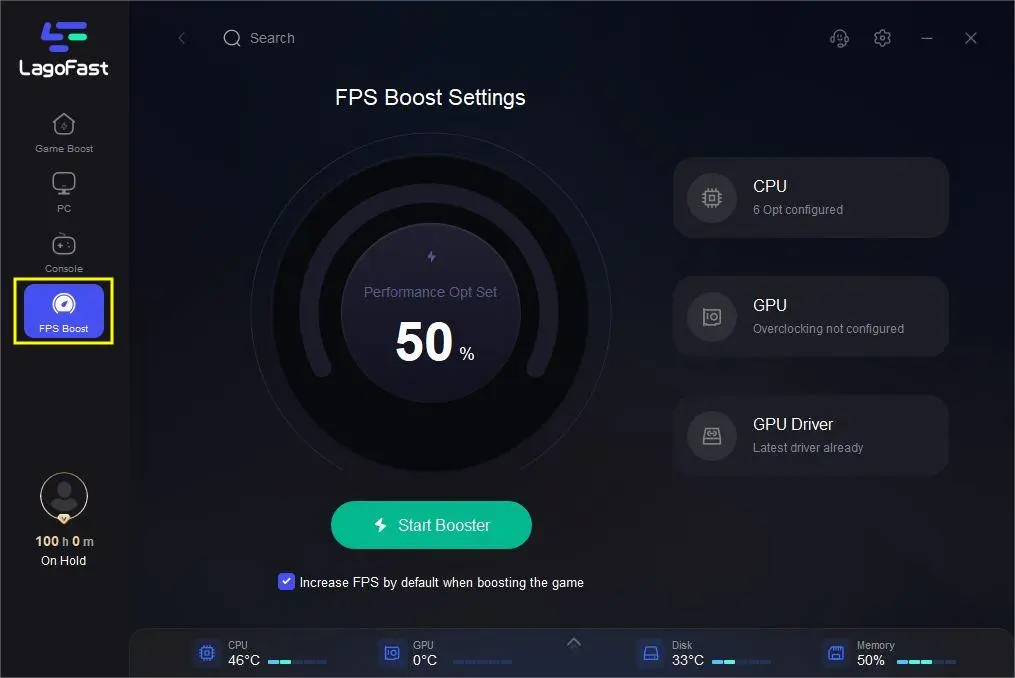 Step 2: Click on/off the settings according to you, then boost the MW2.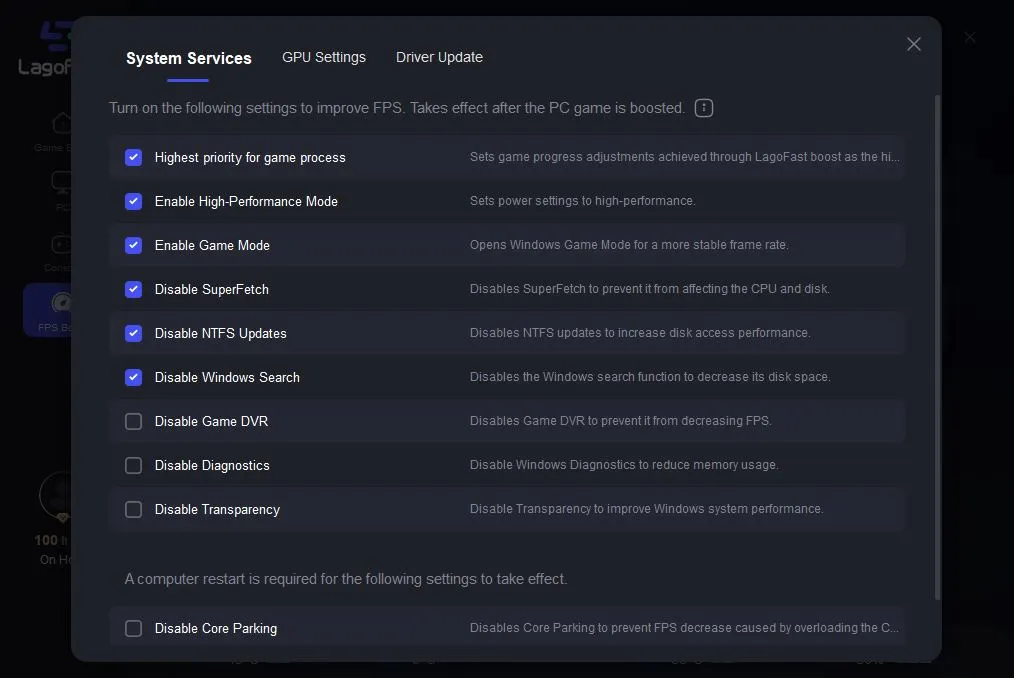 Next, let me introduce you to how to get an easy lobby, this also suits Warzone:
Step 1: Download LagoFast and register, remember to get a free trial time.
Step 2: Type " easy lobby " in the Search box.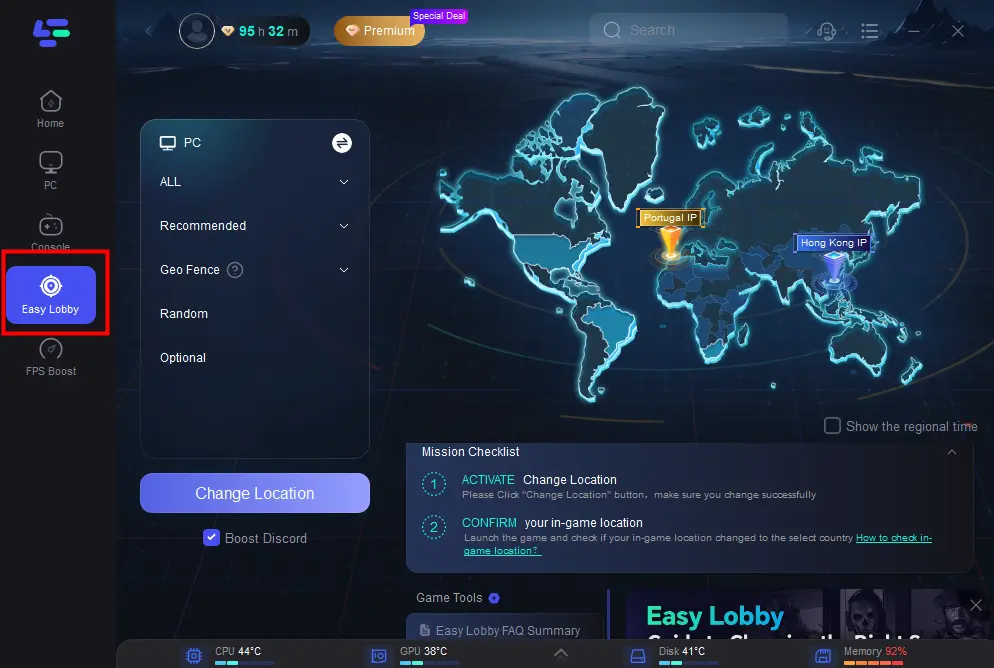 Then, you can change the server you needed.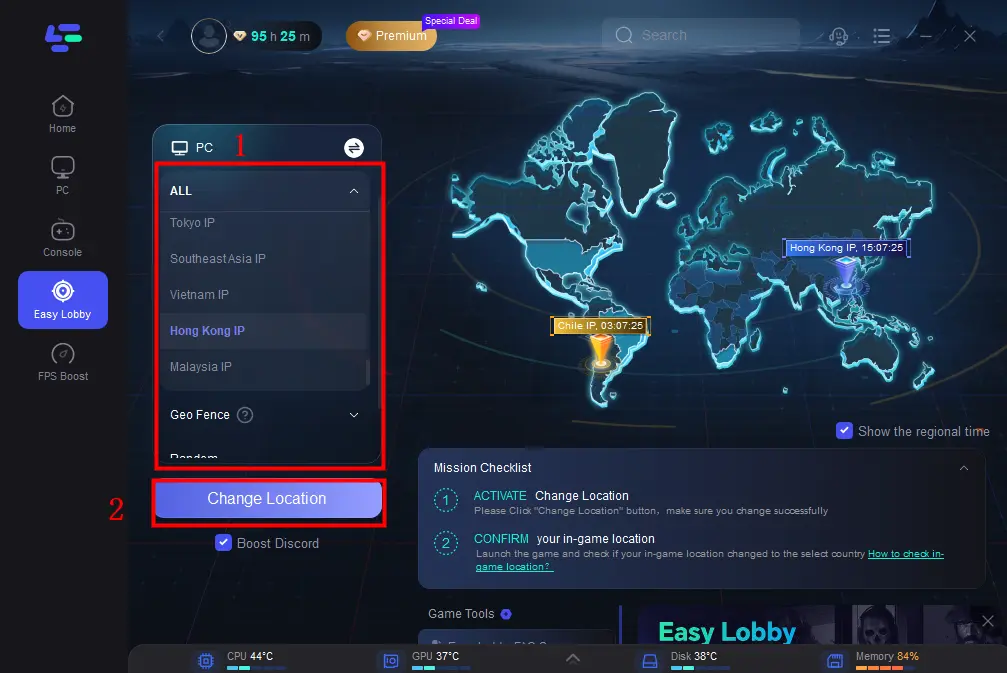 Step 3: Click on the Boost button.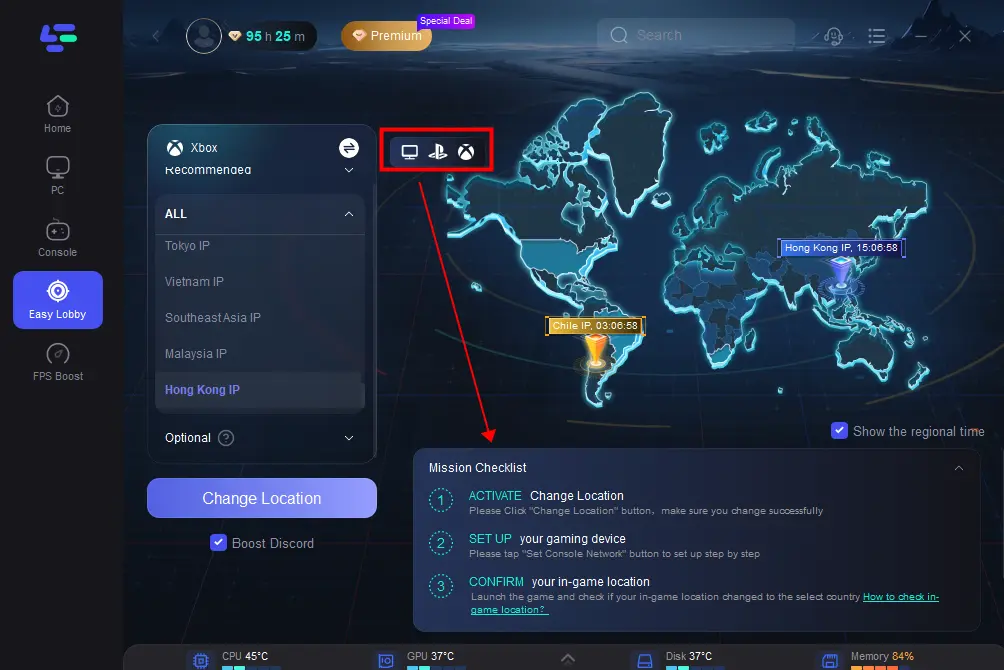 Razer Cortex: This Razer Cortex function regulates and shuts down superfluous programs and apps, freeing up precious resources and RAM for a more pleasurable experience, and it greatly improves boot performance. However, Razer Cortex disables background apps, which may cause your computer to function slower, scans results that are incomplete, and has restricted capabilities.
Wtfast: GPN (Gamers Private Network) is its network solution, which is fundamentally distinct from others. Furthermore, Wtfast can provide a seamless gaming experience by reducing delays and pings. The booster costs $9.99 per month, $24.99 per month, and $99.9 per year, which may be prohibitively pricey for certain players. Furthermore, several users claim that it lacks data encryption and IP protection.