All you need are here! Try using LagoFast to fix Raft lag and stuttering, and boost FPS.
What Can LagoFast Help To Fix Raft Lag?
Do you want to experience life near the sea? Do you want to take an adventure in the mysterious sea? Let's gather debris to survive, expand your raft and set sail towards forgotten and dangerous islands with your friends in Raft! At the beginning of this game, you are trapped on a small raft with nothing but a hook made of old plastic, players awake on a vast, blue ocean alone and with no land in sight… Your object is to stay alive, gather resources and build yourself a floating home worthy of survival. This game is a multiplayer game, and you can obtain something by your hook, build weapons to help you alive, expand your raft, navigate to find new civilisation, and farm and cook to keep your stomach happy… Although in this epic oceanic world, you can also have an enjoyable life.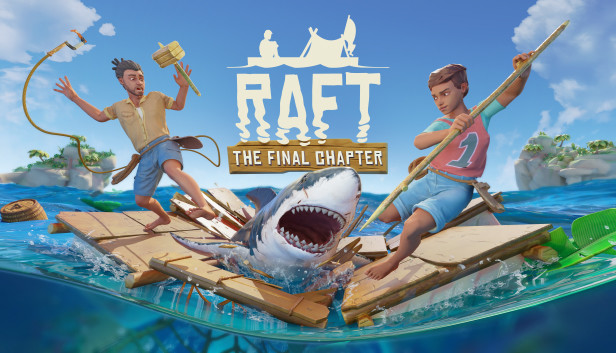 But I think you don't want to have the game error experience like Raft lag, low FPS, stuttering, and spikes, in this adventure world. To improve your smooth gaming experience, it is wise to use the professional Raft lag fixer LagoFast. The company of this product has more than 8 years of experience in in-game boosting by using its unique data transmission protocol. What's more, in these years, it has also established its servers and worldwide nodes to help players to fix lag problems. In addition to these network connection optimizations, this Raft lag fixer LagoFast has also launched the Raft FPS boost service. In a word, all you need to smooth your Raft gaming experience could be found in this ultimate product. And precisely, the services that LagoFast could provide to you are as follows:
Give you a smart and real-time network diagnosis
Reduce Raft high ping
Fix Raft lag problem based on the diagnosis
Improve your network connection
Remove unnecessary background applications
Provide players with custom options to meet specific Raft FPS boost requirements
Fix Raft stuttering problem
Optimize Raft lag spikes
How Can I Use LagoFast?
As a wonderful VPN, LagoFast can help you solve all kinds of problems. In the next, I will show you how to use the product.
Step 1: Download LagoFast.
Step 2: Search the game in the Search Box and select it in the search result.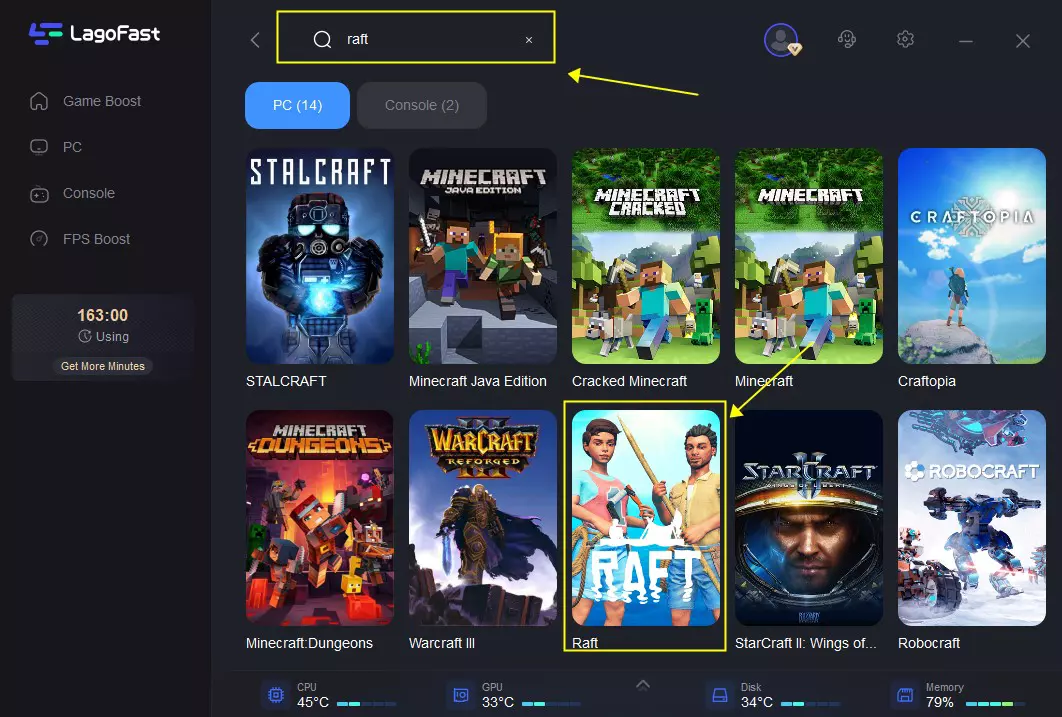 Step 3: Choose the server.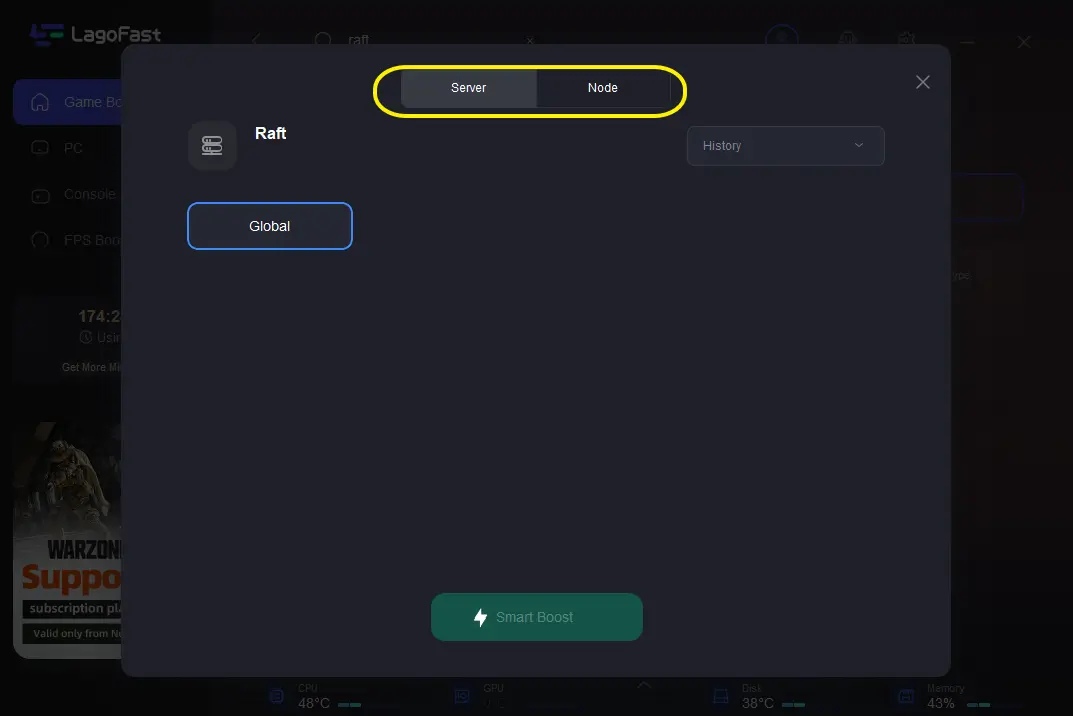 Step 4: Click on the Boost button and start boosting. Here, you can see your real-time ping & packet loss rate.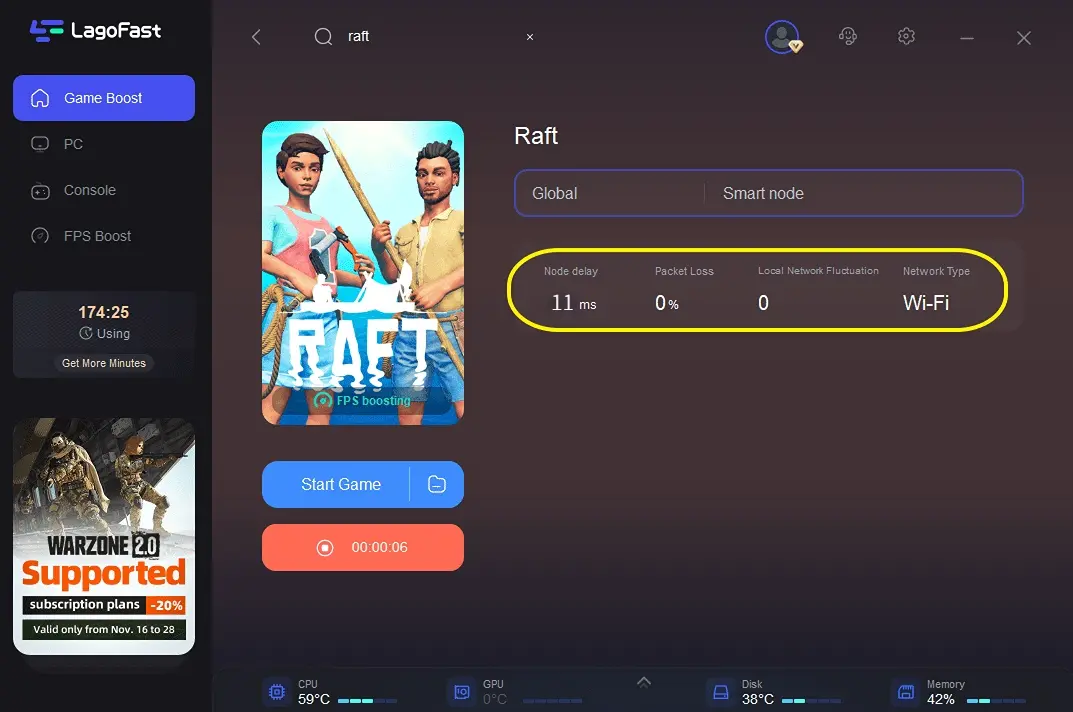 Video Of How To Use LagoFast