Help you solve the troubles caused by Pavlov VR game ping and Pavlov VR lag.
Pavlov VR Booster Overview
LagoFast is dedicated to developing software that can dramatically improve your network performance. Optimize your connection by reducing the number of hops between you and the Pavlov VR game servers. This will greatly reduce Pavlov VR lag in real-time. The Pavlov VR booster support 1000 game servers all over the world. LagoFast also has the fastest solution to player issues, which will ensure your gaming experience.
If you want to play CS in VR then Pavlov VR is the game for you. Pavlov VR is a modern multiplayer first-person shooter for the HTC Vive with a focus on community features. Realistic reloading and fast-paced combat are part of the core experience. It's the #1 most popular VR shooter to play on PC today.
Weapon aiming is completely realistic (fire requires both hands to hold the gun, otherwise the recoil will cause the crosshair to become unstable), and when reloading you have to disengage the dual wield and pull the bolt, just like a real-life grab. Throwing grenades feel great, and in unpacking mode, players need to enter the sequence of numbers displayed on the bomb interface to defuse the bomb. With the goal of defeating the enemy, players can choose from a variety of guns in the game. The game adopts a semi-realistic game style. Players aim at the sight of the gun and adjust the position to avoid gunshots in the game, all of which make your gaming experience so realistic.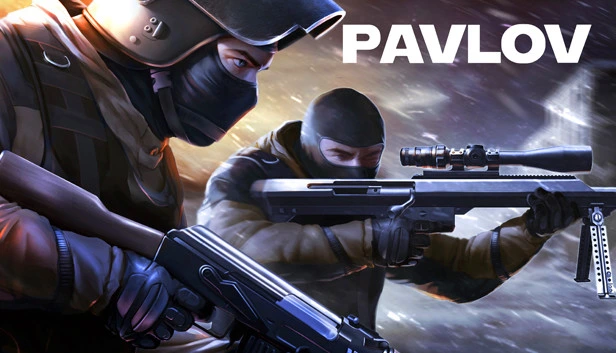 Best Game Booster for Pavlov VR Game
Are you bothered by Pavlov VR ping and Pavlov VR lag? When the game freezes, do you have to do the ping test again and again? An effective way to solve these problems is to download LagoFast. The Pavlov VR booster has servers all over the world, dedicated to bringing players a perfect gaming experience.
Eliminate Pavlov VR packet loss
Avoid high game ping
Reduce Pavlov VR lag efficiently
Optimize packet rates
Easy to use client
How Can I Use LagoFast?
As a wonderful VPN, LagoFast can help you solve all kinds of problems. In the next, I will show you how to use the product.
Step 1: Download LagoFast.
Step 2: Search the game in the Search Box and select it in the search result.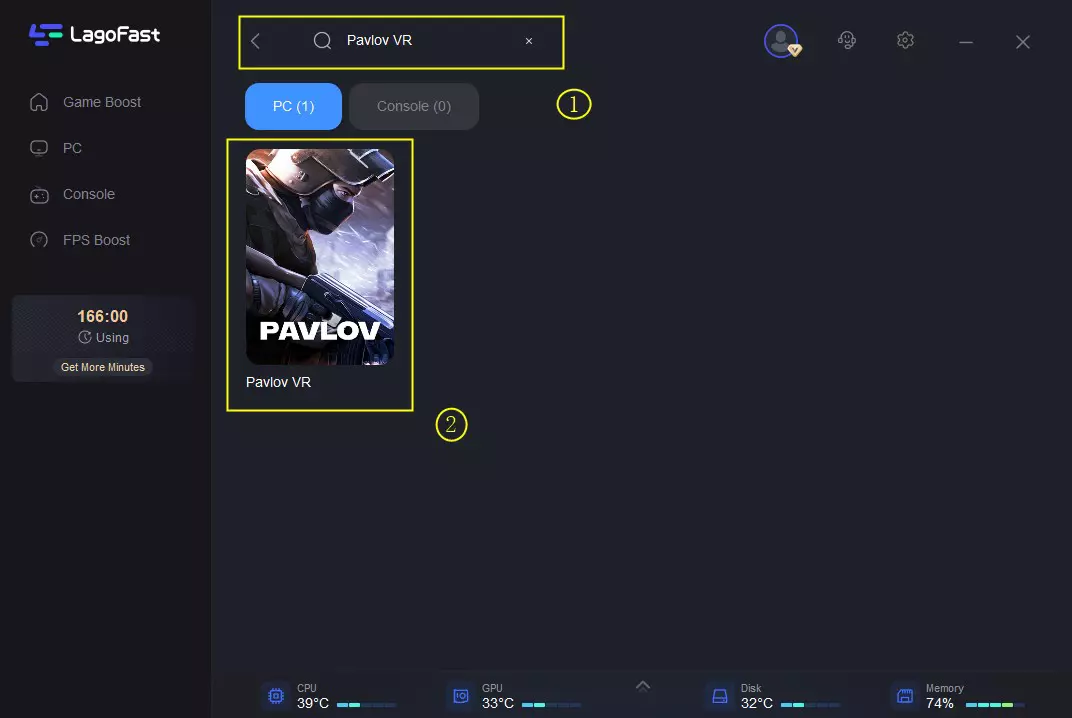 Step 3: Choose the server.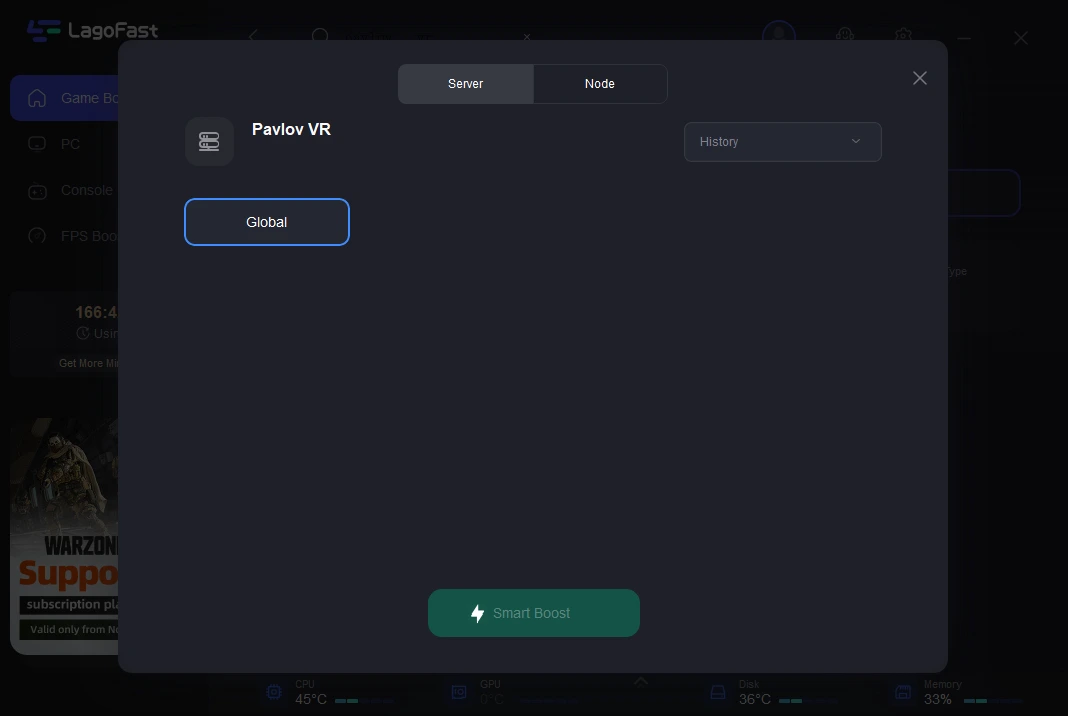 Step 4: Click on the Boost button and start boosting. Here, you can see your real time ping & packet loss rate.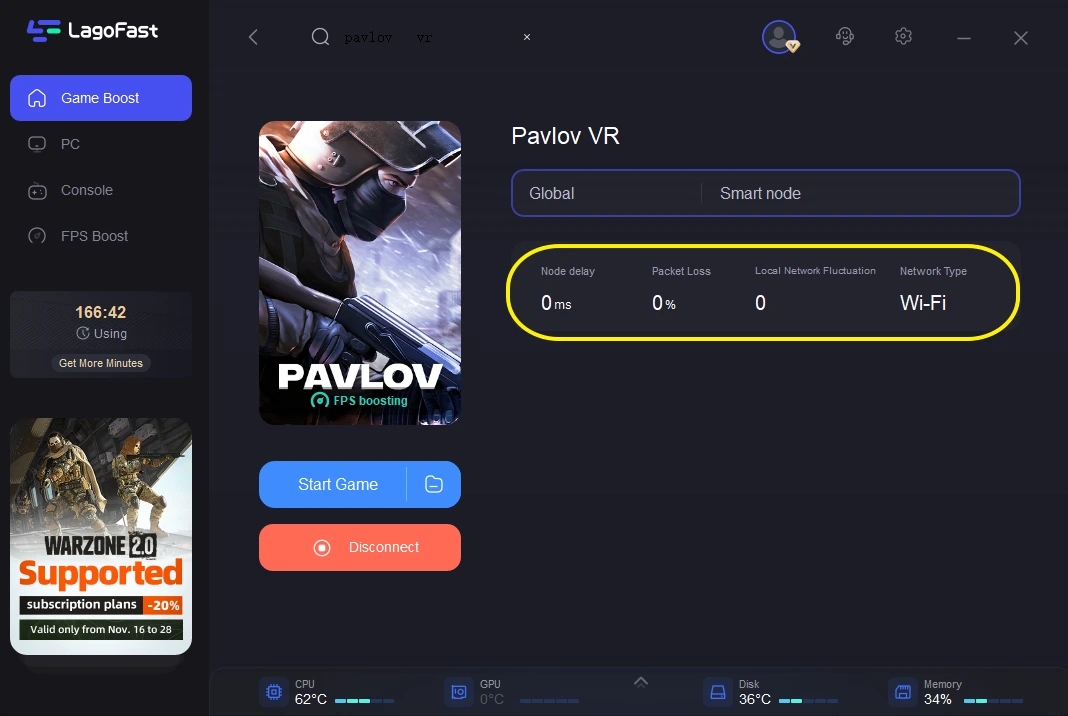 Video Of How To Use LagoFast