Don't think twice! Let LagoFast Game Booster solve Among Us VR lag, server issues, login error and other connection problems
Among Us VR
Among Us VR is a party game of collaboration and betrayal. Grab your crew, don your helmet, and enter the VR version of this popular multiplayer game for 4-10 players. In this party game, work together to complete missions before one or more pretenders kill everyone on board. Made exclusively for VR, you'll enjoy the same gameplay as the original game, but in an immersive environment where everything (yes, everything!) is closer.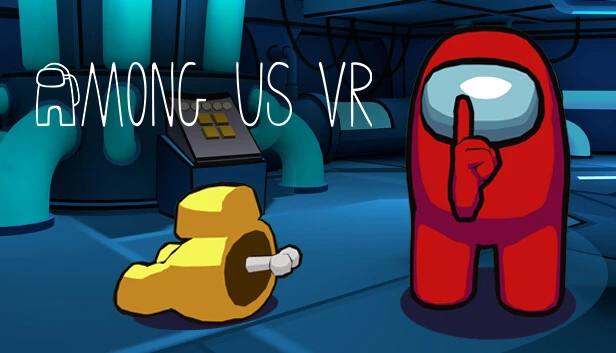 If you want to enjoy the best and perfect experience in Among Us VR, you should try your best to reduce problems, like, Among Us VR lag, server issues, login error and other connection problems. In this case, I think LagoFast is a good choice for you. As a professional Among Us VR Lag Reducer, it can keep you away from those problems that affect the gaming experience of Among Us VR.
How to Use LagoFast to Solve Among Us VR Lag
Follow the following steps if you want to reduce lag spikes, server issues, login errors and connection problems in Among Us VR.
Step 1: Install LagoFast.
Step 2: Type Among Us VR in the Search Bar and click Among Us VR Button.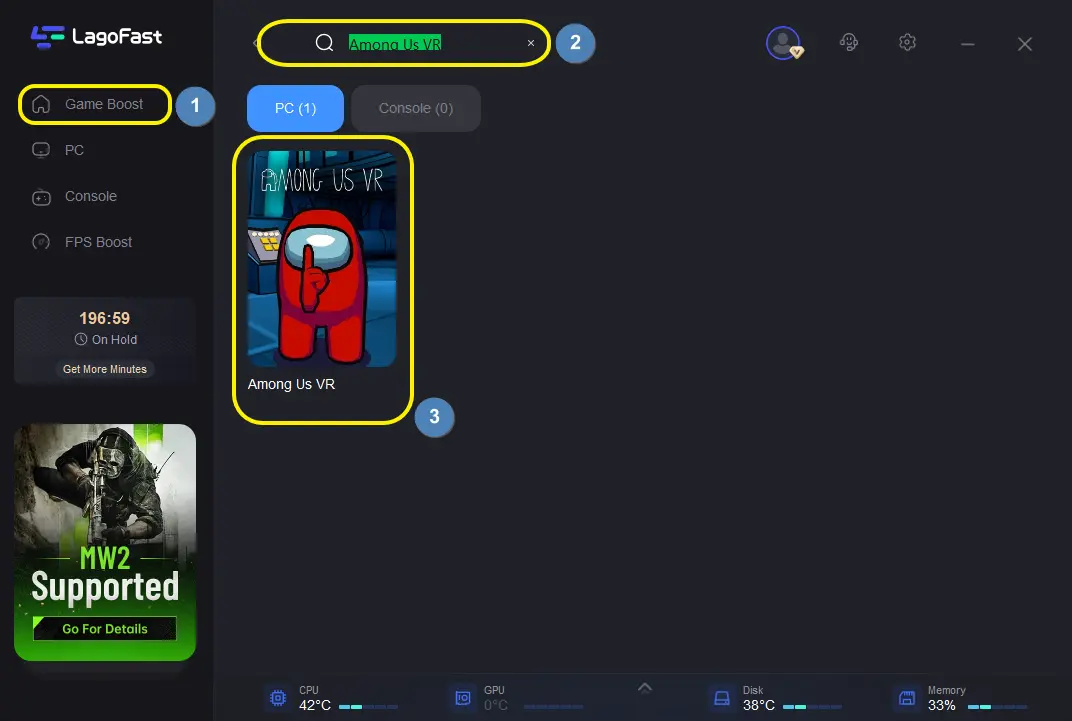 Step 3: Choose the server that you want most.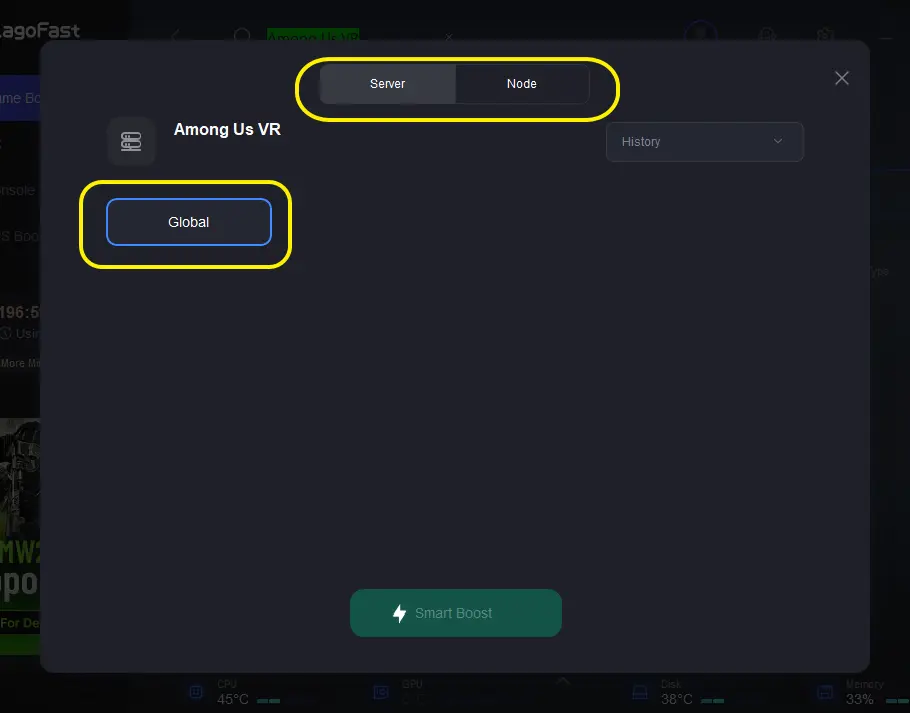 Step 4: Click Smart Boost. Then you will see ping rate and status of packet loss after boosting Among Us VR.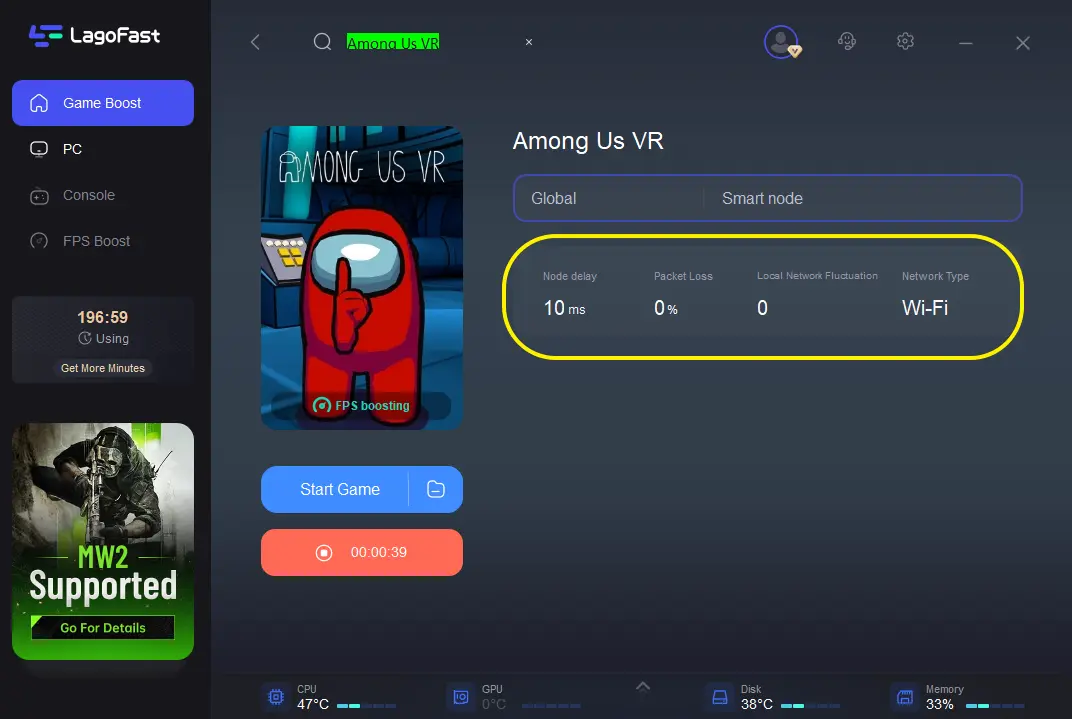 LagoFast: the Best Among Us VR Lag Fixer
You might be wondering why LagoFast is a good option after reading the aforementioned article. I'll now explain why you ought to take note of this Among Us VR Lag Reducer. It can guarantee a fantastic gaming experience for all players worldwide.
LagoFast did a good job at solving both server and connection problems with Among Us VR. LagoFast has a custom game data transmission protocol, which sets it apart from competing products of a similar nature. With no additional network interference, players can experience faster and more stable in-game speed thanks to this self-developed game data transmission protocol. In order to serve gamers worldwide, LagoFast also has servers and nodes that are dispersed internationally. LagoFast lessens the likelihood of Among Us VR connection errors and Among Us VR stuttering by dispersing its servers across the globe. You can try clicking the "Among Us VR" Boost button if Among Us VR is lagging. Players have a lot of first-hand knowledge about how to address lag in Among Us VR thanks to LagoFast. Even if Among Us VR is unable to start suddenly, LagoFast is good at checking and resolving those server issues. LagoFast is the only top-rank game booster that supports a Pay-per-Minute plan and offers the least expensive monthly plan in terms of cost. It implies that some players who are unable to pay for an entire month can select a Pay-per-Minute plan and take advantage of the cheapest monthly plan. In general, it is an excellent Among Us VR Lag Fixer that is definitely worth your consideration. You can also take into account the following characteristics.
A

ble to reduce Among Us VR lag and server problem

Eliminate Among Us VR connection issues

Provide a reasonable rate — Pay-Per-Minute Plan

Simple to use, only one button

Leave Among Us VR quickly high ping rates (get 0 ping rate)

Leave Among Us VR crashing and stuttering away.

Provide boosters for 1000+ well-known online games.
Video of How To Use LagoFast