A free-to-play battle royale video game called Call of Duty: Warzone Caldera was published on March 10, 2020, for the PlayStation 4, Xbox One, and Microsoft Windows. The game is a part of 2019's Call of Duty: Modern Warfare and connected to 2020's Call of Duty: Black Ops: Cold War and 2021's Call of Duty: Vanguard, but it is not necessary to purchase any of the aforementioned games. It was released during Season 2 of Modern Warfare content. Warzone was produced by Infinity Ward and Raven Software with the content from Cold War added afterwards, and it was then published by Activision with the sole author credit. Warzone only enables online multiplayer combat between 150 players, however other limited-time game types can accommodate 200 players. The game's components include cross-platform play and progression between the three titles described above.
The game's two main game styles at debut are Battle Royale and Plunder. Warzone's new in-game payment system can be used at "Buy Stations" scattered across the region. In "Loadout" drops, for example, money can be exchanged for limited access to players' own classes (which, before to Season 6, v1.29, were shared with Modern Warfare's conventional modes but are now exclusive to Warzone). Additionally, players can use Cash to purchase "killstreaks" and gas masks. Cash can be obtained via robbing buildings and killing players who have money on them. Initially, Trios, a three-player team type, was all that Warzone offered. However, the game's free post-launch content upgrades have all added Solos, Duos, and Quads. On November 16, 2022, Call of Duty: Warzone 2.0, a free-to-play follow-up to Call of Duty: Modern Warfare II, was released. Additionally, Warzone is being developed for mobile devices.
However, when playing Warzone, warzone servers laggy are inevitable, which causes the game to operate sluggishly on a computer. Many users ask why my warzone so slow. If you want to get lower latency warzone on pc, you can use LagoFast, a professional Warzone lag fixer. Beside ,LagoFast can also repair lag and other Warzone problem.
Part 1: The Best Warzone Server Lag Fixer
Part 2: Why is My Warzone so Slow?
Part 3: Other Solutions to Warzone Lag
The Best Warzone Server Lag Fixer
If you experience Warzone Server lag while gaming, LagoFast can help you identify the issue and fix it. With a focus on removing frame drops, packet loss, lowering high ping, etc., it has more than 8 years of experience improving in-game performance. LagoFast has developed a unique game data delivery protocol and includes a sophisticated routing system. To increase every area of your PC's performance, all you have to do is click the "boost" button. Along with all of these advantages, LagoFast is also reasonably priced. It is currently the only game booster that makes "plan per minute" possible. For further information on how to improve game performance, go back and look at the earlier steps.
Some of LagoFast's features include the following:
Only booster for games uses plans each minute.

Easy to use and guards against any game flaws

Capable of properly resolving packet loss

Over 8 years of experience in optimization

Specialized protocol for game data transmission

A clever routing strategy

Support over 1,000 popular games, such as NBA 2K23, Fortnite, and Apex Legends.
Follow the steps to use LagoFast.
Step 1: Click free trail to download LagoFast
Step 2: Type "Warzone" in the search box, and then choose it from the list of results.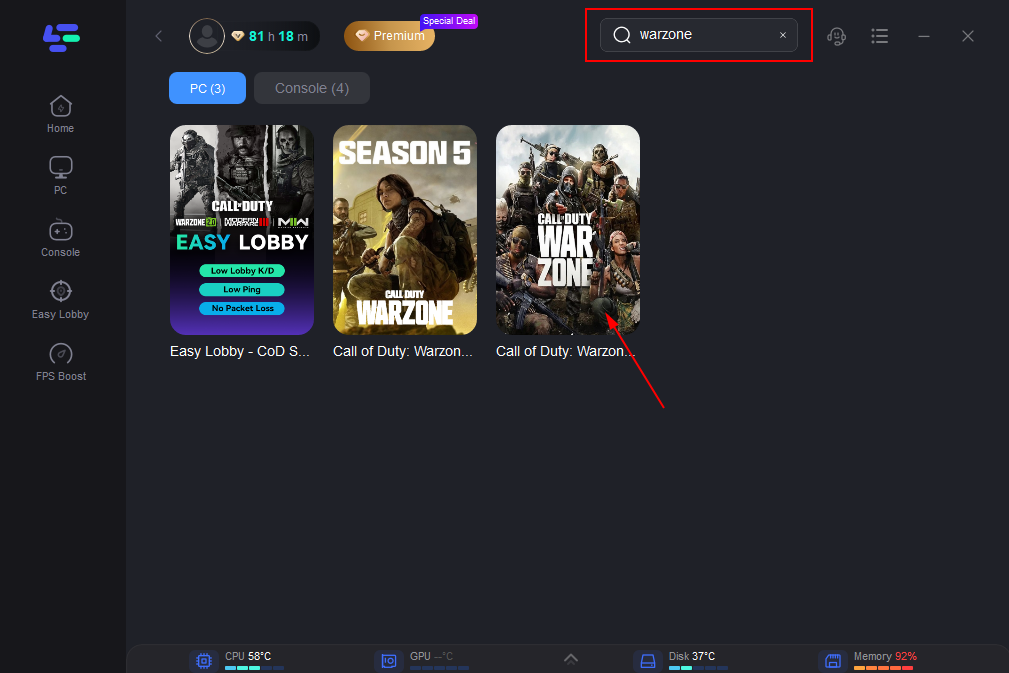 Step 3: Choose a server that matches Warzone.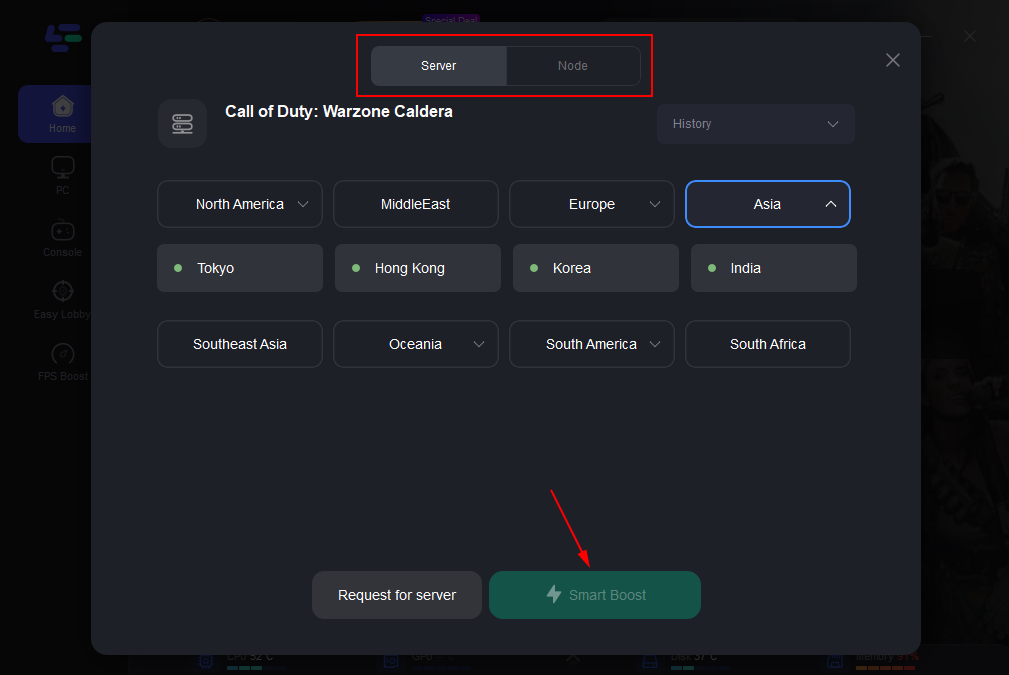 Step 4: Click the Boost button to start boosting. The following page shows your current ping rate and packet loss rate. It will also start to repair if the rates are too high.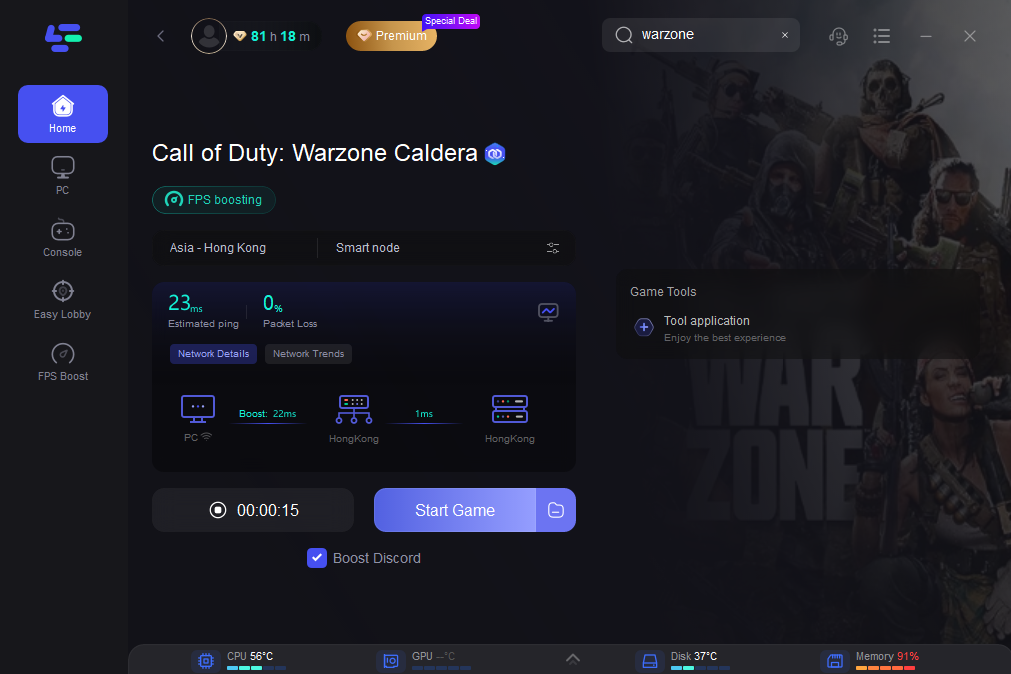 Why is My Warzone so Slow?
These unexpected time delays are referred to as "lags". The latency of a network connection measures the amount of time it takes for data to travel between a sender and a receiver. Although there is some latency present in any computer network by definition, the amount of latency fluctuates and can rapidly increase for a number of reasons. Any discernible reaction delay in video games that is brought on by a high latency or poor connection is known as lag. For instance, a slow internet connection could make your character or the environment they're in stutter.
There are many reasons for Warzone Lag.
Lack of storage space: If the storage drive is full, the computer's performance may deteriorate. A specific amount of free space must be present on your computer's storage drive. These tasks become difficult or impossible due to a lack of storage since the CPU is unable to swap files and store temporary files. The operating system may subsequently slow down as a result.
Ineffective device drivers: Sluggish computer performance is one sign of an aged hard disk. The normal lifespan of a hard drive is 3 to 5 years. Therefore, it may result in lag problems if you forget to update your hard drivers or other device drivers.
Lack of RAM: RAM is sometimes referred to as the "volatile" temporary memory of your computer. It only works when the computer is turned on, unlike stored memory. The operating system largely relies on RAM to run tasks effectively. If you don't have enough RAM to support the processes you're trying to run, your computer may operate substantially slower.
Background programs: Your computer may have apps operating in the background without your knowledge. For instance, antivirus software often runs in the background. There might be more, which would cause your computer's performance to deteriorate.
Other Solutions to
Warzone Lag
There are other ways to fix warzone latency, not as useful as LagoFast though.