Call of Duty: Warzone 2 is coming soon! Warzone 2 will be released on November 16, 2022. For the PlayStation 4, PlayStation 5, Xbox One, Microsoft Windows, and Xbox Series X/S, Warzone 2 is accessible. It is the follow-up to Call of Duty: Warzone from 2020. Warzone is a Call of Duty game. In this article, you will find more information about Warzone 2, what is Warzone 2 release date, what is new in the following Warzone 2 and how to get better in Warzone 2 with the best Warzone 2 Game Booster. What's more, Activision is teaming up with the World Cup for some awesome in-game content, meaning that by simply picking a few match winners during the World Cup, you can earn free rewards to use in Warzone 2. Keep reading and you will find how!
Part 1: What are the Details of Warzone 2 Release Time?
Part 2: What is the Preload Time of Warzone 2?
Part 3: What Is Warzone 2 Gameplay?
Part 4: Leaks of the Newest DMZ Mode
Part 5: What does Warzone 2 New Map Look Like?
Part 6: How to Get Better at Warzone 2?
Part 7: What are Warzone 2 Loadouts?
Part 9: How to Play the World Cup Mode in Warzone 2
What are the Details of Warzone 2 Release Time?
Warzone 2 was officially launched by Activision at Call of Duty with a release date of November 16, 2022, and will be part of a single cross-game launcher known as Call of Duty HQ.
It is a follow-up to Call of Duty: Warzone from 2020. Despite being a part of Call of Duty: Modern Warfare II in 2022, the game can be played independently. The game supports cross-platform play and adds the DMZ extraction mode.
Warzone 2 will be available to everyone for free to play, according to Activision. It's likely that you won't need an active PS Plus or Xbox Live Gold membership to enjoy Warzone 2 - as has been the case for its predecessor for the past 12 months - thanks to some changes made to PlayStation Plus and Xbox Live in recent years. There will, of course, be a Warzone 2 battle pass, so there will be opportunities to spend money inside the Call of Duty ecosystem.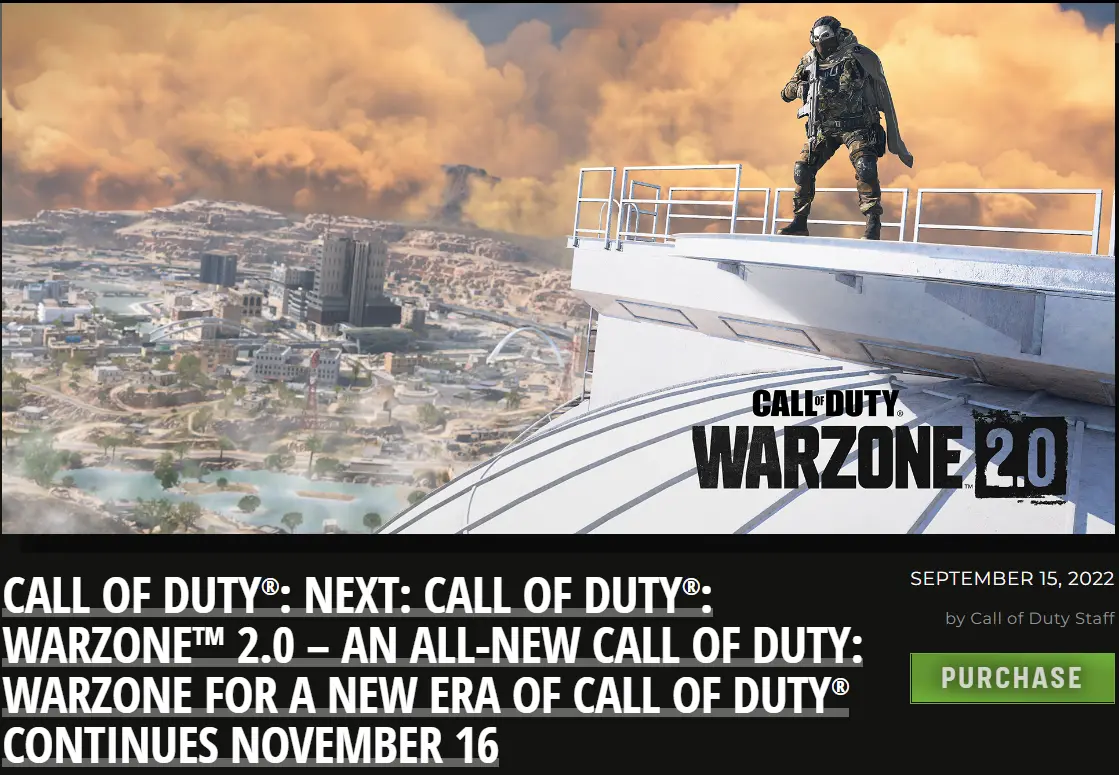 What is the Preload Time of Warzone 2?
Thank God! The preload time of Warzone 2 is released and you can enjoy the game as you wish soon.
The Warzone 2 preload time begins two days before the official debut of the new battle royale, so you have a pretty long time to do a good preparation before ushering in a new journey in Warzone 2. The details of preload time are listed as follows:
US West Coast: November 14, 10 am PST

US East Coast: November 14, 1 pm EST

United Kingdom: November 14, 6 pm GMT

Europe: November 14, 7 pm CET

Australia: November 15, 5 am AEST
Note: Given the large size of the Warzone 2 download, you'd better launch it manually rather than wait for an automatic update.
When welcoming Warzone 2, Activision announces another big news the original Warzone will remain offline for 12 days until November 28, and the cosmetics in Warzone will not be applied in the next sequel. They give an explanation for the great movement, saying that such action is to make sure a smooth free-to-play ecosystem of Warzone 2.0.
What Is Warzone 2 Gameplay?
Battle Royale, the main game mode in Warzone 2, pits players against one another in an ever-shrinking map in a similar fashion to its predecessor. Players land by parachute on a sizable game map and interact with other players there. The playable area decreases as the game goes on and players are eliminated, packing the remaining players into smaller areas. Circle Collapse, a new function in Warzone 2, enables multiple circles to spawn on the map, which closes separately before merging into a single safe zone. Additionally, Warzone 2 is anticipated to include the DMZ extraction game mode.
Similar to the first Warzone, players who die are transported to the "Gulag," a small arena where they compete against one another for the chance to respawn on the map. In addition to the standard strategy for winning Gulag matches, Warzone 2's 2v2 Gulag matches occasionally feature an AI opponent known as "the Jailer," who players can pursue in order to find a key and make their way out. The return of in-game cash currencies enables players to purchase a variety of goods at various buy stations strewn about the map, including customized weapons.
In Warzone 2, AI combatants are more prominently displayed as they defend various strongholds spread across the main map. In order to capture the strongholds and gain access to the loot items inside, players can decide to engage in combat with the AI enemies.
Al Mazrah, a map with a desert theme and 18 points of interest, serves as the setting for Warzone 2. Swimming, diving to prone, and mantling are some of the new movement mechanics.
Along with shared cross-platform progression and social features with Modern Warfare II, Warzone 2 will also include shared progression with Modern Warfare Mobile, a new Warzone game created exclusively for mobile devices.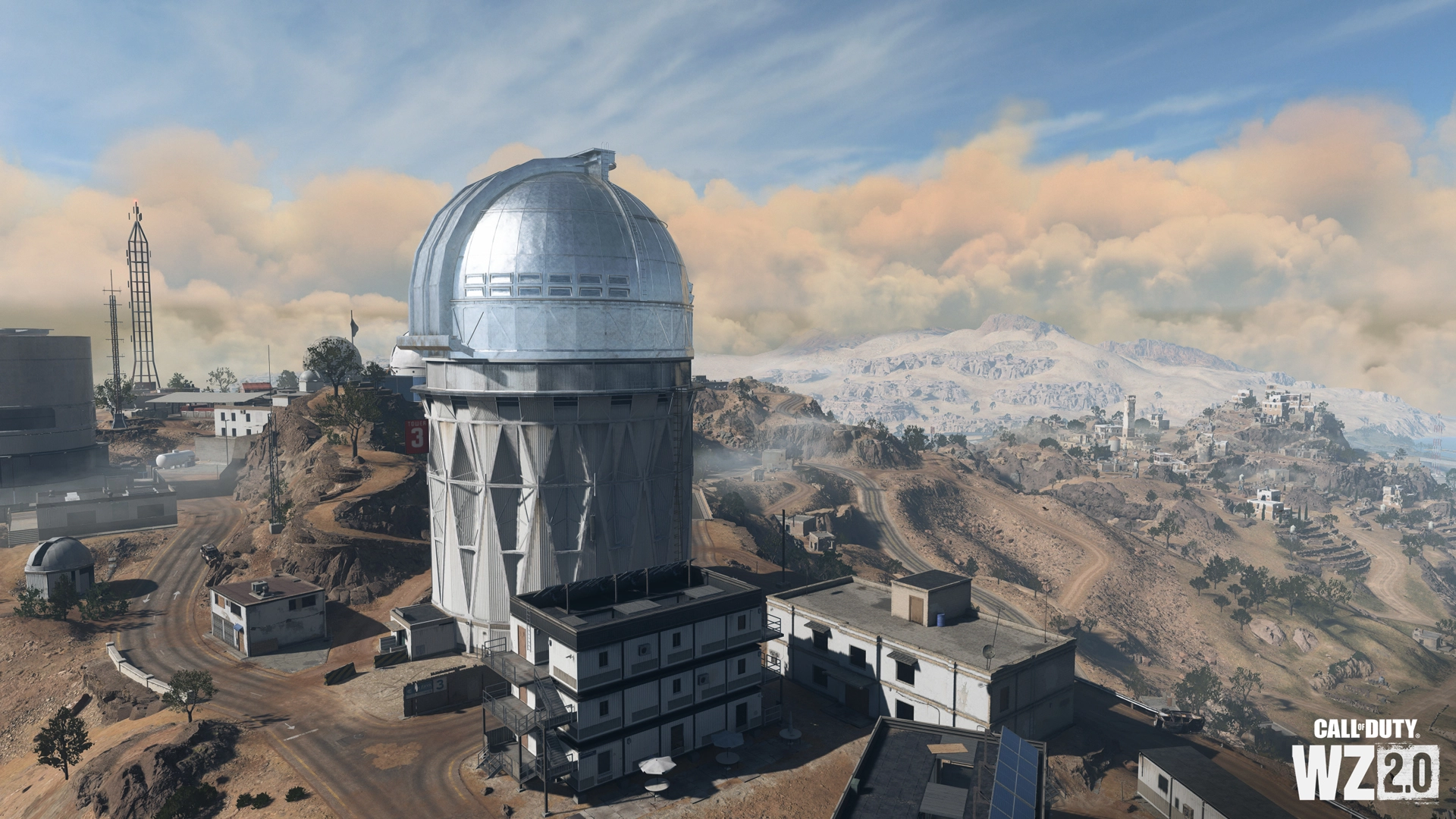 Leaks of the Newest DMZ Mode
As a fervent fan of Cod, you may have already gotten the news that a completely new mode of Warzone 2 - DMZ- will be launched. This mode is coming in the first season on 16 November 2022. That means two days later, you will enjoy a new experience in the Warzone series. To be a winner in DMZ, you have to be the last survivor in a section of the Al Mazrah map with a range of tasks to be finished. So, you can understand the game mode as an escaping-alive game. Besides, you must be more careful when playing the mode because AI guards and enemy players pervade the map, which makes it harder to survive. More importantly, being a part of Warzone 2, DMZ mode is free to all players.
What does Warzone 2 New Map Look Like?
Since 2020, Warzone 2 map has been under development and is the result of the studio's ideologies and modern tools. Al Mazrah, which is in the desert but has "a mix of industrial areas, towns, a city, and of course water," is described as having a "interesting mix of geography" and has a lot of "cool elevation." There are underground chambers and caves to explore, and it's also very large. The Call of Duty battle royale map in question is the biggest one yet.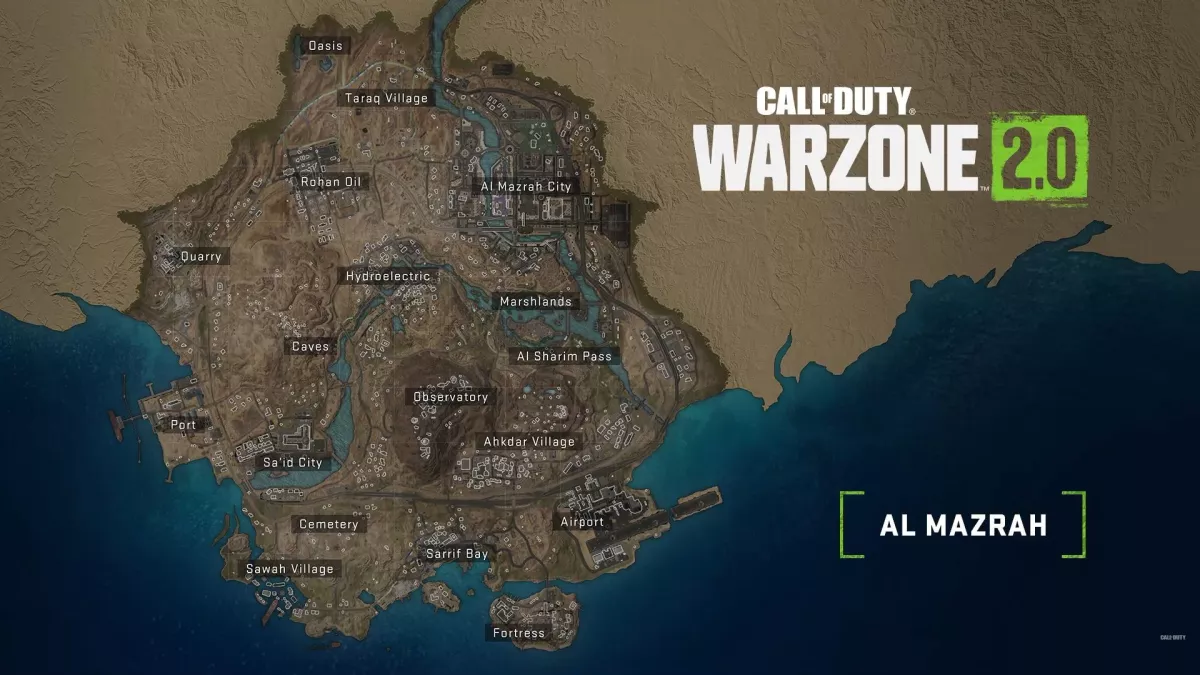 How to Get Better at Warzone 2?
Many online game players in previous seasons bemoaned the numerous game bugs they encountered, such as Warzone 2 connection errors, crashing, lag, high ping, low FPS, etc. How can I play Warzone 2 better and have a greater gaming experience? The most pressing issue for users is this query. And there are many steps you can take to address these problems, such as switching to better hardware, using a wired connection, lowering the game's display settings, removing background unneeded applications, etc. I do want to recommend using LagoFast, a Warzone 2 game booster, among these precautions. The following are some of this product's features:
Effectively lower Issue with high ping in Warzone 2

Improve Warzone 2's crashing

Eliminate lag spikes in Warzone 2.

Give you a panel where you can modify the settings to increase FPS in accordance with your unique needs.

Simple to use

Reduced lag and improved FPS together Boost capabilities

Charged in full for each minute, month, quarter, and year.

Unique Pay-per-minute strategy
Here is the tutorial for using LagoFast:
Step1: Click "Free Trial" to download LagoFast.
Step2: Before starting Warzone 2, you search cod warzone 2 in the search box and click on it.
Step3: Choose the server which you want.
Step4: To begin boosting, click the Boost button.
Ping and packet loss rates are shown in real-time, and both have a direct impact on Warzone 2 FPS performance.
What are Warzone 2 Loadouts?
Players cannot purchase a drop in Warzone 2 because the Loadout drop system has been replaced with a system for custom weapons. Players in Warzone had the option to buy a loadout drop that included the primary and secondary weapons, tactical and lethal items, as well as three perks. Only pre-built custom weapons are available for purchase from The Shop in Warzone 2.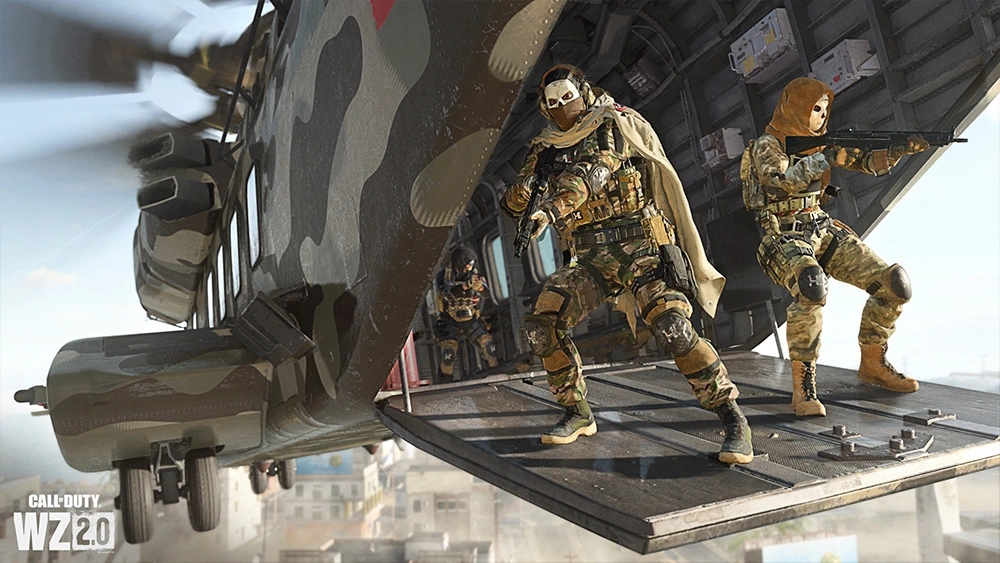 Warzone 2 Latest News
Warzone's vehicles, including cars, quads, and helicopters, have always played a significant role in the gameplay, but Infinity Ward is going all out for Warzone 2. With the addition of over a dozen new vehicles, this aspect of play is given more attention. Additionally, some pretty crazy solutions are used to balance the vehicles' distribution across the map. For instance, Warzone 2 will include a rich collection of handling and physics mechanics that adjust based on your vehicle's condition. Rival players can shoot off tires to affect how your car handles, and explosives have different effects on different types of vehicles based on their weight. Nearly all of the vehicles in Warzone 2 have a limited amount of gas, which can be refilled at one of the gas stations in Al Mazrah. Tires can also be repaired here, though you can do that yourself in the field if you can find enough cover from enemy players. Taking over gas stations is soon to be the new meta-game, so pay attention.
Here is Warzone 2 trailer.
Pay attention to this article, this article will continue to update the latest information.
How to Play the World Cup Mode in Warzone 2
Call of Duty: Warzone 2 is partnering up with the ongoing FIFA to celebrate the ongoing soccer World Cup, introducing new events and rewards. Support A Team is now live in both games(Modern Warfare 2 and Warzone 2), and players can participate in it by predicting the World Cup games to earn exquisite weapon blueprints. The partnership with Activision and COD is quite entertaining indeed, you must wonder now how to participate in Warzone 2 World Cup mode and win the best World Cup reward ever! Now we will show you how!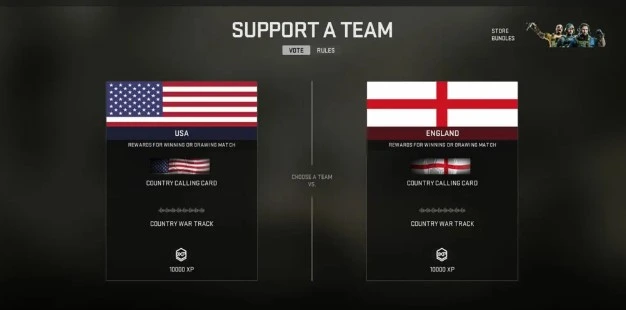 How to vote for your favorite team to earn rewards in Warzone 2
The Warzone 2 FC event sees the introduction of new Operators in the form of football icons Neymar Jr., Paul Pogba, and Lionel Messi. At the same time, an in-game voting system will let players vote for the team they think will win in six different matches. You'll receive prizes based on how your chosen team performs. Here's some steps of how you can take part:
Launch your Warzone 2 & then head over to the COD HQ menu.
PlayStation users can press the Options button and Xbox Users can press the Menu button.
Head over to the Support A Team option and then you will be able to vote for the team you think will win.
If you correctly predict two matches, you will be able to earn a Blueprint. On doing so for four matches, you will get a second Blueprint. If the situation arises that the match ends in a draw, both players will get premium rewards. Not only that but losers will also receive consolation prizes. That is the beauty of the World Cup mode in Warzone 2. And all rewards will be given out when the event ends on December 2. What are you waiting for? Come and join now!