Torchlight: Infinite will immerse players in a vibrant action RPG 200 years after Torchlight II. The plot is set, according to the official press release "When Ember Tech has submerged every corner of Leptis and all life thrives under Ember power. The never-ending darkness of corruption begins to consume and outwit lives beyond the prosperous civilization... Then a team of heroes with elite abilities appears. They look darkness in the eyes as they embark on an epic quest to fight back against the darkness that has corrupted Aemberons." The game will be released in October, as announced at TapTap Presents. Players will be able to tinker with over 240 skills as they hone their ultimate character across flexible builds. But for video games, the biggest problem is Torchlight: Infinite lag and low FPS, which can greatly spoil our gaming experience. In this article, we'll recommend ways to solve lag quickly, and of course one of the easiest ways is to use LagoFast!
Part 1: LagoFast: The Best Partner for Your Journey
Part 2: Other 4 Best Fixes to Torchlight: Infinite Lag
Part 3: Something You Should Know About Lag
LagoFast: The Best Partner for Your Journey
For every video game, lag is a huge headache. The original smooth graphics become obscure and the game characters' movements become very laggy. We often try to fix it ourselves when we encounter Torchlight: Infinite, but it ends in failure. Leave the difficulties to LagoFast! It's a team of experts with more than 8 years of experience in dealing with game problems! Any game problem can be solved. If your lag is caused by your computer not having enough running memory, then it will free up memory by monitoring your computer and closing background applications. If it is caused by network problems, LagoFast's powerful network compatibility can cope with all kinds of complex network conditions and provide you with real-time network diagnostics, matching the best network nodes to reduce ping values. Gamers around the world can use LagoFast to improve their gaming experience, with unique acceleration lines in 60 countries nationwide. the most unique thing about LagoFast is that it pays per minute! I'm sure you'll love it!
Let's see the features of LagoFast!
Support Plan-Per-Minute service, not waste any time!
The best game booster for Torchlight: Infinite
Easy to use, with only one click.
Exclusive routes over 60 countries
Reduce ping while boosting FPS
You can boost Torchlight: Infinite with only 4 steps:
Step 1: Download LagoFast.
Step 2: Type " Torchlight: Infinite " in the Search box and click on it.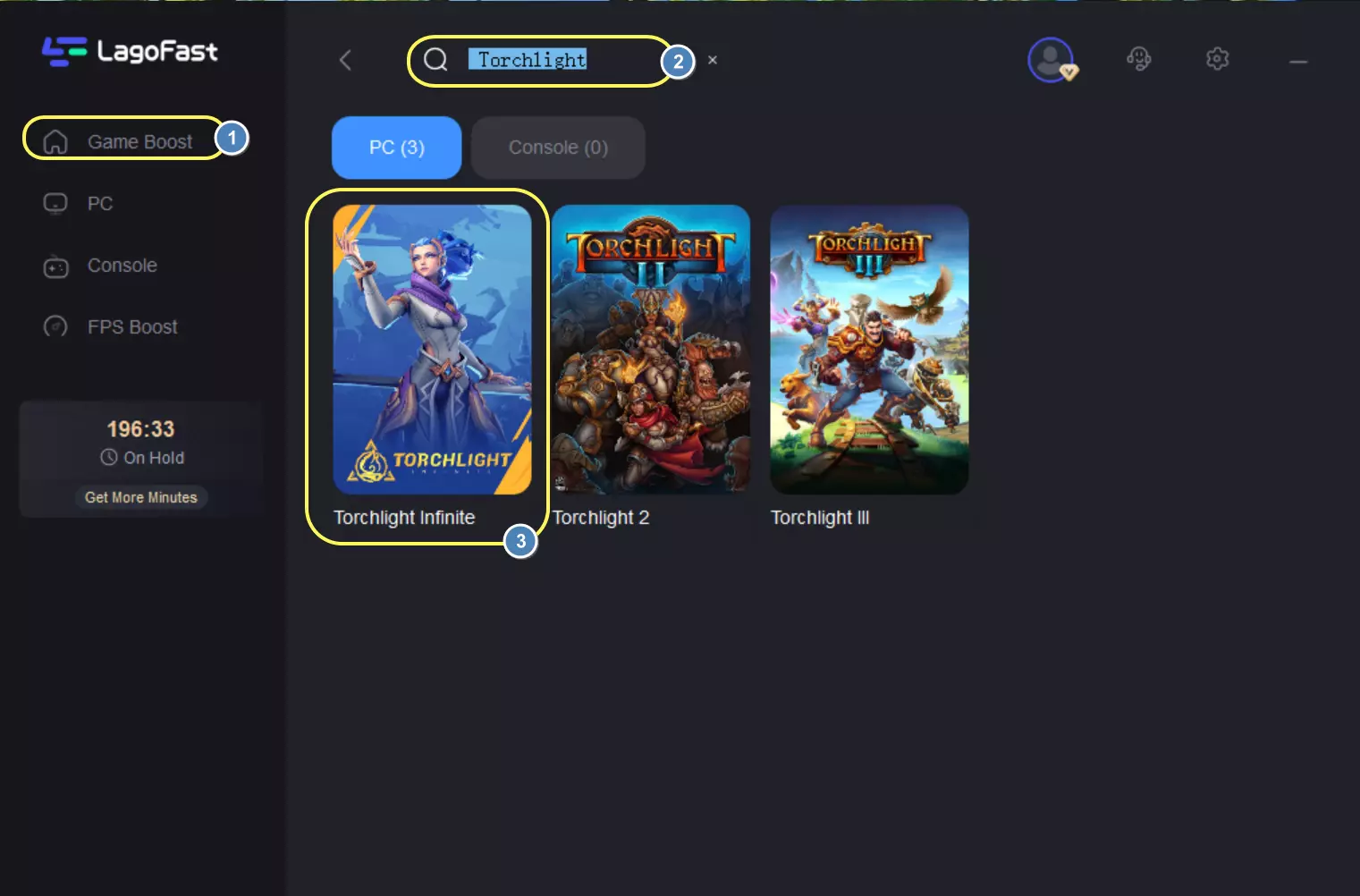 Step 3: Choose the best server by yourself.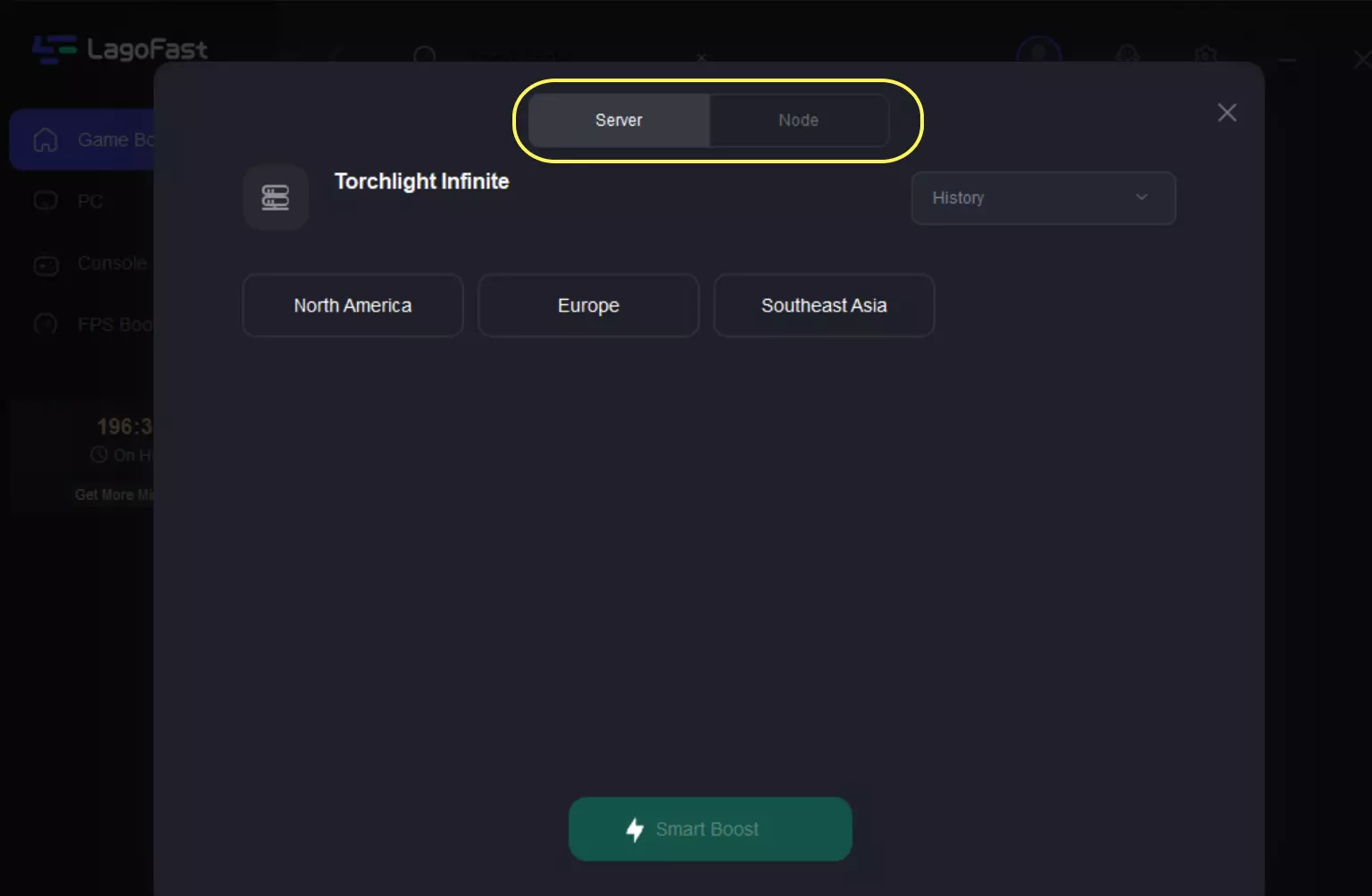 Step 4: Click the Boost button to start boosting.
This page displays your real-time ping rate and packet loss rate in Torchlight: Infinite.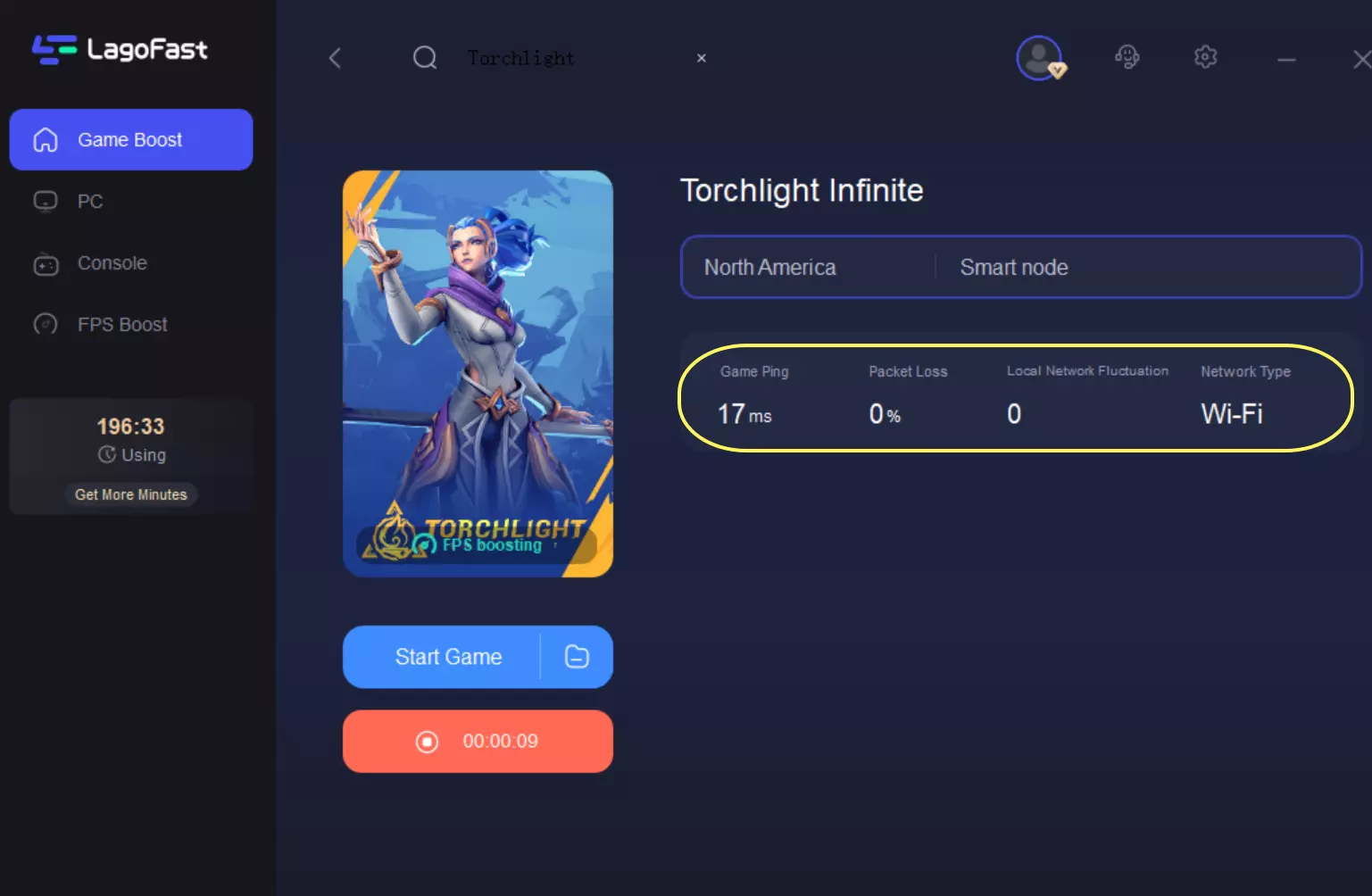 Furthermore, you may tailor the FPS choices to your preferences in order to find a game that best suits you. To accomplish this:
Step 1: Select the FPS Boost tab in the left column of the desktop.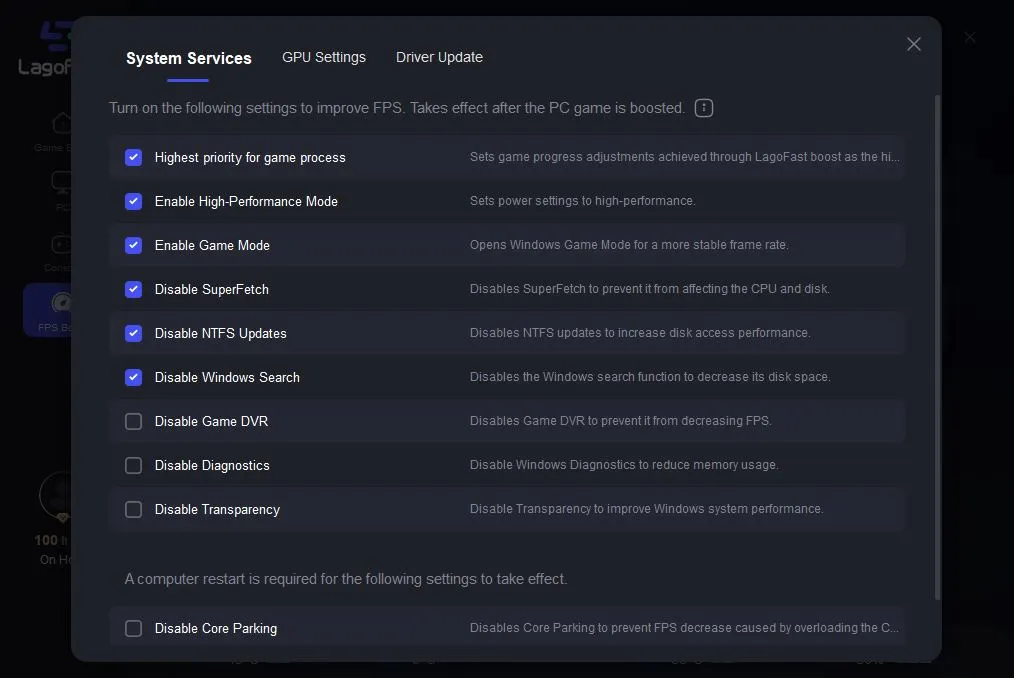 Step 2: Click on the settings according to your needs.

Other 4 Fixes to Torchlight: Infinite Lag
But if you know what the problem is, you can use the following simple methods to try to fix it. Hopefully, they will help you have a better gaming experience.
Using Ethernet: For PC gamers, wired networks are actually always the best choice. Because you will not be affected by the distance between the router and the computer and the other devices to grab network data between. But conditions do not allow you to use a wired network, you can choose to reduce the distance between your laptop and the router and the number of obstacles.
Whitelist Torchlight: Infinite: Our firewalls and anti-virus software often examine the network packets sent and received by Di's computer, and although this is measured in target milliseconds (ms), it is enough to produce a delay visible to the naked eye. Once we whitelist the game, Torchlight's network activity will not be monitored by them. Follow this video to whitelist the game.
Close background apps: To keep your computer running properly, there are many application processes in the background, but there are some non-system level applications that can slow down your computer. And the networked programs will rob the Internet resources of the game. These can lead to Torchlight: Infinite lag. you can do something like the following.
1. Select the Start , then select Settings > Privacy > Background apps.
2. Check the Allow apps to run in the background box under Background Apps.
3. Turn individual apps and services settings On or Off under Choose which apps can run in the background.
Update network drivers: Network drives are responsible for all network-related activities of your computer, so outdated network drives can cause network connectivity problems. Follow these actions to update the network drive.
1. In the bottom left-hand corner of the screen, click the Start button, and then type Device Manager into the Search bar.
2. The Device Manager should now be visible. Navigate to the Network Adapters drop-down menu.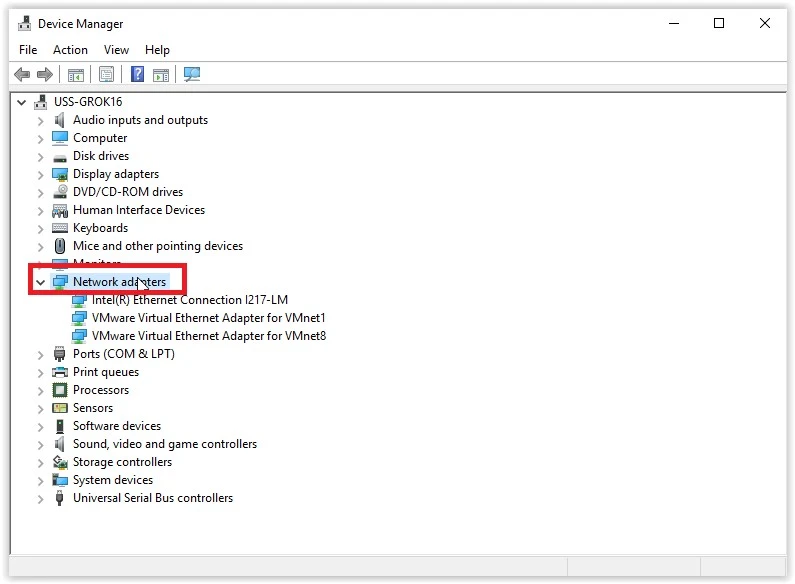 3. Select the Network Adapter. Select Update Driver Software from the drop down menu when you right-click the adapter.
4. A dialog box should be displayed. Select Automatically Search for Updated Driver Software.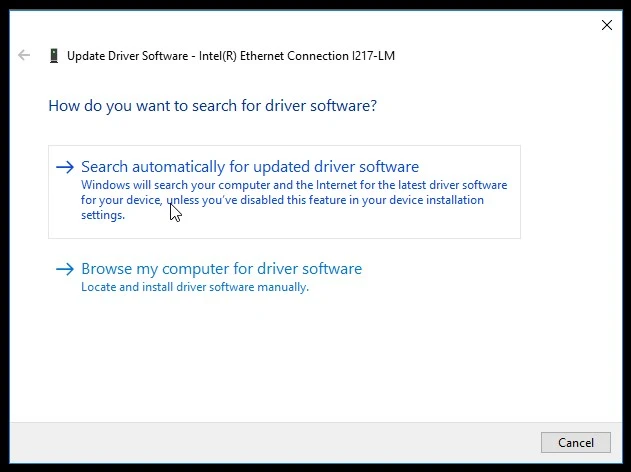 5. To finish updating, follow the instructions on the following screens.
6. Restart your computer to apply the changes.
Something You Should Know About Lag
Lag is defined in gaming as any noticeable slow response in an online game caused by high latency or a poor connection. On a slow Internet connection, for example, your character or the environment they're in may stutter. Tip. When lag occurs only briefly, it is referred to as a lag spike.
What causes lag?
Many people wonder why do they lag with good internet, but in fact, there are many reasons why Torchlight: Infinite lag could be a network problem, a hardware problem or a software problem.
Poor performance CPU: One of the most common causes of computer lag is hardware failure. Most CPUs will result in high CPU usage and thus lag if they are too old, overheating, or underperforming. The CPU's performance determines how fast the PC will run.
Old graphics card: Crisp detail can greatly enhance our gaming experience when we play video games, but lag can occur if our game is too resource-intensive and our graphics card can't handle the situation. Because the graphics card is responsible for the game's 3D graphics rendering and the calculations of the in-game physics engine, a high-performance graphics card is essential to our gaming experience.
Many background apps: What you might not realize is that when you turn on your computer, a slew of applications launch, all of which consume bandwidth.
Not reach the system requirements: The official computer system requirements for the game will be written on the game purchase page before the game is released; this operation is to ensure the player's gaming experience. There are two types of computer system requirements. The first is the minimum system requirements, which ensure that the game runs normally. There is also a recommended system requirement; if your computer hardware meets this requirement, the game will run at high settings smoothly.
Internet connection problem: A slow Internet connection is a significant cause of game lag. A weak signal, an unstable line, or a disconnected internet connection can all cause lag. To run smoothly, online games require 20-30 Mbps. Furthermore, they will divide your data traffic and affect your gameplay by sharing the same broadband with other facilities.