The most recommendable remedy for V Rising Lag problem is LagoFast, which is designed to diagnose and boost the game for smooth playing. LagoFast is built for this purpose, as it is equipped with more than one tool to eliminate the lag.
Part 1: How to reduce V Rising Lag easily?
Part 4: What is the difference between VPN and LagoFast?
Part 5: Is LagoFast really necessary?
How to reduce Lag in V Rising?
LagoFast
LagoFast is a professional product that allows global players to play smoothly and without lag by combining several game data routes technologies
Explain what LagoFast can do to solve the problem mentioned above.
LagoFast uses its own game data transmission protocol to allocate the best routes for players, accurately identifies game traffic, and allow live streaming and music listening while playing games.
The selling point of LagoFast:
Easy-to-use

Worldwide nodes and exclusive routes

Plan per minute (more economic

Boost FPS and Kill Ping at the same time
Steps of how to use LagoFast to solve the problem.
Step 1: Installation. Start by downloading the LagoFast from their official site and sign up with your email, and navigate back to the home screen
Step 2: Click on "FPS Boost" on the left side.
Step 3: Boost. Go to the Game Booster section and click on V Rising. Click below the floating Boost button to reveal the popup menu and proceed to choose your server (e.g. North America) and node (e.g. California-NorthAmerica-2). Be sure to choose the lowest-paying server.
Step 4: Once the boosting process bar runs to completion, a new window appears, prompting you to start your game.
What is Lag?
In video games, lag is a type of delay that occurs when doing activities.
What causes Lag?
Insufficient internet bandwidth

Issues with speed on the internet

Type of bad internet connection

Difficulty using wireless internet
Other Solutions
Update your graphics drivers
Your old graphics drivers may be to blame. Graphics drivers are just as critical as the graphics card itself and old drivers could see your V rising lagging
Here is how to update your graphics drivers:
1. Navigate to the Start button and Right Click on it to reveal the Device Manager
2. Open the Device Manager and click on the arrow immediately before the Display adapters
3. Proceed to Right Click your selected graphics card and choose Update driver
4. Finish by Searching Automatically for graphic drivers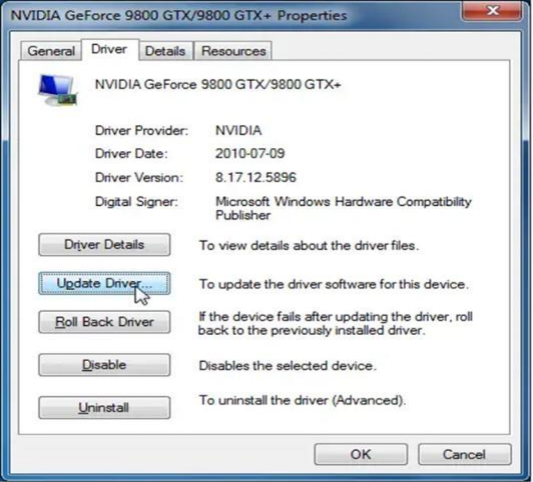 Better yet, you can update your drivers via either Radeon software or the NVIDIA GeForce Experience application.
Make changes to your graphics settings
The graphics card is the nerve center of your gaming experience, meaning the settings you make here will affect the feel, speed, and pretty everything else in the game. A drop in the frame rate for instance can be an indication that your graphic settings are not right.
For NVIDIA users:
Start by right-clicking anywhere on the desktop to reveal the shortcut menu; Click on the NVIDIA control panel
Proceed to click on Manage 3D Settings, then Program Settings
Find the game – V Rising in this case – or manually add it if doesn't show up on the list
Proceed to make these changes:
Monitor Tech = G-Synce (just move on if unavailable)
Max. Pre-rendered frames = 2
Threat optimization = On
Power Management = Prefer Max. Performance
Low Latency Mode = Low
Texture Filtering / Quality = Performance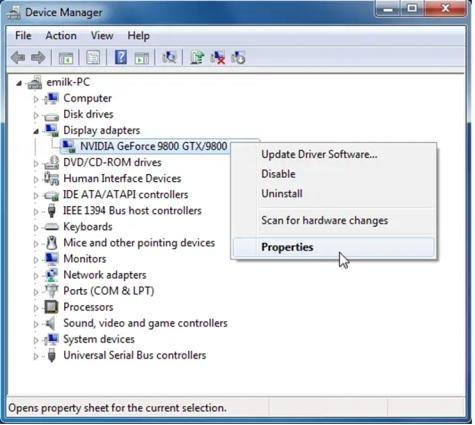 For AMD users:
Open your AMD app and make these adjustments under the Graphics tab:
Anti-Aliasing Mode = Use App Settings
Morphological Filtering = Off
Anti-aliasing method = Multisampling
Anisotropic Filtering Mode = Use App Settings
Texture Filter Quality = Performance
Surface Format Optimization = On
OpenGL Triple Buffering = Off
Wait for V-sync = Off
Shader Cache = AMD optimized
Max. Tessellation Level = Off
Tessellation Mode = Override application settings
Chill = Off
GPU Workload = Graphics
Framerate Target Control = Disabled
AMD cards are equipped with a dedicated anti-lag function; here is how to go about it
Enable Game Mode (here you need to modify the order of the numbers)
It's always good to enable game mode on your Windows OS and put performance above everything else, something that will reduce stop V Rising stuttering. By enabling this mode, your OS gets to avail more system resources to permit faster and smoother gameplay.
It's simple: Open Settings and clicks on Gaming option. Proceed to the Game Mode section and turn on Game Mode.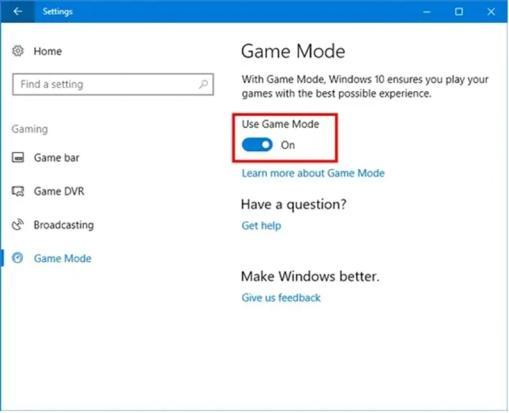 Make Appropriate In-game Settings
You can actually correct V Rising lag from inside the game by making a few settings. Open V Rising and navigate to the Options section then click the Graphics subsection. This subsection contains everything you need to improve the quality of the graphics.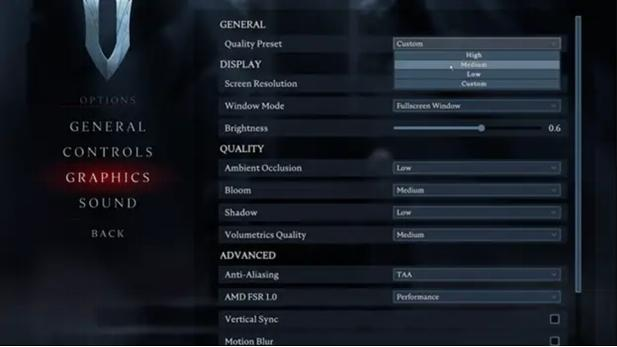 If you are using a non-so-powerful PC, set your Quality Preset to Medium-to-Medium. Otherwise, you can go for High. For the sake of consistency, we will restrict our settings to a less powerful, under-resourced machine.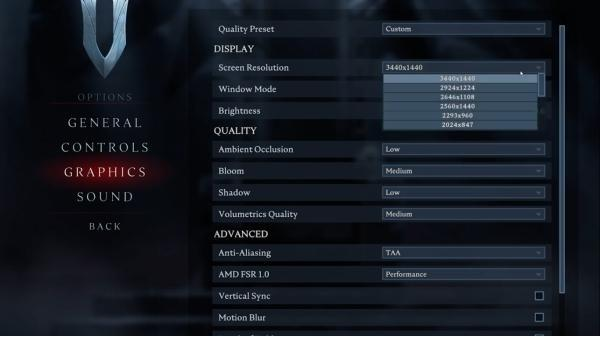 Ensure the settings in this section matches your monitor resolution (for an average less powerful PC that would be about 3440x1440. However, if you are using a high-end CPU or GPU, you are free to increase the resolution.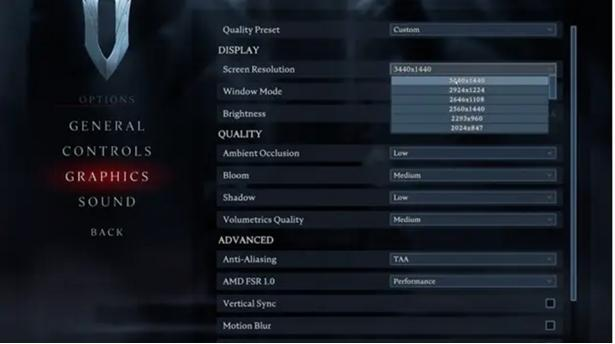 This option supplements the rest of the settings. For the best performance, which also helps get rid of the offending lag, be sure to play in fullscreen mode. Such things as the brightness of the screen will not impact your performance, so skip that section.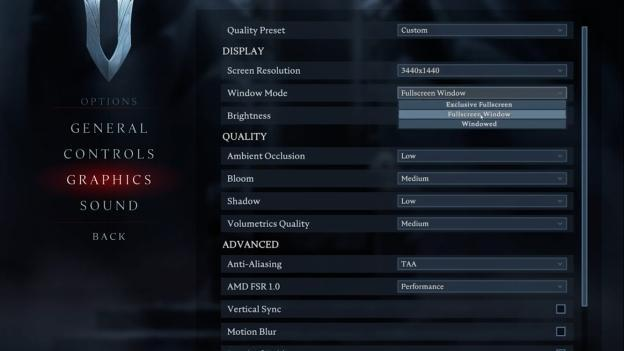 Set the quality as follows:
Ambient Occlusion = Low
Bloom = Medium
Shadow = Low ((Feel free to increase to Medium)
Volumetric Quality = Medium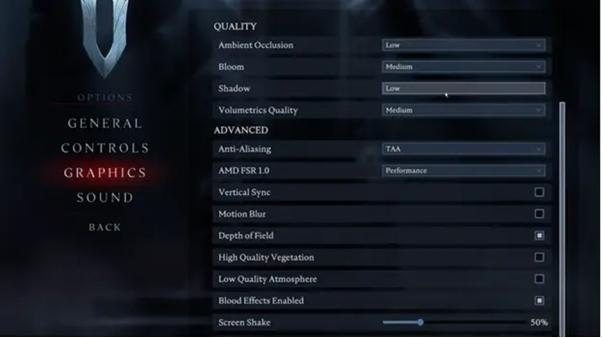 Here, ensure you completely disable Anti-aliasing (TAA) – the Anti-aliasing setting tends to make the game look laggy if you are playing on a low screen refresh rate.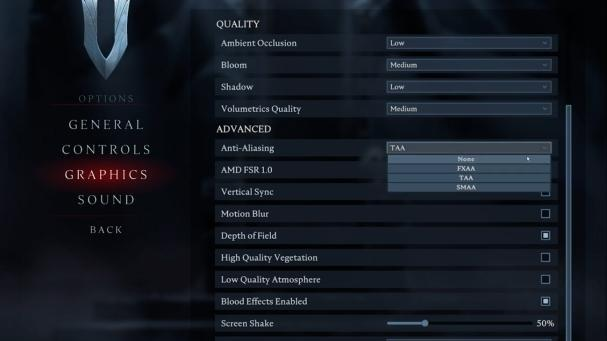 In the remaining section enable Depth of Field and Blood Effects and leave everything else as is (leave the Screen Shake at 50%).
The last two options are highly impactful on your graphics card. For a lowly resourced PC, leave both Cloth Quality and Cloth Update Rate set to Medium. If lagging persists, change Cloth Quality from Medium to Low.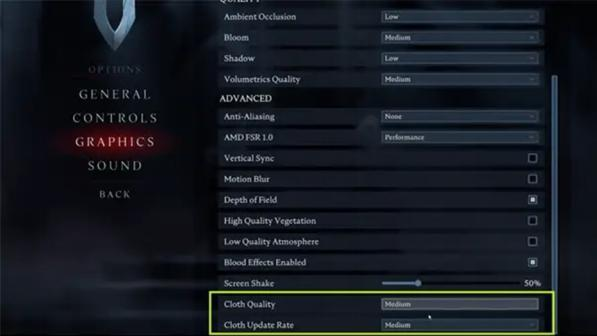 Other related problems with Lag
• The method of connection to your router
• The copper line's quality, and /or the Internet Service Provider
Other Information about LagoFast
What is the difference between VPN and LagoFast?
1. LagoFast accomplishes this exclusively for certain games, unlike most VPNs which reroute the internet connection for all internet-based applications on your PC. This indicates that it solely has an impact on the network link between your machine and the game server. Due to the improved connection, you may stream and utilize Spotify while playing games.
2. LagoFast servers are located all over the world to ensure that we can join Lagofast's acceleration network close by. While the number of VPN worldwide servers is typically quite limited and the network granularity is insufficient, this is not the case with Lagofast.
3. For game acceleration, LagoFast uses a dedicated connection that has a reduced ping and a more reliable transmission.
4. Routes from VPN are not independently created, making them easily breakable. In this approach, stability, security, and privacy are bad.
Is LagoFast really necessary?
The answer to this question is that it depends, to be precise. If you expect Lagofast to cut your ping time from 300 milliseconds to 60 milliseconds, you're setting yourself up for disappointment. Regarding such a high ping, not much can be done.
Furthermore, you probably won't notice any variations if you are in an area with sufficient internet infrastructure.
The software is particularly useful in regions with a lack of network infrastructure and erratic internet connections.
By minimizing packet loss and jitter, Lagofast will significantly enhance the quality of your online gaming experience if you reside in one of these regions. Users of low-end gaming systems might find this program useful.