The pros began Alpha testing Overwatch 2 on March 11, 2022. Following that, it was revealed that Overwatch 2 would be released as a free-to-play game on October 4, 2022. This is undoubtedly exciting news for a large number of players. The official announcement of Overwatch 2 gameplay has also whet players' appetites. Blizzard Entertainment has infused the game with a slew of PVE content inspired by the popular PVE seasonal campaign mode. Players can enhance their gaming experience by upgrading their heroes and acquiring items. The new episodic missions cast four players as heroes from the Overwatch story, tasked with completing a series of missions and launching a counterattack against the Return to Zero. Not only that, but if the player account owns the first generation of Overwatch, its achievements, loot, and collection will all be transferred and merged into Overwatch 2, including the shape, avatar, spray paint, and other content. But inevitably, there will be Overwatch 2 high ping, lag, and low FPS. So what is the best solution? LagoFast, of course!
Part 1: LagoFast: Best Way to Fix Overwatch 2 High Ping
Part 2: Effective Fixes to Overwatch 2 High Ping
LagoFast: Best Way to Fix Overwatch 2 High Ping
Ping is a critical indicator in FPS games. Every second counts in Overwatch, if someone has a lower ping than you, he has a better chance of killing you. So, how do we get 0 ping in Overwatch 2? How to fix ping spikes? Of course, we use LagoFast! It has over 8 years of experience in resolving network issues by utilizing industry-leading internal protocols. As a result, the Overwatch 2 high ping issue is a piece of cake for it. LagoFast not only ensures ultra-smooth gameplay, but it also does not disrupt Twitch, Spotify, or any other online content. Smart, real-time network diagnostics and dynamic matching with the best nodes ensure that all players have lower ping levels and less latency. Are you still worried about wasting money by subscribing to a full month of accelerated gaming service but not having enough time to play the game? That's not a problem for LagoFast, the only one of all products with a time-based package. Come to use the most suitable game booster to Overwatch 2!
This is the list of Overwatch 2 features:
Free trial, have a try before your decision
Reduce ping while boosting FPS
Real-time ping values and packet loss detection
Pay per minute, more friendly to your wallet!
Come to boost Overwatch 2 in only 4 steps:
Step 1: Download LagoFast and register.
Step 2: Type Overwatch in the Search box and click on Overwatch 2.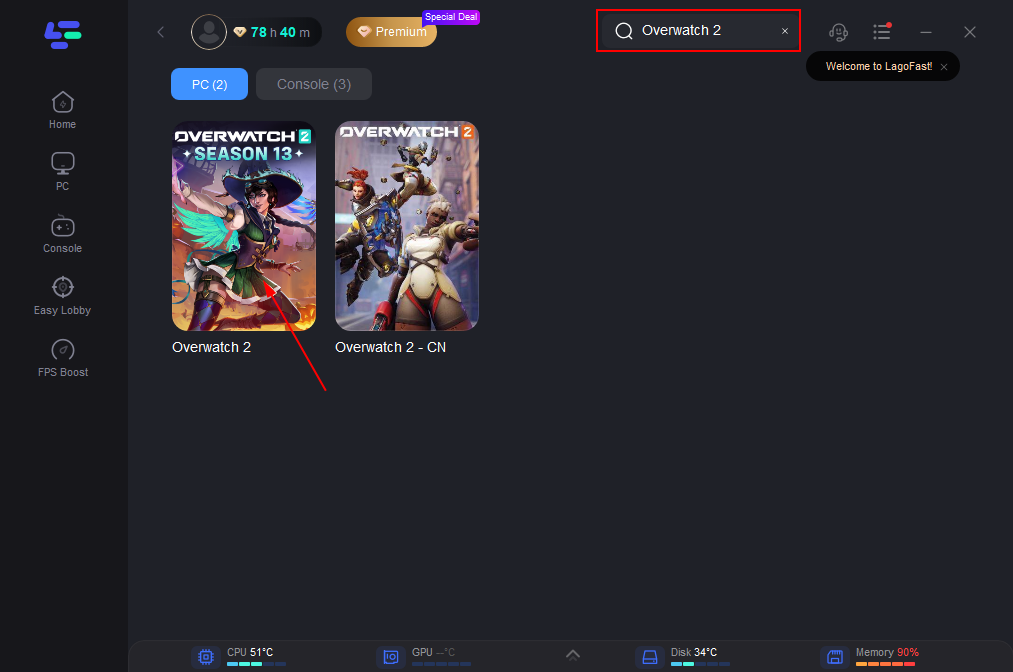 Step 3: Choose your needed server and the best nodes by yourself.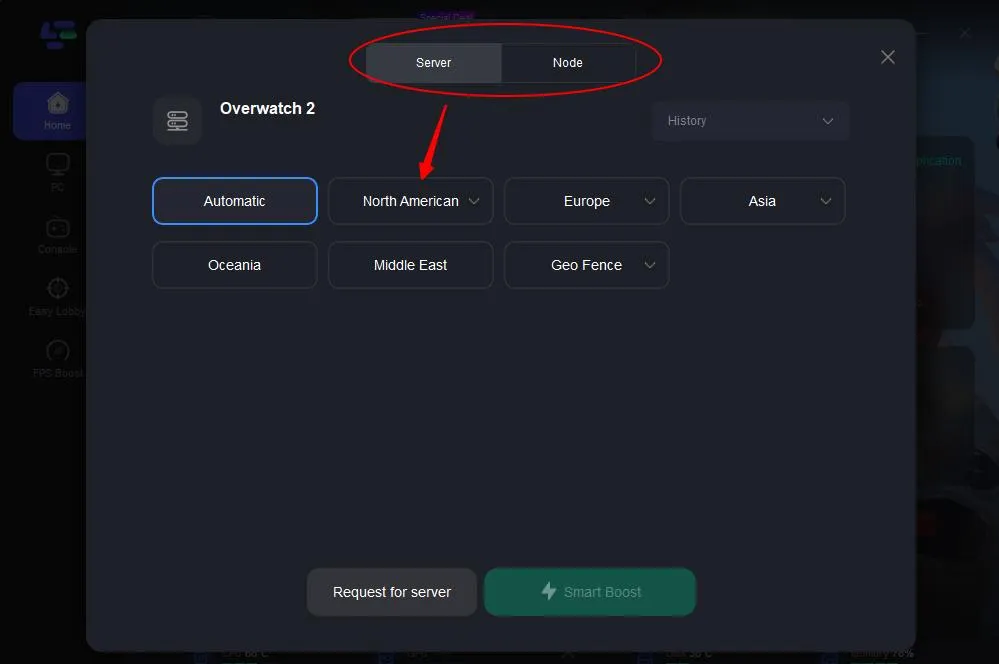 Step 4: Click on the Boost button to start boosting.
You can know Overwatch 2 real-time ping and packet loss rate, which are closely related to your FPS performance.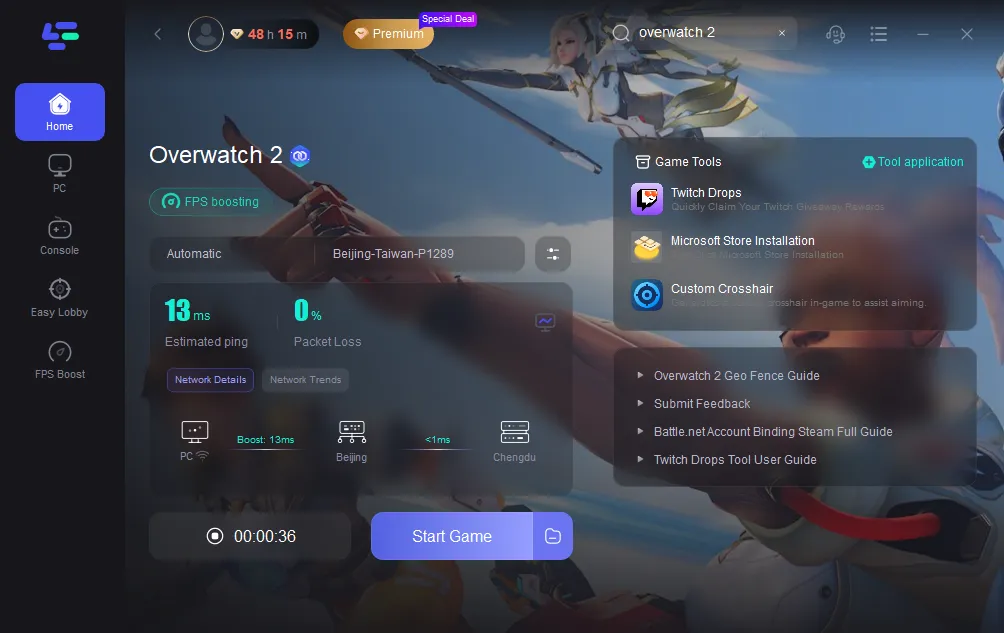 Also, change the settings manually by clicking on the ones you want to turn on/off.
To do like this:
Step 1: Select the FPS Boost tab on the left side of the desktop.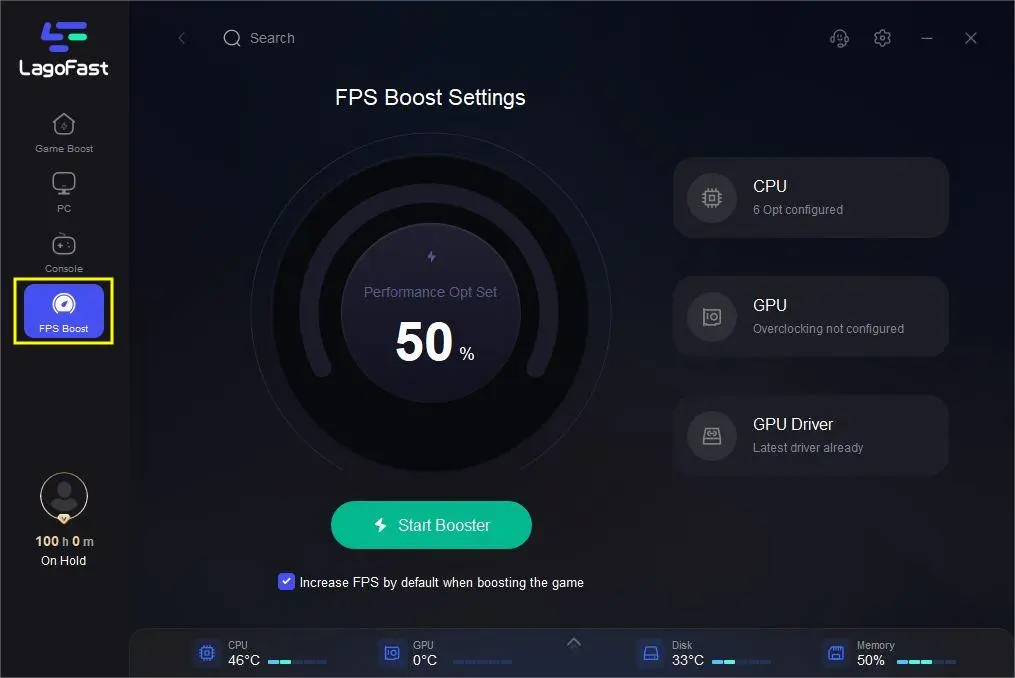 Step 2: Turn on/off the settings to boost Overwatch 2 FPS.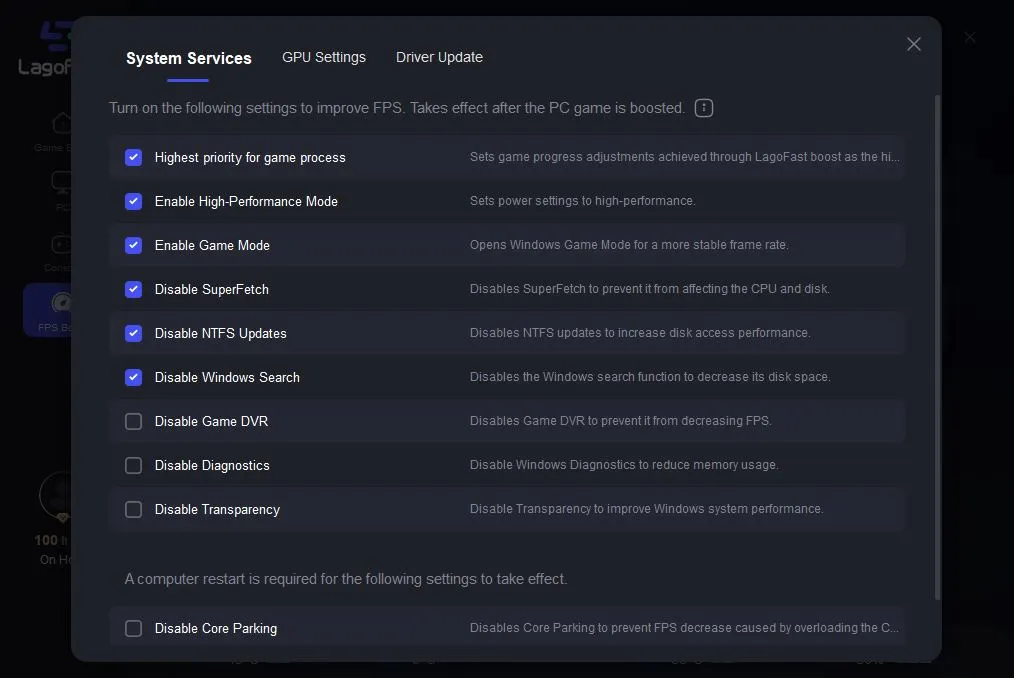 Effective Fixes to Overwatch 2 High Ping
Although it is not easy to fix Overwatch 2 high ping on your own because there are numerous causes for this issue. You can, however, give it a shot. As a result, we've compiled a list of common solutions for you.
Close background apps: When you open Task Manager, you will notice that there is a surprising amount of software running in the background. They are to blame for Overwatch 2's high ping. They consume system resources and network data, causing the game to be allocated fewer resources. You simply need to disable them in the Task Manager. Please keep in mind that closing system-level processes can cause your computer to crash.
Whitelist Overwatch 2: You may not believe that the firewall that normally keeps us safe could be the culprit behind the Overwatch 2 high ping. Because when a firewall mistakes Overwatch 2 for threatening software, it monitors it for all network activity and inspects the packets sent and received by the computer, which may only delay a few milliseconds, but can also be fatal for the smooth running of the game. So, whitelist the game!
Use Ethernet: Wireless networks provide a lot of conveniences because they allow us to connect multiple devices to the Internet at the same time. However, this is not ideal for those of us who enjoy playing console games. Because Wi-Fi is highly unstable and easily disrupted. When there is a barrier between your laptop and the router, the wireless network signal becomes very weak. Furthermore, because network data is limited, other connected devices will consume the computer's network resources. You can try some Ethernet connections for a more fluid gaming experience.
Update network drivers: The network driver is responsible for all Internet-related activities in the game. So when the network drive is corrupted, lost, or too old, it can cause a series of problems such as high ping and lag. Update the driver and then start Overwatch 2 to see if the problem improves.
Check the system: Game officials usually provide the minimum system requirements at the same time as the game is released. This way players can experience the game. That's why we often recommend players check if their system meets the minimum system requirements before starting the game.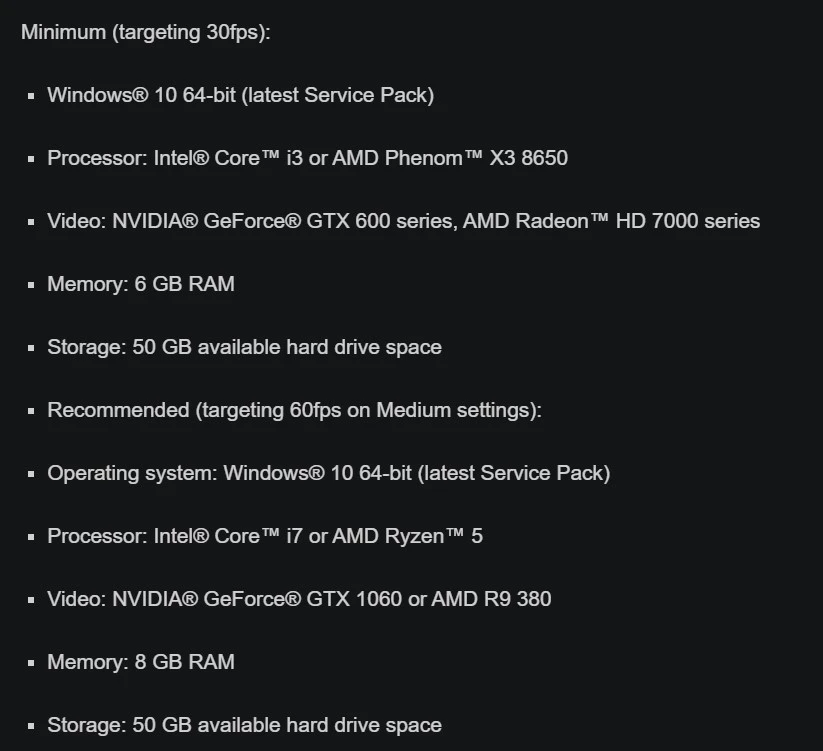 Overwatch 2 FAQs
What are seasonal experiences in Overwatch 2?
Every nine weeks, a new season will begin with a themed Battle Pass, new cosmetics in the Shop, and seasonal events. Season Two will launch on December 6th, with a new theme, hero, and Mythic skin.
How do I get new Heroes in Overwatch 2?
Everyone will be able to unlock new heroes for free in the Battle Pass. They'll be unlocked at Tier 55 in the free Battle Pass track and instantly in the premium Battle Pass track. Heroes from previous seasons can be obtained through special new challenges, or they can be purchased directly in the shop with Overwatch Coins.
What's the theme of Overwatch 2's Season One Battle Pass?
Season One of Overwatch 2 will have a cyberpunk theme and include the Mythic Genji Skin.