Call of Duty: Modern Warfare II, sixth in the Call of Duty series, has gained large popularity once released officially. As one of the most anticipated games, it creates a new world enables players to fight at global levels, with brand new gun handling and full cross-play support. With the innovated gameplay, it is almost inevitable that burdens will come. Your pleasant journey can be spoiled by the connection errors, such as lag, high ping, low FPS, etc. This message will introduce some methods to help you get better at warfare 2 with some desirable functions, such as easy lobby, using the best VPN ever!
Part 1: LagoFast: the best VPN for Modern Warfare 2
Part 2: Common problems and solutions in the gameplay
Part 3: Other solutions to reduce lag issues
LagoFast: the best VPN for Modern Warfare 2
LagoFast is a Warzone VPN developed by a professional team with 8+ years experience in dealing with game challenges and providing players with a better gameplay. It is a self-developed game data transmission protocol, offering a stable connection to server without lag issues. The download process is very easy. Now players can have 7-days free trial, and we also offer a Pay-per-Minute plan to help you test the best VPN. Start now!
Why LagoFast the best VPN for MW 2? Here are some advantages we have:
VPN has very few globally distributed servers, while LagoFast has servers all over the world to ensure that users can access the accelerated network near them.
VPN routes for games is not of high quality, while LagoFast provide smooth game experience with dedicated routes, with which lower ping and more stable data transmission are realized.
VPN routes are non-self-developed, resulting in easy to be cracked. Security, privacy, stability is relatively poor.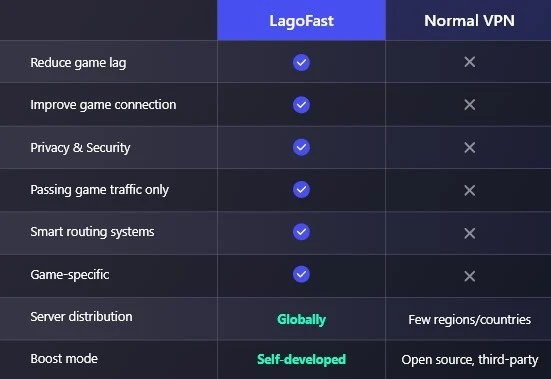 Sounds great right? Next, we will give an example to show you some tips to get easier lobby Warzone with LagoFast:
Step 1: Download LagoFast and register
Step 2: Search "Easy Lobby" in the Search box.
Step 3: Choose one of the desired "Servers" . You can adjust the server as your want or choose the best nodes with low ping.
Step 4: Click on "Game Boost" on the left side and start boosting. Then you can directly see your real-time ping rate and packet loss rate on the page.
Common problems and solutions in the gameplay
Here we provide some tips to help you perform better in the Call of Duty series:
How to reduce Modern Warfare 2 lag
1. If it is related to network connection, LagoFast can help you smoothen your network by reducing high ping and latency. Doing so can shorten the time your PC reacts in-game, therefore gaining a better network performance. However, if your network is not properly connected, you may have to do something on your own. For instance:
If you are using Wi-Fi, change to a wired connection, which is more stable
If you have already used a wired connection, check whether the routes are properly connected before doing any other improvements
2. Apart from a poor network connection, LagoFast can help you when it comes to a long distance between your PC and the game server. An overloaded or distant server can cause Modern Warfare lag. With worldwide distributed servers and nodes, LagoFast can automatically allocate you to the best route with the lowest ping and the minimum lag.
How to enhance Call of Duty: Vanguard ping
1. Check your network connection.
A good network connection is the most crucial precondition for having a low ping. As mentioned above, to enhance your network's performance, a wired connection instead of WiFi is recommended. You can also ask your ISP to broaden your bandwidth so as to increase the network speed.
2. Close up background application.
Your computer's CPU may become overloaded and hence ping will increase if too many programs are running. Close some background programs so that the CPU can be used to its fullest extent while playing Call of Duty Warfare 2.
3. Use LagoFast
LagoFast is professional in reducing high ping. Except for running a ping test, it can also effectively reduce Modern Warfare 2 high ping. With its unique game data transmission protocol, your ping will be decreased to an unbelievable level.
How to increase download speed for Modern Warfare 2 on PC
Step 1: Select PC tab -> Boost CoD-MW2 :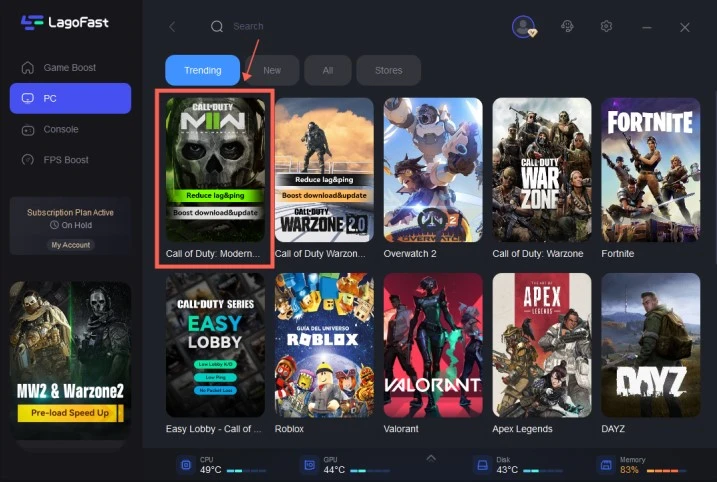 Or, you can also select PC tab ->Battle.net: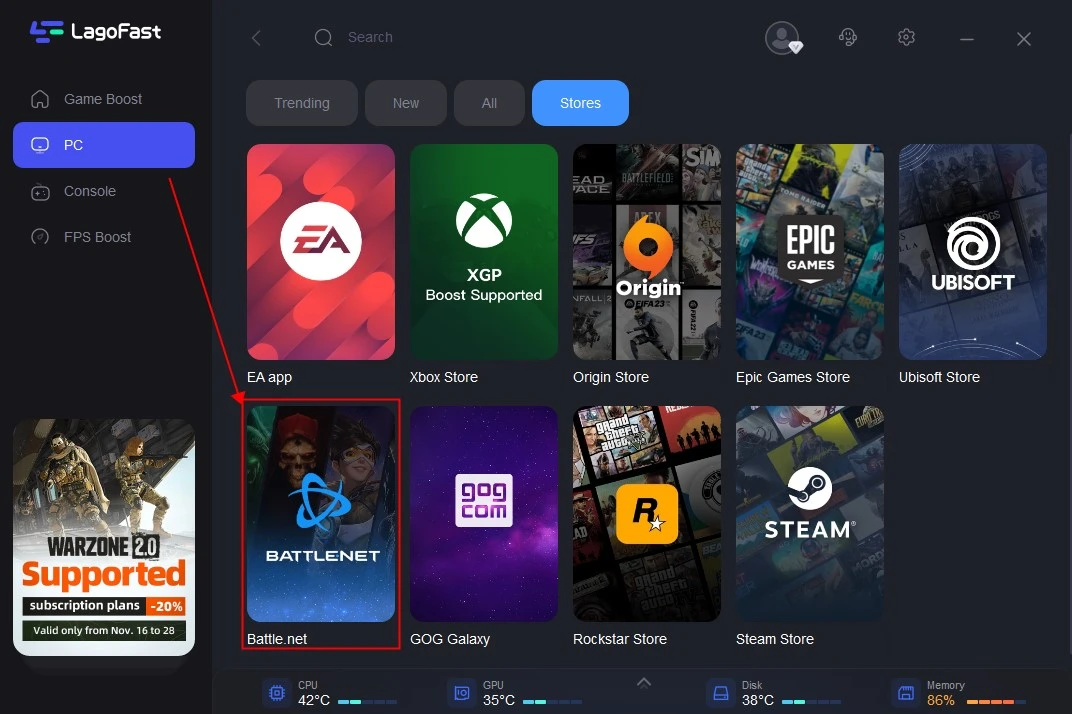 Step 2: Choose your local server :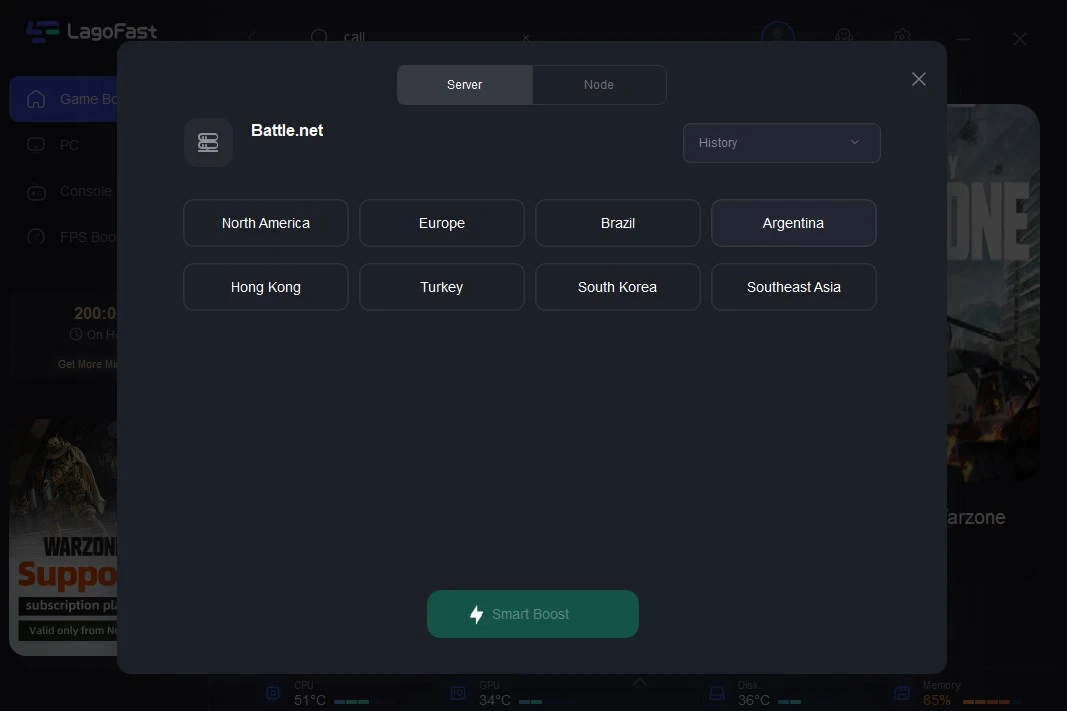 Then, choose the node with the lowest ping: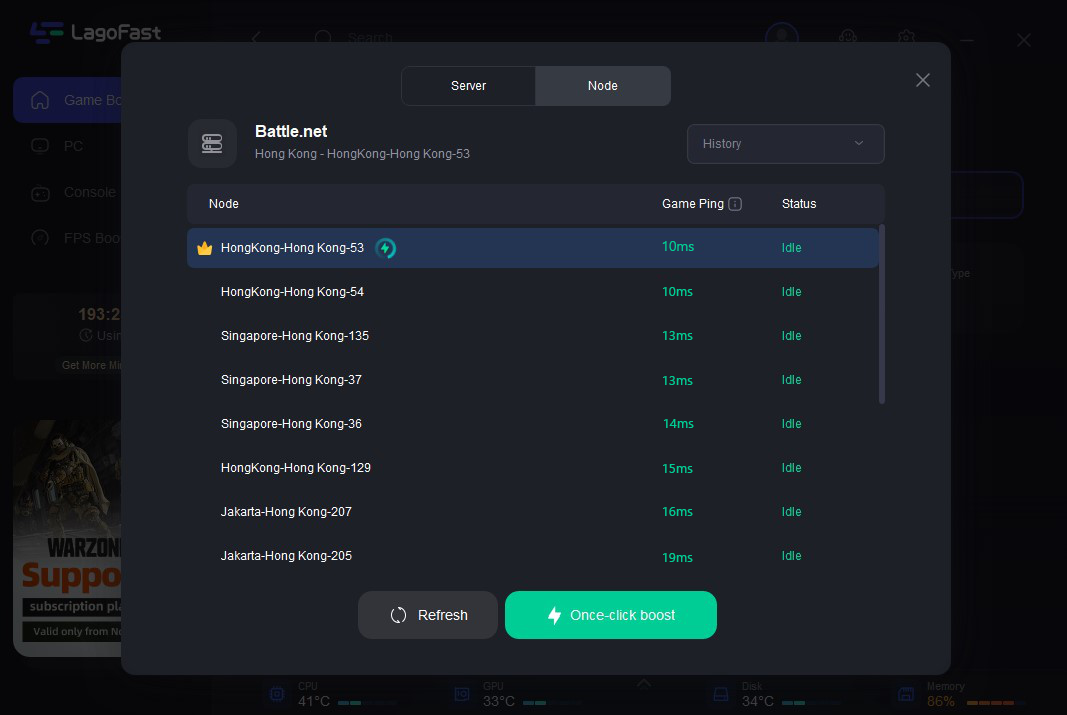 Step 3: Settings done on LagoFast. Go download MW2 from official website and see the miracle happening! Find out more in our Support page to download MW 2 at high speed.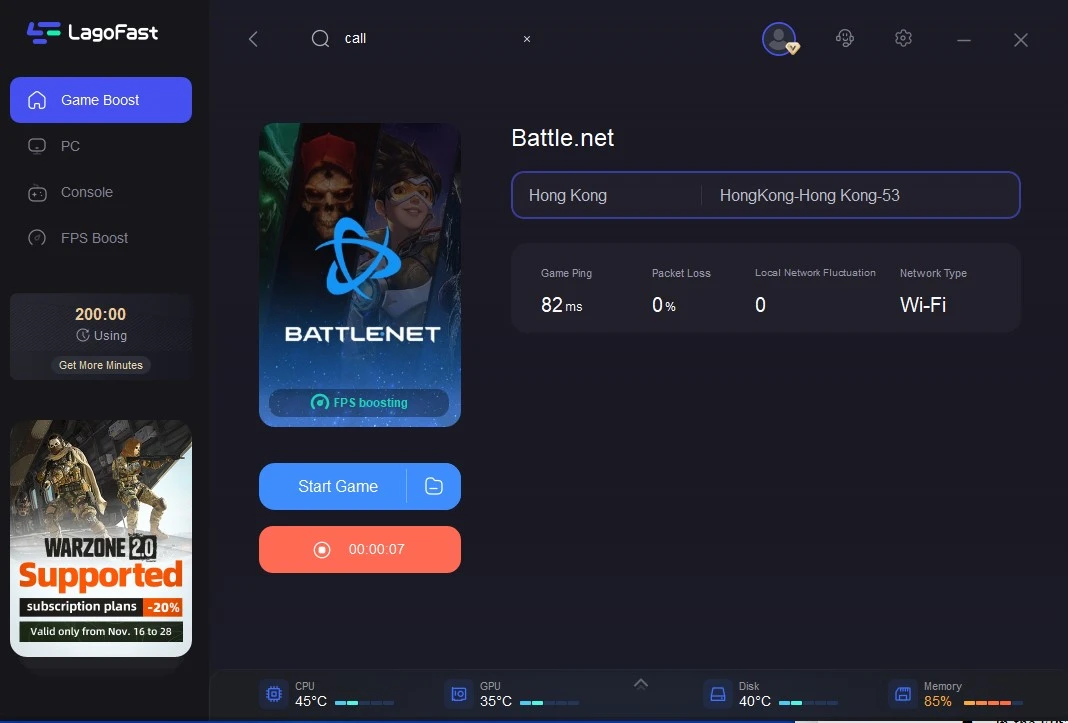 Click "FPS boost" on the left on LagoFast home page.
In the FPS settings page, you may select and save the settings you need (some settings will take effect only after restarting the computer).
Start boosting in "Game Booster" tab to enable FPS boost at the same time.
The settings will be restored when boosting is over or disconnected from LagoFast.
Other solutions to reduce lag Issues?
Here are plenty of tried-and-tested fixes that will help to reduce lag when you are playing Modern Warfare 2. Let's take a look:
Update your graphics card drivers.
Your graphics card drivers are the software that controls your graphics card and allows it to interface with games. Running outdated drivers can terribly influence your performance, as drivers are often tweaked in later releases for specific games. Try to make sure you're always running the latest version of your drivers.
Search online for mods that increase performance.
You may run across a game that is not optimized for your hardware
or is known to have poor performance. Search online for unofficial mods or enhancements that provide higher performance. Read reviews and discussion forums before downloading to ensure how to properly install the mod.
Lower your graphical settings
The best way to get a big performance boost from your games is by lowering the graphical settings. This may make the game look a little worse, but can lead to massive gains in frames per second (FPS), which will provide a much smoother experience.
Perform virus and malware scans
If you have a virus infection, the virus may be taking up a lot of your system resources. Removing infections will not only increase your game performance, but they will also improve your computer's security. Most virus infections can be removed using a combination of your antivirus program.