According to statistics, NBA 2K22 is one of the most downloaded PS games in 2021, which is a huge success, but it also sets 2K23 up for a difficult task to surpass its previous success. According to what we know so far, 2K23 will be more focused on offensive gameplay, with powerful miniature outside guards becoming a thing of the past. Furthermore, the official designers have improved the AI to ensure that it does not ruin your gameplay experience. However, ping spike, lag, and other common video game issues will appear in NBA 2K23, and I'm sure you don't want NBA 2K23 high ping to interfere with your dunks. In that case, I recommend LagoFast-- an all-around excellent game booster.
Part 2: Why Does NBA 2K23 Have High Ping?
Part 3: LagoFast: The Best NBA 2K23 High Ping Reducer
Part 4: Other Fixes to NBA 2K23 High Ping
Ping is used to describe the latency between player input and the server's response to that input, with lower ping values indicating less latency and smoother gameplay. Ping is very important to players, especially in FPS games, because if your opponent has a lower ping value than you, he will be able to counterattack faster when you find each other. Ping is measured in milliseconds. Less than 15ms is usually considered excellent, 15-100ms is acceptable, and above 100ms the game is nearly impossible to play properly.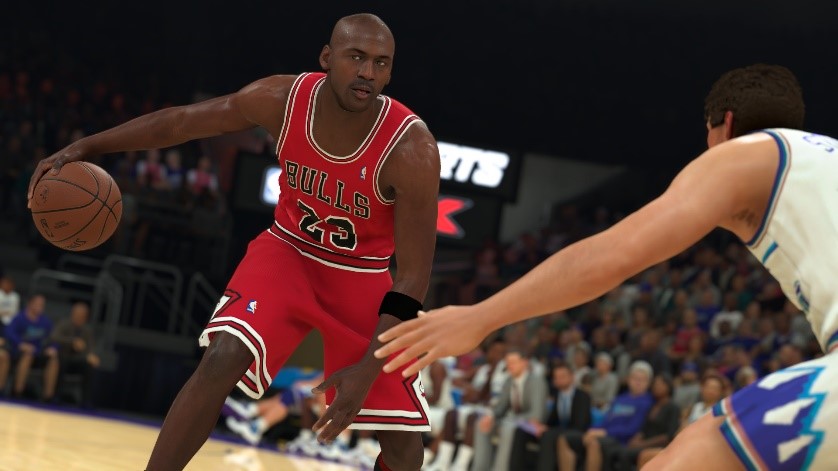 Why Does NBA 2K23 Have High Ping?
Whatever mode NBA 2K23 players choose, the content they encounter is all upgrades on all levels. MyNBA game mode allows players to relive historical moments through NBA Legends missions and historical teams from various eras. Contracts have been permanently removed from MyTEAM, and Triple Threat Online: Co-Op has been added. However, we must also consider the impact of high ping on NBA 2K23. Before we discuss how to solve the problem, we must first know why NBA 2K23 ping is so high.
Internet speed: Your Internet connection might be too slow. Response times will be delayed if your upload and download speeds are slow. Your ping can become extremely high, especially during peak Internet usage hours.
Unstable internet: If you're using a wireless network, your lag spikes could be caused by unstable internet. WIFI is extremely convenient, but its signal is highly susceptible to interference and extremely unstable. And if there are a lot of people at home sharing the same wireless network as you, especially if they are using apps that consume a lot of bandwidth, your internet speed will drop, resulting in NBA 2K23 ping spikes.
Network driver issue: A network driver is a piece of software that enables data transmission and reception over a network. So when your network driver fails, you can't connect to the Internet smoothly, which is understandable when you're playing NBA 2K23 with high ping.
Distance from server: If you choose a server that is geographically far away from you, your ping will spike. For example, you may be in the United States and trying to connect to a server in the United Kingdom. The data must then go across the seas to share information.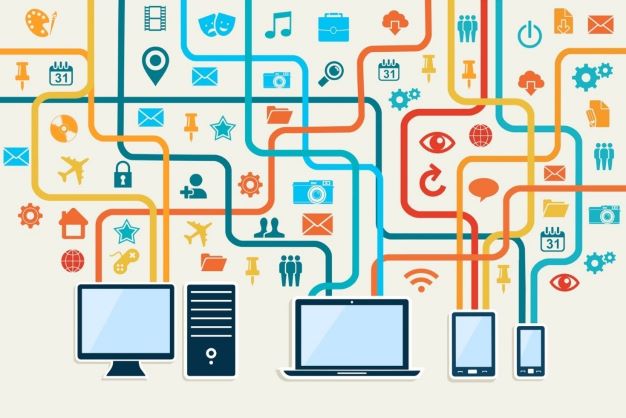 There are numerous causes of high ping in NBA 2K23, and for most players, determining the root cause is nearly impossible. This is where external tools, such as LagoFast, which is probably the most convenient tool for solving game problems, come in handy. If you have a poor internet connection at home, LagoFast can improve your network using the internally developed LFP data transfer protocol, and its strong compatibility can provide all-around protection for your gaming experience. Don't worry if your ping is too high to reduce! Intelligent network diagnostics will dynamically match to the best nodes, ensuring that each player has the lowest ping possible. Even LagoFast can assist you in resolving the issue of low FPS, you can boost the system with a single click to enjoy super smooth gameplay.
Let's see more features of LagoFast:
Pay per minute, more friendly to your wallet!
Boost FPS while reducing ping value
More than 8 years in data transfer
Real-time network diagnosis for matching to best nodes
Routs around the world
Here's how to use LagoFast:
Step 1: Download LagoFast.
Step 2: Type " NBA 2K23 " in the Search box and click on it.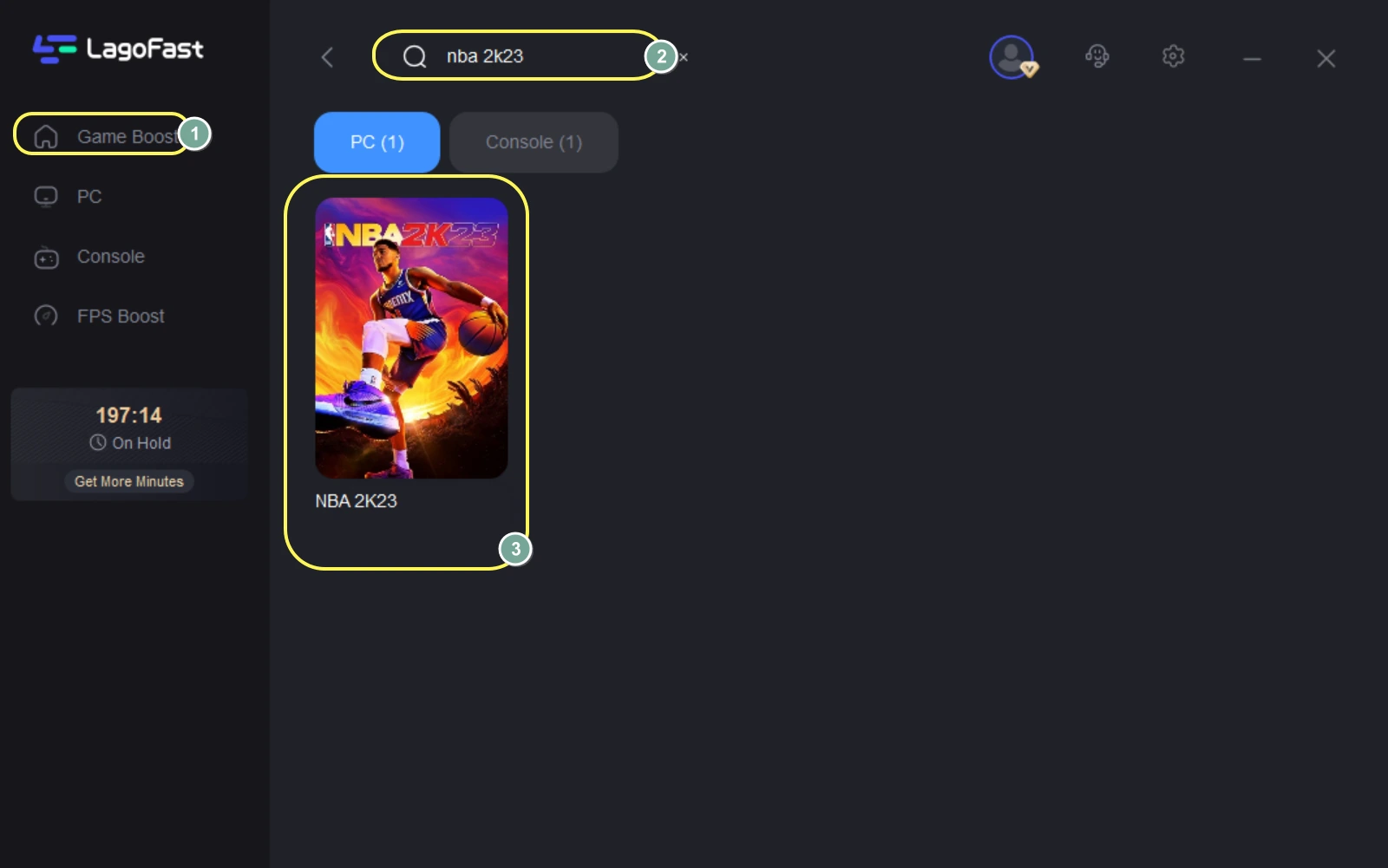 Step 3: Choose your needed server (Please make sure it is the same as the server in your game).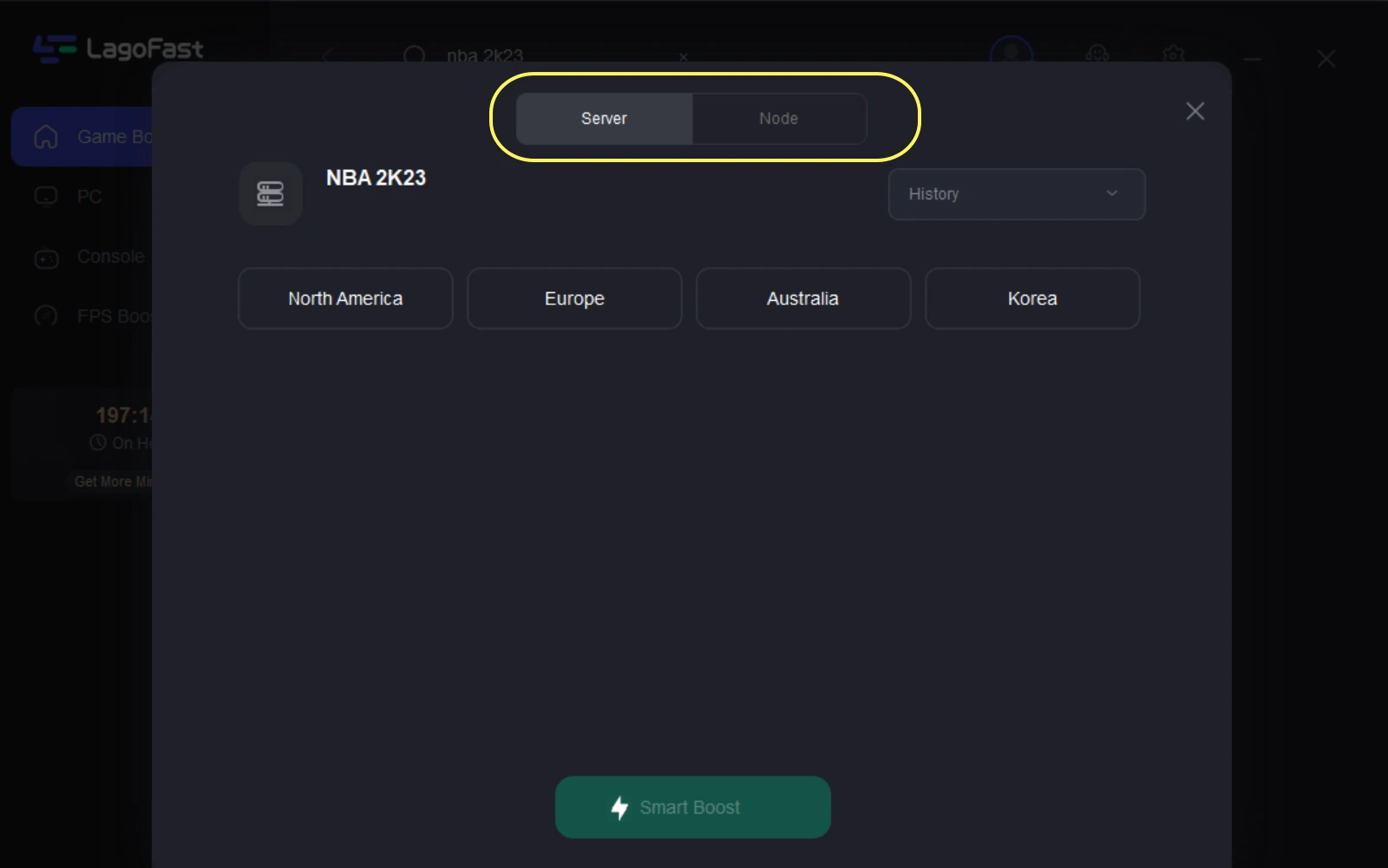 Step 4: Only you should do is click the Boost button to start boosting.
This page displays your real-time ping rate and packet loss rate in NBA 2K23.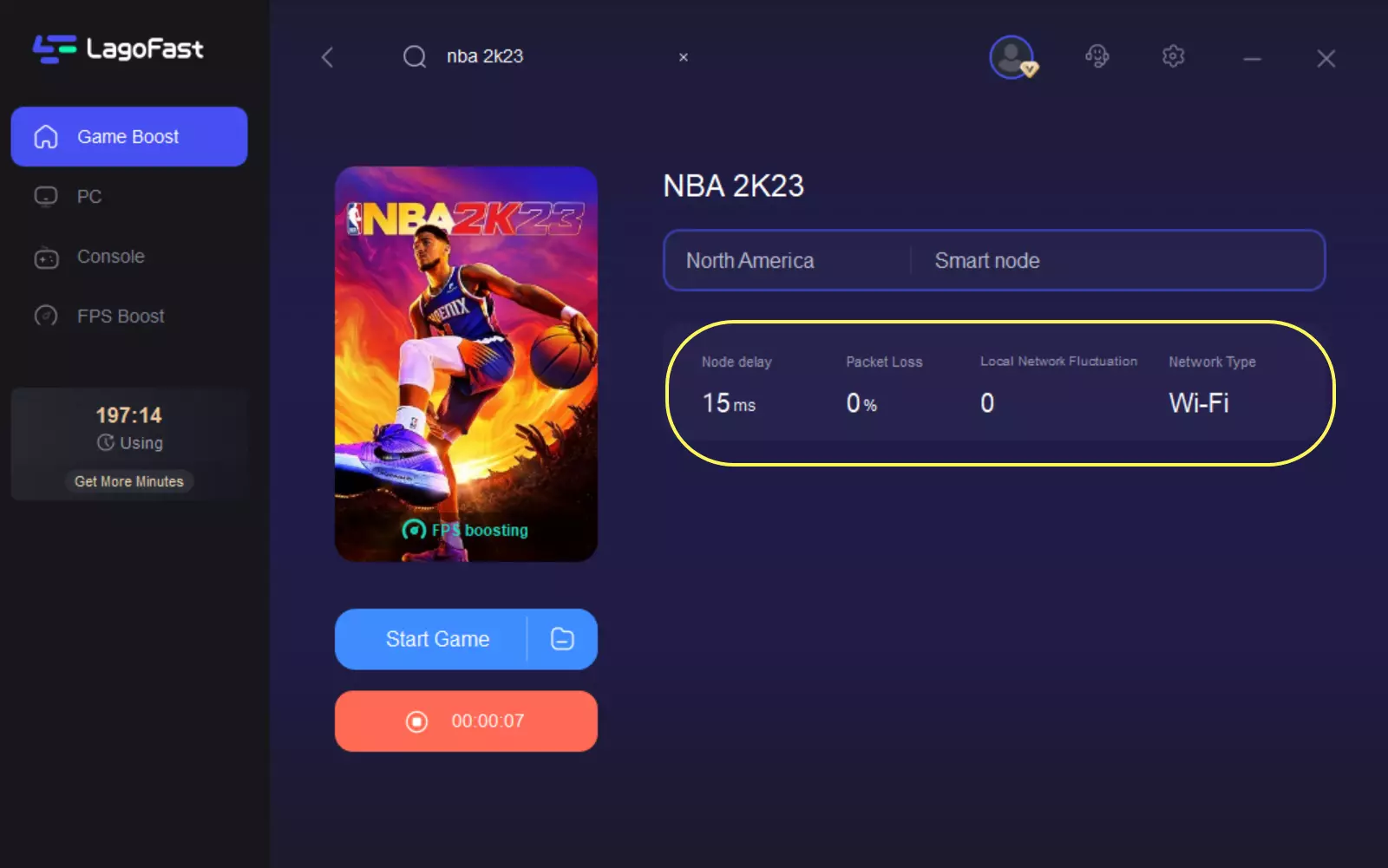 What's more, you can customize the FPS options according to your own needs to get a game that suits you better. To do so:
Step 1: Select the FPS Boost tab in the left column of the desktop.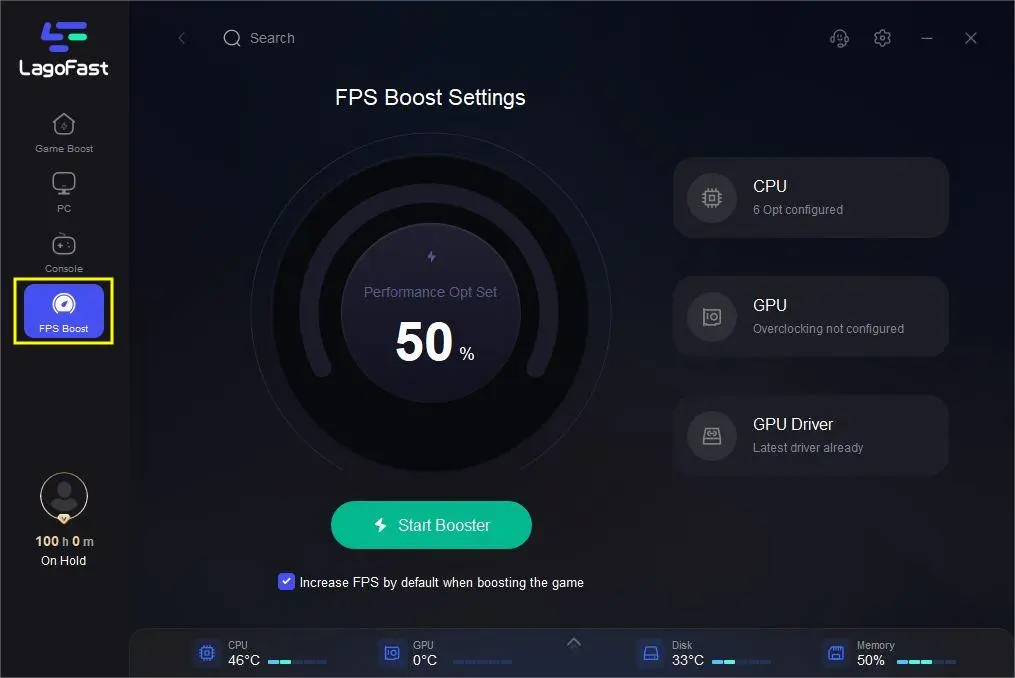 Step 2: Click on the settings according to your own needs. Then you could fix your NBA 2k23 FPS drop issue.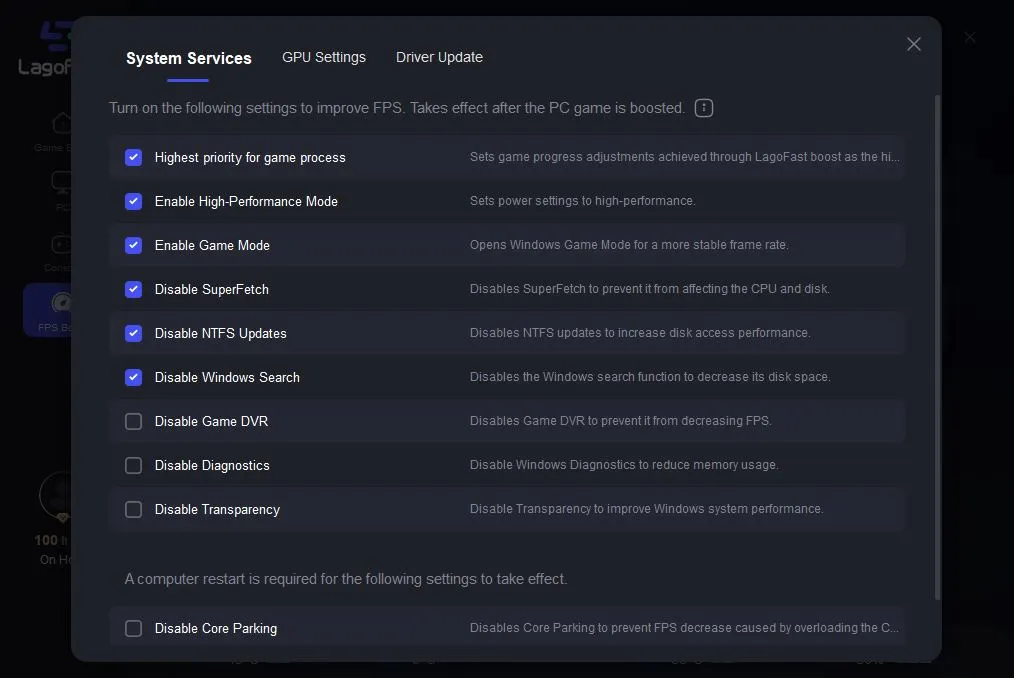 Other Fixes to NBA 2K23 High Ping
We've also gathered other solutions to NBA 2K23 high ping, and hopefully one of them will help you.
Using a wired connection: As previously stated, wireless networks connected to router devices are susceptible to interference and become unstable. Other network activities at home may also have an impact on the ping. Because the Internet connection is a limited resource, NBA 2K23 game traffic cannot be transmitted consistently if the majority of the bandwidth is consumed by other tasks. That is why we recommend Ethernet. If you can only use WiFi, please try to stay close to the router and avoid any walls that might block your signal.
Close background apps: Apps in the background, particularly chat software and browsers, can consume your internet connection even if you are unaware they are running. You can see them by opening your computer's task manager and closing them by right-clicking on unnecessary apps.

Restart your router: I know it sounds like a simple solution, but rebooting your router can help, especially if it has been on for a long time. To see if this helps, simply unplug your router, wait a few minutes, then plug it back in and reconnect to your network.
Whitelist NBA 2K23: Installing virus software will scan your computer on a regular basis for threats, and this process is likely to identify NBA 2K23 as the problematic software. The anti-virus software will also monitor the data communication between the PC and the game server. As a result, whitelisting NBA 2K23 allows data transfer to bypass them, reducing high ping.
Change graphic settings: You must configure the game graphics settings based on your PC hardware. High-quality game graphics settings necessitate the use of more PC resources. However, if you play the game with graphics settings that exceed the performance of your PC, you will experience NBA 2K23 ping spikes.