Part 1. Overview of Albion Online Asia Server
Part 2. Best Way to Lower Ping in Albion Online
Part 3. How to Avoid High Ping in Games
Overview of Albion Online Asia Server
In March 2023, Albion Online will roll out Albion East, a server devoted to the Asia-Pacific region. Now the East server is on the closed beta test. Several new and returning players will now have greater access than ever to the world of Albion thanks to this new server. The new server will alter the times of game and server events like maintenance, territory resets, and the Crystal League schedule in addition to providing significantly faster connection rates and ping for players in the area. According to the official, the new features of the East server are as follows:
a. A fresh start in a new and untouched version of the game, where all players start as equals and can claim their own piece of Albion
b. A game world that is fully separate and independent from the existing "Albion West" server
c. Greatly improved connection speeds and ping for the whole Asia-Pacific region
d. Timings of game and server events (territory battles, Crystal League, Faction Warfare, maintenance, etc.) that are optimized for the region
Get Albion Online Asia server now.
Best Way to Lower Ping in Albion Online
Albion Online doesn't keep too many servers but just the West server in the United States and the East server to be launched in Singapore. Due to the global server concept, it used to apply one server for all players, which causes ping spikes in Europe and Asia-Pacific regions like Australia, Brazil, and China etc. Here we are talking about the best way to lower ping in Albion Online servers with ease.

LagoFast is the best ping reducer for online games to get lower ping and provides faster gaming speed. LagoFast provides both the West server and the East server in Albion Online. Also, it will help you connect with the game node based on your real location, thus ensuring the best server status in games. Follow the steps below and get 0 ping in Albion Online.
Step 1. Free download LagoFast and sign in;
Step 2. Search for Albion Online;
Step 3. Choose the server you want, you can choose the beta test server here;
Step 3. Choose the game node and smart boost your game!
All set was done, you can see the ping status and packet loss rate in LagoFast. Besides, it will boost FPS automatically with CPU and GPU optimization. What you will get is the best PC condition for gaming.
How to Avoid High Ping in Games
High ping issues can be caused by several aspects such as bad network connection, long distance to the game servers, low hardware conditions and so on. To avoid high ping and get lower ping in games, you can get the preparations and make better gameplay.
Optimize your network connection
The place of your router will surely influence the network status. Moving the router around physically can have a significant impact on the speeds you experience and the range of its wireless transmissions. The ideal location will vary in your house, but try not to tuck your router away in a closet, a drawer, or a corner. The more visible and central it is, the better your network condition will be. Moreover, you can try to use an Ethernet cable rather than a WiFi connection. A wired connection is faster and more stable than WiFi.
Change the game server
Game servers are important for players who live far away. Connecting with a far game server will surely slow down the game speed and result in bad gaming performance. You can choose the nearest server or use LagoFast to change servers in Albion Online to get better ping.
Update the graphics driver
Outdated graphics drivers can also lead to high ping issues in Albion Online. To lower ping in the Asia server, you should update your graphics driver in advance so that it won't affect the gameplay. In LagoFast, you can check for driver updates in the FPS boost function. It will always keep your graphics driver up-to-date for lower ping in games.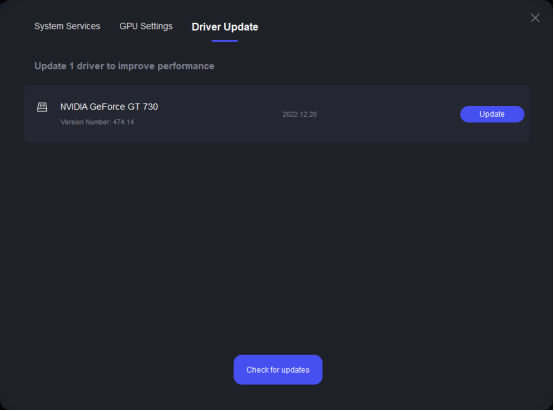 If you want to get lower ping in Albion Online, LagoFast is the best choice for you to reduce ping, change game server and eliminate lag in real-time. Hope you will have a great time in the Albion Online Asia server!