Call of Duty: Modern Warfare II is a first-person shooter game developed by Infinity Ward and published by Activision. MW2 proves itself to be a major success and becomes the fastest Call of Duty game to generate US$1 billion in revenue.
Why Did MW2 Server Queue?
CoD MW2 server queue screen error may occur because there are too many players trying to get in line thus creating a rush which obstructs players from joining the lobby. Or it may happen because the Internet connection in your house is not stable enough.
Being put in the Modern Warfare 2 server queue can be quite annoying. But don't worry, we will tell you several ways to get rid of this situation.
But before we get started, there is one thing you should know. If the MW2 server is down because of an official server maintenance, you can do nothing but wait.
1. Subscribe LagoFast and let it help you.
LagoFast is an incredibly helpful game accelerator. It is famous for its worldwide exclusive routes and unique LFP protocol by which LagoFast is capable of dealing with all kinds of game issues easily.
In addition, LagoFast is an easy-to-use software. The interface of it is quite clear and you can troubleshoot your problems within a few clicks.
Step 1: Download LagoFast from its official website.
Step 2: Search for MW2 on the top of the interface.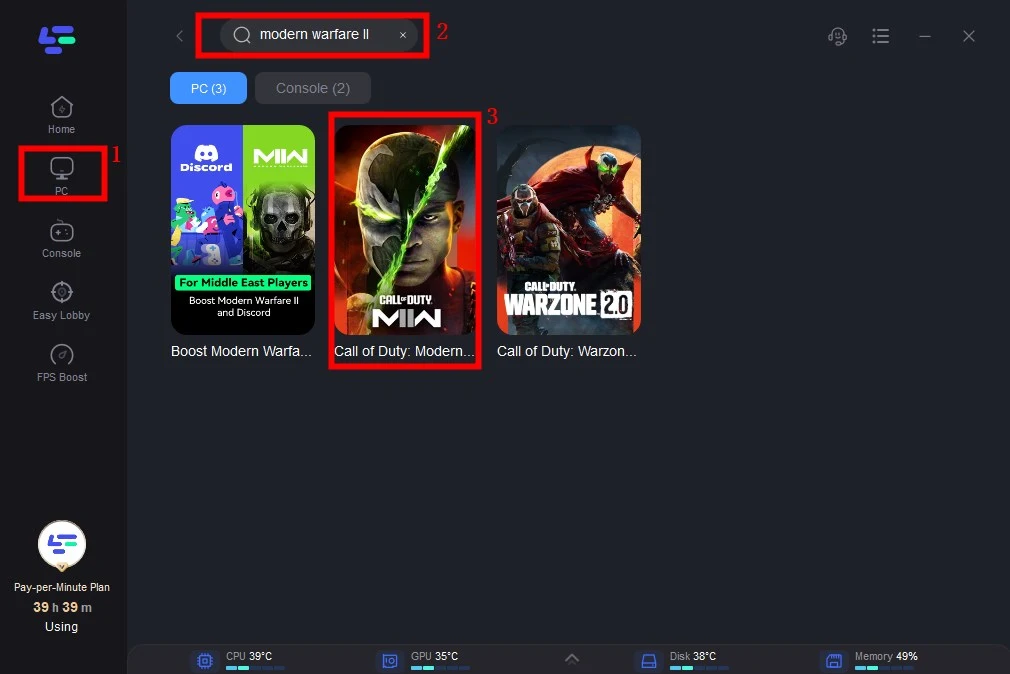 Step 3: Choose the server and node.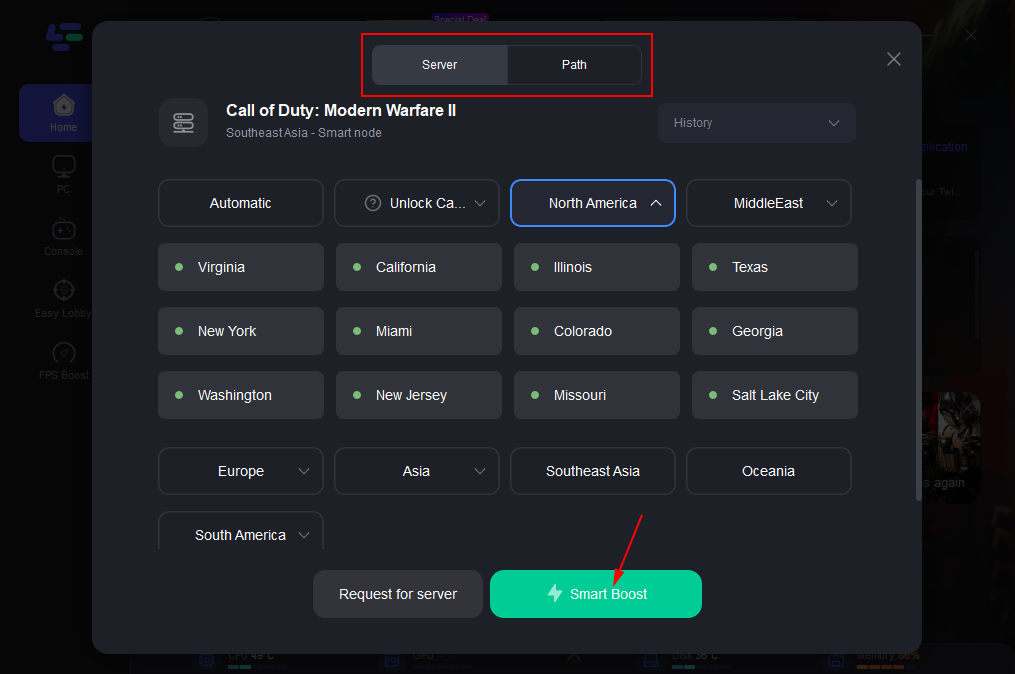 Step 4: Enjoy your game!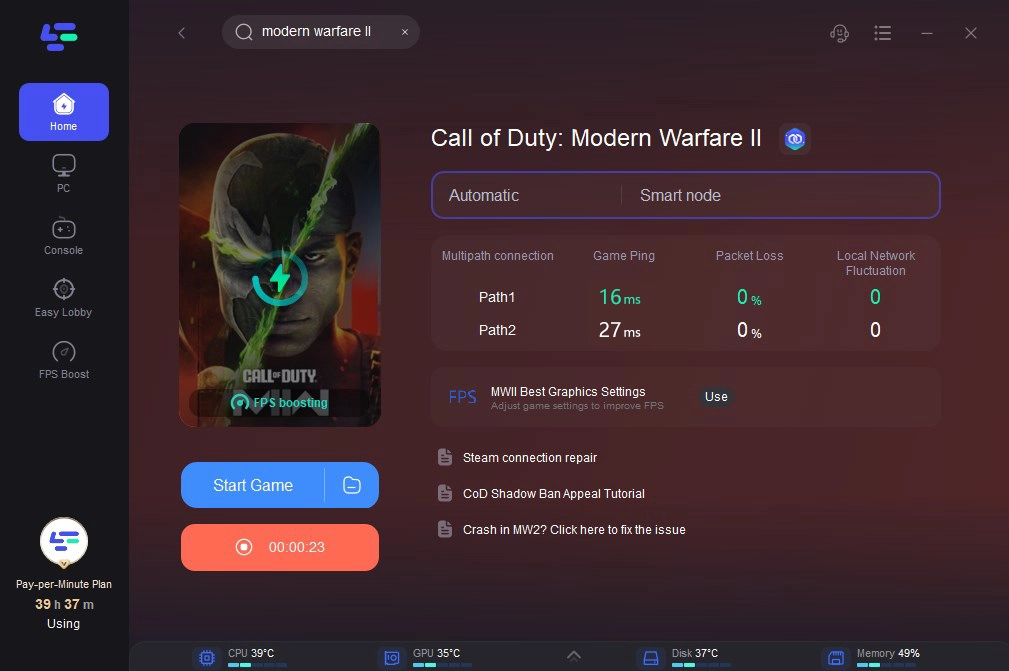 The above steps can not only address the server queue MW2 issue but also get you easy lobby service. Instead of searching for "MW2" in step 2, you can search for "easy lobby" and easily get this kind of service to practice your gaming skills.
As you may not know, LagoFast is famous for not only its ability to fix all kinds of game troubles but also its consideration for its users. For instance, LagoFast never charges players for the minutes they didn't actually use. And this feature enables LagoFast to be such an economic choice for all the players.
What's more, LagoFast supports more than 2000 online games and covers over 60 countries and 150 cities. It is available for players from around the world!
You must be thrilled about imagining how LagoFast will help you improve your gaming experience. Download it now! It is definitely worth a shot!
2. Relaunch the game.
You can always try to relaunch the game to fix the CoD MW2 multiplayer server queue screen error. MW2 on PC can be launched on two different platforms.
If you launch MW2 on Steam, you can try:
Step 1: Make sure that Steam is running in the background.
Step 2: If you are stuck in the server queue, close the game using your task manager (press Ctrl + Alt + Del).
Step 3: Log out from your Steam account and then log in again.
Step 4: After logging in again, locate Modern Warfare 2 in your library and launch the game.
If you launch MW2 on Battle.net, you can try:
Step 1: Close the game using your task manager as I mentioned before.
Step 2: Log out from your Battle.net launcher and log in again.
Step 3: Find the globe icon right beside the play button.
Step 4: Click on the globe button, and the region is already selected for the region you are in. You can change the region to somewhere else.
Step 5: Then click on play.
Hopefully, this method will work for you.
3. Turn off Windows Defender Firewall.
Turning off Windows Defender Firewall is a double-edged sword. On the one hand, it might resolve the MW2 server queue issue. On the other hand, your computer would get exposed to potential danger.
Step 1: Open the Control Panel app by searching for it in the Start Menu.
Step 2: Navigate to Windows Defender Firewall by going to System & Security, then Windows Defender Firewall.
Step 3: To disable Windows Defender Firewall, click on the Turn Windows Defender Firewall on or off option on the left-hand side.
Step 4: Select the Turn off Windows Defender Firewall option under both Private and Public network settings.
Step 5: Click OK and see if that resolves the issue.
Because this method is to some degree risky. Remember to turn it on after you finish the game.
Conclusion
In this article, we provide you with
3 ways to fix the MW2 server queue issue. As you can see, the first method is the safest and most efficient one. Actually there is no need to try method 2 and 3 if you have LagoFast. So download it now and enjoy your game!