The Lost Ark is an MMORPG with snappy combat, a cinematic storyline and multiple uses of professions. The game is set in the medieval era using Unreal Engine 3 and contains a wide variety of gameplay, such as treasure hunts and drinking competitions.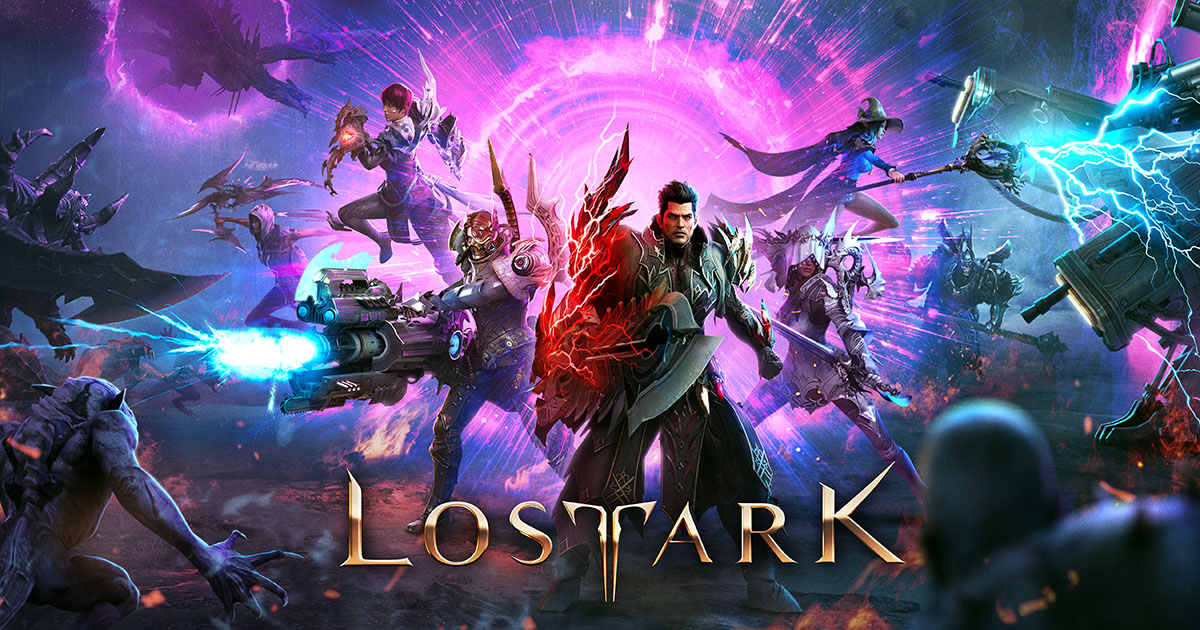 But Lost Ark stuttering when moving, which is usually reported by players, does affect players' good experience of this world. How to realize Lost Ark stuttering fix becomes the question players are concerned about the most. This article will explain the reasons for Lost Ark stuttering and the measures that could be taken to fix it. And among these suggestions, you would find that using LagoFast could be the most convenient and easiest way.
Part 1: What is the Lost Ark stuttering?
Part 2: What causes Lost Ark stuttering issue?
Part 3: How to realize Lost Ark stuttering fix in an easy way?
Part 4: Other solutions to fix Lost Ark stuttering.
What Is The Lost Ark Stuttering?
Game stuttering is the irregular delays between GPU frames that can have a notable impact on gameplay, and depending on the intensity, even make a game unplayable. A stuttering game makes the player's actions feel slow or jerky and causes a brief delay. This latency also occurs in single-player games, but it is significantly more aggravating if you are playing online.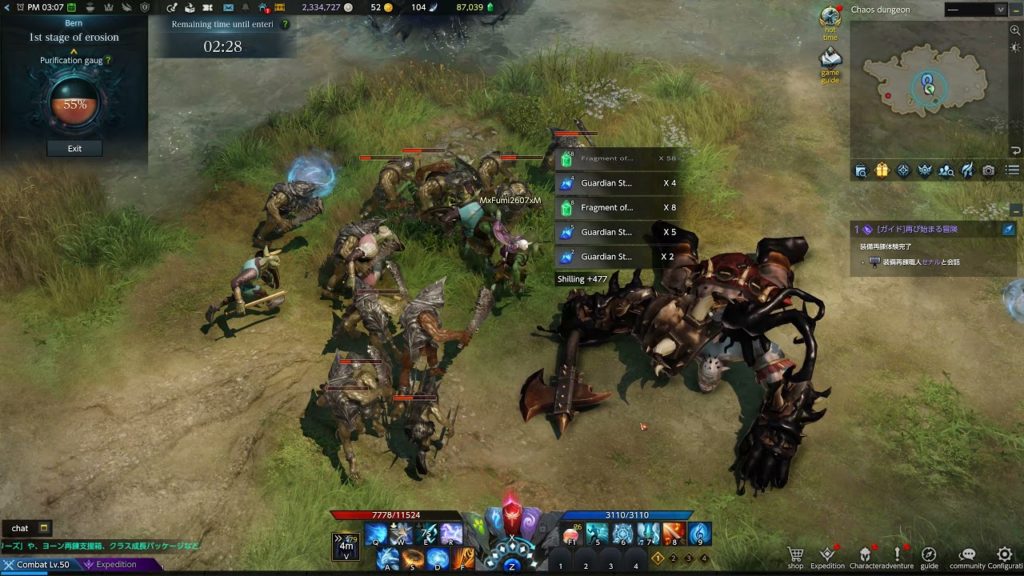 Why Does The Lost Ark Stuttering Exist?
The Lost Ark stuttering issue is always associated with Lost Ark low FPS problem. FPS is referred to as the frames displayed on the monitor per second. Therefore, the reasons for Lost Ark stuttering could be divided into 2 major factors, the performance of computer data processing and presentation, and the speed of game data transmission.
1. Computer performance. This factor includes the hardware configuration, software help, suitable settings, and also the amount of data that needs to be processed. If your computer performance is bad, the time spent on data processing will also increase, and then you will feel the existence of Lost Ark stuttering.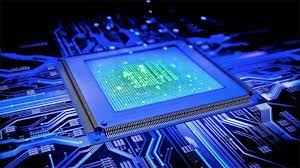 2. Data transmission speed. Similar to the Lost Ark high ping and lag problem, data transmission speed will certainly affect the Lost Ark stuttering. Many factors could affect this speed, for example, the network congested, the wireless connection, the bandwidth congested, and also the server congested.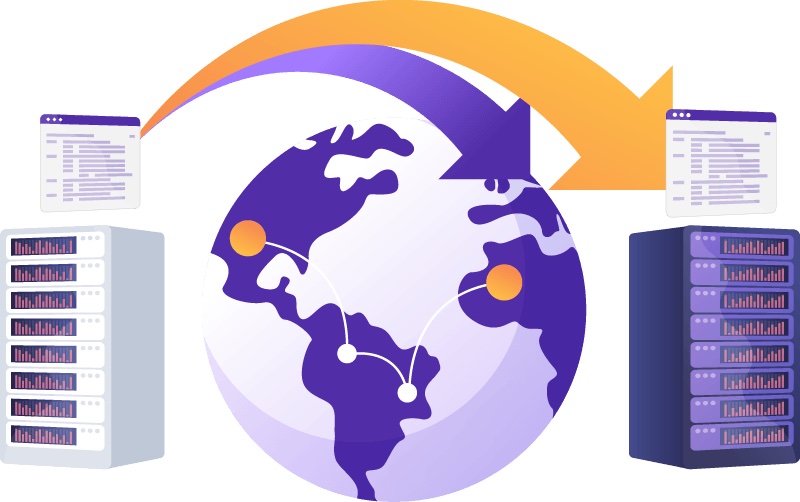 In addition to the computer performance and the transmission speed, Lost Ark stuttering could also be caused by itself, like some bugs or corrupted game files.
How To Realize Lost Ark Stuttering Fix In An Easy Way?
If you want to realize Lost Ark stuttering fix easily and conveniently, I do want to suggest you use a professional Lost Ark stuttering fixer LagoFast. To improve your computer performance, it could provide you with a panel to easily change game settings.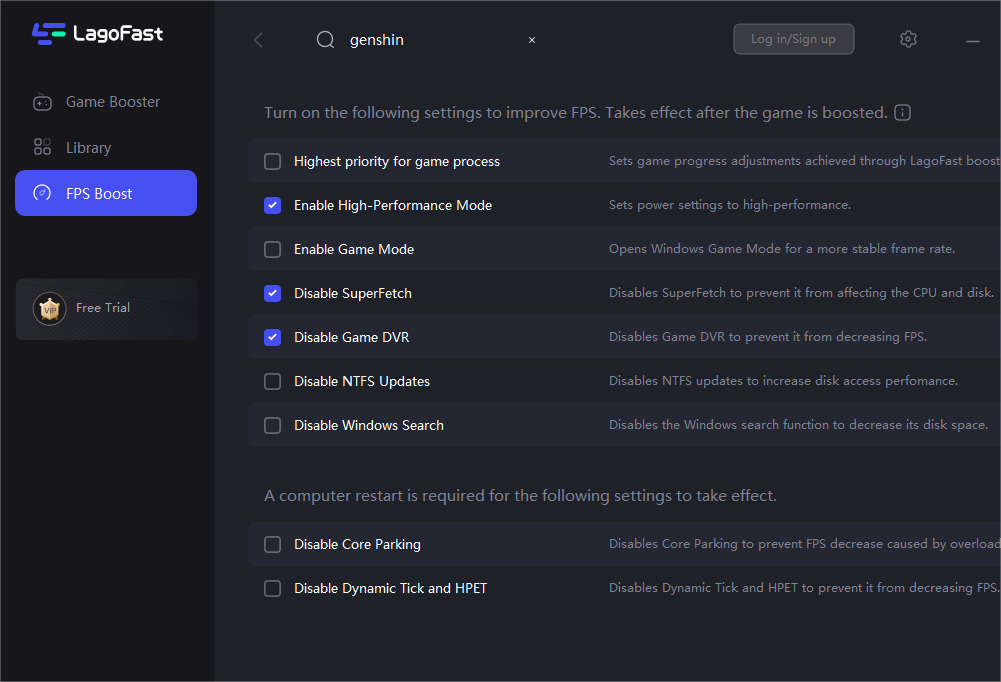 In this panel, according to your specific requirements, you can click to set the highest priority for the game process, enable High-Performance Mode, disable Game DVR, or disable Core Parking… And LagoFast could also remove background unnecessary applications to leave more space for Lost Ark. To boost the speed of data transmission, LagoFast can use its unique data transmission protocol to boost the transfer efficiency. And the worldwide nodes and exclusive routes will make the time spent on transmission decrease significantly.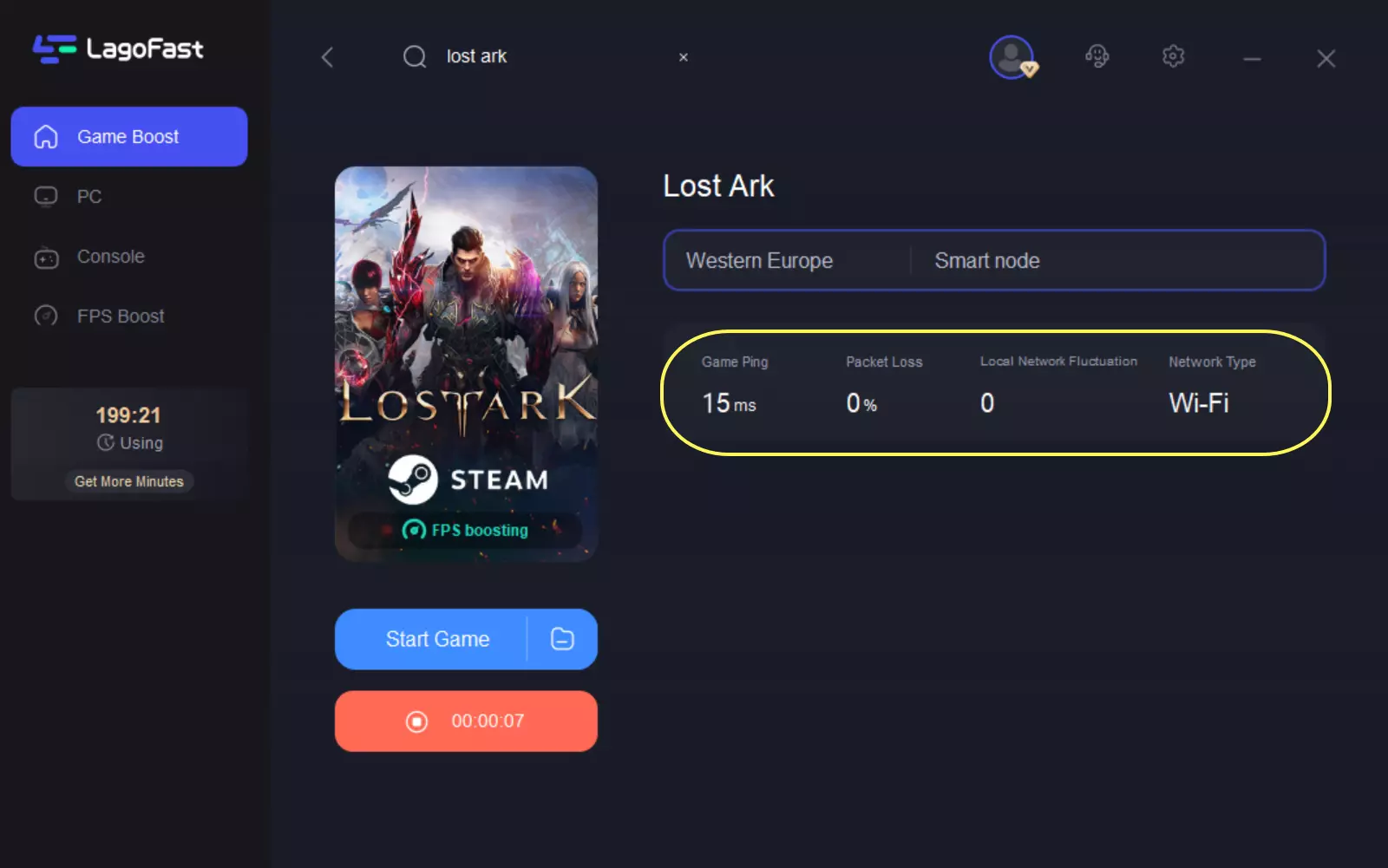 What's more, in order to meet the needs of different people, LagoFast has launched two types of fees, joining as a membership to pay monthly or the plan per second. Therefore, if you don't play Lost Ark every day, the latter is more suitable for you!
If you want to try using LagoFast to realize the Lost Ark stuttering fix, especially when moving, you can download the LagoFast and experience the free trial.
Then, you can click the FPS Boost Button to change settings to improve your game running performance based on your specific requirements.
Before running Lost Ark, you just need to find the Lost Ark in LagoFast and click the "Boost" button, LagoFast will help to avoid the Lost Ark stuttering issue in the background.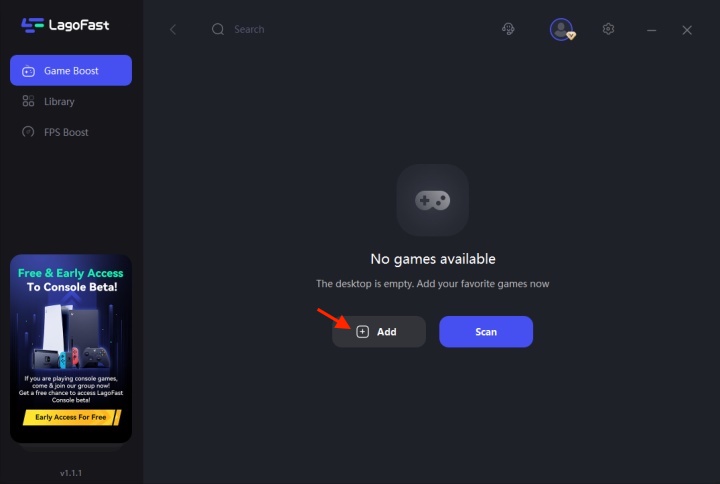 LagoFast also supports 1000+ more popular online games, you could use it to optimize your gaming experience in other games too!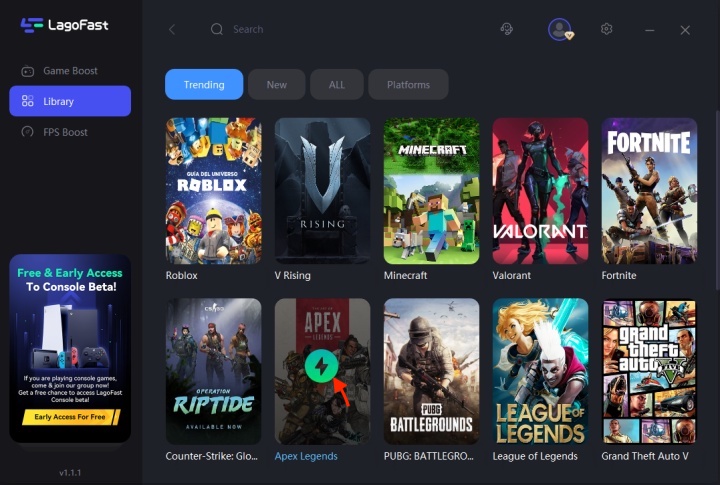 Other Solutions To Fix Lost Ark Stuttering
Check if your computer meets the minimum system requirements
The minimum system requirements could give you the information of hardware configuration to be able to process Lost Ark game data. If you can't meet these requirements, you should try updating your hardware. The minimum system requirements are as follows:
Minimum
Operating System: Windows 10 64-bit
Processor: Intel i3 or AMD Ryzen 3
Memory: 8 GB RAM
Graphics: NVIDIA GeForce GTX 460 / AMD HD6850
DirectX: Version 9.0c
Storage: 50 GB available space
And if you want to boost FPS in Lost Ark and avoid the Lost Ark stuttering, it is advised to meet the recommended system requirements:
Recommended
Operating System: Windows 10 64-bit
Processor: Intel i5 or AMD Ryzen 5
Memory: 16 GB RAM
Graphics: NVIDIA GeForce GTX 1050
DirectX: Version 11
Storage: 50 GB available space
Lower graphics settings and reduce Lost Ark resolution
High graphics settings and resolution in Lost Ark would need more performance to process more game data. Changing your video settings to low quality, such as the Texture Quality, Shadow Quality, and Character Quality, would be useful to boost FPS in Lost Ark and fix Lost Ark stuttering.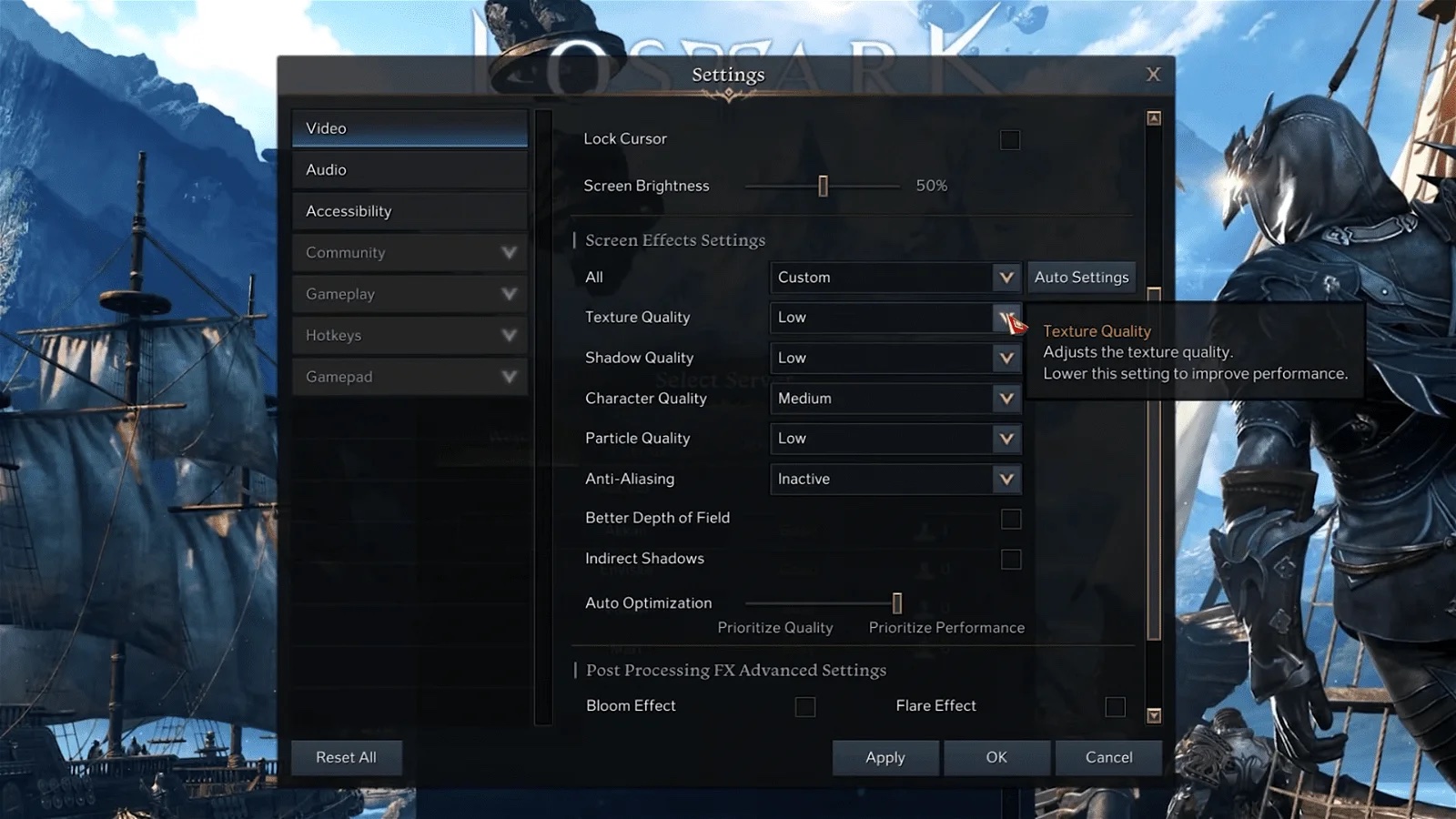 Check if there are problems with your Lost Ark game files
To check if there are some problems with your game files, like corrupted files, you can go to Steam LIBRARY, click Lost Ark from your game list in the library, and then select Properties. You should choose LOCAL FILES in the pop-up Windows, and then you should click the button of Verify integrity of game files.

Update your graphics card driver and update DirectX
An outdated or damaged graphics card driver is another typical cause of Lost Ark stuttering. If you want to fix Lost Ark stuttering, try installing the most recent graphics card driver software!
DirectX is a collection of application programming interfaces for handling tasks related to game programming and video. Getting the latest DirectX could help you to boost FPS in Lost Ark and realize Lost Ark fix.