MW3 (Call of Duty: Modern Warfare III) is a first-person shooter video game developed by Sledgehammer Games and published by Activision. It is the twentieth game in the Call of Duty series. It is greatly expected by all the CoD fans.
Changing the server MW3 is one of the frequent needs of some players if Steam just had connection issues. Maybe they have friends in another continent or they just enjoy playing with foreigners. But this is difficult to do when you don't know the right method.
How to change server Modern Warfare 3 Easy & Reliable
1. LagoFast - Change MW3 Server to fix steam connection issue
LagoFast is an incredibly helpful and user-friendly acceleration tool for all players around the world, as well as FPS Booster. It is known for its unique built-in data transfer protocol and worldwide exclusive routes.
LagoFast is capable of dealing with almost all kinds of game issues such as server lag, lag spikes, packet loss, low FPS, and crashing. LagoFast can also provide easy lobbies service for some games. And it can increase your download speed while accelerating the game launcher.
In addition, LagoFast is designed to have a quite clear and simple interface. You can change the server in Modern Warfare 3 within only a few steps.
Step 1: Download LagoFast from its official website.
Step 2: Search for Modern Warfare 3 on the top of the interface.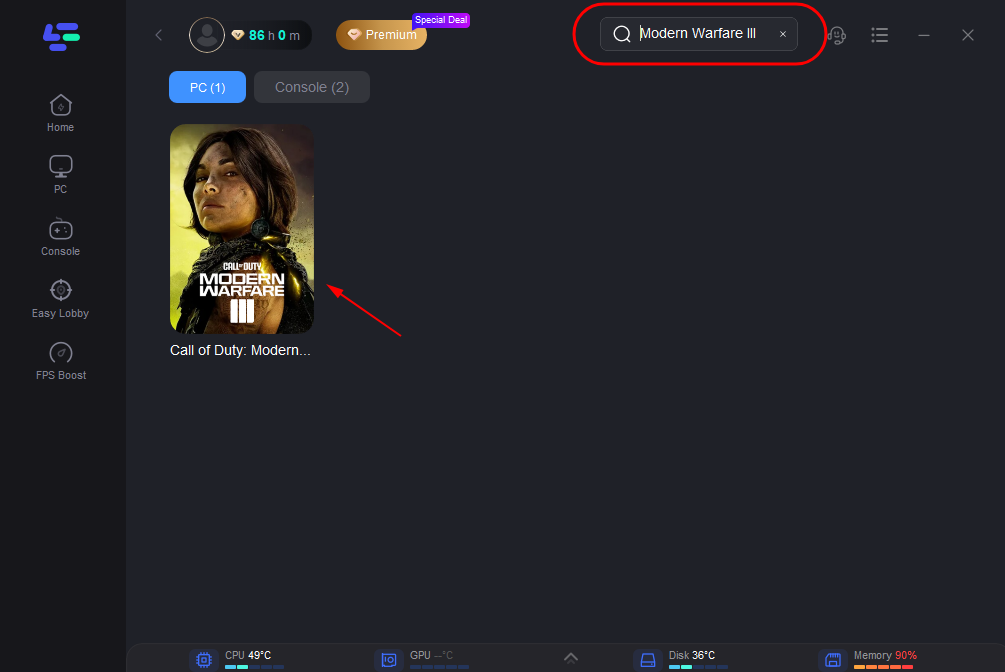 Step 3: Choose your target server and move to the next Node selecting step.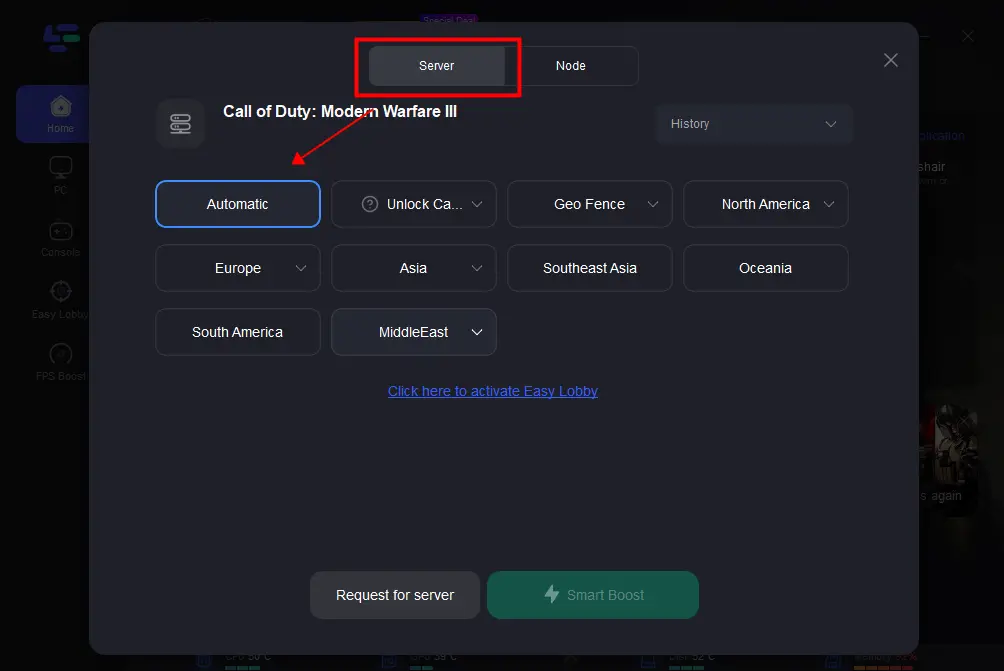 If you just want a server with the lowest ping (any location): Choose "Automatic", LagoFast will do all the math to make the best choice from all the servers and nodes considering the distance between you and the game server and real-time network conditions.
If you want a server with the lowest ping in Europe: Choose "Geo Fench", LagoFast will choose from its servers and nodes located in Europe, and find the best one for you.
Step 4: Enjoy Modern Warfare 3 on another server!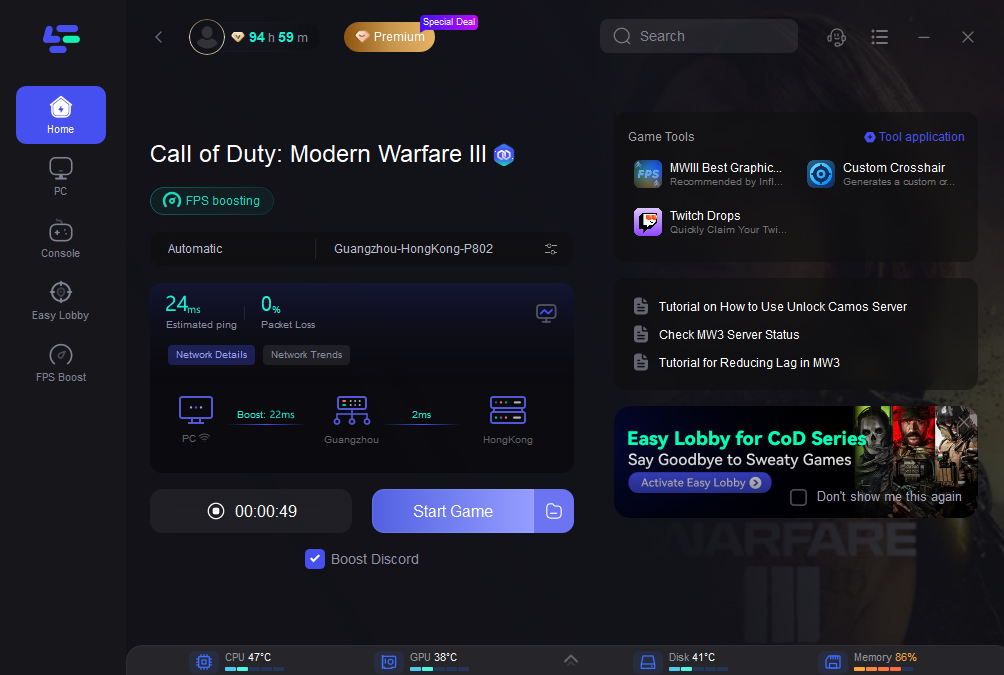 Also, LagoFast never intrudes on players' privacy. It only collects the basic information that is necessary for developers to improve the boosting quality. It is 100 percent safe to use LagoFast. The leakage of information is impossible.
What is even more amazing is that LagoFast supports more than 2000 online games and covers over 60 countries and 150 cities. It means that you can use LagoFast no matter where you are, or what games you play. Isn't that good? Don't hesitate, download LagoFast now and have a try! It will help you MW3 change server easily!
You may like: How to Increase MW3 Slow Download Speed >
2. Change the Steam server.
Since most players play Modern Warfare 3 on Steam, you can also change the Steam server to play in another region. Here's how to do it:
Step 1: Click the Store tab.
Step 2: Select a game from the store and add it to your basket by clicking Add to Cart.
Step 3: Open your Steam cart by clicking Cart.
Step 4: If the option is available to you, select a different currency from the drop-down menu in the top-right corner of the cart (above the pricing). If this isn't available to you, you won't be able to use a different currency or purchase region on Steam.
Step 5: Once you've changed your currency, click either the Purchase for myself option or the Purchase as a gift option to begin purchasing your app or game in that currency.
Step 6: Steam will prompt you to choose between your original region (and billing address) and your new region. Select which option you'd prefer to use from the options provided.
Step 7: Once the changes are made, continue your purchase in your Steam cart.
Step 8: Follow any additional on-screen instructions to complete the purchase using your new Steam region, payment method, and billing address.
By exactly following the above steps, you can change your Steam server region. However, this method is risky and could change server back to your original one because your Steam account might get banned. Think about the risk before you do it.
3. Change Battle.net server
Since Modern Warfare 3 is also available on Battle.net, you can also MW3 change server region by changing Battle.net server.
Step 1: Log out from Battle Net, and a login screen will pop up.
Step 2: Tap on the world icon on the top right side of that window.
Step 3: After tapping it, you will see the list of regions. Select the region you want to play in and log in again.
Step 4: Add your password, tap on the Login button, and play the game in the region you select from the list.
Hopefully, this method will be your answer of how to change server region MW3.
Related Article: Fix Cannot Change Controller Settings MW3 >
Bonus: Why Is My Ping Higher After Changing Server In MW3
1. Distance: If the new server you joined is located farther away from your location than the previous server, the increased distance could be causing a higher ping. This is because data has to travel a longer distance to reach the server and return to your computer.
2. Network congestion: If the new server you joined is experiencing high traffic, your ping may be higher due to network congestion. This can happen if many players are connected to the server or if there is an issue with the server's network infrastructure.
3. Server performance: If the new server you joined is experiencing performance issues or is not optimized for the game, your ping may be higher. This can cause delays in the server's response to your computer's requests.
4. Internet connection: Your ping may be higher if there is an issue with your internet connection. This can be due to network congestion, interference, or a problem with your router or modem.
Conclusion
In this article, we told you how to change server in Modern Warfare 3. In my opinion, using LagoFast is the safest and most convenient method. It is worth a try!