Grounded is a survival video game developed by Obsidian Entertainment. The protagonist is shrunk to the size of an ant and survives in a backyard full of danger. Players need to eat food and drink water, otherwise, they will lose their life value due to hunger and dehydration. The backyard is filled with a variety of insects, such as spiders, aphids, and ladybugs. Different insects have different roles. Ladybugs will guide players to find food. Players can eat aphids. The spiders are particularly dangerous for the player and will hunt the player. There are many interesting places in the game waiting for you to explore. But, like many other video games, many players complain about the Grounded lag. don't worry, it's a piece of cake for LagoFast! It can easily solve a variety of game problems.
Part 1: How to Fix Grounded Lag?
Part 3: What can Cause Grounded Lag?
How to Fix Grounded Lag?
LagoFast: Lag best solution
LagoFast is the best game booster for Grounded, created by a team with over 8 years of experience assisting gamers with all types of difficult game problems. With the following features, it can easily solve Grounded lag. To begin, LagoFast can provide real-time network diagnosis and match you with the network node with the lowest ping value. Because of strong compatibility, all types of complicated network conditions are rendered useless in their presence. Second, it can reduce ping while boosting FPS. You can also adjust the FPS Boost option based on your specific situation to create your own game booster. Finally, LagoFast has a unique time-charging system. So you don't have to worry about wasted time because of the monthly subscription.
Here are the features of LagoFast:
Support Plan-Per-Minute service, not waste any time.
8+ years of experience in fixing different game lagging.
Easy to use, with only one click.

E

xclusive routes over 60 countries

R

educe ping while boosting FPS
You can start boosting in 3 steps:
Step 1: Download LagoFast and register.
Step 2: Type " Grounded " in the Search box and click the one you need.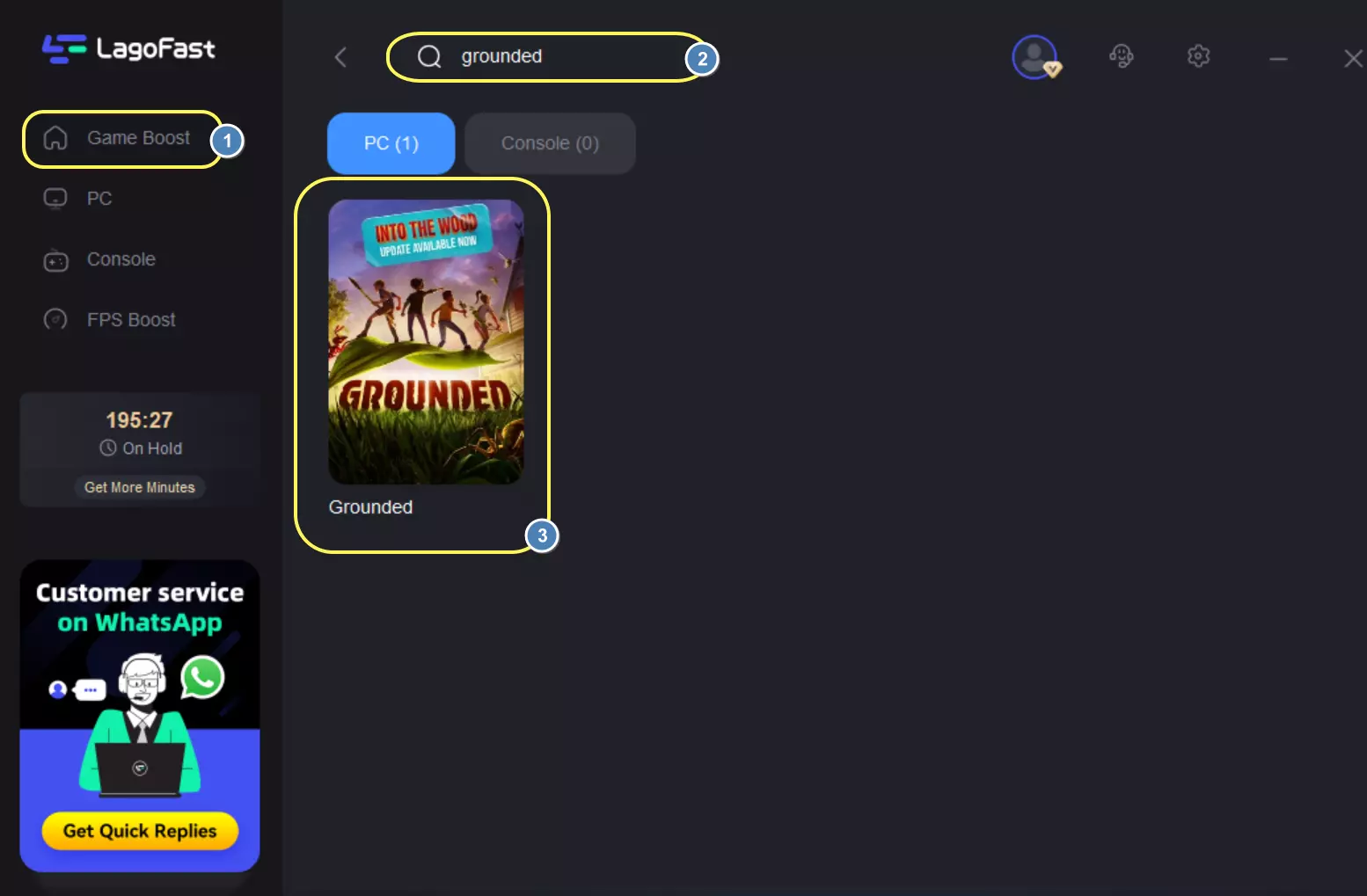 Step 3: Click on the Boost button to begin boosting.
On this page, you can have a direct view of your real-time ping rate and packet loss rate.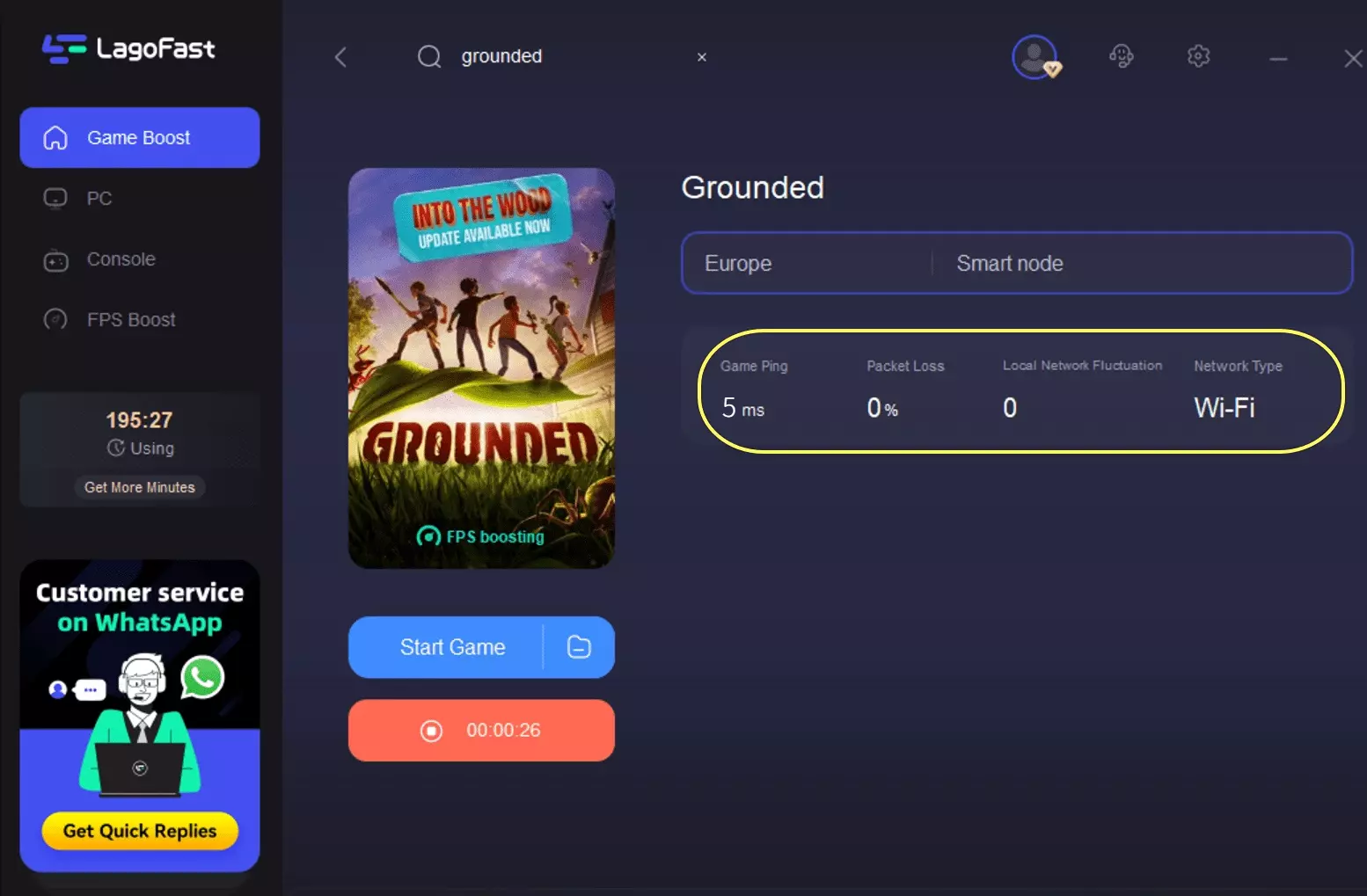 If you want to improve your in-game FPS performance, you can also use LagoFast to adjust FPS Boost settings. To do this:
Step 1: Click on "FPS Boost" on the left side.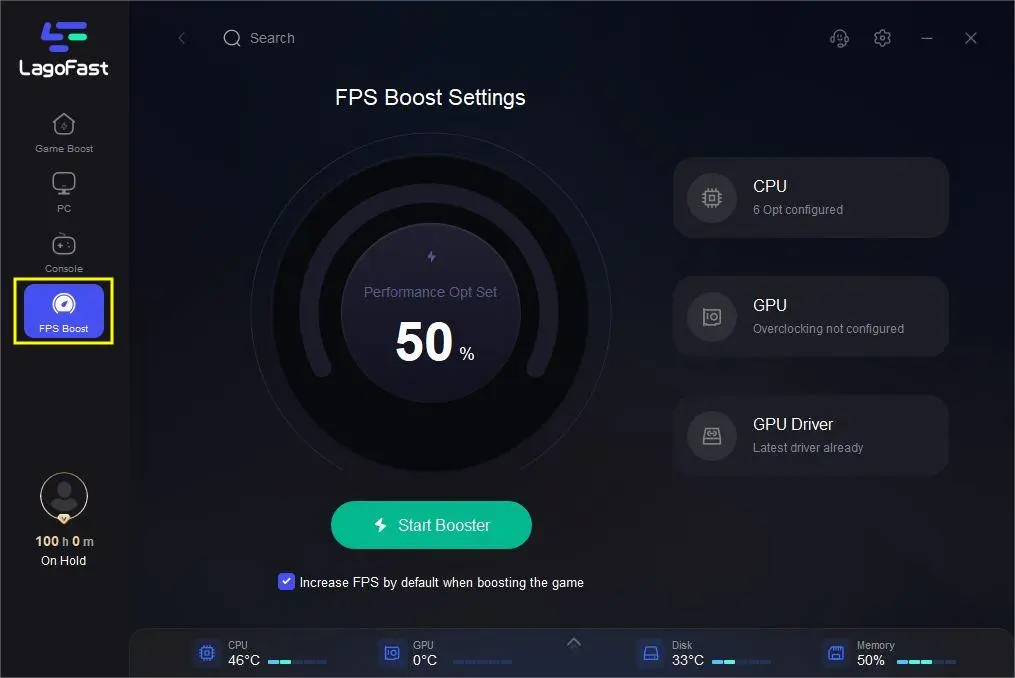 Step 2: Click "CPU Optimization" on the FPS Boost page and choose the settings that you want to open.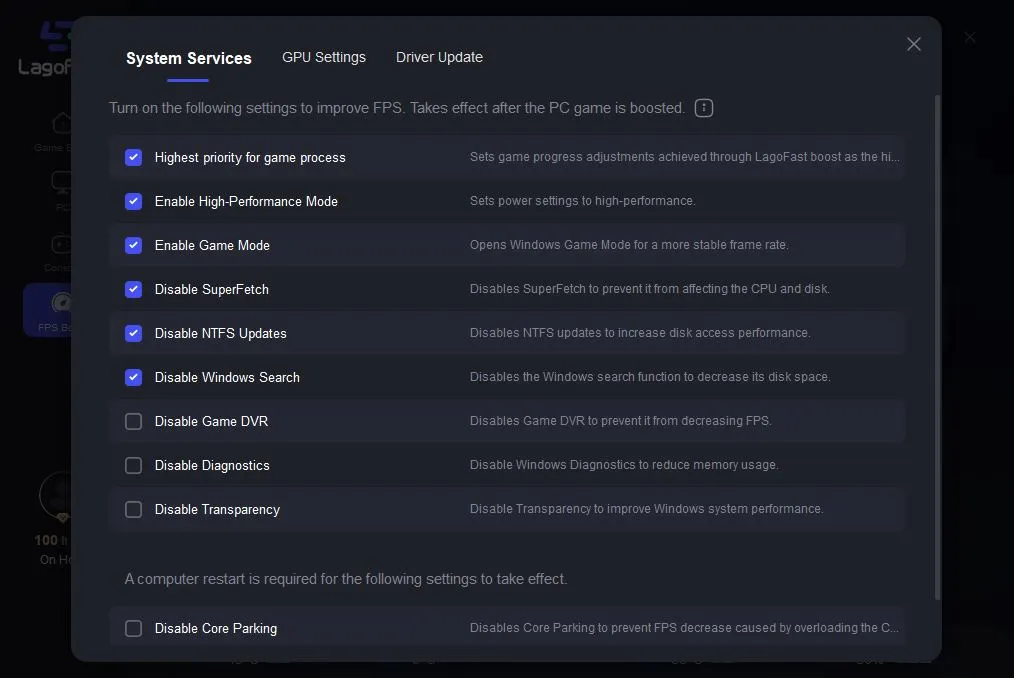 Step 3: Click "GPU Settings" on the FPS Boost page.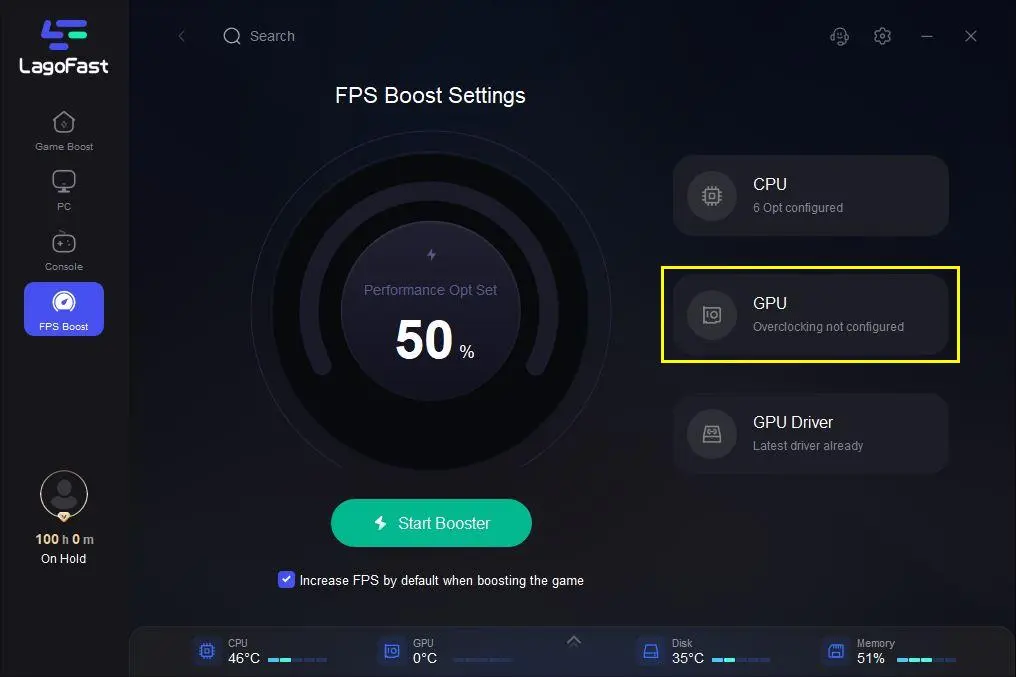 Step 4: Slide to choose your overclocking level in the first bar and tick "Enable GPU Boost" in the second bar.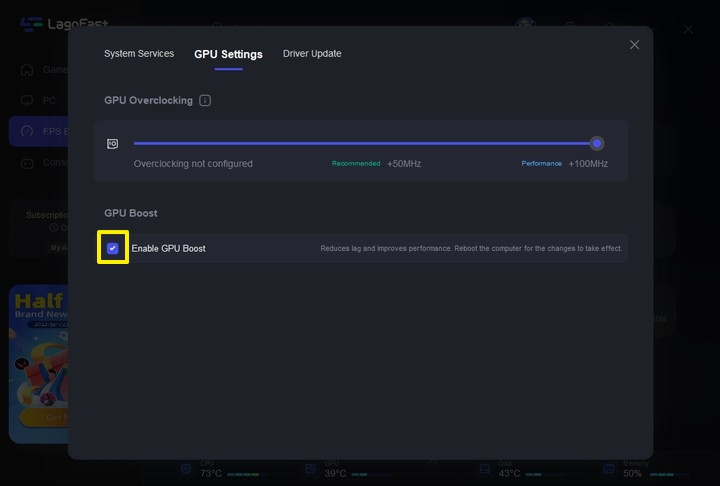 Step 5: Click "GPU Driver" on the FPS Boost page to check your GUP Driver updating version.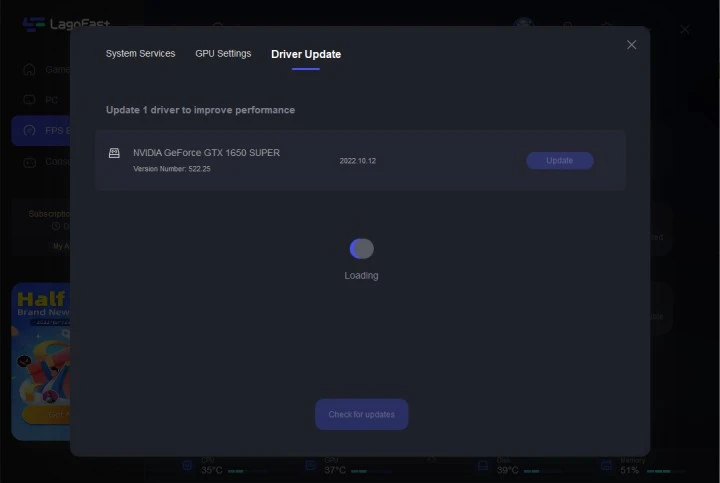 At last, you need to return to the FPS Boost page, and clicking "Start Booster" is OK.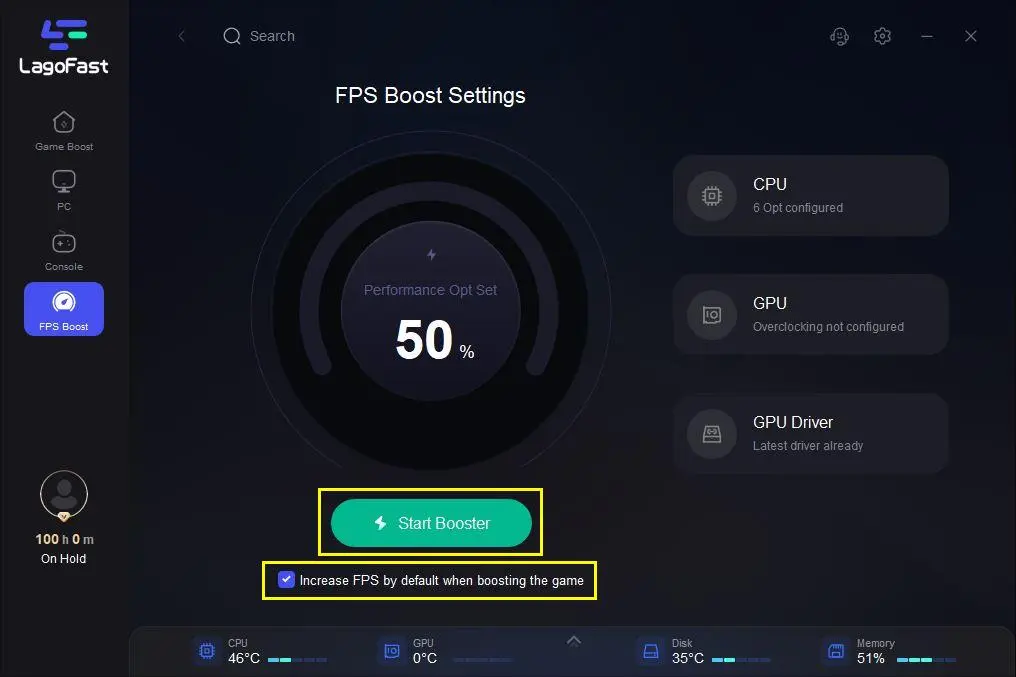 Other solutions
Because the cause of grounded lag is quite complex, attempts by players to solve it frequently fail. But we can still try the following methods to solve the problem. Hope they help you!
C

heck your system: System requirements are typically announced by game publishers at the same time the game is released. In general, system requirements are classified into two types: minimum system requirements and recommended system requirements. The minimum system requirements are the lowest limit that can be met for the game to run properly. When your computer meets the game's recommended system requirements, you can turn up the in-game settings and have the best gaming experience yet!

Give Grounded High priority: When we start a game on our computer, the system will run many other programs and software besides the game, and if you raise Grounded priority, the system will prioritize more resources to support the game.
1. Open Grounded
2. Open Task Manager
3. If necessary, use the "More Details" link in the bottom right corner to switch to the More Details view.
4. Navigate to the Details tab.
5. Right-click Grounded.exe on the list, then set priority to high.
Close background apps: As previously stated, many programs run in the background that not only consume processor resources but some websites and programs also consume internet bandwidth while they are active. We can also disable them using Task Manager.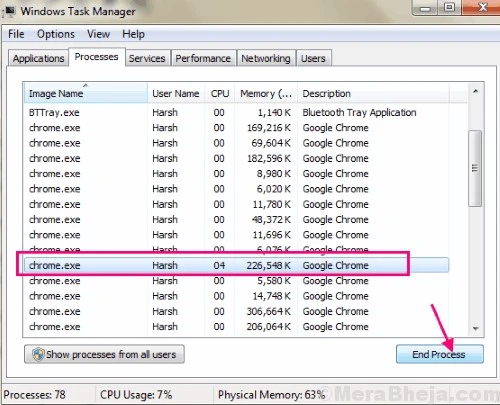 What does Lag Mean?
Lag is defined as any noticeable slow response time in online games caused by high latency or a poor connection. Lag spikes occur when lag occurs for a short period. High ping is the most common cause of lag. So, what exactly is the ping? Ping is the network latency between a player's computer and the game server of another client. Typically, it is measured in milliseconds (ms). Then, what is a good ping for gaming? When the ping value is below 20ms, the game will be very smooth. At between 50ms-100ms, the game works fine. But when the ping value is higher than 150ms, it causes Grounded lag.

What can Cause Grounded Lag?
Grounded lag can be caused by a variety of factors, the most common of which is high ping, but it can also be caused by issues with the computer hardware associated with running the game, such as the CPU, GPU, and RAM. We've made a list of lag causes below. Following that, we will explain how to quickly and effectively solve this problem.
Firewall/anti-virus software interference: On the one hand, the firewall spends a significant amount of time inspecting the majority of the packets sent and received by the computer. If, on the other hand, Grounded is deemed dangerous software, its network activity is monitored. Although measured in milliseconds, these times may appear insignificant. However, it can also reduce internet speed, resulting in Grounded lag.
Geographical location: The distance between your computer and the server may influence the generation of lag. The greater the distance between you and the server, the longer it will take for packets to travel between you and the server.
Too low upload speeds: Upload speed refers to how quickly you can send data to others. The speed at which data is downloaded from the server is referred to as download speed. Upload speed is critical for online games because ping is affected by it. When most Internet Service Providers (ISPs) talk about speed, they're talking about download speed. However, in the same plan, the maximum upload speed will almost certainly be much lower, such as 1 Mbps. The ideal upload speed for most online games should be around 3 Mbps.
Too many background apps

:

Other programs running in the background are most likely to blame for lag. Many application processes run in the background to keep the computer running properly. These applications consume system resources. Specifically, Google Chrome, which is most likely the root cause of Grounded lag.