EA Sports FC 24, a football video game developed by EA Vancouver and EA Romania and published by EA Sports, is a sequel to FIFA 23. It has similar gameplay and unique innovation. Overall, it is interesting to play.
FC 24 crashing may have multiple reasons, like unstable Internet connection or improper game or computer settings. It is not difficult to fix FC 24 keeps crashing on PC. We are going to provide you with 3 ways.
How to stop FC 24 from crashing
Methode 1. Fix FC 24 crash on startup with LagoFast Game booster
LagoFast is a renowned gaming VPN for all players. It is famous for both its unique built-in data transfer protocol and worldwide exclusive routes. With the help of LagoFast, it should be quite easy to fix FC 24 crash on startup. Besides, LagoFast is capable of fixing all kinds of game issues, including lag spikes, packet loss, high Ping, and low FPS. It can also accelerate game launcher platforms and download speed. You can use this game booster to complete multiple tasks. Isn't that good?
LagoFast also has a simple and clear interface by which you can fix all kinds of game issues, including lag spikes, packet loss, high Ping, low FPS, etc., within only a few steps:
Step 1: Download LagoFast from its official website.
Step 2: Search FC 24 on the top of the interface.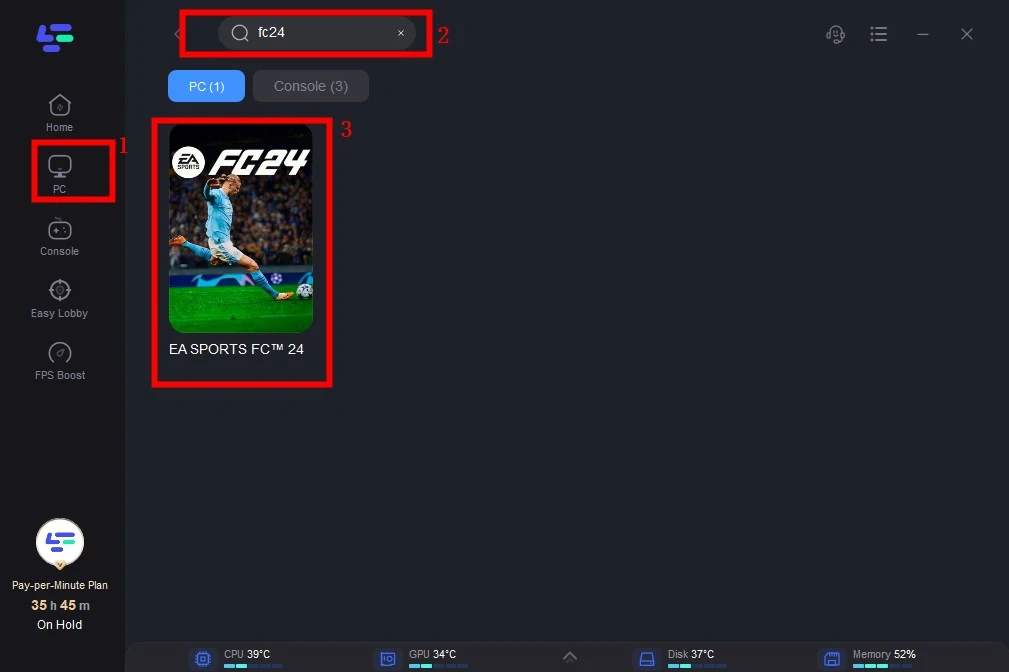 Step 3: Choose the best server and node.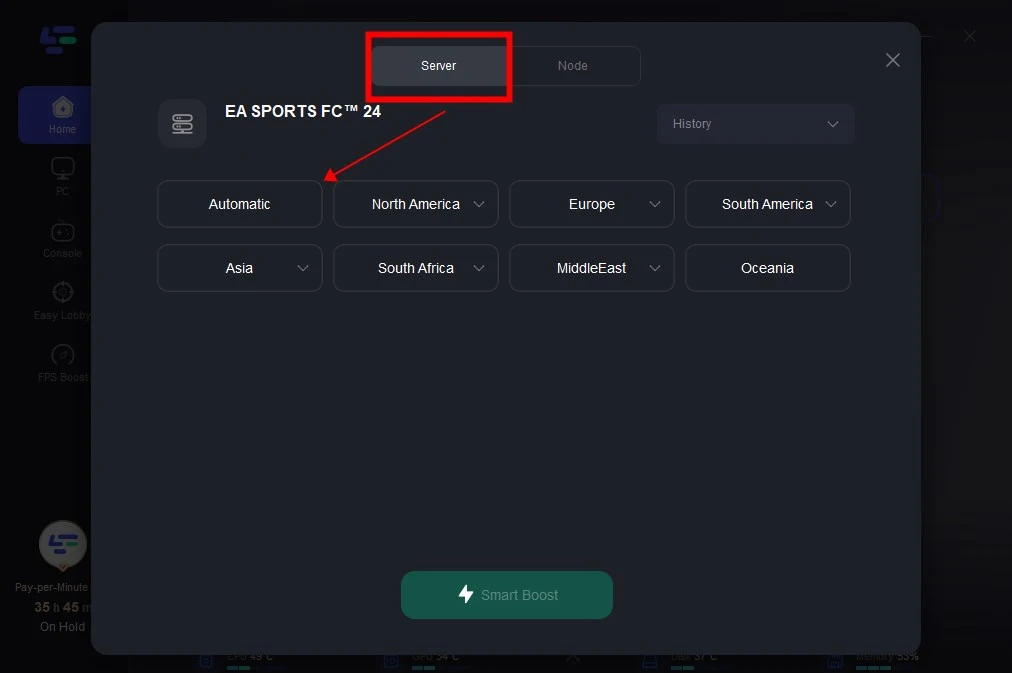 Step 4: Enjoy your game!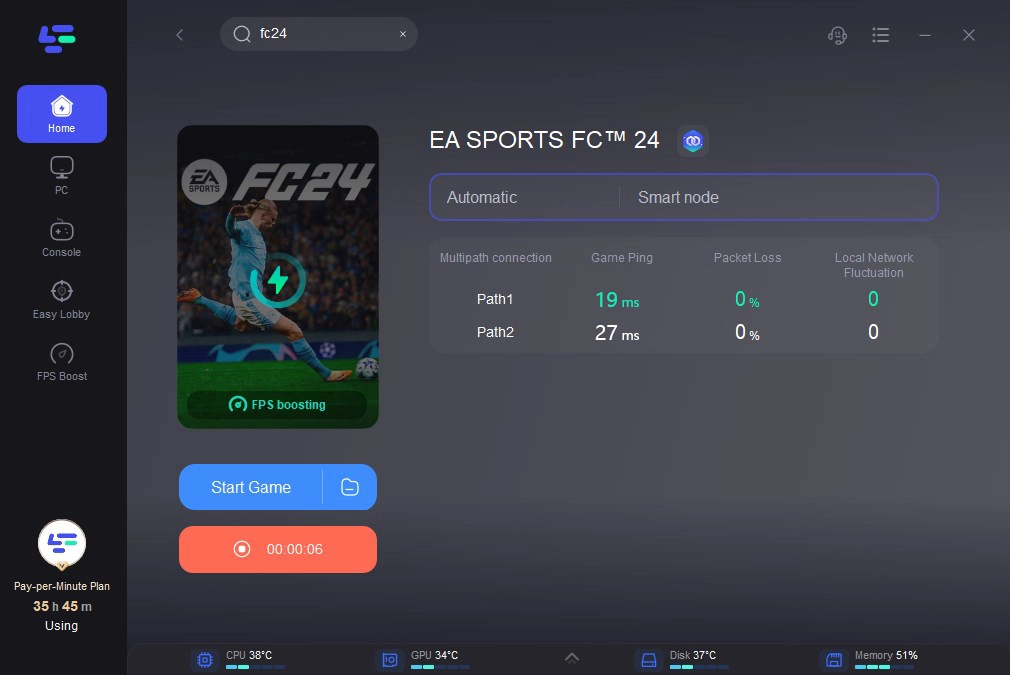 Last but not least, LagoFast covers over 60 countries and 150 cities and supports more than 2000 online games. Don't hesitate and download it now. LagoFast will not let you down!
Methode 2. Clear DNS Cache
You probably do not know that the DNS Cache may impair your Internet connection and have a negative influence on it. An unstable network connection may be the cause of FC 24 crashing. You can try:
Step 1: Open the Windows Start Menu by pressing the Win key.
Step 2: Search for the command prompt in the Windows Search Box by typing "cmd."
Step 3: Right-Click on the command prompt and click on Run as administrator.
Step 4: Copy and paste the following commands into the Command prompt while making sure you press enter after each command:
ipconfig/flushdns
ipconfig /release
ipconfig /renew
netsh Winsock reset
Step 5: Restart your computer and then Relaunch the game to see if this fixed the error.
Hopefully, this method will help you with FC 24 crash. And it is also helpful when you run into network failure in other games. It can refresh your computer and possibly make it perform better.
Methode 3. Close all unnecessary programs and disconnect irrelevant devices
All the irrelevant software or programs and other devices connected to your router may severely affect your Internet speed to play FC 24. So before you start to play FC 24, you may need to close all these programs running on your computer to boost Internet speed.
Step 1: Press Del, Win and Ctrl on your keyboard at the same time.
Step 2: Click task manager.
Step 3: Close all the irrelevant software or programs running on your computer.
To disconnect other devices, you can do it in a simpler and quicker way:
Step 1: Check your router's sticker or supporting documentation, and enter its IP address into your browser's search bar. For most routers, it's "http://192.168.0.1/".
Step 2: Log in with the router username and password, also typically found on the sticker.
Step 3: Locate the option for connected devices and click Remove or Block.
By following the above steps, you can clear all unnecessary burdens on your network connection and hopefully, you can improve your Internet speed to play FC 24. This method is not complicated, you can have a try.
Conclusion
If you are looking for ways to fix FC 24 crashing, this article is what you should read. In this article, we provided you with 3 ways to fix this issue. Among them, LagoFast is the most efficient and helpful option. And you can fix gameplay lag in EA FC 24 and get Max FPS with it, download it now and have a try!